British company Tellurium Q continues to expand and refine its wide range of high quality audio cable offerings. Now, the company presents the next-gen version of its highly-acclaimed Ultra Black speaker cable.
In fact, the high praise comes via a number of awards from audio publications around the globe, all calling-out with universal applause the qualities of this very distinct cable design. Externally, the Ultra Black II is very similar to the Tellurium Q Silver Diamond we reviewed recently. The new cable continues the flat and wide form which terminates via machined aluminium end caps leading to the twin branching connector ends. Tellurium Q offers high quality spades and its 'Z' connector banana plug. Bi-wire configurations are also available via order.
Tellurium Q is somewhat secretive about the construction of its cables as far as conductor materials, the use of shielding and the winding configurations, however, with the Ultra Black II being a tad lower down the wrung in comparison to the reviewed Silver Diamond, we would intelligently guess the new cable should feature some downsized trickle-down technology from its more upmarket brethren.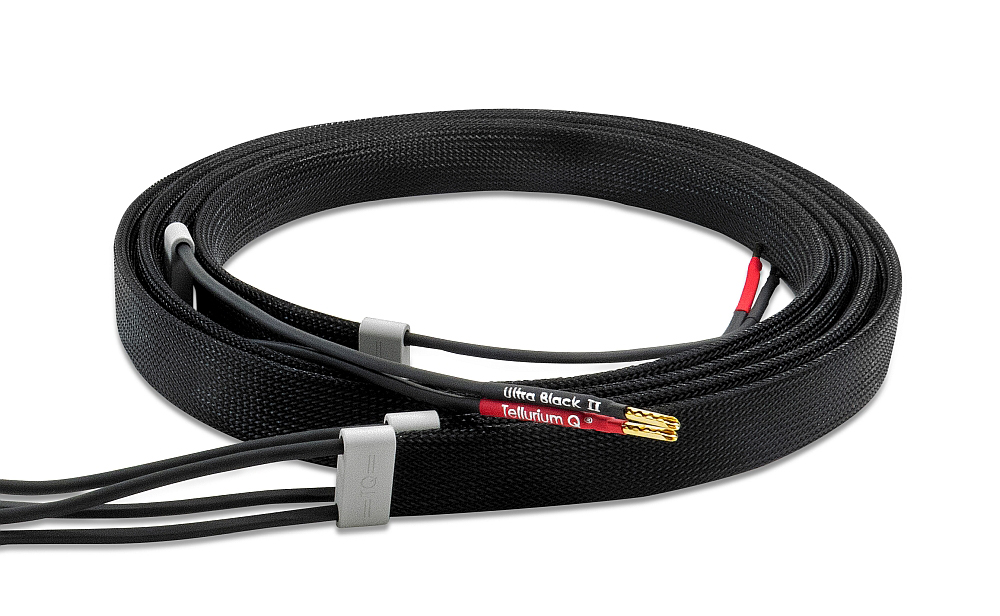 Tellurium Q's Managing Director Geoff Merrigan quoted for SoundStage! Australia, "Tellurium Q Ultra Black is the cable we wanted to make from day one. We told our UK distributor what to expect as we handed them a prototype," with Merrigan then adding, "So Kog Audio put in an advance order that day without needing to see or hear the production model because, in their words, "if it is even quarter as good as the prototype it will blow people away". We think that the production version sounds better than the prototype."
A 2.5m single-wire Ultra Black II speaker cable pair with 'Z' banana connector runs at AU$2890. The Tellurium Q Ultra Black II speaker cable is available in Australia via retailers networked to distributor Audio Magic.
Tellurium Q Ultra Black II Speaker Cable
Price: AU$2890 2.5m Pair
Australian Distributor: Audio Magic
+61 3 9489 51 22
www.audiomagic.com.au