A new turntable from McIntosh you say? Nay, we say. It's an all-in-one solution encompassing a high quality vinyl rig, up-to-the-minute digital tech and a bit of amplification wizardry from the all-American company.
The new MTI100 Integrated Turntable is McIntosh's take on a complete solution for the modern and simplified music system requiring just a pair of speakers in order to provide self-contained multi-source sound. So, at first glance, the MTI100 may seem like a funky turntable but beneath its gorgeous chassis lies a whole lot of technology. For starters, there's an on-board Class D amplifier rated at a healthy 80 watts per channel into 4 Ohms (50 watts into 8 ohms) which is driven by a preamplification stage featuring two 12AX7 valves. The preamplification section is complemented by the dedicated fully shielded phono stage, with the shielding isolating the sensitive low level signals from each other in order to minimise extraneous distortion and noise.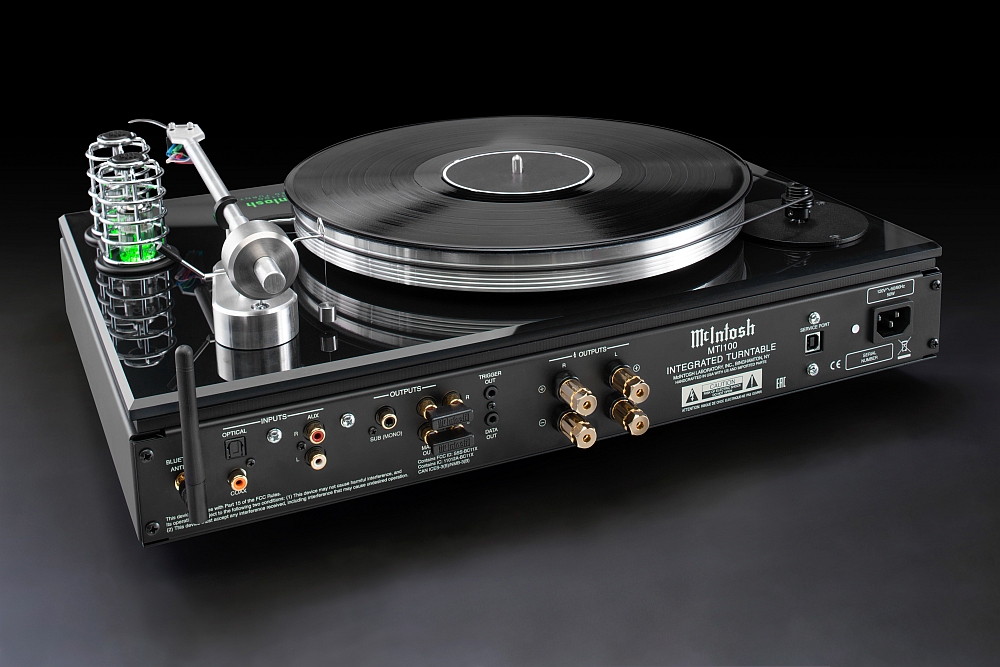 The belt drive turntable section is capable of 33 RPM and 45 RPM playback while the unit's 3.8kg platter is a substantial machined aluminium construction. The platter sits atop steel and glass reinforced surfaces. The motor features an 'industrial grade' permanent magnet AC synchronous motor with a 2-speed pulley system making for accurate playback speeds. The turntable's aluminium tonearm is packaged with Sumiko's Olympia Moving Magnet (MM) cartridge.
In addition, the MTI100 provides an unbalanced RCA auxiliary input for connecting another analogue source such as a CD player or DAC output (or even, as McIntosh suggests, a television's output), digital audio coaxial and optical inputs (for digital feed of CD transport or computer card with S/PDIF output), a Bluetooth receiver, a subwoofer output, speaker outputs via high quality binding posts and a headphone jack into the 'High Drive' headphone amplification stage. Further connectivity is via Bluetooth 4.2 (aerial provided in package) which allows wireless streaming of digital music at high quality levels from compatible Bluetooth devices.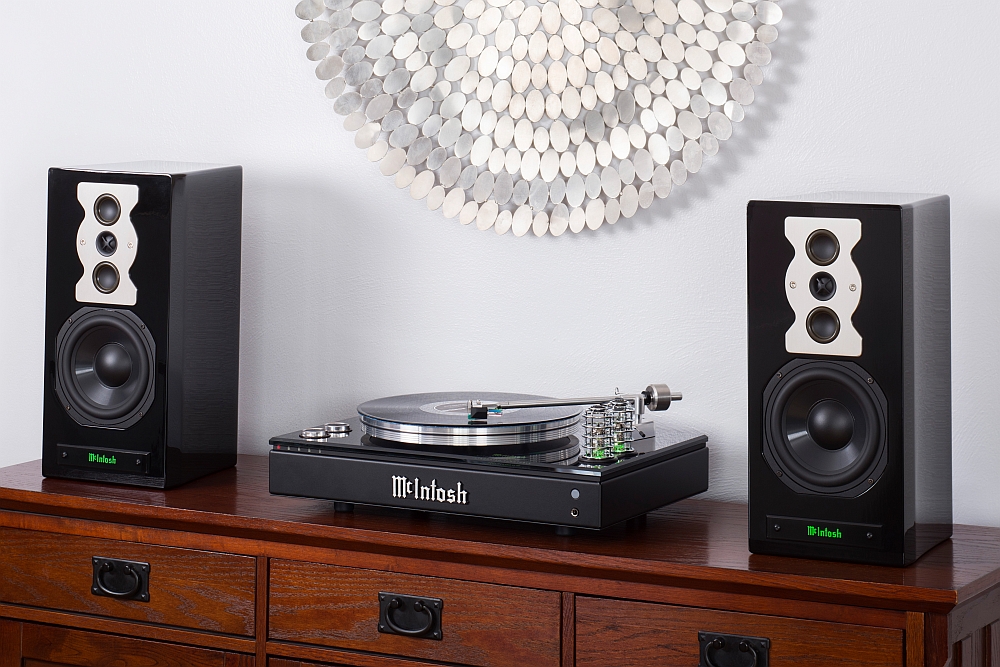 The MTI100 is styled in the usual McIntosh pure gorgeousness, with the 12AX7 preamplifier and phono stage valves protruding from the top panel (protected via chrome cages) beside the turntable platter. The iconic McIntosh design cues such as the retro knobs, green graphics, etc. have all been adopted into the aesthetic of the MTI100.
The MTI100 is due in Australia shortly and will be available via established McIntosh dealers around the country.
McIntosh MTI100 Integrated Turntable
Price: AU$11,995
Australian Distributor: Synergy Audio
+61 3 9459 7474
www.synergyaudio.com