As one of the very first ongoing high-end audio companies, McIntosh Laboratories has reached a major 70th Anniversary milestone and celebrates with the release of a Limited Edition preamplifier and power amplifier duo.
The new 'Commemorative System' – with, of course, only 70 units being produced – is made up of the new C70 preamplifier and MC2152 power amplifier, both featuring the latest McIntosh valve technologies. The celebratory limited-run units are unique by way of their special logo Anniversary markings and matching serial numbers. The styling too, is distinctive while still featuring the trademark design cues which are iconic McIntosh visual signatures.
What's also special and highly commendable, is McIntosh's offer to donate US$1000 on each sale of the Limited Edition combo to 'Save the Children' a global humanitarian organization established in 1919 who now, of course, is also celebrating its 100th year helping children around the world.
McIntosh President Charlie Randall told SoundStage! Australia, "We are honoured to be entering our 70th year of fulfilling 'Mr. Mac's' vision of bringing world class home audio equipment to music and audio lovers everywhere and we've been fortunate to be able to do what we love to do for so long," adding, "and since we have been so fortunate, we are delighted to be able to give back to those in need via a donation to Save the Children, a truly worthwhile charity dedicated to helping children everywhere."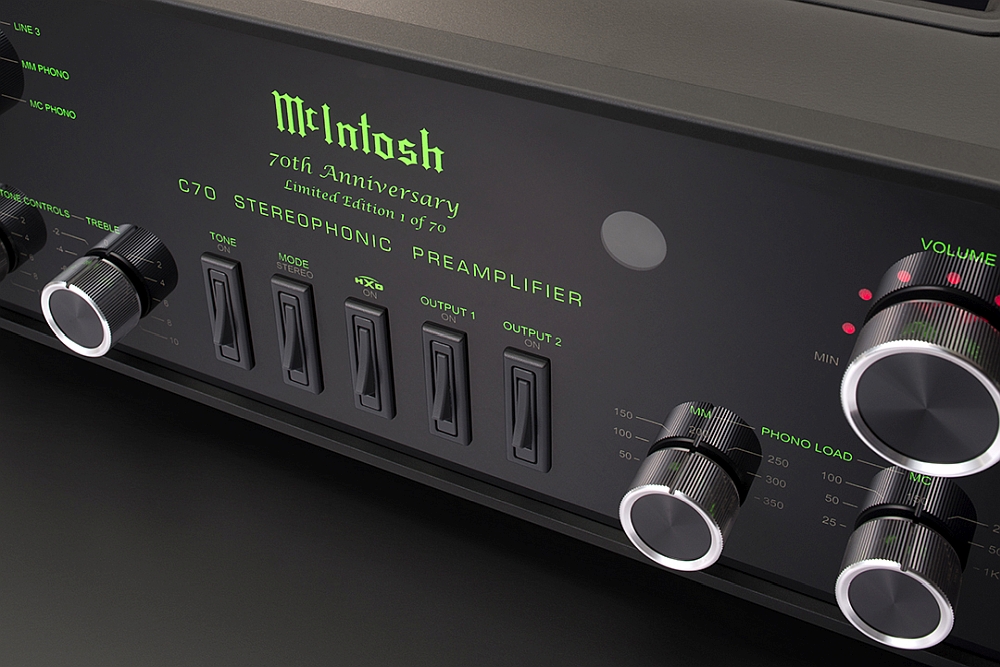 The C70 70th Anniversary preamplifier features 12AT7 and five 12AX7A valves in a circuit which caters for two XLR balanced, three RCA unbalanced line inputs and Moving Coil (MC) and Moving Magnet (MM) RCA inputs via the built-in phono stage. Dual balanced XLR and unbalanced RCA outputs are provided. The C70 also features McIntosh's renowned 'High Drive' headphone amplifying stage which also provides the company's Headphone Crossfeed Director (HXD) circuit which is said to provide a more spacious ambience. The HXD circuit is defeatable. The retro style combines a number of McIntosh trademarks such as the black glass fascia, rotary control knobs, green and blue LED lighting scheme and a clear glass window on the top panel showing the valve configuration.
Providing the speaker-driving grunt is the new 70th Anniversary MC2152 stereo power amplifier which uses the venerable KT88 (eight of) to deliver a quoted 150 watts of output power. McIntosh claims the MC2152 is capable of driving speakers with impedances ranging from 8 ohms down to 2 ohms. The input stages are driven via four 12AX7A and four 12AT7 valves. In a new McIntosh design scheme, the base of the input valves feature LEDs which can be set to either 'off' or to provide blue or green illumination. The MC2152 offers both balanced XLR and unbalanced RCA connectivity. McIntosh's proprietary high quality 'Solid Cinch' speaker binding posts are provided to cater to varying impedance loads. The new chassis design is formed from bead-blasted black anodised aluminium and is smartly accentuated via carbon fibre side panels in a matte finish.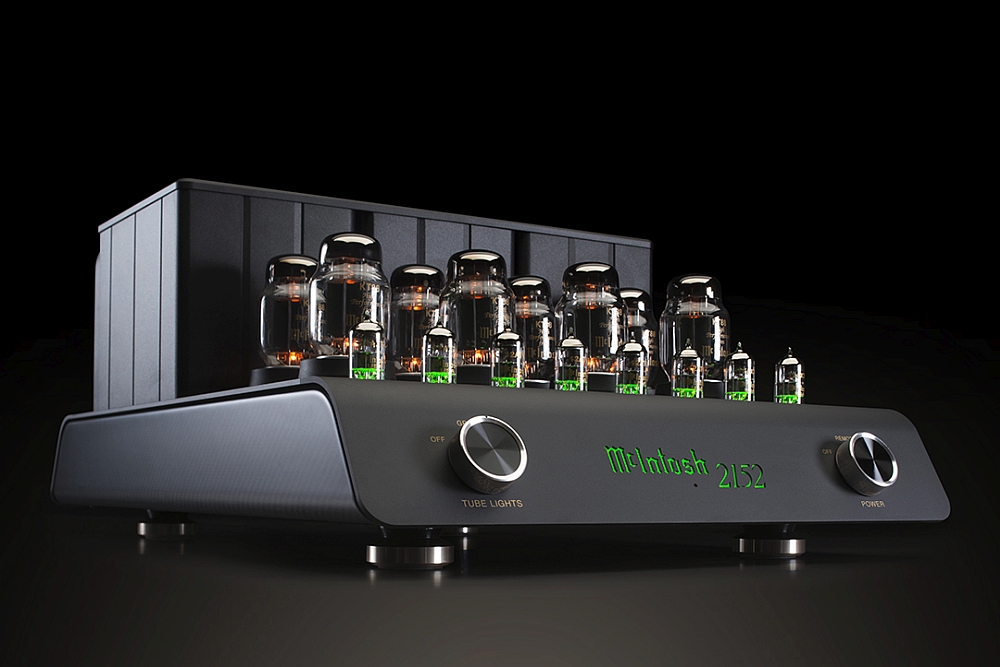 While Australia is only receiving one Limited Edition combo of C70 and MC2152, the products will be available in non-Limited Edition versions soon after, minus the celebratory markings, logos and matching serial numbers.
Contact your nearest McIntosh specialist audio retailer for availability details.
Price: AU$13,995 C70, AU$29,995 MC2152
Australian Distributor: Synergy Audio
+61 (0)3 9459 7474
www.synergyaudio.com