Following the outstanding success of the massive, and massively enjoyable, Krix mega-system shown at the International Hi-Fi Show 2018, Krix now announces the new MX system to be showcased at Sydney Hi-Fi Castle Hill and Mona Vale.
In special event evenings, the man behind the company Scott Krix, who has designed literally thousands of commercial cinema systems around the world, will be at hand to introduce the system, provide insights into the design philosophies and describe the considerable engineering employed in the MX system. The MX-20 (AU$13,995 with 2 subwoofers) and MX-30 (AU$19,995 with 2 subwoofers) systems are fully modular and have been designed to be installed behind the projection screen and as 'stealth' speakers around the cinema space. Also on demonstration as part of the system will be Krix's Mehaphonix on-wall surrounds (AU$2490/pair) and Stratospherix flush-mount 200mm speakers (AU$795 each).
The MX modular system features high power, low distortion and high sensitivity drivers with the MX-20 modules combining a 26mm soft dome horn-loaded tweeter with a 255mm mid-bass driver (50mm voice coil) and a 380mm woofer (100mm voice coil, dual spider). The frequency response is quoted as 40 Hz-20 kHz in-room while the sensitivity is 97 dB/2.83 volts/1 m (100 dB for the 380mm subwoofer module which dips down to 25 Hz). That efficiency, coupled with a reasonably flat 8 ohms impedance, makes these very easy to drive and able to output out high SPLs.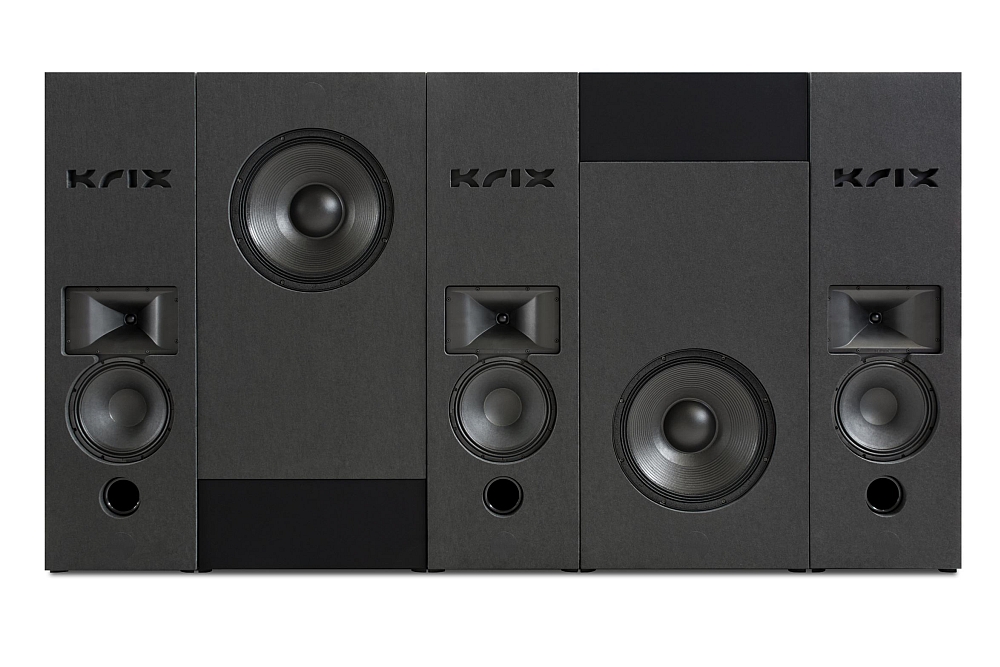 The MX-30 modular system employs a Krix-designed and patented 90 by 40 degree short throw horn loading a compression driver. The mid-bass driver is a similar 380mm driver as used in MX-2 while the subwoofer is a massive high power 455mm driver. The frequency response now spans from 38 Hz to 16 kHz in-room while the subwoofer dips down to 25 Hz.
Krix's 'Infinite Baffle Wall' has been employed in the MX speaker specification. IBW (for short) has been designed to provide absorption while controlling dispersion in order to keep reflections and behind-the-screen sound leakage to a minimum.
With "Real Cinema at Home" as the shout line for the MX series, the new speaker system will be showcased in a brand new dedicated theatre within Sydney Hi-Fi Castle Hill's recently re-invented retail space. Aside from the Krix theatre, Sydney Hi-Fi Castle Hill has refurbished and re-tuned its other demonstration studios. A similar scenario awaits punters at the Mona Vale store.
The Sydney Hi-Fi Castle Hill event will be held on Wednesday 21 November 2018 from 6pm to 9.30pm while a similar event will be staged at Sydney Hi-Fi Mona Vale the previous night, Tuesday 20 November 2018.
Krix Loudspeakers
+61 8 8384 3433
www.krix.com.au
Sydney Hi-Fi Castle Hill
+61 2 9899 9079
Shop 7, 19 Victoria Avenue
Castle Hill
www.sydneyhificastlehill.com.au
Sydney Hi-Fi Mona Vale
+61 2 8088 3088
Shop 1 / 1 Mona Vale Road
Mona Vale
www.sydneyhifimonavale.com.au