In what is a very rare occurrence in the high-end audio business, the MAG-LEV Audio ML1 turntable, a Kickstarter crowd funded item, has seen fruition with samples having now arrived in Australia.
Distributed in Australia via Melbourne's Audio Magic, the MAG-LEV ML1 features, as the name implies, a levitating magnetically-driven turntable platter which, by nature, eschews a traditional motor drive – uses a magnetic coil drive – while offering nigh-on-zero friction and vibrational distortion through its platter design. The company claims its patented technology allows for a highly accurate speed and turning of the platter (both 33 rpm and 45 rpm are available) via 'sensor regulating software'. The platter itself is fabricated from a mix of ABS plastics, carbon fibre and embedded metal magnets. Wow and flutter has been specified to be 0.17 percent while the ML1's signal-to-noise ratio is -73dB.
In a clever addition, the ML1's 'UPS' circuitry retains enough back-up power to lift the arm, return it to its armrest, stop the record and lower the platter down to safety should there be a power blackout or accidental interruption.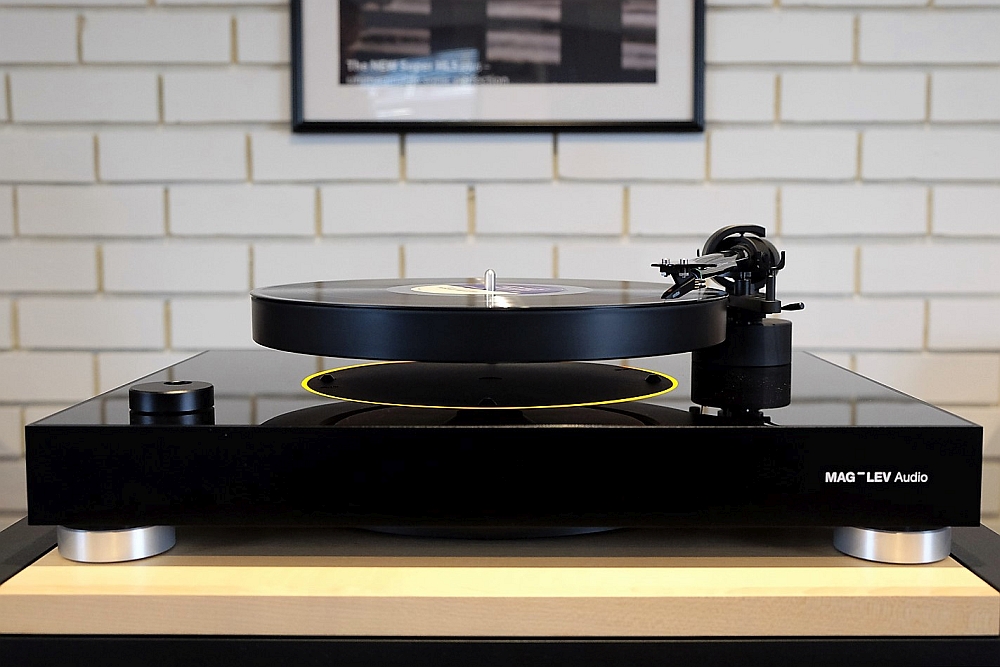 The ML1 is packaged with a Pro-Ject 9cc 9-inch carbon fibre arm tube and headshell tonearm and an Ortofon OM10 Moving Magnet (MM) cartridge. The semi-automatic design lifts the tonearm and returns it to the armrest at the end of the record. While the turntable design is traditional – aside from the levitation aspect, of course – a point-of-difference and added aesthetic element is provided via an in-built LED lighting scheme and the availability of a number of finish options (consult the distributor via the details below for the finish options available in Australia).
"We are very excited about the introduction of the MAG-LEV Audio ML1 turntable into the Australian market," Aleksandar Macsimovic told SoundStage! Australia, "it is a unique concept, it's provided with a ready-to-go arm and cartridge and the price point makes it affordable."
The MAG-LEV Audio ML1 turntable has arrived in the country and is available via distributor Audio Magic's dealer network around Australia.
*Second in-situ image provided by Audio Magic
Australian Distributor: Audio Magic
+61 3 9489 51 22
www.audiomagic.com.au
www.maglevaudio.com
Price: AU$3495