Advance Audio headquarters in Sydney's Leichhardt was the venue for the Australasian launch of KEF's new Q Series, now the company's eighth generation of the highly popular line.
In Australia for the launch were KEF's brand ambassador Johan Coorg and Lawrence Chu, general manager for Asia Pacific. Coorg, who remarkably was at the first generation's launch back in 1991, ran the presentation (now we'd guess for the eighth time) and asserted that, "the new Q Series is the entry point for real KEF-ness", which we took to mean the KEF house sound – the trademarks of accuracy, tonal balance and detail retrieval among other things – being ultimately manifested via the R and Reference series is now, in the new Q speakers, accessible at a more affordable price point.
There have been substantial changes in terms of engineering in the new Qs. For starters, the Uni-Q driver features a new tweeter design with a modified and damped back-tube/channel with claims of improved performance in terms of resolution, refinement and dynamics. In the floorstanders, the Uni-Q driver is now housed in its own dedicated subenclosure.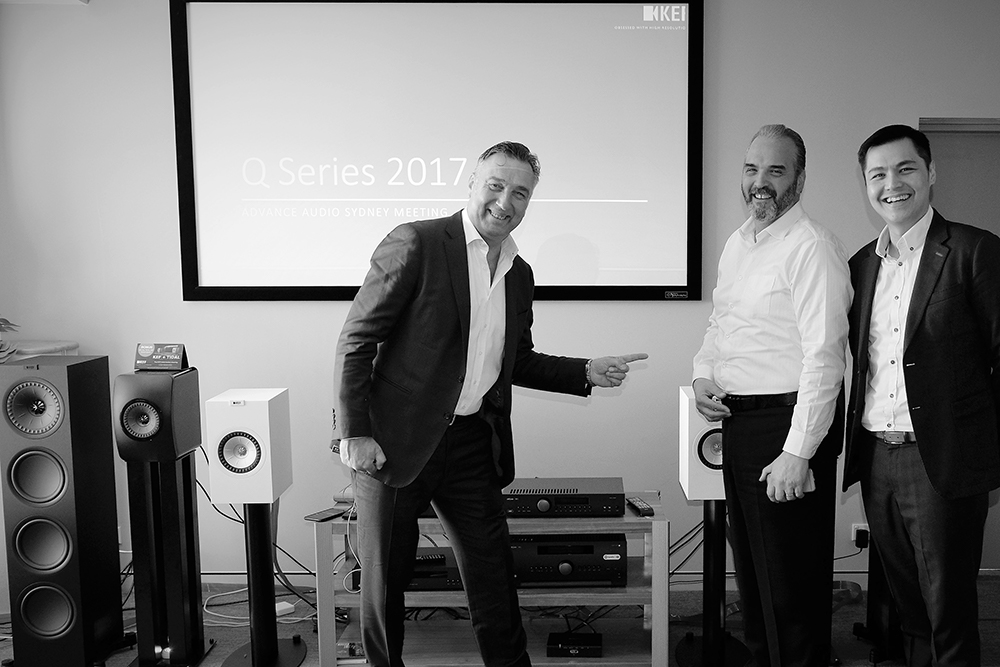 KEF's Johan Coorg and Lawrence Chu flanking Advance Audio's Michael Di Meglio
Bass performance improvements were high on the engineers' agenda when designing the new series and to that end the bass drivers, including the passive ABRs, were thoroughly reengineered. Changes were mainly in the design of the new surround, the modification of the cone structure and the new material used in the drivers' spider suspension. The reflex ports have also been redesigned and repositioned within the cabinets. The crossovers have been tweaked in order to reflect the design changes. Objectively (and subjectively as we found later during the music demonstration) the bass is said to have improved depth, tightness and overall dynamics.
A brief listening session, mostly using heavy bass tracks in order to showcase the substantial low frequency improvements, did indeed illustrate the gains there. Bass was very powerful – even via the mid-sized Q350 standmount – and deep while also showing terrific punch. In our opinion, there were substantial improvements further up the frequency range with smoother, sweeter and overall more refined highs and mids.
The series now has the '50 denomination and includes two bookshelf speakers (the Q150 and Q350), three floorstanding speakers (Q550, Q750 and Q950), and a centre speaker (Q650c).
The new Q Series is available in two high-quality vinyl-wrap satin finishes in black or white. The new enclosures are rather more attractive with a clean baffle design featuring embedded magnets supporting the included grilles. Also aesthetically pleasing is the driver colour and feet outriggers, which has been matched to the cabinet finish.
The KEF Q Series speakers' Australian recommended retail price is yet to be announced.
Australian Distributor: Advance Audio
+61 2 9561 0799
www.advanceaudio.com.au