Despite the city's thoroughly enticing distractions in the urban surf beaches and countless water-rimmed parks, Sydney, Australia has a vibrant audio enthusiast community. This was evidenced with the strong attendance at the Sydney Audio Club's (SAC) 10th-anniversary barbeque and music meeting that took place on Sunday, July 9, 2017.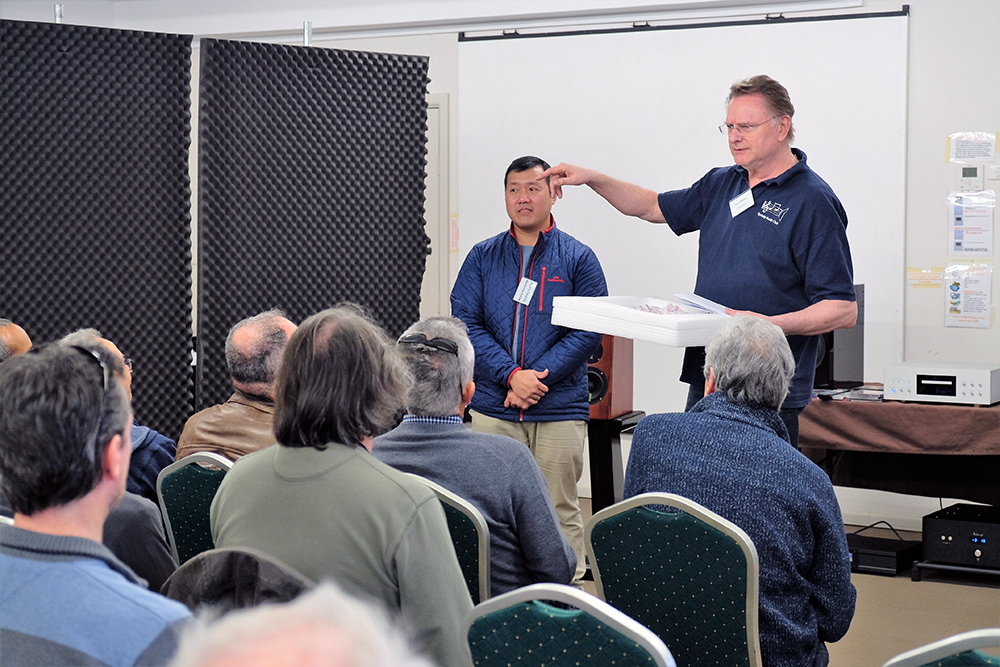 SAC President Tom Waters signals a raffle winner while attempting to poke Henry Kristanto.
SAC's conveniently located regular meeting venue in Dence Park Community Centre Epping was the place for the celebratory sausage sizzle, which was accompanied by a variety of delicious gourmet salads, small eats and copious amounts of liquid amber (beer in Aussie-speak), of all brews, along with the odd flute of Champers. The event was yet another opportunity for likeminded enthusiasts to network, talk audio and share ideas and music in a friendly, open environment.
The post-barbeque meeting was staged by Australian speaker manufacturer and distributor Redefy Audio, headed by founder and chief designer Henry Kristanto. Kristanto presented Redefy Audio's newest creation, the rather large two-way Monitor standmount featuring a proprietary Redefy Audio 220mm carbon/paper mid-bass driver and 28mm Italian short-waveguide tweeter. The Monitor has been designed to mate seamlessly with its custom angled stand. Source was an Esoteric SA-60 CD player plugged into Audio GD's Master 10 integrated amplifier. IsoTek provided AC filtering and protection. Also shown was an attractive standmount from Vermouth Audio, the Little Luccas Mk.II Limited Edition, featuring a RAAL ribbon tweeter and custom Vermouth Audio 165mm driver in a gorgeous timber finish. All cable was via Vermouth Audio's top-shelf Black Pearl (standby for reviews on many of these items to come soon).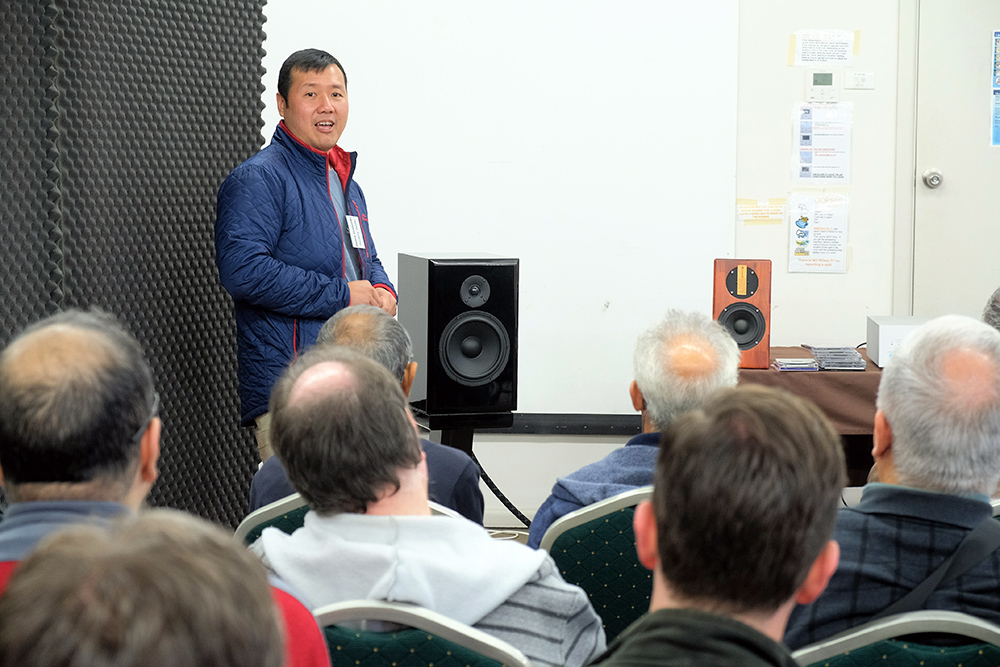 Redefy Audio's Henry Kristanto introduces the demonstration system to SAC's members.
I asked president Tom Waters what he thought may be some of the reasons for SAC's success, who said, "It's the support of the people we have. Some of them have been with us since the word go, myself included and attend regularly. We also have a very hard working committee, past and present. There's a lot of admin, paying bills, responding to enquiries, encouraging people to join us, etc." Waters continued, "SAC also provides a wonderful opportunity for members to hear different equipment and perhaps go on to purchase after a demonstration. It's very beneficial for all. We provide an anonymous feedback form which I always pass on to the demonstrators."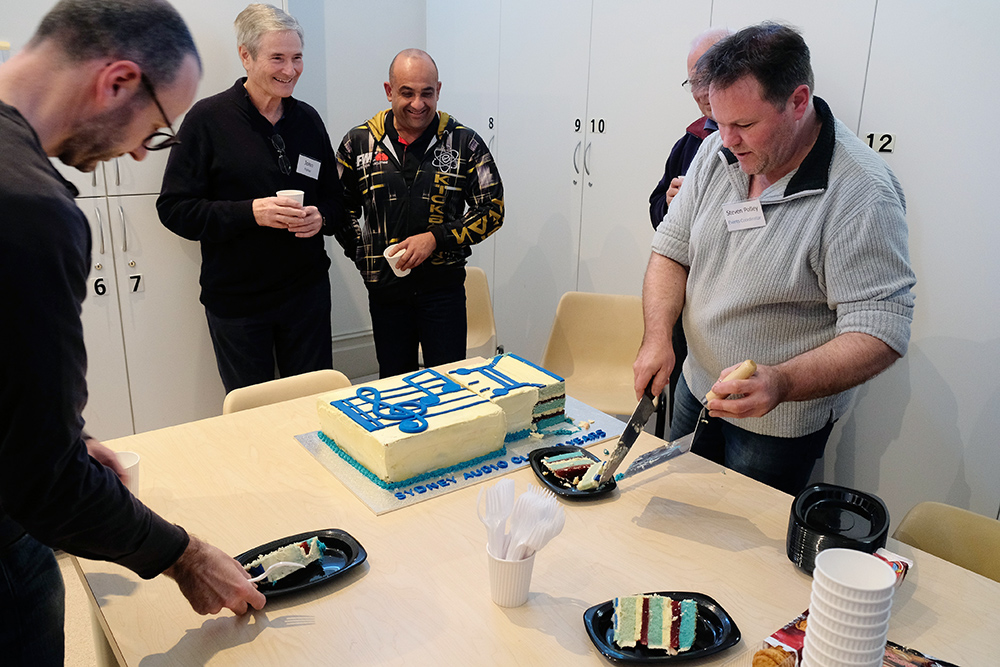 You call that a cake? Now, this is a cake. Steve Polley does the honours.
SAC's heavy focus on the enjoyment of music sees the second half of the afternoon dedicated purely to a "BYO" music session where members are given the opportunity to spin their own favourite tunes. Of note was founding member John McEvoy's pertinent spin of Mahler's Ride of the Valkyries, "the very same track that opened the first SAC session 10 years ago," as he stated. McEvoy closed the meeting with a reminiscent Respighi piece which was also the closing track back in 2007.
The anniversary event was a triumph of organisational efficiency while presenting a feast for the gustatory and auditory senses. Thanks to Steve Polley for the former (the massive birthday cake) and Henry Kristanto from Redefy Audio and the members for the latter.
We at SoundStage! Australia wish the Sydney Audio Club continued success.
Sydney Audio Club: www.sydneyaudioclub.org.au