McIntosh has informed us of the impending release of its biggest integrated amplifier, the new MA9000 super amp featuring a host of connectivity options and bristling with many of the company's proprietary technologies.
The MA9000 is an imposing unit, designed along the lines of the large power amplifiers but with a built-in preamplifier stage and a battery of input socketry. The amplifier is a real powerhouse capable of driving difficult speaker loads and is endowed with 300 watts on tap while using McIntosh's own Autoformer concept, which provides the full output power into impedance loads from 2 to 8 ohms.
'Power Guard' technology monitors output in order to prevent the harshness and potential speaker damage of hard DC clipping. New monogrammed high-quality heatsinks have been designed to provide more efficient heat dissipation, while the system provides the connected high current transistors with a regulated temperature environment in order to eliminate long warm-up time for optimum sound quality. McIntosh's 'Sentry Monitor' circuit is a fuse-less protection scheme providing short circuit protection by disengaging the output stage should an over-current situation arise. The system is self-resetting once operating conditions return to normal.
The MA9000 features analogue inputs in total of which six are RCA unbalanced, two are XLR balanced and two are phono inputs (MC and MM). The phono inputs feature adjustable loading for a variety of cartridges. A home-theatre pass-through is also on board. McIntosh has provided generous digital connectivity too, with the MA9000 featuring two coaxial, two optical, a USB and MCT (non-lockable DIN-style socket) inputs contained within the new DA1 module. A swag of control and auto-power (when mated to other McIntosh electronics) inputs/outputs are provided via mini-jack.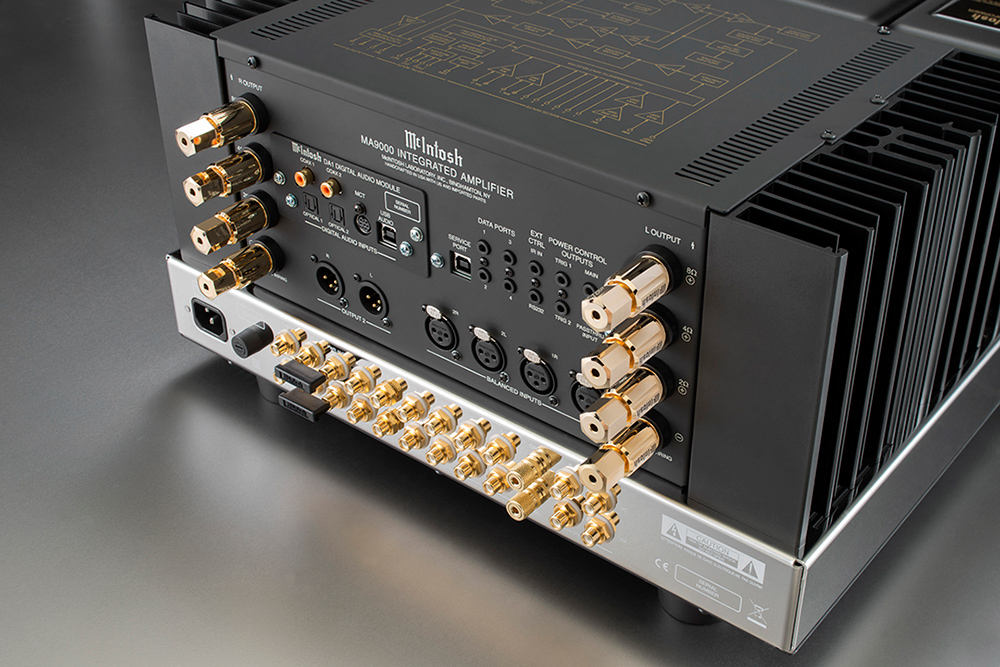 There's a high-quality headphone amplifier on board – accessible via the front panel's 6.5mm jack output – that uses McIntosh's 'Headphone Crossfeed Director' (HXD) technology for a claimed 'added dimension'. McIntosh's own patented 'Solid Cinch' gold-plated speaker binding posts are one of the best in the business in terms of usability with a variety of connecting and tightening options.
As mentioned above, the MA9000 features the new DA1 digital module which is removable and can be replaced with new versions when digital technology is upgraded. The DA1 module features on-boar digital to analogue conversion based on eight channels and 32-bit conversion in 'Quad Balanced' mode. High-resolution playback is supported via DSD256 and PCM up to 384kHz through the USB input. Other digital inputs handle 24-bit and up to 192kHz resolutions. Each input can be configured with user custom names via the new and more powerful control microprocessor. The MA9000 features an eight-band analogue tone control.
As per McIntosh tradition, the MA9000 is styled in the company's much-loved retro look with black glass front, classy polished stainless steel chassis, illuminated company logo, aluminium end caps and the famous blue meters contrasted by silver accents on the control knobs.
McIntosh products distributed in Australia by Synergy Audio. The MA9000 ships in July 2017 and its recommended retail price is yet to be announced.
Australian Distributor: Synergy Audio
+61 (0)3 9459 7474
www.synergyaudio.com
Price: TBA (US$10,500)