Melbourne high-end specialist-retailer Sound Gallery has just received the top analogue turntable from Gold Note. On display are the Bellagio Reference turntable, B-7 Ceramic tonearm, and Donatello Gold cartridge from the Italian company's pinnacle in analogue playback.
This rig will be shown for the first time in Australia at the Sound Gallery's main showroom in an all-Gold Note system terminating in the XT-7 floorstanding loudspeakers. The Bellagio Reference is the penultimate turntable, only surpassed in stature by the massive Bellagio Conquest. However, the Sound Gallery is showing the Reference with the flagship B-7 Ceramic tonearm and Donatello Gold MC cartridge.
The Reference features a total of five plinths, which sandwich different materials in order to control vibration and provide a solid platform for the needle-on-groove. A superbly engineered bearing and spindle feature a polished hardened carbon-steel construction, while the bearing housing is finished in polished bronze in order to provide a one-hundredth of a millimetre tolerance in relation to the spindle. A massive anti-resonance dampened motor pulley provides extra-low vibration transmission, aiding in noiseless motor operation. The motor itself is based on proprietary PWM technology that has been designed to provide low motor resistance and high torque. Different torque settings are provided in order to match their sonic characteristics to musical styles and tastes. An unusual feature for a turntable, a remote control, is optional with the Bellagio Reference.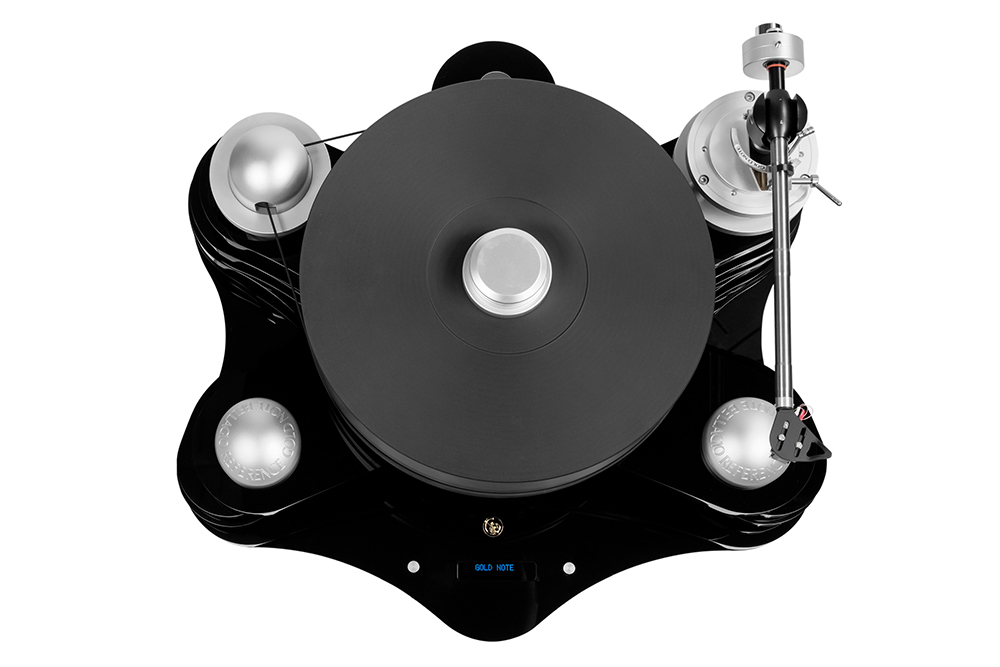 The hand-made in Italy B-7 Ceramic arm features four high precision micro ceramic ball-bearings manufactured in Germany by GRW. Each ball-bearing is treated and sealed independently in order to provide noiseless operation. For the same purpose, the arm wand is dampened in silicon and finely machined stainless steel counterweight is compatible with phono cartridges weighing up to 15 grams.
The Gold Note Donatello Gold MC cartridge has an output level of 0.5mV and a wide frequency response between 10Hz and 40kHz. Its impedance is 40 ohms and the suggested load 470 ohms.
"This is the first time a Gold Note turntable of this stature and superb engineering has been shown in Australia" says John Ong, Sound Gallery's AV Consultant, "and I'm extremely proud of providing this level of excellence to discerning music lovers in Australia."
Audition at: Sound Gallery
+61 (0) 3 9578 8658
www.soundgallery.com.au
Price: Gold Note Bellagio Reference turntable AU$17,917
B-7 Ceramic tonearm AU$2923
Donatello Gold cartridge AU$1792