We love finding hidden treasures… And in Krispy Audio's new showroom, we found a soon-to-be-not-so-hidden audio lover's gem tucked away in a suburban commercial complex on the leafy northern edges of Sydney. To get there, you'll take an easily-accessed and early exit off Sydney's Pacific Highway, part of Highway 1, the country's longest asphalt river pointing you to Central Coast towns lining our beautiful beach-lined shores and snakes right up north to tropical Queensland. SoundStage! Australia hit the road and visited the new auditioning facilities camera in-hand and with keen ears at the ready.
Krispy Audio's new showroom is a 'By Appointment' sound studio where owner Cameron Pope – an expert hand at both picking great demo music and making some of the best custom-blended coffee you'll likely experience outside of a barista comp. Pope has skilfully assembled a selection of audio systems available for audition, parts of which are from Krispy Audio's import portfolio and others from the vast selection of products the company retails.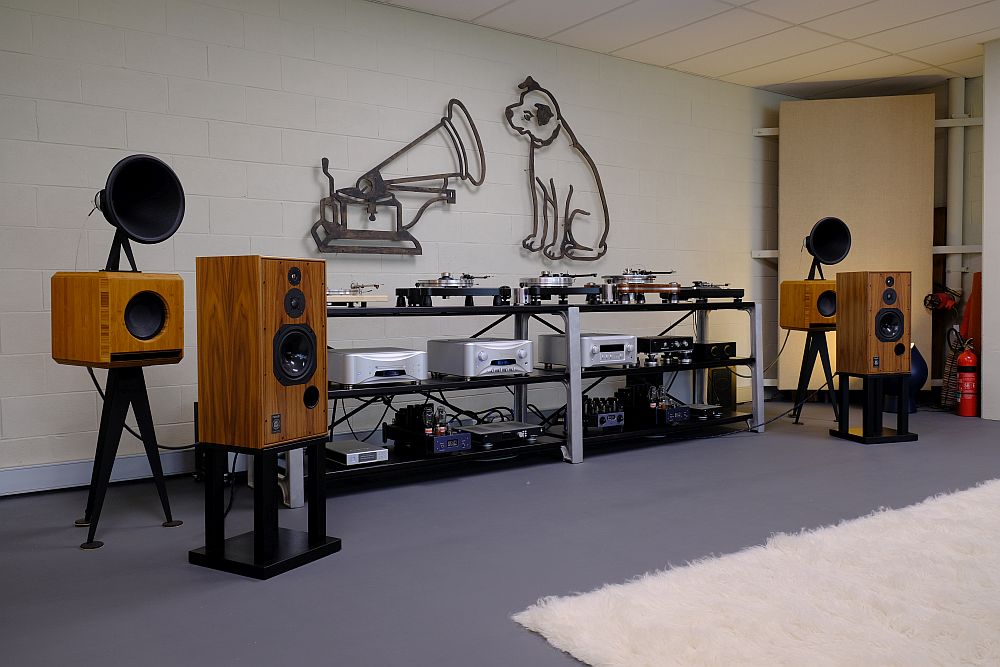 "I wanted to hand-pick products that work well together based on my music tastes – I listen for around eight hours every day" explained Pope. He continued, "I didn't want this space to be like a shop. This studio was six months in the making and I designed the theme and selected the acoustic solutions myself with the aim to get a 'natural' acoustic. I want people to come here and feel comfortable and happy to listen to music… like I do. I'm planning to hold regular monthly music nights and maybe basing them on a theme, or a particular artist, thereby qualifying the audience who are then happy to listen to music they know they will enjoy."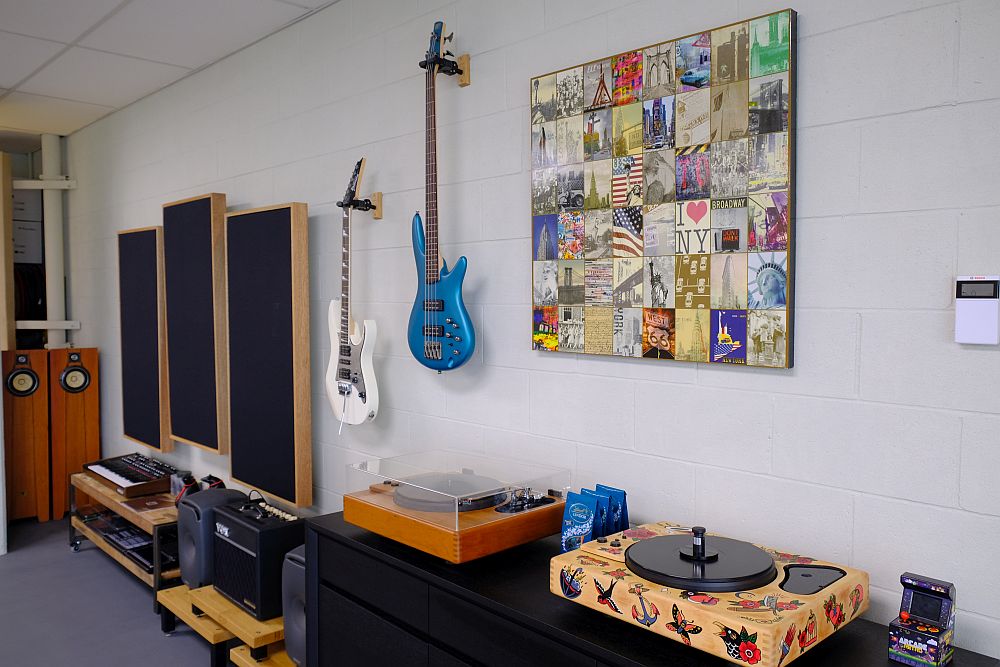 It's a warm, comfortable and inviting space, with artwork and musical instruments peppered around the studio's walls while the neatly displayed vinyl (Pope's own collection) and select audio items also hint at the music to come. The acoustics are quite good for a large open space and Pope has used banks of acoustic panels and corner bass traps to tame the acoustics. Outside it's a quiet environment so conducive to music listening without external traffic or shopping crowd distractions.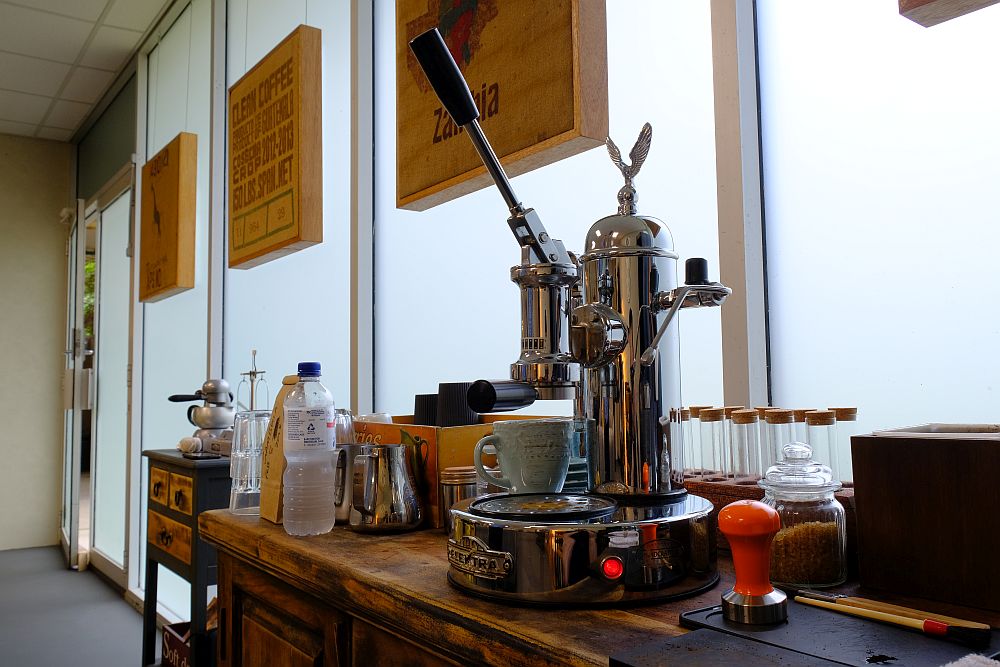 We listened to a number of tracks via an Aurender server through Esoteric (new Grandioso integrated) and Bricasti electronics while the speakers were Harbeth HL5 and Oswalds Mill Mini. The sound was expansive, warm, open and effortless. Pope spun a variety of music from large orchestral pieces to intimate vocal tracks to chilled-out electronica. On a massive custom Oswalds Mill rack Pope showed an awesome array of turntables from America's VPi Industries and his recently acquired mint sample Technics SL1200 with Technics arm. A side shelf showed SOTA turntables including one sporting a bespoke 'Tattoo'-themed plinth.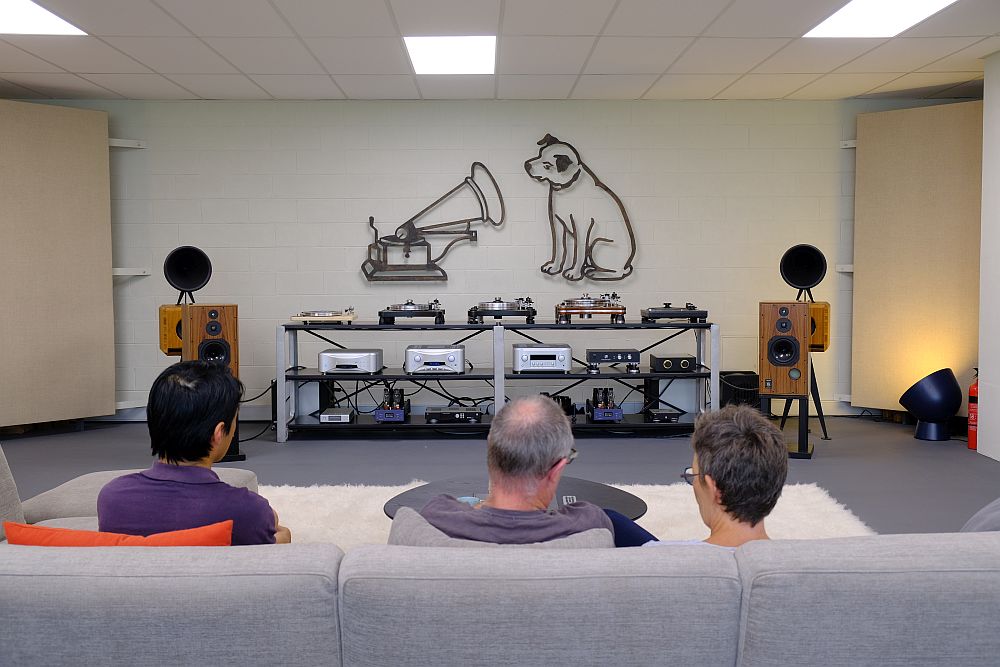 Cameron Pope has done a terrific job here. We liked the vibe of the studio and appreciated the great collection of equipment assembled there on display. We look forward to visiting again soon, especially on one of the music nights Pope hinted at. The new Krispy Audio showroom flies in the face of the dwindling 'bricks and mortar' notion and is a great addition to the Sydney high-end audio landscape. And did we mention that phenomenal cup of expertly blended and roasted beans?
Krispy Audio Showroom by Appointment
18 Kita Road, Berowra Heights
+61 2 8006 4666 and +61 411 968 902
www.krispyaudio.com.au