McIntosh continues to expand its product offerings with the announcement of a new monoblock power amplifier, the MC611, featuring the company's proprietary technologies, solid engineering and superb industrial design.
The MC611 replaces McIntosh's acclaimed MC601 and is said to offer 600 watts of solid power and, via McIntosh's Autoformer technology, it is capable of producing that power output into impedance loads as low as 2 ohms. The capacitor bank in the MC611 is double that of the MC601, with McIntosh now stating an increase of 55 percent in dynamic headroom from 1.8dB to 2.8dB. The added power supply capacitors are said to provide an overall increase in the quality of the low frequencies. Other circuit improvements include upgraded key component quality and heavier gauge internal wiring.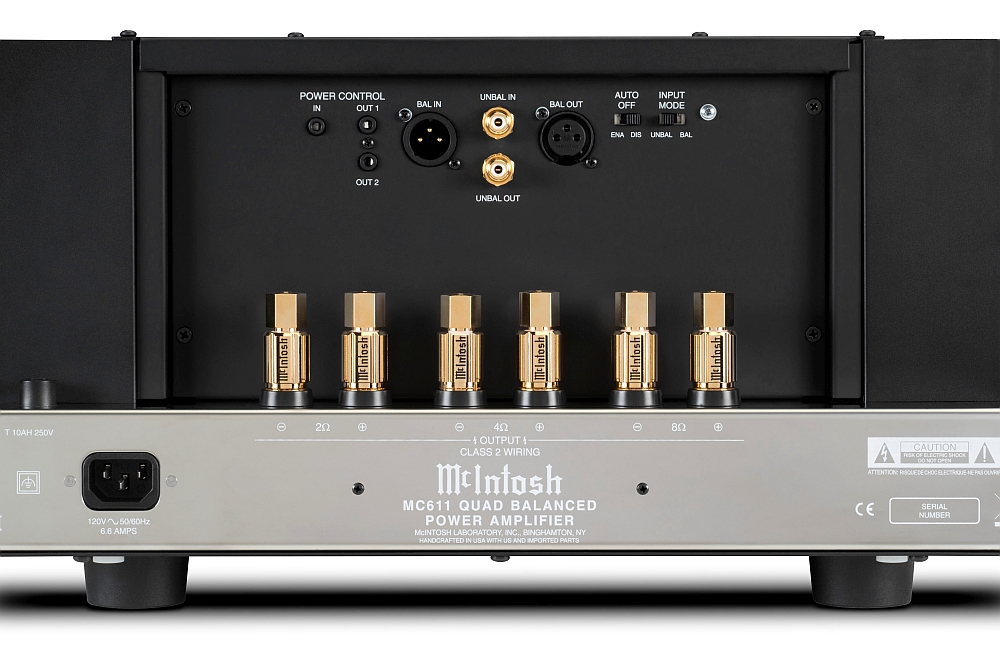 McIntosh also states, "In addition to all these improvements, the MC611 remains full of other exclusive McIntosh technologies including Power Guard, Sentry Monitor, a Quad Balanced design and Power Control. Both a balanced and unbalanced output are included to make bi-amping or tri-amping speakers easier; they can also be used to send the audio signal to a secondary system or to connect a powered subwoofer."
The MC611's rear panel houses one 'in' and two 'out' remote triggers via 3.5mm mini-jack, the aforementioned balanced input and output (XLR), single-ended input and output (RCA), a switch for balanced/unbalanced operation and another switch for auto-off (enable/disable). McIntosh's high quality 'Solid Cinch' proprietary speaker binding posts are lined across on a chrome plated surface and they cater for 8 to 2 ohms speaker ratings. Being a monoblock, the MC611 can be utilised to configure any audio system design whether simple stereo (or even a mono amplifier for a high quality centre channel) or a state-of-the-art multi-channel system.
The Autoformer is now housed within bespoke glass-topped enclosures while the amplifier sports the new 'Monogrammed' heatsinks that are making their appearance in the latest McIntosh amplification products. Aside from looking rather classy, the 'Monogrammed' heatsinks serve as the housing for the output devices, keeping them at optimum operating temperature and eliminating "thermal equilibrium lag time".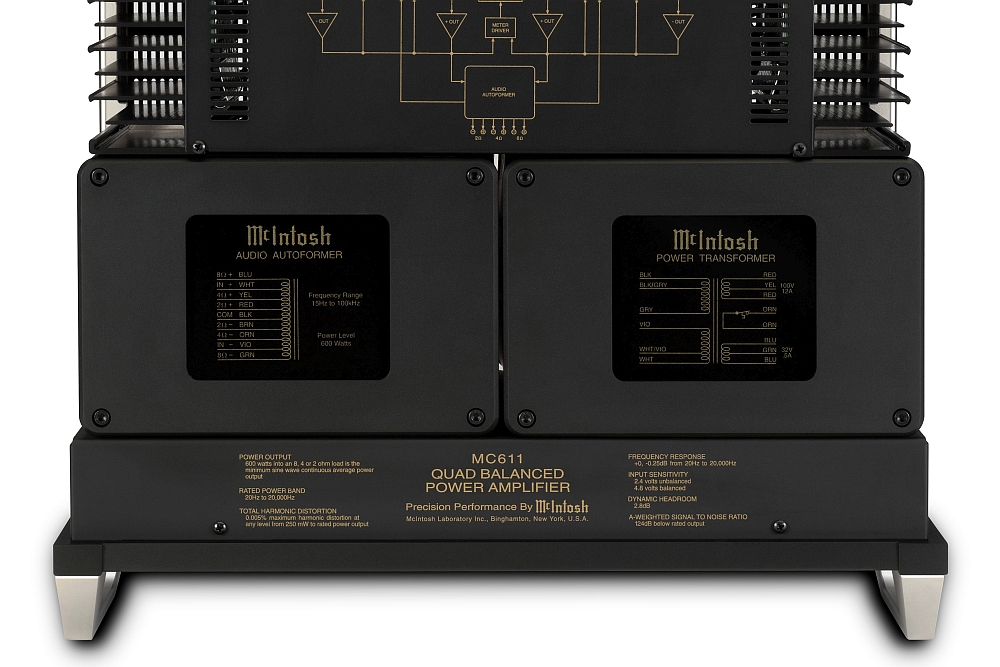 The iconic McIntosh design elements are carried through on the MC611. The front smoked glass fascia sports a massive (200mm) central backlit blue meter above two retro-style silver and black knobs controlling the meter (LEDs off, Watts and 'Hold') and the unit's on/off operation. McIntosh's logo is illuminated in its corporate green as used for decades but the lighting system now incorporates higher quality LEDs. Two massive aluminium handles flank the front panel and are indispensable for moving the heavy amplifier.
The new McIntosh MC611 monoblock power amplifier will be shipping in April and will be available in Australia via Synergy Audio distribution and its network of country-wide dealers.
Australian Distributor: Synergy Audio
+61 (0)3 9459 7474
www.synergyaudio.com
Price: AU$14,995