On this particularly cold Melbourne Sunday, while the masses were braving the year's first blast of winter, on the other side of town there was something warming up... two world-class 100kg Class-A Greek heavyweights. Enter here the audiophile's new home of entertainment, team Nirvana Sound!
A Night of Enlightenment
You may be right to react with a lifted eyebrow by the name, as Nirvana Sound are a relative newcomer to the world of 'Audiophilia' in Australia. But boy-oh-boy do they come with an agency of impressive and well-curated contenders. Worthy of note, is that their mission isn't to become the champions of the industry but rather to offer audio enthusiasts an experience unlike that of which they've come to know or have seen previously. One that welcomes the access to experience and appreciate some of the business' biggest and most revered names. To reinforce this novel approach, Nirvana Sound will periodically host social events, album nights and live music streaming performances in order to appreciate music, socialise and showcase portfolio products. Just like the one covered here, the Rudy Van Gelder Studio Organ Live Stream.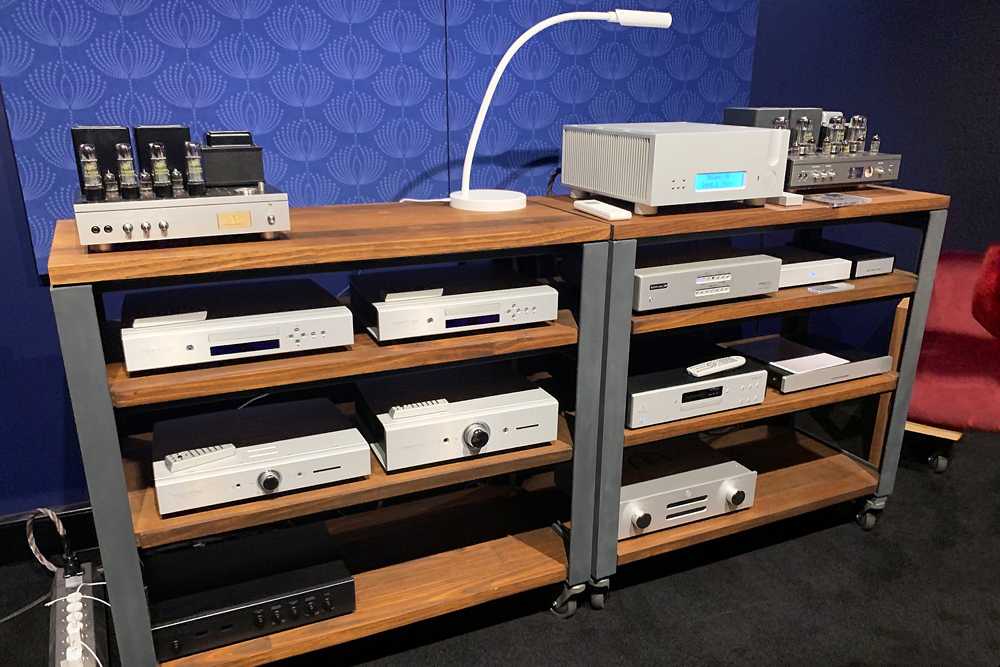 Once you have entered the doors of Nirvana Sound's Bentleigh East showroom in Melbourne, you are immediately greeted by the largest of their two listening rooms. Accommodating two equally high-end systems, on this night, Nirvana Sound has opted to flex the might of their world-class reference system in order to best capture the enduring genius and legacy of the late Rudy Van Gelder, his Hammond organ and the famed 1959-built studio.
The stream kicked-off with a nice brief preface from guest musicians Joey DeFrancesco on organ, Billy Hart on drums, Peter Bernstein on guitar and guest saxophonist Houston Person. They have had a life-long evolution with the works surrounding Rudy Van Gelder and his craft. After a not-so-great start from the MC (unfortunate microphone issues), the musicians, with great enthusiasm and bravado, were off!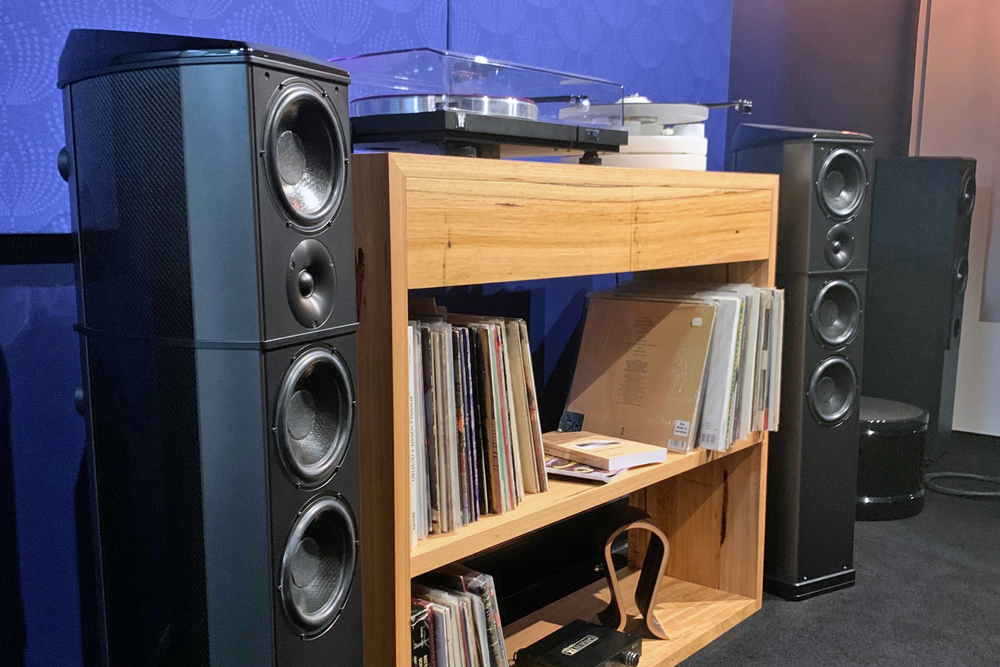 Jumping out of the gates, all musicians in the opening track were graced with individual expression and limelight and, while we were musically and technically caught awash by the sights and sounds (quite literally, pardon the pun!), it wasn't until approximately half-way that the engineers truly snapped the mix into perfect focus. It was then that the musical content captured it's true breath of musicality, space and rhythmic dynamics. That segued to Nirvana's system truly showing off its worth.
Billy Hart's expertly executed percussion proved the merits of Wilson Benesch's isobarically loaded eight (8) bass driver array. Peter Bernstein's subtle and nuanced guitar work played sweetly with Ypsilon's Hyperion Class-A amplification and the final track 'Aries', having much highlight on Houston Person's saxophone – and more so on Joe DeFrancesco's organ – showed up the Ypsilon and Taiko digital front end's ability to faithfully reproduce tonal texture and its volume of depth.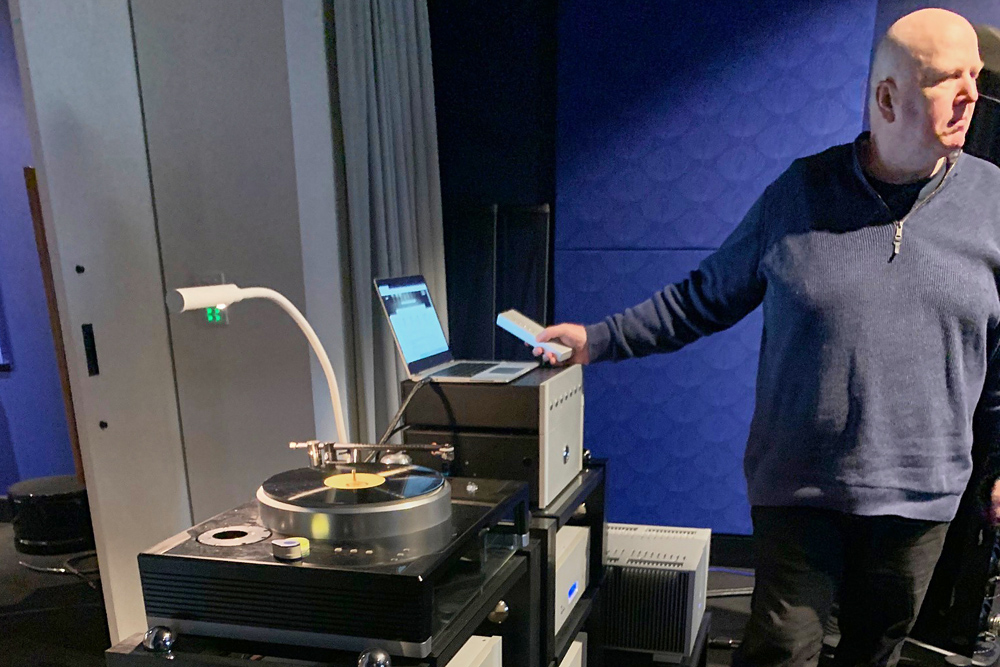 Skilled DJ Mark Dohmann shyly walks off frame...
With ample refreshments and finger food in hand, this was a wonderfully enjoyable and relaxed afternoon of good jazz and conversation, with a spot of analogue playback to finish things off. And what else would you come to expect when host Mark Döhmann himself is at the helm?
After speaking with the ownership of Nirvana Sound, I was told their intent is intent to hold many more of these events in the future with particular focus on product exploration (ie. playing multiple phono cartridges in one sitting), band discovery events (playing multiple albums by the nominated band) and more internet live streams like the one on this night.
Conclusion
While we struggle with the realities of life mid-Covid, it's nice to know that there's light at the end of the tunnel. Something positive has come about from an event offered by relatively new and welcomed faces.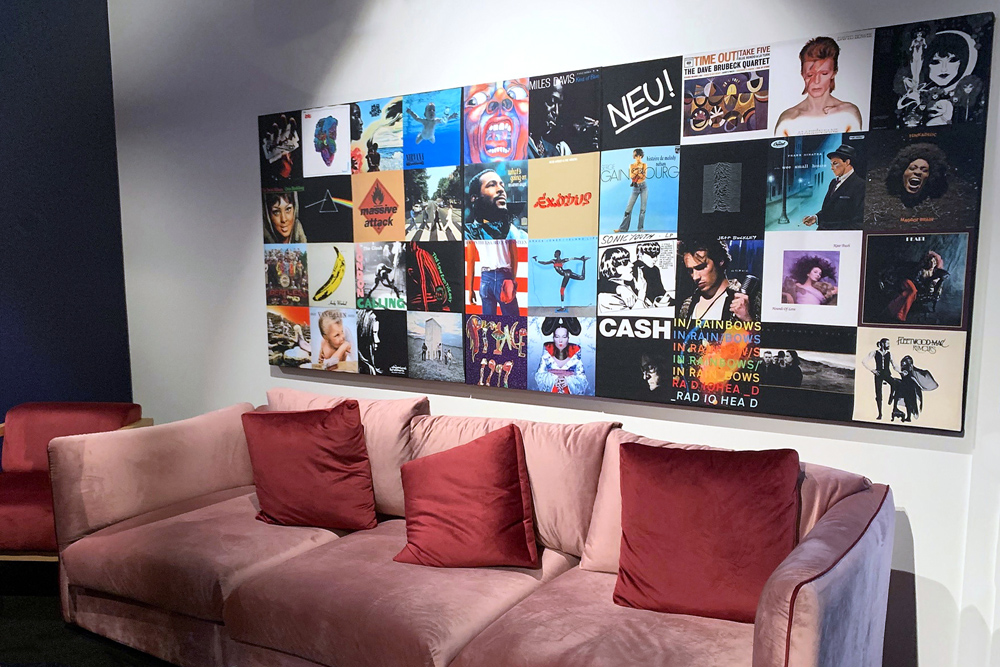 Keep an eye out for Nirvana Sound's upcoming event schedule. With a max seating of approximately 12 persons per event, I suspect that competition for a seat will get fierce!
Nirvana Sound Demonstration System
DAC: Ypsilon DAC-1000
Streamer: Taiko SGM Extreme
Turntable: Döhmann Helix 1, Schröder CB-9 Carbon Fiber tonearm, My Sonic Lab Signature Platinum cartridge
Preamplifier: Ypsilon silver PST-100 MK2 SE
Phono stage: Ypsilon VPS-100SE and MCL SUT
Amplifier: Ypsilon Hyperion silver
Loudspeakers: Wilson Benesch Eminence
Cables: Stage III Concepts
Nirvana Sound
1300 988 366
www.nirvanasound.com