The Sydney Audio Club has been in 'forced-lockdown' and in full music quarantine for over a year. Like all other recreational entities, the buoyant organisation succumbed to the tyranny of the dreaded pandemic, forcing it to shut shop primarily for safety reasons while also in order to comply with Australia's strict public gathering laws. Currently, with an ease in restrictions due to zero cases for nigh-on-two-months, the club re-emerges with one hell-of-a-meeting. Courtesy of Bowers & Wilkins Australia's Sydney headquarters, no less.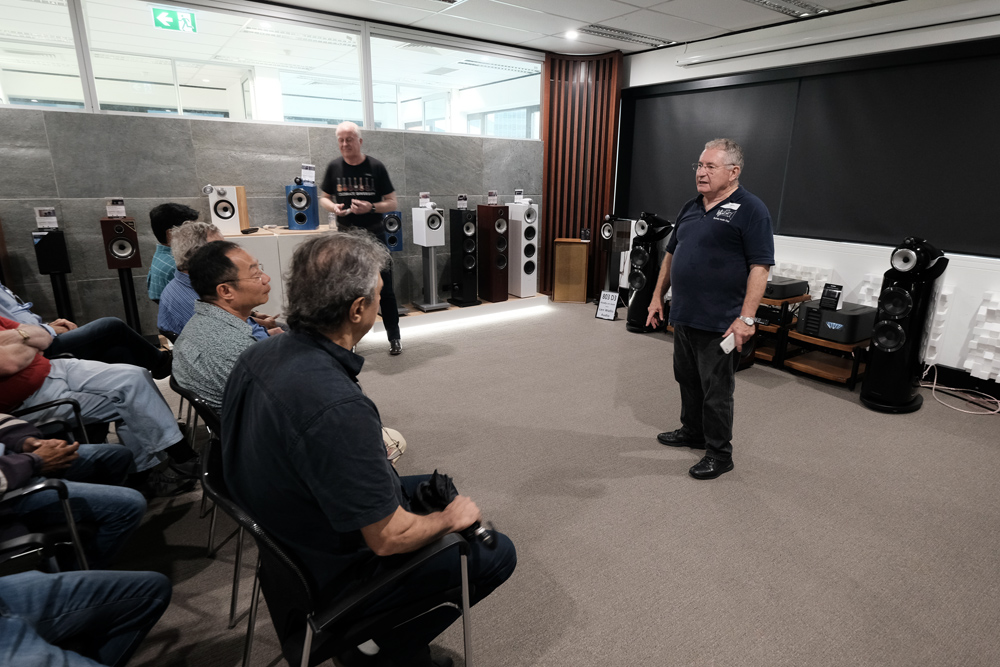 SAC President John McEvoy centre stage
Like a Phoenix
So it was a few days ago, on Sunday March 14 where the launch of the Sydney Audio Club's (SAC) 2021 season took place. The event was the result of negotiations between SAC President John McEvoy and Bowers & Wilkins Australia's John Martin who both persevered despite the changing conditions around the dreaded pandemic. COVID apprehension led to several postponements. The pandemic's only silver lining, a tremendous rise in demand for audio products, also presented a challenge in terms of demo stock availability. Enter Len Wallis Audio to the rescue with loudspeakers on loan for the meeting. Once all was locked-in, procedural guidelines were observed for the safety of all concerned. You know the drill… the ubiquitous hand-sanitiser followed by Q code sign-in and bruised-elbow greetings.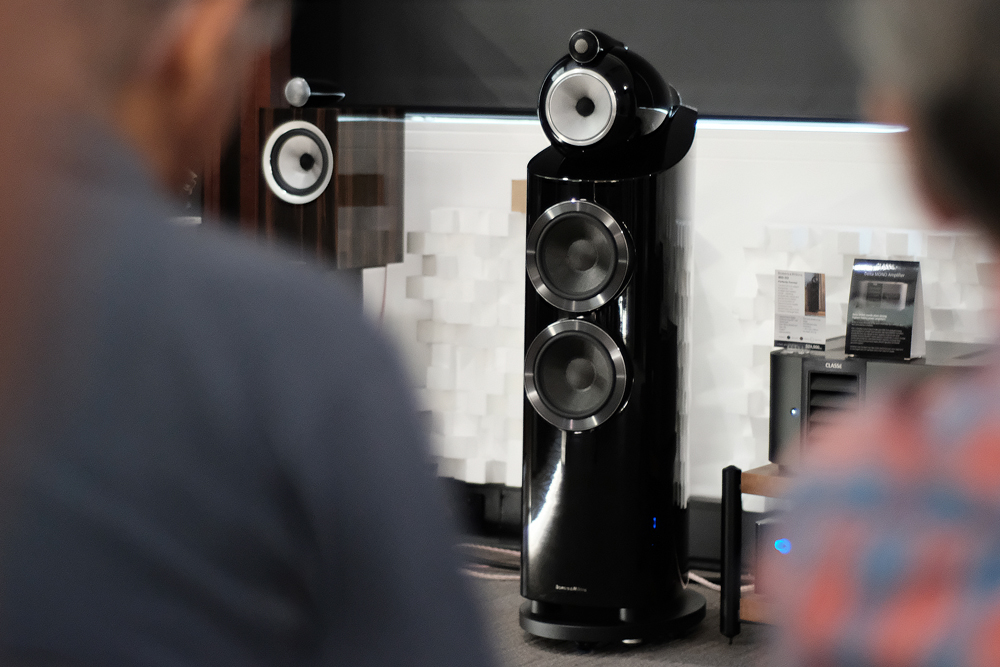 Fortuitously over the previous months, Bowers & Wilkins Australia had been renovating and evaluating the acoustics of both its main loudspeaker showroom – now also a space for associated company and high-end powerhouse Classé Audio – and the bespoke theatre room featuring a full Dolby Atmos installation. Importantly, in our experience, considered acoustic treatment – especially in the main showroom area – has garnered substantial improvements over the original bare-office spaces.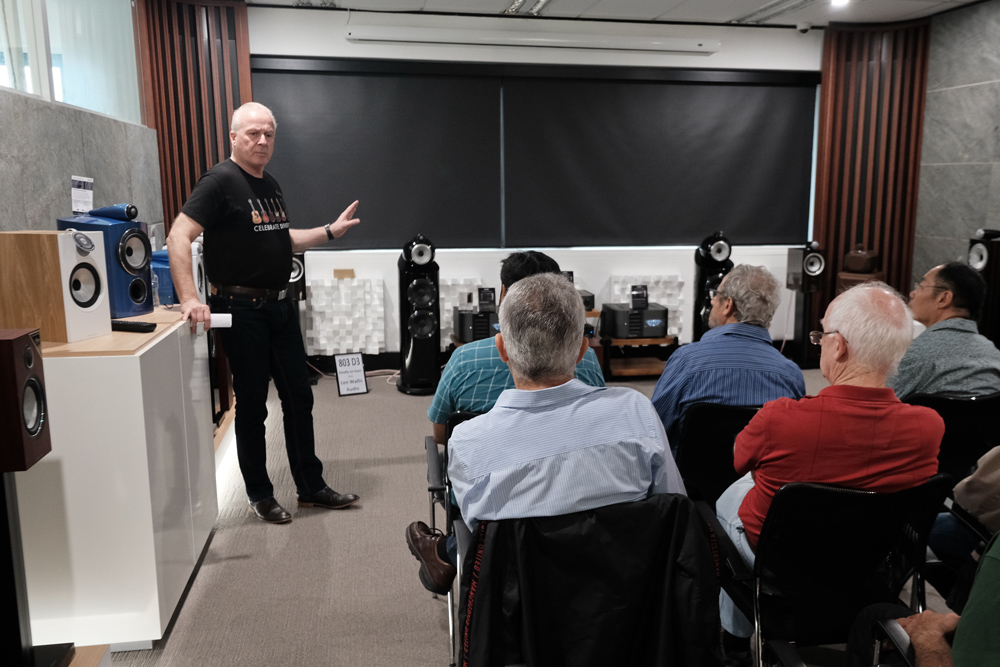 Bowers & Wilkins Australia's John Martin talks about B&W and introduces the new Classé Audio Delta components
On static display was just about the entire current Bowers & Wilkins loudspeaker line-up. Also strategically peppered around on display were some of the company's landmark products, such as the famous DM6 'Penguin' (as it's affectionately known), early 800 series models and, high on a symbolic pedestal, an as-new example of the iconic original Nautilus 'Snail' in a stunning red copper gloss colour.
SAC's membership was extremely enthused about this meeting both because of the opportunity to hear some of Bowers & Wilkins very best loudspeakers and due to experiencing withdrawal symptoms, after such a long forced hiatus. To accommodate the membership's zeal, the day was split into two sessions of between 15 and 20 members each. Each session was then itself split into a time listening as a group to the main attraction, a skilfully curated system comprising the new Classé Audio Delta PRE preamplifier and MONO amplifiers driving gorgeous gloss black 803 D3 speakers (source and ancillaries were Bluesound Vault 2i and Audioquest and Kimber cabling).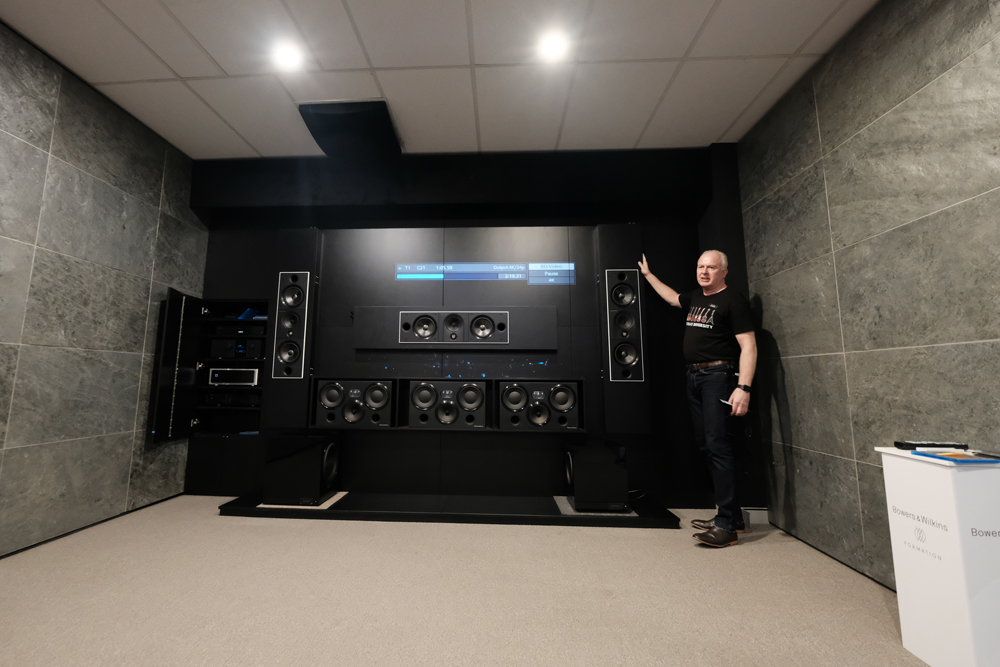 Music was expertly handled by John McEvoy and John Martin via a whole variety of genres. A sampling of the highlights included Richard Strauss' very dynamic-sounding Also Sprach Zarathustra (Rudolph Kempe conducting the Staatskapelle Dresden Orchestra), James Horner's soundtrack to the movie Swing Kids a recreation of Benny Goodman's classic "Swing, Swing, Swing", Gershwin's "Fascinating Rhythm" sung by Ella Fitzgerald backed by the Nelson Riddle Orchestra, "Fandango" from the disc Los Impossibles by Christina Pluhar and many others. I didn't get to hear it unfortunately, but I'm told AC/DC's "Thunderstruck" was a powerful experience. The system can do delicate orchestral and vocals while also being capable of blowing the roof off.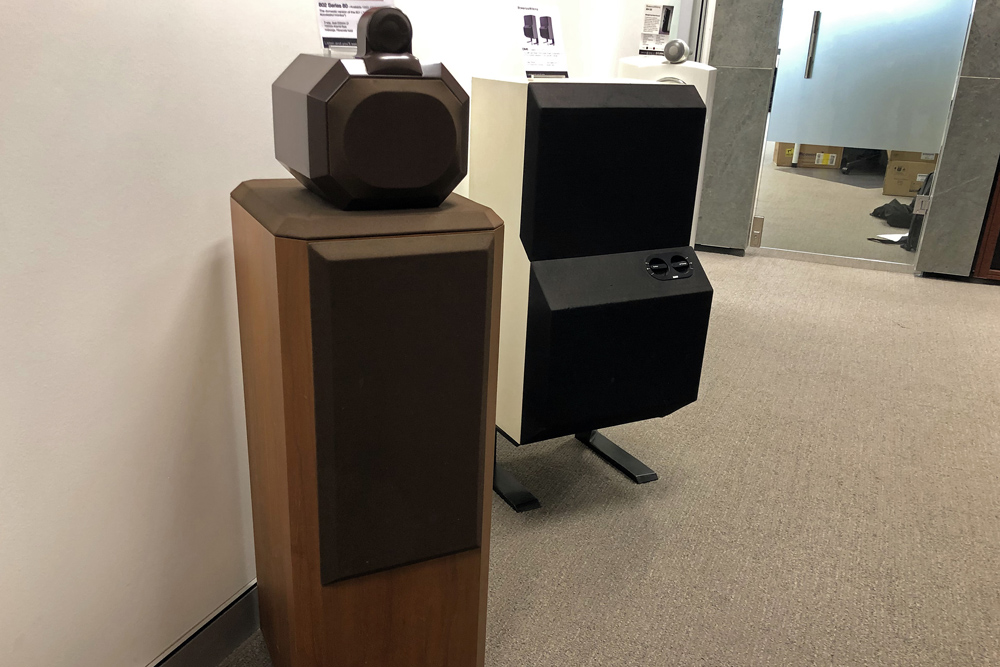 The classics…
The groups were then split into two in order to sample the superb 7.2.4 Atmos system in the dedicated theatre room. Here a flush-mounted loudspeaker system based on CMW8.3D and CMW8.5D loudspeakers (among others) and multiple DB subwoofers presented the potential via a Trinnov Altitude 32 processor and NAD M27 Master series amplification. Visuals were presented by Panasonic's flagship UB9000 Bluray player and Epson's 9400 4K projector. As John Martin explained, the theatre room "is a training tool" for installers and Bowers & Wilkins Australia staff. It's a stunningly powerful-sounding system and Hans Zimmer's Live Concert Bluray sounded spacious (as it should in an Atmos context), dynamic and realistic. But if the words "dynamic" and "realistic" excite you, then listening to the now-almost-ubiquitous Unbroken demo track will blow you away. Wow!
Yet another session presented an upper-tier Rotel amplifier driving the delectable 705 Signature Edition standmounters with support via B&W's DB3D subwoofer. Also interesting was an annexed area where the over-achieving Formation Duo loudspeakers were available for audition.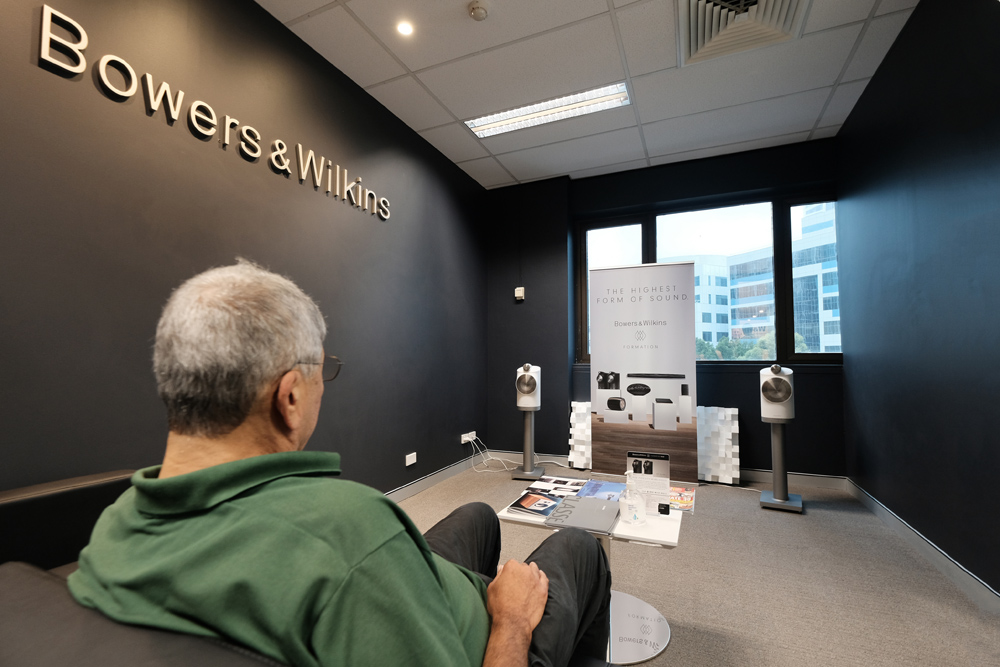 SAC President John McEvoy told SoundStage! Australia, "With all our Sydney Audio Club meetings cancelled for the last year due to the COVID lockdowns, the Committee was keen to start the year off with a bang. We had been talking with John Martin from Bowers & Wilkins for some time about auditioning their 800 series D3 speakers driven by the Classé preamp and monoblock amplifiers."
John Martin from Bowers & Wilkins followed with, "It was our pleasure to welcome the Sydney Audio Club to our new Chatswood showroom last weekend. The members' feedback after listening to our 700 and 800 Series speakers partnered with Classé electronics was fantastic, and more than a few were surprised at the performance of our Formation series. We also loved seeing the smiles generated by the experience of our $100k Atmos theatre. We look forward to supporting more enthusiast groups with events like this in the future."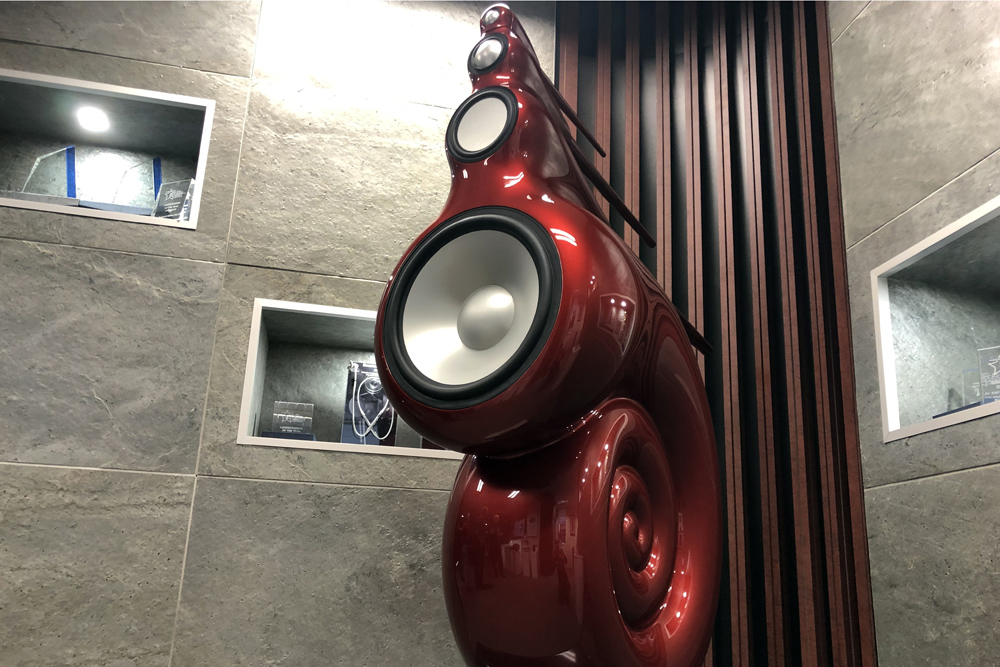 …and the iconic
This was a well-attended meeting and the general vibe was one of camaraderie and appreciation of both Bowers & Wilkins Australia's generosity and the music-making powers of the systems under demonstration.
Sydney Audio Club
www.sydneyaudioclub.org
Bowers & Wilkins Australia
+61 2 9196 8990
https://www.bowerswilkins.com/