Being practically in the geographical centre of Europe, Munich, host of high-end audio's largest exhibition, presents audio journalists with appealing opportunities to hook-up post-show factory visits. You're in Europe, right? Why not extend the stay and check out the local operations… after all some of the world's best high-end producers are based around this gorgeous continent. And when you're coming from Australia, best make the most of it… you've travelled nearly 24 hours just to get there… man, we're far.
This year more than in previous visits to Munich, post High-End Munich 2017 invitations came through from a number of sources but, alas, there's finite time and adrenaline reserves (I'm working on a cloning scheme right now; should make my life quite a bit easier). So, the final commitments were then made to visit a couple of high profile manufacturers – culminating with the Audia Flight operation – in a single country, albeit probably my favourite European locale, Bella Italia.
Audia Flight is a company with an increasingly higher profile in the luxury high-end space. The flagship Strumento line is rather special and universally highly-acclaimed and the FLS line combines superb performance with relative high-value (see the FLS4 amplifier review here).
So it was that, post the exhausting maelstrom that was High-End Munich 2017, I made my way to Civitavecchia, a picturesque seaside town about an hour's drive from Roma. The beautiful port area is littered with cool cafes and trattorias where, after a cappuccino and the best pasta on the planet, you can take a leisurely stroll along the seaside plaza, caressed by the fresh sea breeze, while pondering on times gone by at the near-five-hundred-year-old Forte Michelangelo, a massive stone structure used to protect Civitavecchia from marauding pirates.
Company principals Massimiliano Marzi and Andrea Nardini were my most gracious and welcoming hosts. Audia Flight's administration and assembly facility is in an industrial area a short drive from the centre of town. There, Audia Flight designs and 'voices' its products – a very good listening space is used to audition products for evaluation and tuning – and where general assembly takes place after receiving the superb Audia Flight products' chassis from a specialised contractor. This subcontractor is able to meet the extremely high quality requirements demanded by Marzi and Nardini, a standard that is held for both the Strumento and FLS lines. But even then, the chassis plates are further hand-polished to higher standards at the Audia Flight facility prior to full assembly.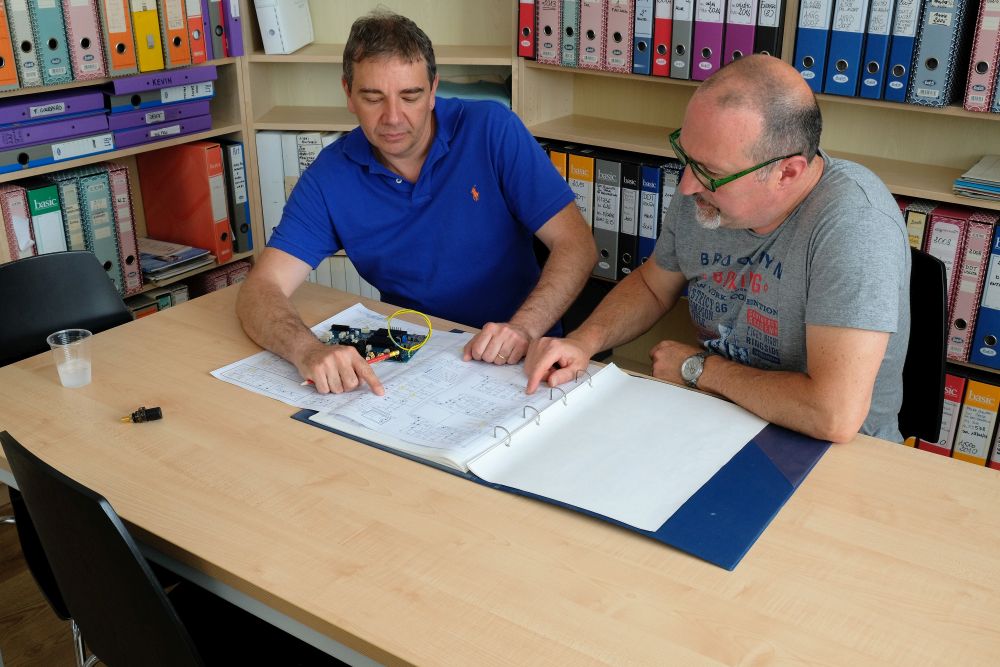 Massimiliano Marzi and Andrea Nardini collaborating on a new Audia Flight design.
At the time of my visit Audia Flight was in full production mode for the FLS10 integrated amplifier which hit the market prior to High-End Munich and a production run of FLS4 power amplifiers had just been completed. Massive work benches were populated with numerous amplifier sections in several stages of assembly. Each section of the amplifier is checked and tested by an Audia Flight technician across all levels of the manufacturing process. Audia Flight designs its amplification products to perform above specifications and to that end Marzi and Nardini – who are extremely hands-on in the day-to-day running of the operation – select components of very high rating over-and-above their roles within the circuit. When it comes to the Strumento line, massive transformers and capacitors are auditioned through exhaustive listening sessions to establish the best performing components to then go into production. The same quality fanaticism applies to the FLS line. To that end, the facility houses a large and acoustically treated listening/auditioning space where a custom pair of speakers – featuring top-notch drivers and highly-tweaked external crossovers – are used to analyse a variety of componentry and also assess final product performance.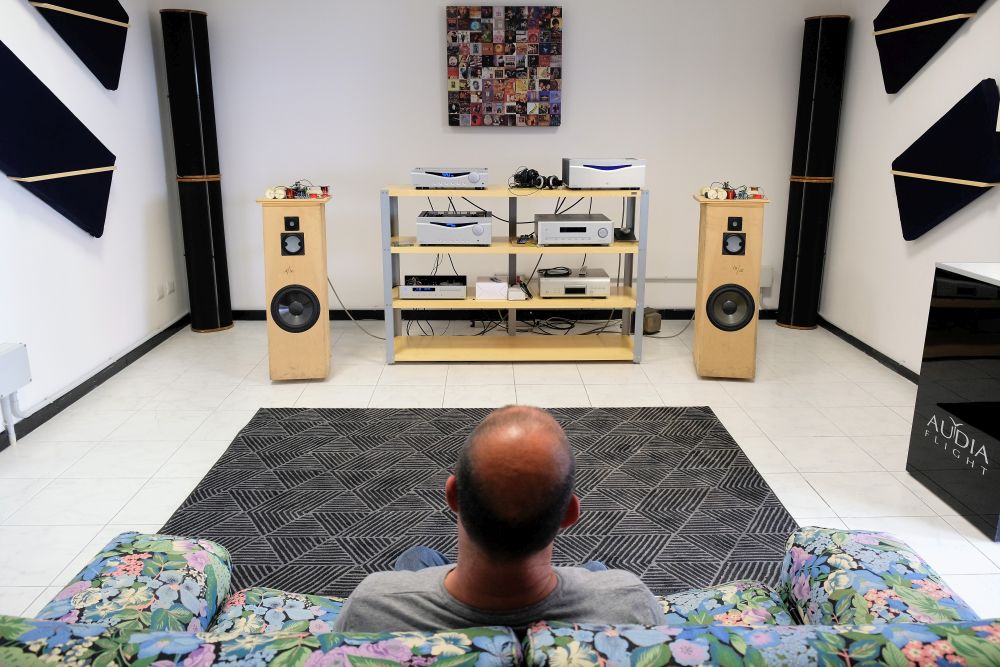 The auditioning/fine tuning room with custom speakers.
As Massimiliano Marzi explained when describing the original Strumento № 4 prototype, "here at Audia Flight we like using very big transformers and massive power supplies. Much bigger than needed. Our amplifiers provide high current, high dynamic headroom when required… si, always!" And it's that over-engineering mindset that has pervaded across all areas of the company's electronics.
Audia Flight is going places. They're in full aeronautical mode right now (pun intended) and judging from the organisation's culture, the product design philosophy and Marzi and Nardini's uncompromising adherence to quality, the aeronautical experience with Audia Flight is of travelling first class. Forza Italia!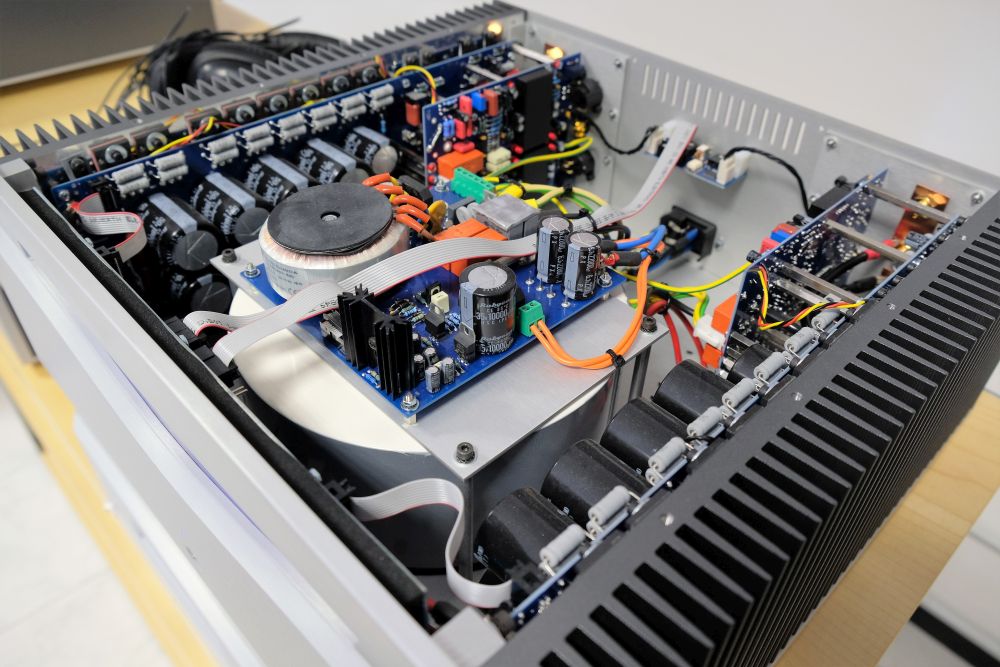 FLS4 stereo power amplifier in final assembly stage.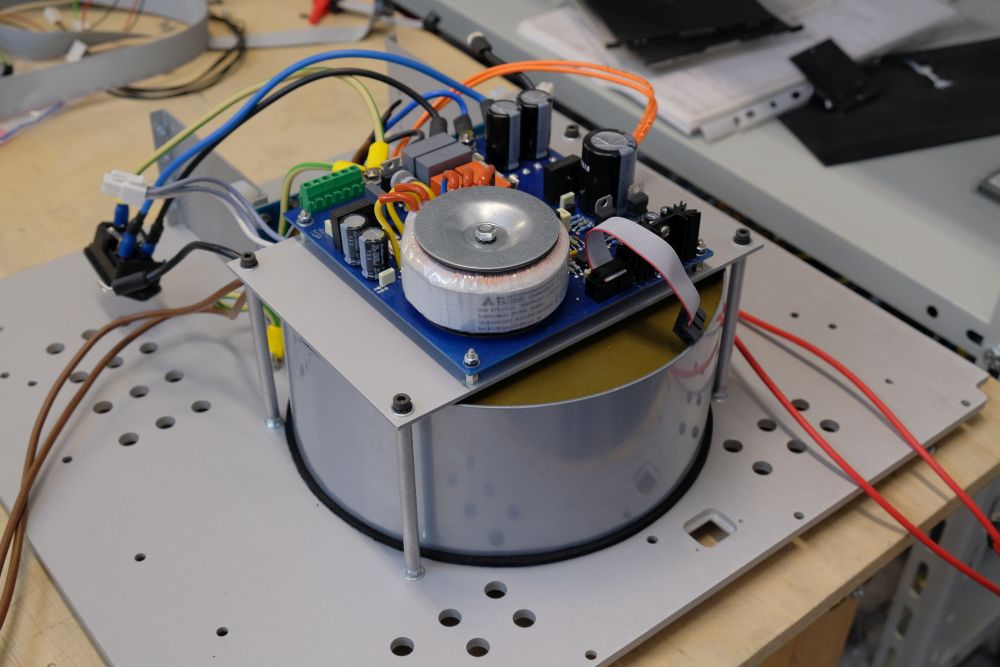 Stacked transformers for the FLS4. Note the potted large bottom unit.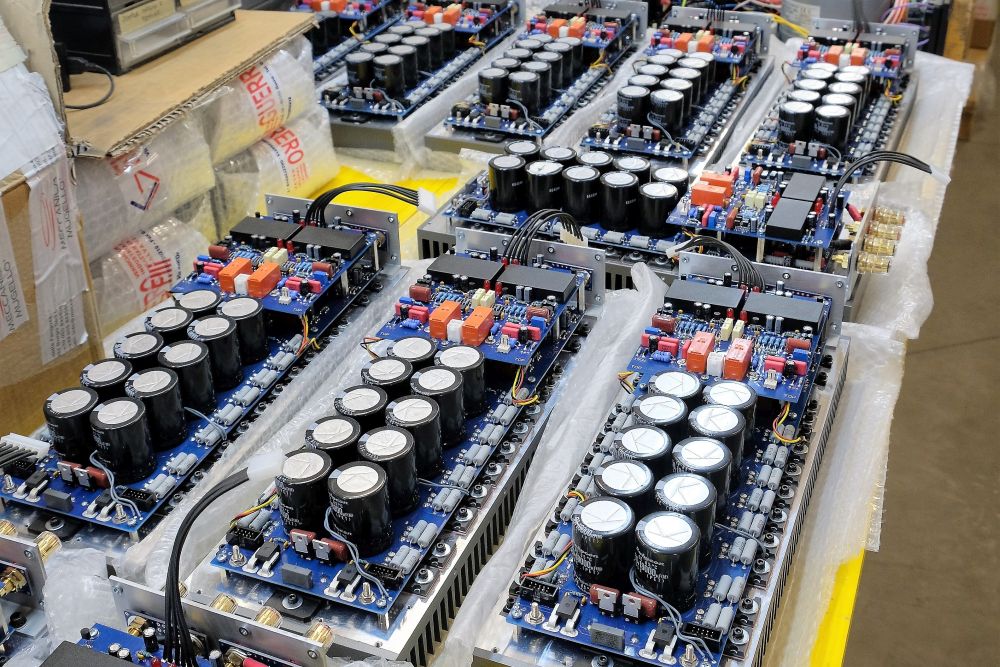 Banks and banks of capacitors ready for FLS10 assembly.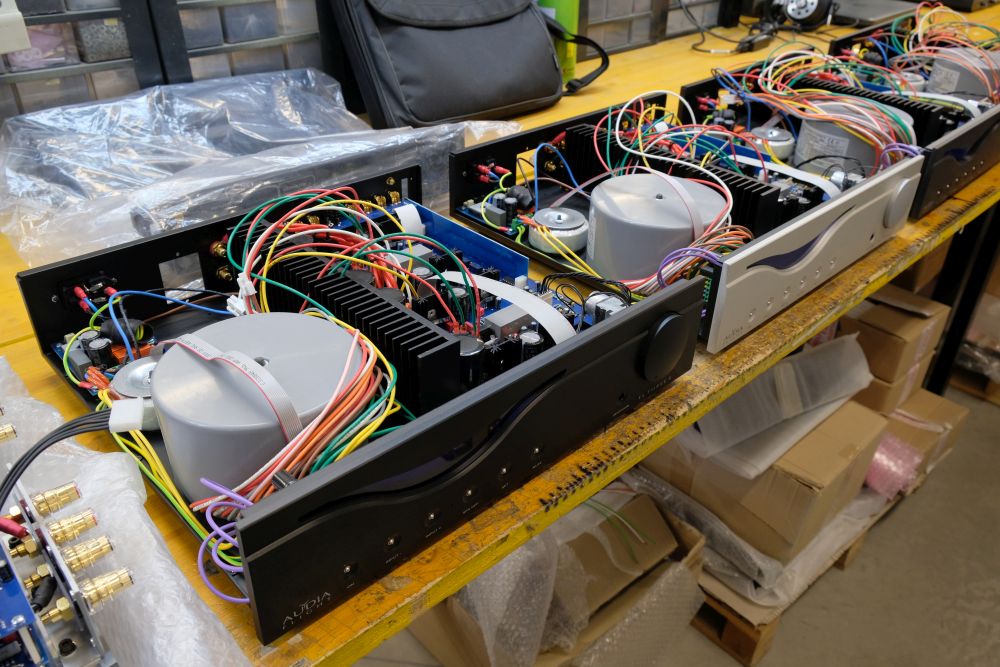 FL THREE S integrated amplifiers in black and natural aluminium ready to test before shipping.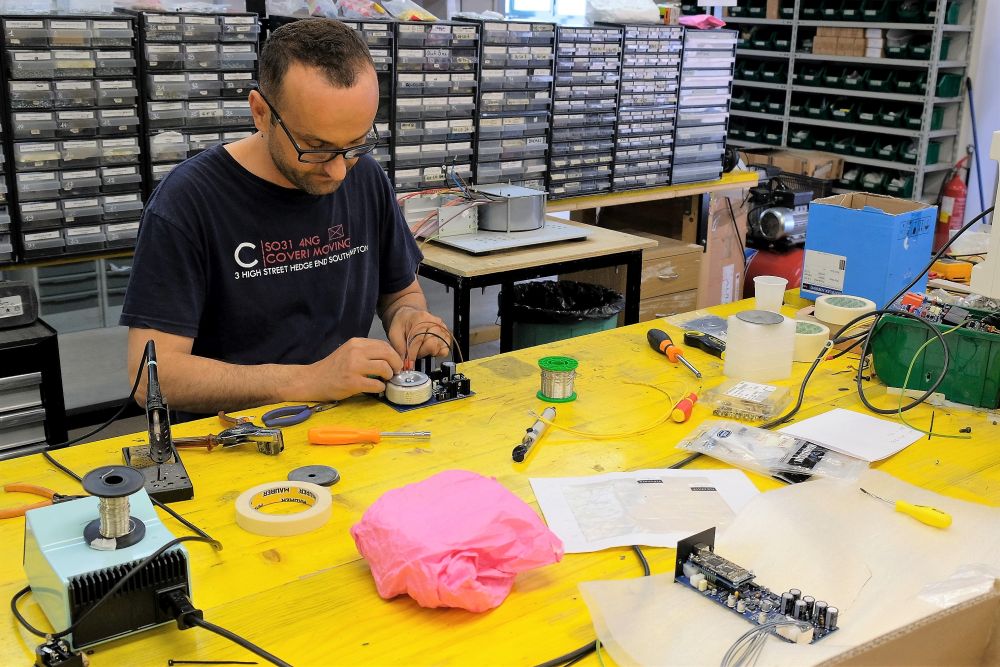 Technician concentrates as he assembles a secondary toroidal transformer for FLS10 integrated.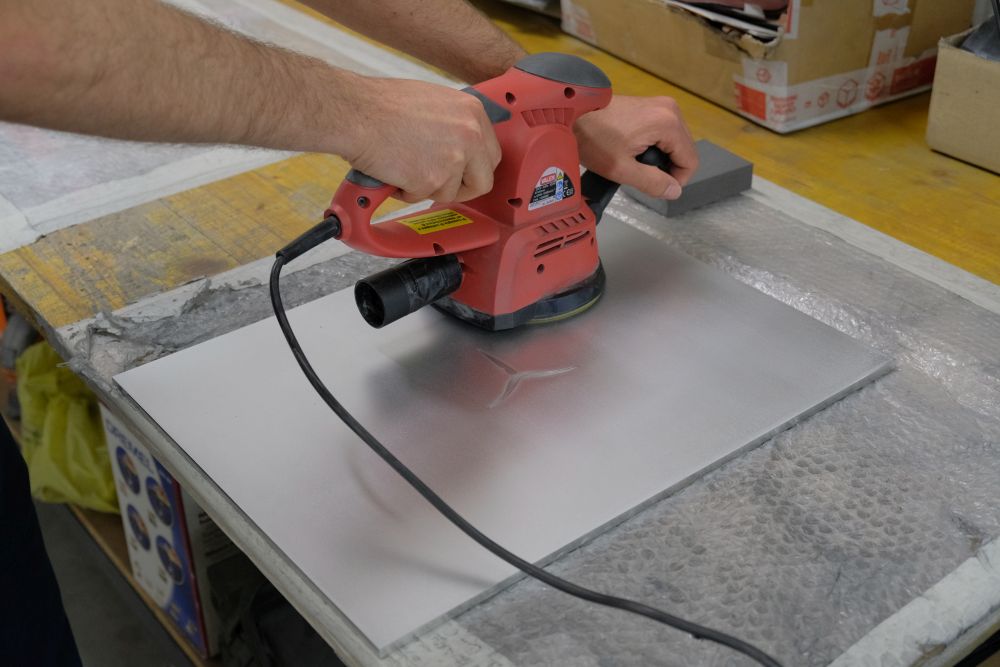 Further polishing of Audia Flight's aluminium top plates after their arrival from supplier.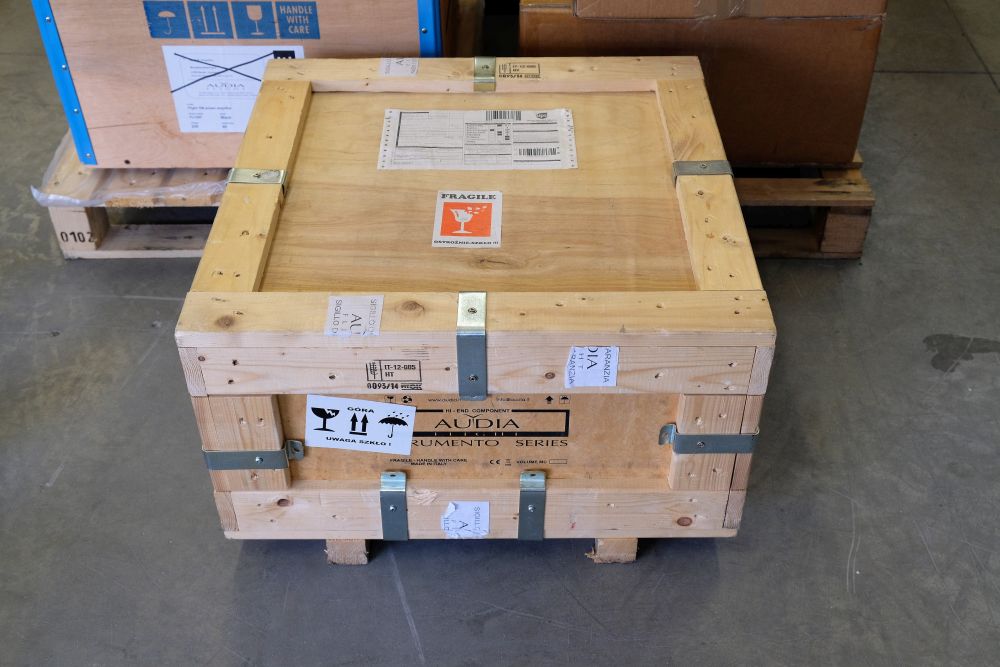 The last chain of command at the Audia Flight factory – a wooden-crated Strumento preamplifier is ready to hit the high seas.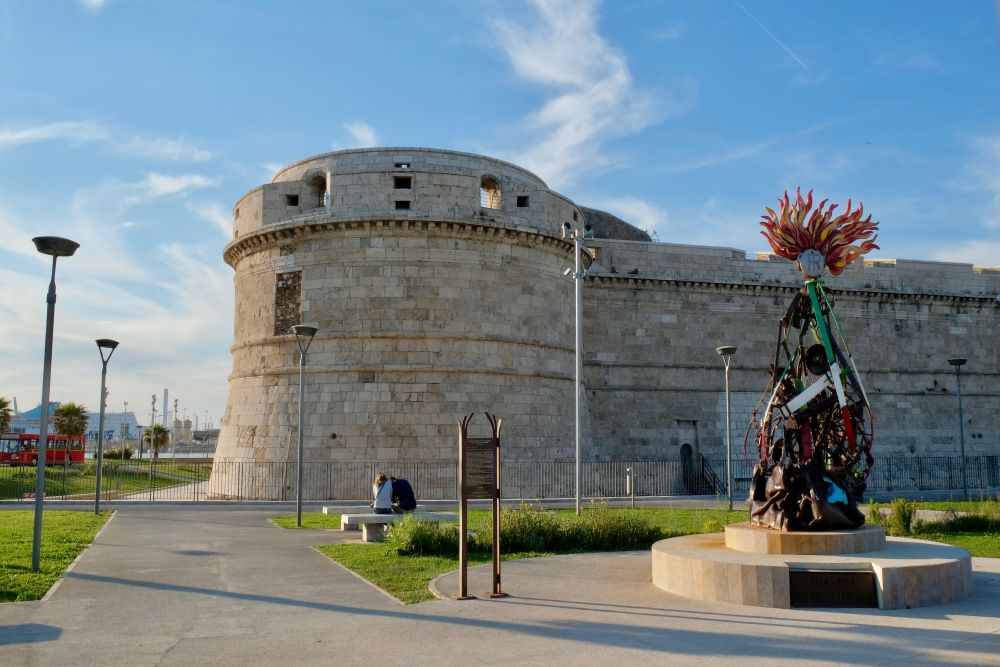 Forte Michelangelo flanks the Civitavecchia plaza where the 500 year old structure is juxtaposed with modern sculptures all along the beach.
. . . Edgar Kramer
This email address is being protected from spambots. You need JavaScript enabled to view it.