There's a vibe around university cities. It's the mix of youth's energy, stern academia and a predominance of… intelligence. All this, within a melange of the general workings, infrastructures and service mechanisms that are required for any city to function and indeed prosper. Cambridge University has been the heart of its namesake city; a metropolis steadily growing for the last decade or two and where the juxtaposition of historic landmarks and modern technology abound. It's one of the UK's main centres of knowledge and development and, as far as our industry is concerned, it is home to a number of specialised audio technology companies of worldwide importance.
Cambridge-based Arcam is a global force in audio's upper mid-level where the company's highly-engineered products also offer superb value-for-money. I had the privilege of visiting Arcam's headquarters in Waterbeach, Cambridge as part of the company's launch of updated Dirac Live functionality across a growing range of its products.
While Arcam's Export Sales Manager, the jovial Scot George Robertson, was my first-contact host, the presentations were, in the main, conducted by the highly knowledgeable music-loving Andy Moore, Arcam's Product Manager, who had prepared scheduled sessions covering Dirac Live and its benefits across a number of differing system contexts. The listening sessions were to be conducted in Arcam's new listening/auditioning rooms. The rooms are truly outstanding environments for music listening and appreciation while serving as state-of-the-art settings for critical assessment of audio component performance.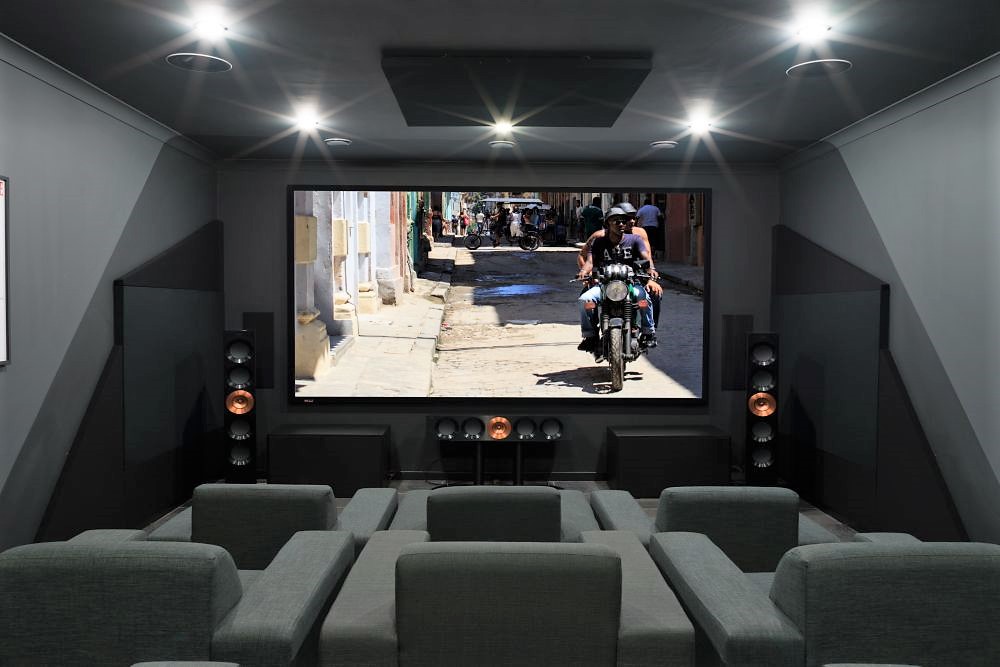 Arcam's stunning full Atmos cinema.
Dirac Live is a superb up-to-the-minute calibration and optimisation DSP platform which corrects speaker frequency response – a target response for the 'perfect speaker in the perfect room' – in relation to the listening environment. Dirac Live is available for download at the Arcam website in both Mac and PC versions and Dirac's powerful computers actually 'talk' to your own in order to make the substantial calculations required for the in-real-time application of the various correction parameters – in the main, frequency, phase and impulse responses.
Setting yourself up for Dirac Live is simple and requires a calibrated USB microphone, microphone boom stand and a computer. The Dirac Live default response is of a gently declining curve above 8kHz and the software applies correction to all the speakers in a home cinema system across the recommended nine-point measuring process. This is done in order to accurately match the tonal qualities throughout the entire soundfield, making for superbly coherent and consistent sound from speaker to speaker. Of course, the target curve can be adjusted by the user to match an individual's sonic preference.
Dirac Live also addresses pre-ringing from the impulse response and deals with a room's reverberation characteristics while applying mixed filters in order to adjust and correct the speakers' phase between 20Hz and 20kHz. An even phase response is particularly important in the context of high quality home cinema systems where the addition of one or more subwoofers, a centre channel and overhead and multiple surround speakers further complicate the interaction between transducer and listener. Arcam states the direct consequence of these applications and corrections result in improvements in soundstaging and imaging, and increase in clarity, vocal intelligibility and overall detail, more accurate timbrel information, tighter bass performance and more.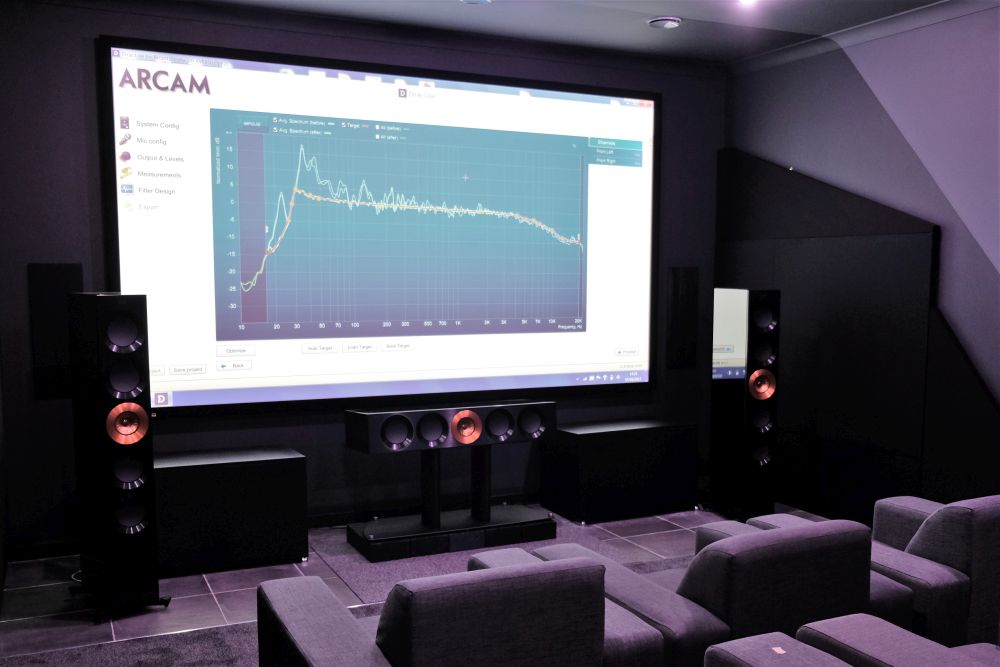 In the process of Dirac Live calibration in the cinema theatre.
Listening sessions
Arcam has developed its Class-G ultra-low distortion amplification over a number of generations now and applies this mix of Class-A and Class-AB circuitry (with individual power supplies/rails activating in the appropriate sequence as needed) across all its receivers and amplifiers. Arcam's founder John Dawson spent some time explaining the merits of the company's Class-G topology and told me he spent the best part of seven years perfecting it prior to its first implementation in the AVR600. He also gave me an insight into the evolution of the company with the landmark A60 amplifier being so favourably reviewed in Hi-Fi News & Record Review magazine resulting in consumer demand shooting through the roof with over 36,000 units sold during its live cycle.

The iconic Arcam A60 integrated amplifier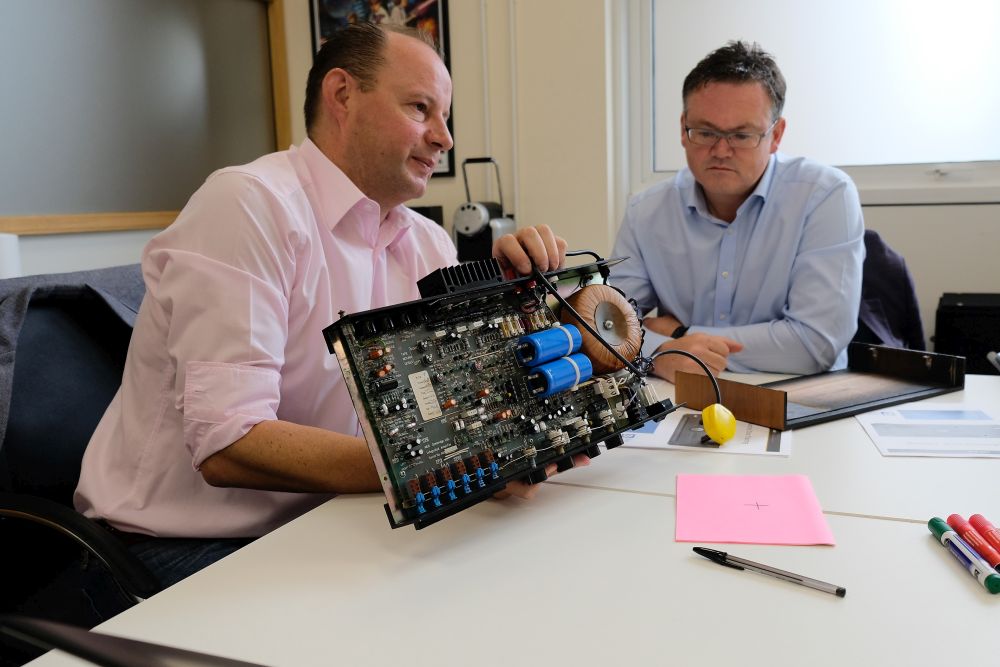 Arcam's Andy Moore shows the cunning simplicity of the A60's circuit design (George Robertson on the right)
Dawson also reminded me of Arcam's digital-to-analogue converter, the aptly-named Black Box 1, which back in 1986 was the world's first outboard DAC. Other world-firsts were Arcam's DAB tuner, a reference level unit built for the BBC in 1989 and a "Nakamichi Dragon beater" the Delta 100 cassette deck – the first with Dolby S.
The two studios – one a state-of-the-art large multi-seat Atmos home cinema and the other a more 'lounge room'-like stereo environment – are extremely well designed in terms of acoustics and listener comfort. The theatre room featured an all KEF system (headlined by the stunning KEF Reference 5 speakers) powered by Arcam's top AV860 processor and multiple P349 and P49 power amplifiers up to eight P49s in monoblock configuration!). At the time of my visit, the stereo room was the home of Arcam's top C49 and P49 preamplifier and power amplifier combo (Arcam's top SR250 stereo receiver and AVR850 AV receiver were also at hand for comparative purposes) driving KEF R300 standmount speakers and Australia's own Brigadiers Audio BA-2 large standmount speakers. The company's irDAC-II and rPlay streamer were the sources.
Back in the theatre room, watching several movie excerpts truly drove home the excellence of Arcam's electronics and the Dirac Live DSP engine. Listening was conducted with dynamic material (the air attack scene in Angelina Jolie's Unbroken was a highlight) and while switching Dirac Live on and off for the purposes of A/B-ing. The undisputable performance transformation with Dirac Live in the system was profound. As assured by Arcam, the dialogue became easier to discern even when mixed within complex effects passages, the power and impact of the bass was elevated remarkably while the coherence of the soundfield became an all-enveloping seamless oneness.
Moving into the stereo demonstration studio was an equally-powerful eye-opening experience. This room is so well sorted in terms of its acoustic 'signature' that any loudspeaker – or indeed, a system as a whole – is bound to perform near full capability (no room is absolutely neutral in the low frequencies although some are much better than others as is the case here).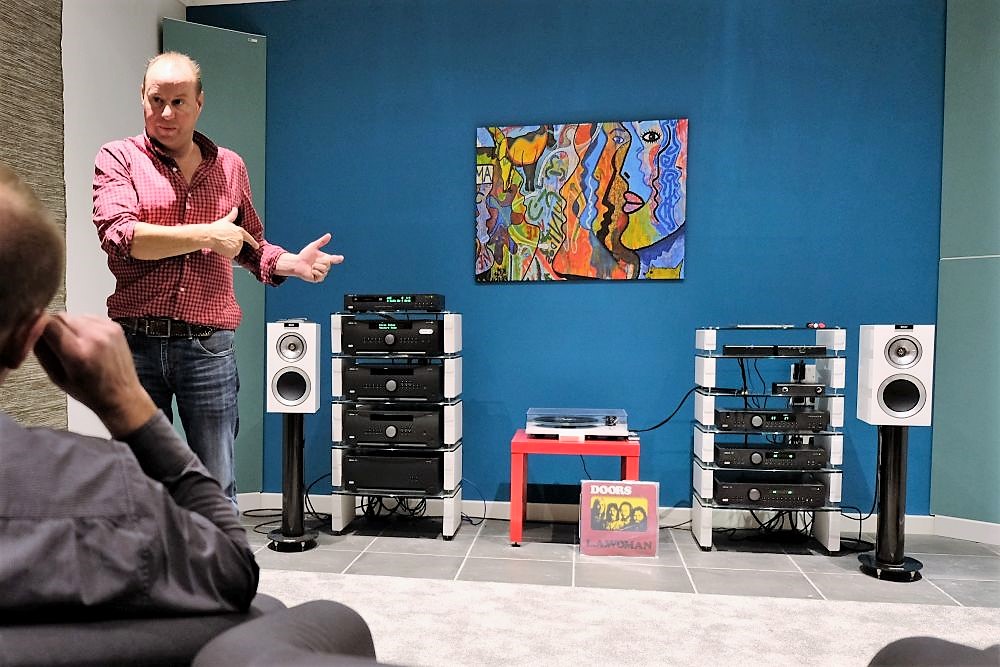 Andy Moore introduces the listening sessions in the stereo room…
Firstly, we listened to the KEF R300 standmount speakers while performing similar A/B testing. Musical passages or even entire tracks were evaluated with and without Dirac and despite the room's neutrality, benefits were clearly discerned once again. Going Dirac and then non-Dirac brought home the notion that perhaps we are conditioned to bass performance that is a tad too full and lacking in ultimate resolution. The Dirac-switched demonstrations provided the low registers with improved dynamic expression and the mid-bass gained worthwhile tightness, elevation in transient attack (leading edges of notes) and overall detail.
Ditto with the Brigadiers Audio BA-2 standmount. This remarkable design features a RAAL ribbon tweeter (considered by many to be the leading transducer of its type) and a high quality SEAS magnesium 165mm mid/bass driver housed in a constrained layer damped enclosure. The BA-2's performance was nothing short of astonishing. This is a speaker that scales with the best of the medium-sized floorstanders with dynamics and bass power that belies its physical stature and there were obvious synergies at work between the speakers and Arcam's superb electronics. Dirac's influence here was a little subtler due perhaps to the stunning levels of performance already at hand. Having said that, switching Dirac in moderately extended the dynamic envelope – already remarkable for speakers of this size – while providing worthwhile gains in bass depth and tightness. The Arcam electronics and the Brigadiers Audio BA-2 has made an indelible impression on this writer's memory banks in terms of the levels of performance available in this price space.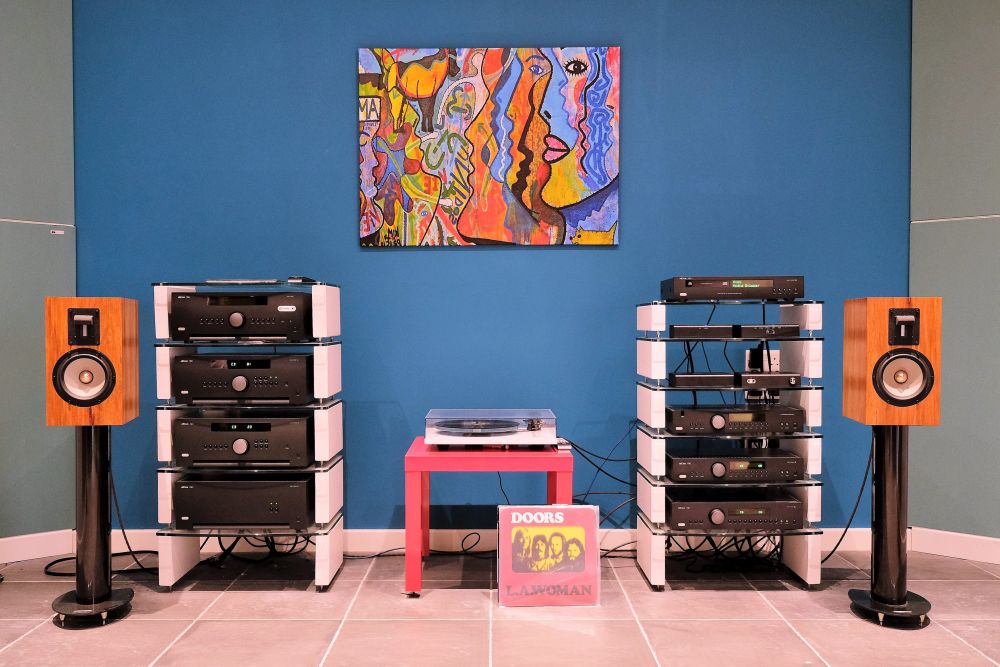 The extraordinary Brigadiers Audio BA-2 speakers and Arcam electronics reference system.
Conclusion
My audio travels and personal interest have taken me around audio fare that has orbited around the stratospheres of high-end stereo. For that reason, Arcam has been a company that I've admired without enjoying the privilege of reviewing its many highly-acclaimed products. Having said that, it has become evident to this writer that Arcam's products offer an irresistible attraction to anyone who values excellence. Here, intelligent engineering, suitable production budgets and efficient manufacturing challenge the notion that outstanding audio performance is somehow exclusively the domain of products costing much, much more. And that philosophy basically expresses the essence of the concept of value-for-money.
At Arcam the ethos of uncompromising engineering is founded on decades of research, refinement and evolution. It's a culture, now further enhanced by the exemplary auditioning facilities which, no doubt, will support the development and heighten the sonic performance of the company's new products.
Now, with Dirac Live – and with the recent 4K upgrades to its receivers – the value stake is raised higher while the performance envelope extends even further. This is truly an epicentre of intelligence…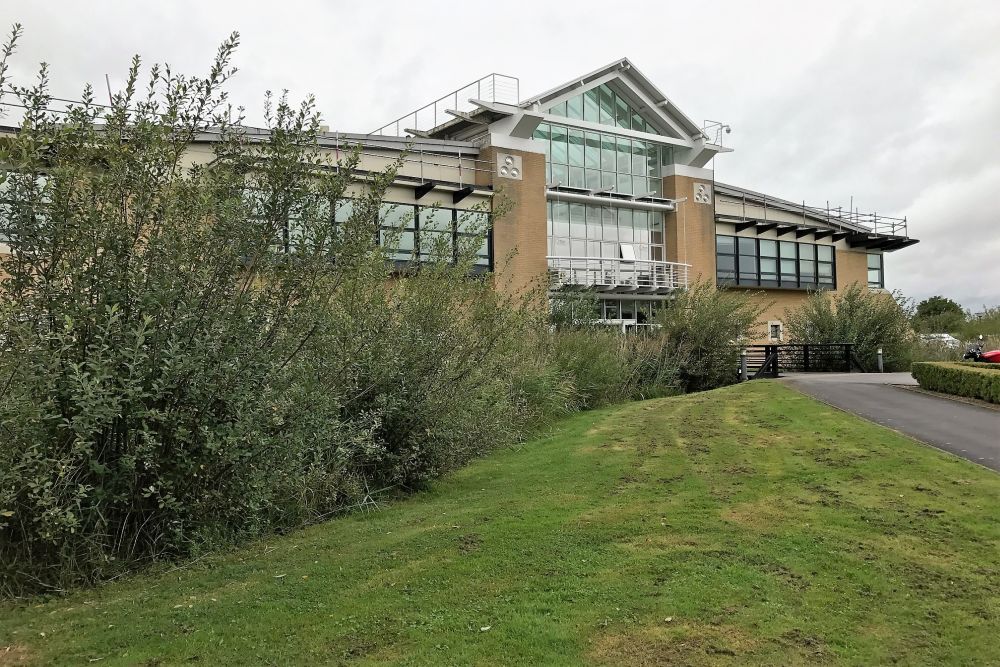 . . . Edgar Kramer
This email address is being protected from spambots. You need JavaScript enabled to view it.
Arcam
The West Wing, Stirling House
Waterbeach, Cambridge CB25 9PB
United Kingdom