From L to R: Michael Bigley, Owner Goran Sasic & Radiance AV's Chris Strom
Recently, one of Sydney's most prestigious audio retailers, Sydney Hi-Fi Castle Hill, underwent an extensive renovation which saw complete refits to the store's numerous 2-channel and home cinema studios. There was a calling… an enticement too powerful to resist so, camera and audio recorder in hand, SoundStage! Australia marched off to Sydney's Hills district to delight in the treasure trove of in-house audio joys and catch up with the store's approachable owner Goran Sasic.
King of the Castle
Approximately 30 km from downtown Sydney, Castle Hill is a suburb nestled within the rolling green hills of Sydney's north-west. Over the last few years the 'Hills' area has undergone steady growth, both by way of a population explosion and in terms of the establishment of a number of high profile, high-tech corporations' Head Quarters. At the suburb's Norwest Business Park you'll find multinationals such as Wyeth Pharmaceuticals, Woolworths, and the regional office for the Reserve Bank of Australia among others. Its middle-to-upper-middle class affluence is able to sustain two massive shopping and commercial areas within close proximity of each other. So, it's a well-heeled district featuring a demographic with evident disposable income, aspects which make for a terrific location for a high-end audio specialist dealership.
The luxurious Sydney Hi-Fi Castle Hill (SHFCH) was already a premier location for high-end audio and, to these eyes, offered a sumptuous consumer experience but Sasic wanted to take things up to a whole 'nuther level. So, I wondered what his motivations and ultimate aims were in terms of the decision to rebuild: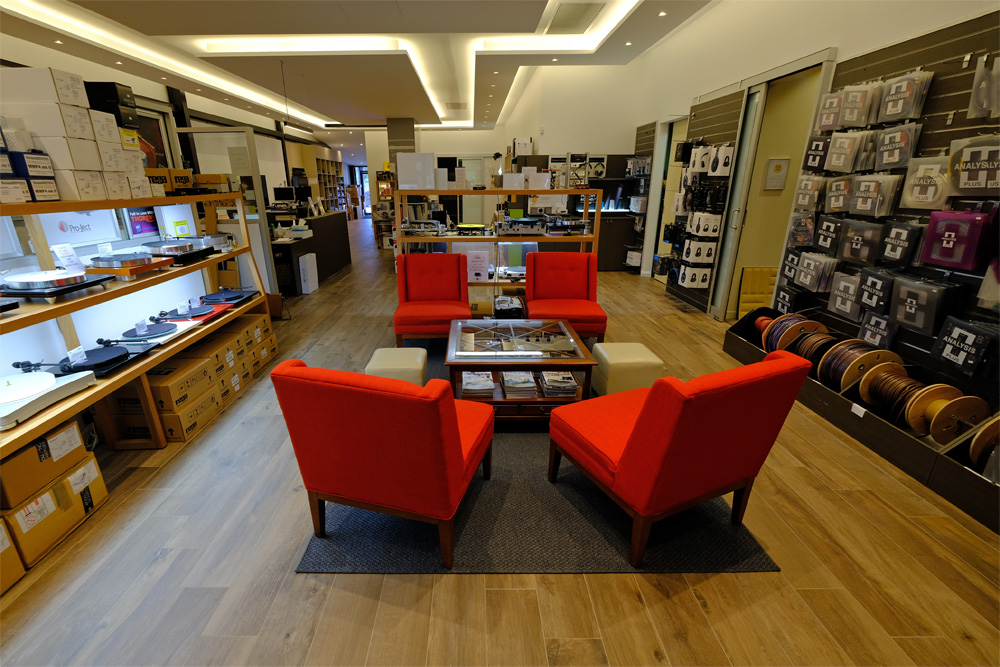 Goran Sasic: Although we made many changes over the years, for the Hi-Fi side of the business we really wanted to add another dedicated Hi-Fi room. As for the Home Theatre/Custom part of the business, we wanted to showcase the concept of centrally locating all equipment which is something we do on a daily basis through our home automation projects, but it is nice to have the same layout at the store so clients can see first-hand what is possible in today's forever evolving AV/automation/smart home world.
EK: Could you run us through a brief history of Sydney Hi-Fi Castle Hill and how you came about to finally arrive where you are at now?
GS: We have been servicing the Hills district for 27 years and relocated from Castle Towers shopping centre 12 years ago. However, as a result of our very specialist and 'solution-finding' approach to clients, our customer base has expanded across the whole of Sydney metropolitan area and interstate.
EK: What have been your main long-term brands and which newer ones excite you the most?
GS: Our staple brands have been Marantz, B&W, Denon, Krix, Yamaha, Bose… But as businesses and the market evolve, we have seen the introduction of many new exciting brands providing more and more specific solutions that customers are after. [See product listing at the end of the feature below… Ed]
EK: What's the newest brand arrival at SHFCH?
GS: The SoundSmith Strain Gauge cartridge, which has a unique approach to extracting music from vinyl grooves that provides some incredible results.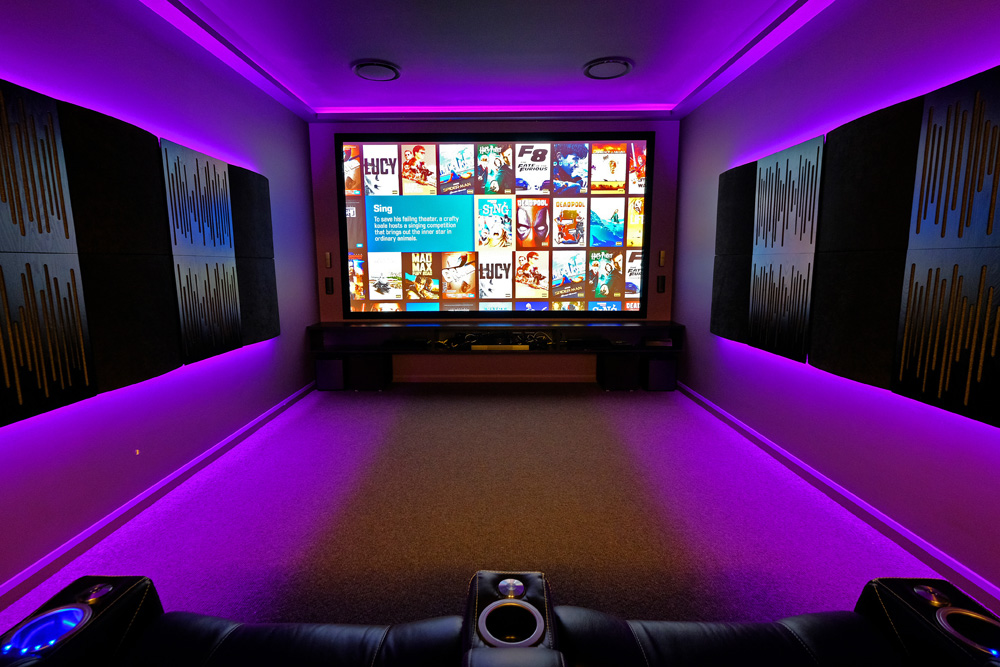 EK: What can audio enthusiasts expect from Sydney Hi-Fi Castle Hill when they walk in to shop?
GS: Since it would be impossible to have all the available brands at the store, we carefully curate a range of products that we consider being the best value for the investment clients are making. We invest heavily in training and education so that we can provide our customers with the most appropriate advice and solutions.
EK: If you have a single bit of advice for a customer, what would that be?
GS: It is all about making an educated decision, like with everything in life, so if during the sales process your salesperson cannot make it easy for you to comprehend and relate to, find someone who can make sense of it to you. Like in any industry there are people that are just passing by, and then there are people that have dedicated their lives to a profession, driven by the passion and enthusiasm of sharing their knowledge.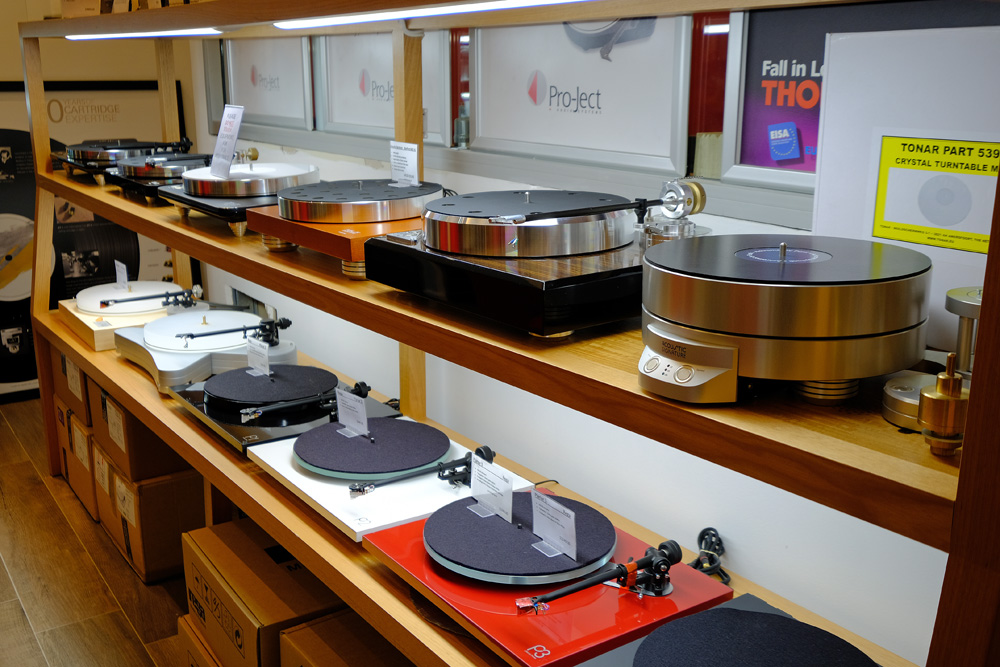 EK: Is there an aspect of the industry in general that has you excited?
GS: The general trend over the last fifteen years or so has seen more and more people utilising services and goods available that are providing forever increasing and easier access to music. This brought more and more people back to music. There is no other medium that is capable of so immediately waking up emotions like music. I genuinely believe that humankind needs that kind of soul food to keep us happy in our ever faster-moving world.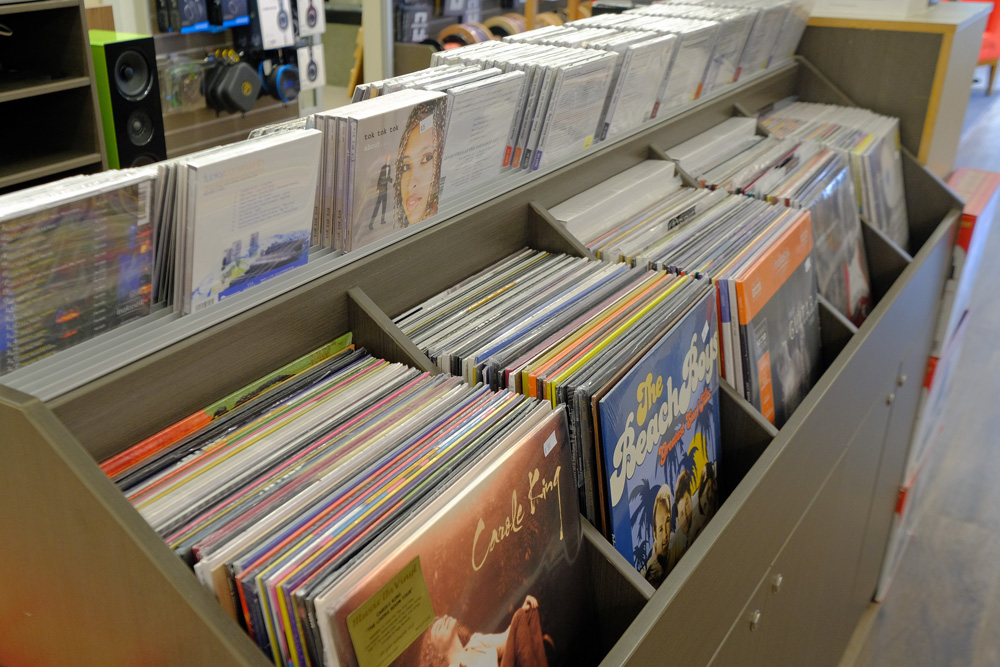 EK: As you alluded to, the world of audio, both in digital and analogue playback, has gone through substantial changes in the last few years. How has SHFCH gone about adapting?
GS: We try to keep up with the ever changing environment and on many occasions, we moved ahead of the trends, like with turntables, when 12 years ago we established (at the time) the largest collection of turntables on display in the country.
EK: What do you personally look for in a good stereo system?
GS: As you know, like with any other taste-acquiring experience, our goal post is moving all the time. I would always tell customers that, irrespective of the price point involved, they need to be moved by the system; if you catch yourself tapping your feet subconsciously, then that system is working magic for you. Usually a good system lets you listen to the music rather than focus on the system and you can see that when customers start talking about the music rather than the gear during the process. Although it is very hard to put it into words, personally I like full bodied sound with all the details but without fatigue.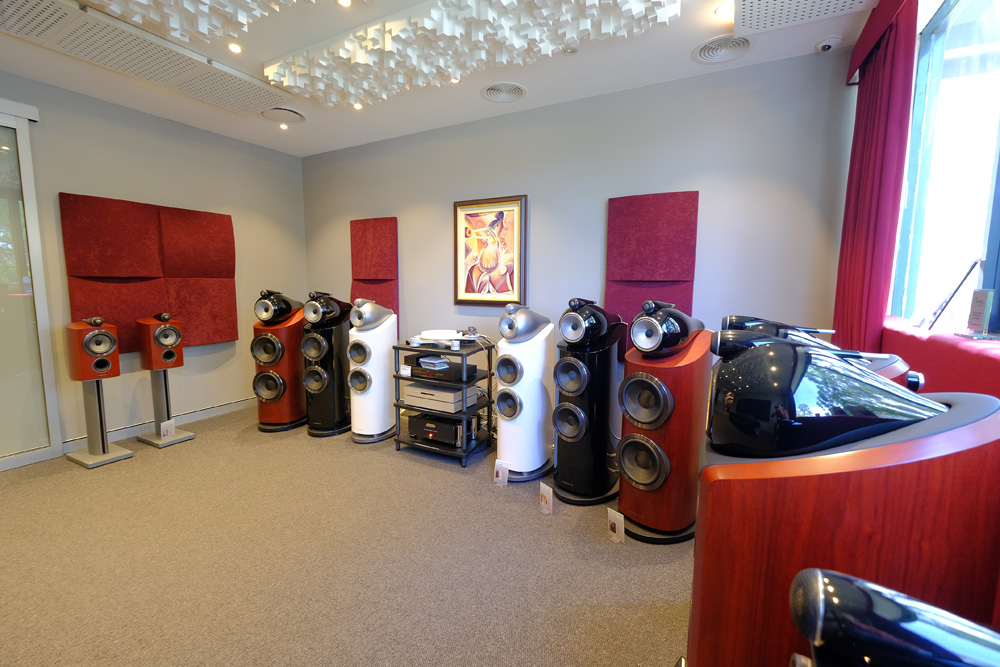 EK: What do you think is the future of Hi-Fi?
GS: Based on the fact that at least a couple of billion people go around their daily lives enjoying music on their portable devices, I see a great opportunity for us as an industry to educate music lovers at any level of how they can get more from their music libraries.
Indeed, we as an industry have an opportunity to seize the day and provide the conduit for the education of inductees into the high-end audio space. At the very least, we can provide a tasty entrée via the popular headphone and vinyl avenues, with leads into the main course of high-end audio as maturity and finances permit.
Auditioning
I took the opportunity to wonder around the various auditioning studios, had a gander at the gorgeous setups and selected some of the most appealing ones for a careful listen. All the studios are thoughtfully and expertly appointed with room treatment products from Vicoustic (a stocked item at the store). So, in addition to assembling thoroughly delectable audio kit, thought has also gone into making the various environments acoustically appropriate.
At the time of my visit, the main high-end room, which is brimming with acoustic treatments, featured an Acoustic Signature turntable, Chord Electronics digital, Karan Acoustics pre/power amplification and Kharma Midi Exquisite loudspeakers all tied with flagship Analysis+ cables and racked via lux Basso Continuo. The sound was powerful and bass-full, showing lots of detail and nuance while also being expressive in terms of dynamics. A drum track floored me, actually…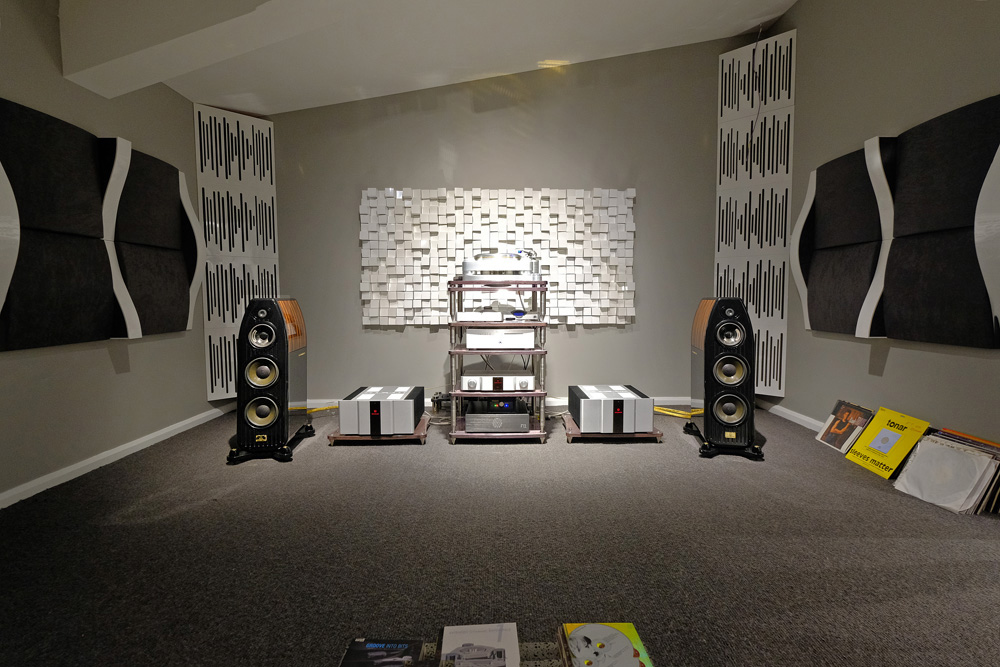 Ditto for the amazing main cinema room. Here, Barco and JVC projectors provide crystal clear images while equally impressive clarity and dynamics can be experienced via the Krix MX system. As an auditioning option to the Krix loudspeakers, SHFCH has also installed what I'm told may be the only full Bowers & Wilkins 800 Custom system in the country. This is a stunning home cinema experience which leaves your best multiplex cinema for dead. A secondary home cinema room is fitted out to the same levels of excellence.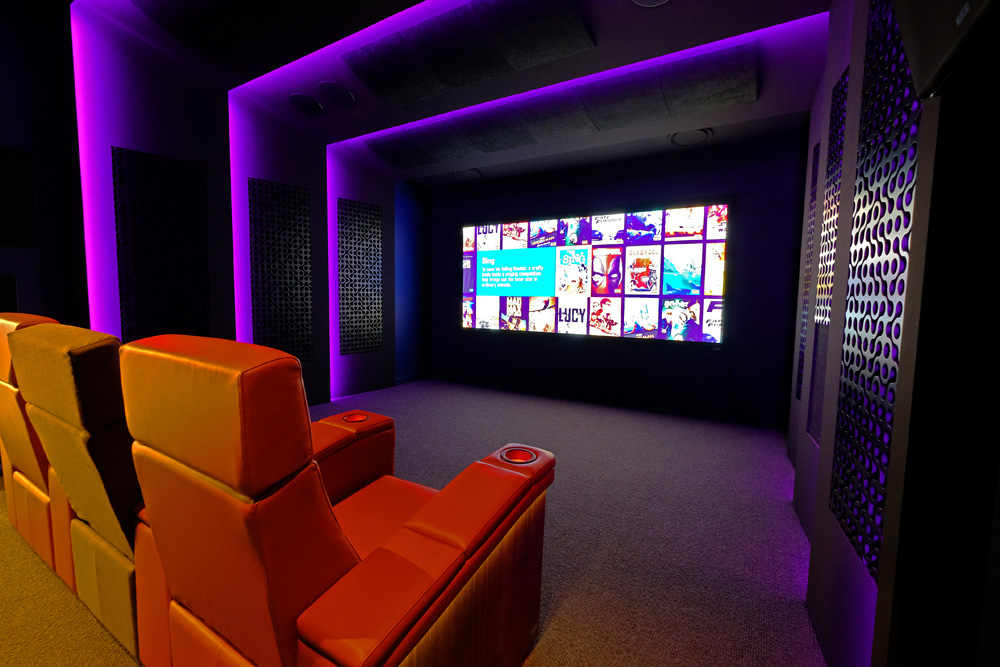 Conclusion
Owner Goran Sasic and his staff, headed by Michael Bigley, are not only super experienced when it comes to the range of products stocked, they have established a reputation for an extremely high standard of customer service. Take that into account and add-up the extraordinary selection of products, the experience offered by the multitude of auditioning studios, the handy location near excellent shopping along with a host of other positives and you have an extremely compelling audio purchasing proposition.
So, go on, head for the hills where Sydney Hi-Fi Castle Hill will generously provide you with a premium audio shopping experience glittered with some of the best Hi-Fi in the country.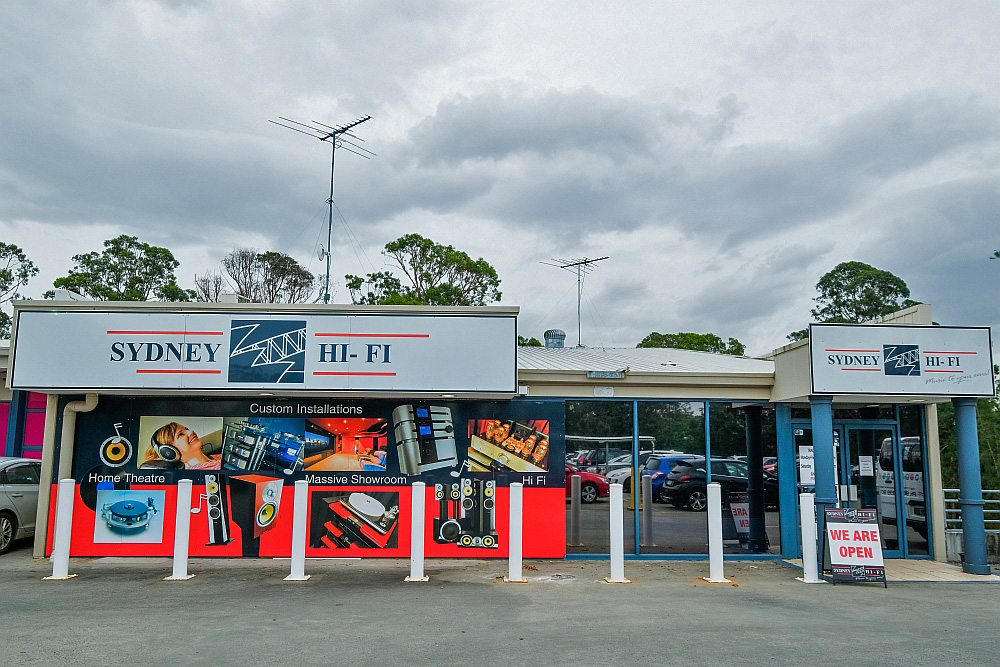 Sydney Hi-Fi Castle Hill is the retailer for Acoustic Signature, Audio Physic, Audioquest, Bluesound, Bose, Bowers & Wilkins 800 series, Chord Electronics, Dr Feickert, Karan Acoustics, Kharma, NAD, PS Audio, REL Acoustics, Sennheiser, Sonos, Soundsmith, Vicoustic, Weiss, Yamaha and many more.
… Edgar Kramer
This email address is being protected from spambots. You need JavaScript enabled to view it.
Sydney Hi-Fi Castle Hill
Shop 7/19 Victoria Ave
Castle Hill NSW 2154
+61 2 9899 9079
This email address is being protected from spambots. You need JavaScript enabled to view it.
www.sydneyhificastlehill.com.au