As one of the premier audio specialist stores in Sydney, Audio Solutions should be considered a de rigueur stop for the enthusiast on a journey to audio and music bliss. The store is home to some of the best Hi-Fi on the planet and owners Tony Stantzos and Nick Papas could not be better hosts and whether you're a curious listener, in for a chat, or on the market with intent burning the proverbial hole, Audio Solutions' doors are always open.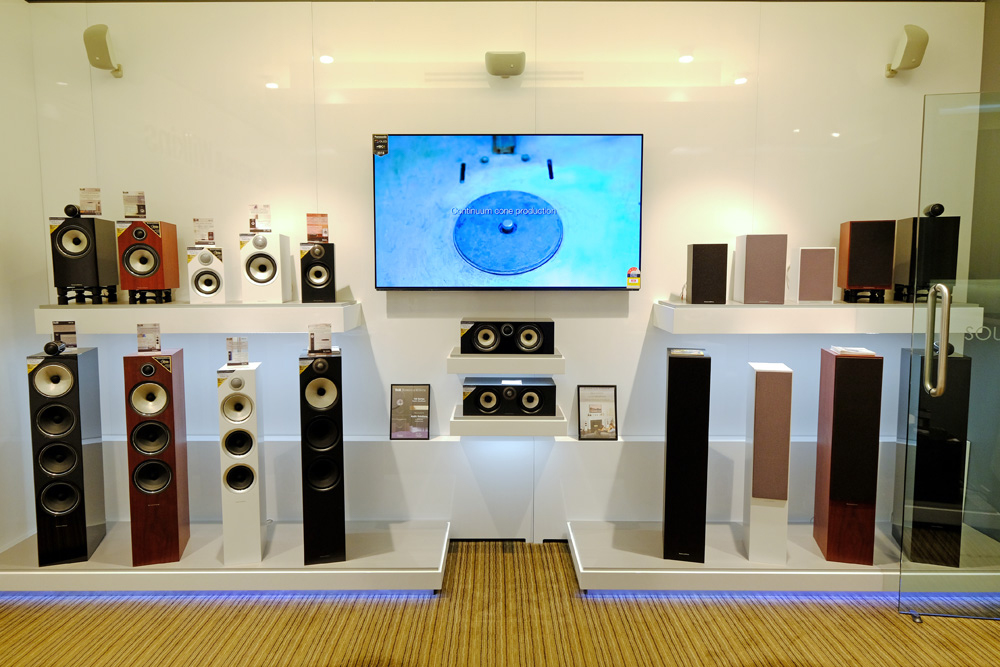 The celebrations took off in typical Audio Solutions style, with a strong presence from Bowers & Wilkins Australia supporting the event (a successful relationship stretching back to 2000). Now, the store's arsenal of audio joys is further augmented by the launch of the brand spanking Bowers & Wilkins Sound Studio. The dedicated space is an efficient environment for auditioning many of the giant company's best offerings, including a comprehensive suite of Custom Install in-wall and ceiling speakers (a growing space in the industry in general) alongside Bowers & Wilkins famed 600 and 700 series. Of course, on the night (and always available), the upstairs main auditioning studio saw the full glory of the 800 series on display while the flagship 800 D3 was in active duty sounding rather special via PS Audio electronics. PS Audio's Australian distributor Magenta Audio had representative Tony Wong at hand to run attendees through the considerable music-making powers of PS Audio's electronics.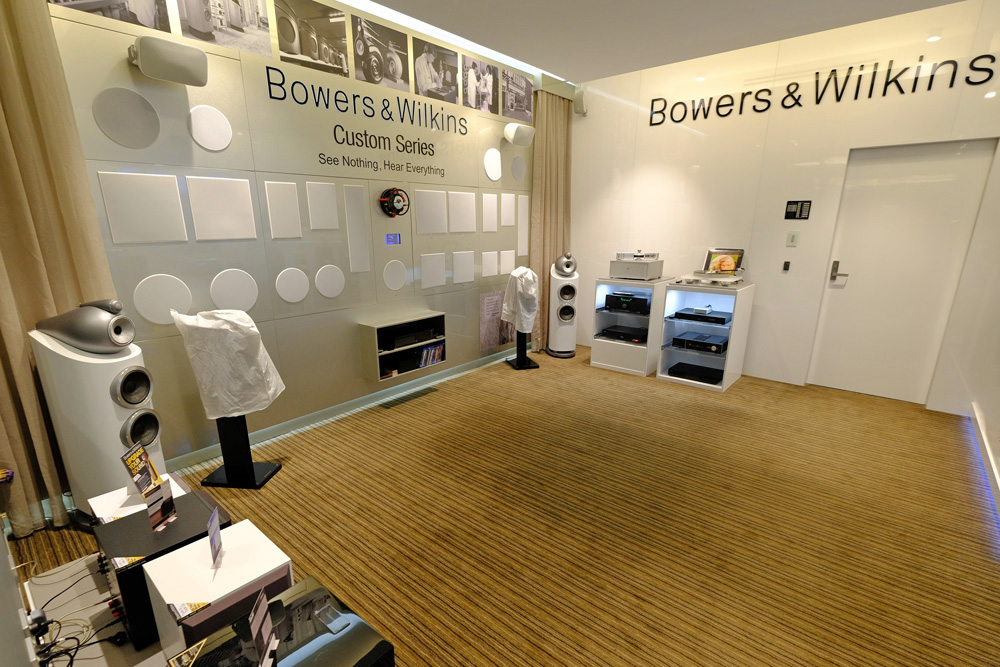 Mystery speakers were stealthily loaded into SoundStage! Australia's car for an upcoming review
Arriving early allowed me a candid discussion regarding the ideas behind the Sound Studio with Bowers & Wilkins Australia Director of Sales John Martin who told SoundStage! Australia, "the goal here was to raise the standard of demonstration so we invested into the facility, especially with the Custom Installation switching system which allows customers to listen and easily compare Custom Installation speakers. This is something that is not so common in the industry here. On top of that, a wide range of our products are available for audition here with the very high standard of service and knowledge that Audio Solutions is capable of offering."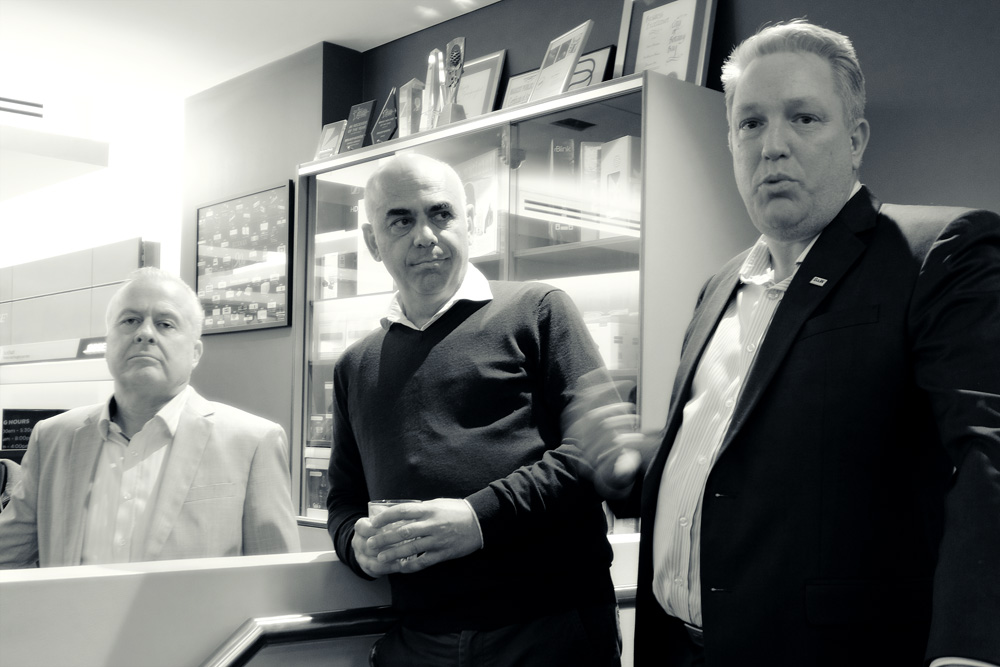 From left to right: Bowers & Wilkins Australia Director of Sales John Martin, Owner Tony Stantzos, and Bowers & Wilkins Australia General Manager Angus Fischer
From the point of view of the owners of Audio Solutions, Tony Stantzos and Nick Papas had further comments, with Stantzos affirming, "This is a great opportunity for us to be able to demonstrate Custom Installation product properly, an area of our business that is in terrific growth. These products are for people who want hidden, discreet speakers that sound amazing. These are not 'pretend' products. These are real products with engineering and performance substance. Having this room sends a message to customers about how serious B&W and Audio Solutions are about quality sound. Bowers & Wilkins is an institution in our industry. We are looking forward to showing off the Sound Studio to our loyal clientele."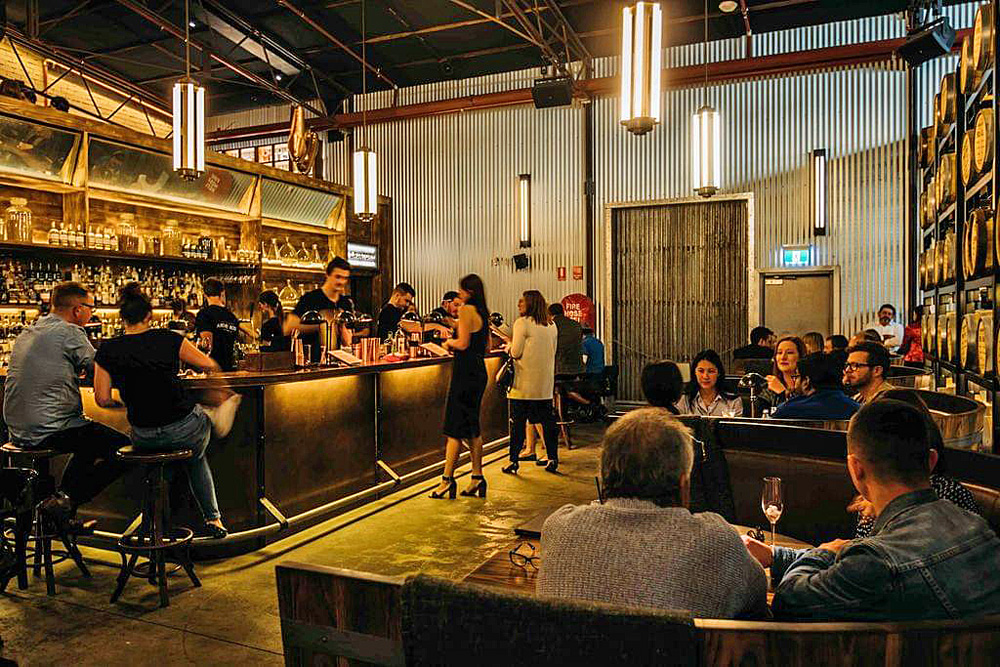 Archie Rose distillery and bar in Sydney's Rosebery
Papas added, "The Sound Studio will provide an enjoyable experience when it comes to auditioning B&W products. Customers will find it easy to compare differences between speaker products at the push of a button. We have a wide range of electronics products that match very well with Bowers & Wilkins speakers. The way we've designed the cabinets in the Sound Studio allows us to change the electronics to cater for customers who might have a specific brand of amplifier from our range in mind. It's flexible and it will make the whole demonstration process a lot easier and also easier for customers to make a decision as to what best suits their needs."
Audio Solutions and Bowers & Wilkins Sound Studio launch event provided an opportunity for the 60 or so guests to mingle, enjoy the always-great food and, on this occasion, sample the Archie Rose Distilling Co's superb locally-brewed gin. The distillery is down the road from Audio Solutions and, on the night, the refined (pun intended) gin was available for consumption either neat, of course, or mixed with a wide selection of tonic water curated to provide distinct experiences. I'm told the company's locally-distilled Scotch is also rather spesh…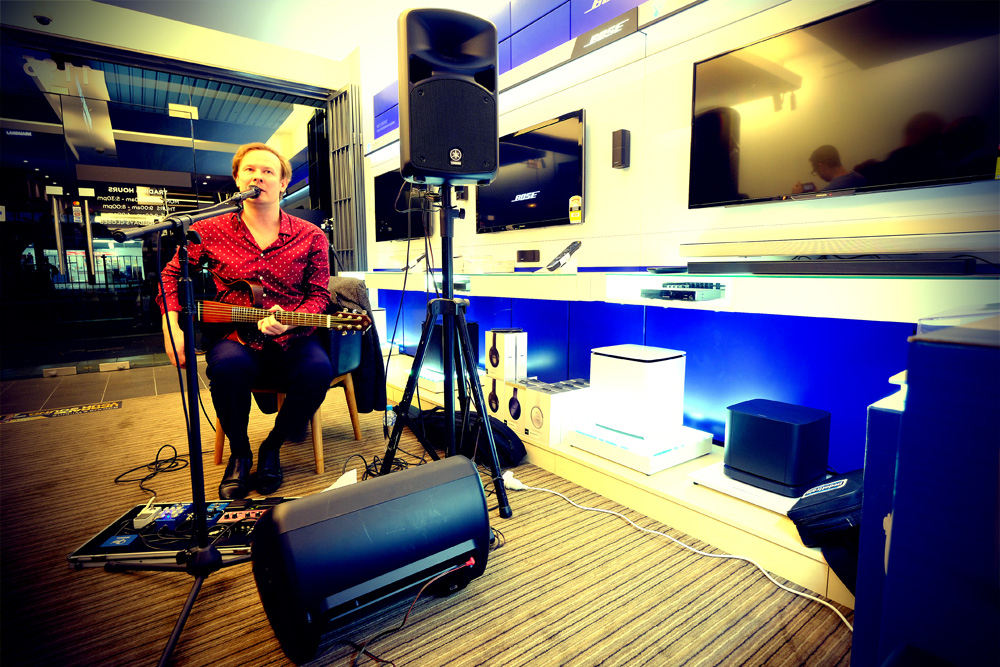 Simon Kinny-Lewis
Of course, no Hi-Fi event should go without live music, right? Excellent Australian bluesman Simon Kinny-Lewis – who has played with some of the world's biggest Blues artists such as Chris Cain, Simeon Cain, Ric Fierabracci and many more – performed his brand of blues which displayed not only a real respect and feel for the genre but also Kinny-Lewis' rather serious guitar chops.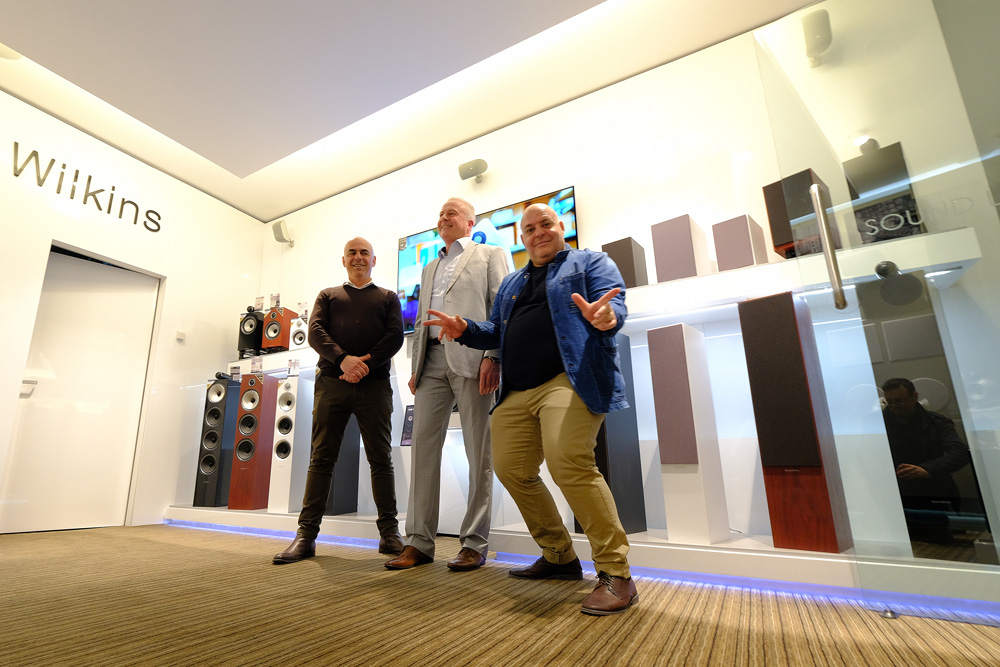 Lively hosts Tony Stantzos & Nick Papas flanking B&W's dapper John Martin
So, gathered at Audio Solution were punters with a common love of music and Hi-Fi, there not only to enjoy the fruits of the store's and Bowers & Wilkins' Sound Studio collaboration, but also to delight in terrific live Blues from a world-renowned Australian artist while relishing a drop or three of quality local gin from Archie Rose Distillery. Oh, and did I mention gluttonous temptation of the best satay sticks in town?
… Edgar Kramer
This email address is being protected from spambots. You need JavaScript enabled to view it.
Audio Solutions
1195 Botany Road
Mascot NSW 2020
Australia
+61 2 9317 3330
www.audiosolutions.net.au
Bowers & Wilkins Australia
+61 (2) 9196 8990
www.bowers-wilkins.net