Once again this year saw High End Munich grow by percentage points indicating that high-end audio is indeed in a healthier state than some would have you think. Numbers across the board – exhibitors, trade visitors and overall attendance – increased by up to 8.6 percent which, when dealing with significant numbers to start with, translates to a substantial shot-in-the-arm for the industry at large. Also importantly, trade visitors came from all corners of the world – 72 countries in fact, according to a report sent to me by High End Munich organisers. And the spectrum of exhibitor offerings ranged across all the 'disciplines' of audio, as always. Once again, all those stats pointing to a firm indication of a healthy and resilient industry building further upon its oft-underestimated buoyancy.
As far as media coverage, the press Room at the MOC was as crowded as ever, also pointing to solid support from publications worldwide. Our SoundStage! Network saw a six-man-strong representation (including yours truly) covering HEM from basement to rooftop. So take yourself to our comprehensive coverage at www.soundstageglobal.com where you can gawk at a kaleidoscope of products and learn about the newest high-end audio offerings to hit the market in the coming weeks.
As I did last year, I attempted to cover as much as possible in terms of actual listening. That is no mean feat, considering the over 550 exhibitors which are spread across a multitude of areas. Aside from those sheer mind-boggling number of exhibits, catching up with friends, colleagues and industry contacts is also an important aspect of attending a show. Combine listening room numbers, the network aspect and the geographical spread of the venue and you have a considerable challenge as far as visiting every exhibit and spending a reasonable amount of time there.
So, my findings for the favourite rooms of High End Munich 2019 are based on the rooms I was able to spend some time in. This, however, meant that I was not able to visit every room. Apologies to those I missed… there's always next year.
A note of paramount importance: I don't normally judge sound quality at shows. Not on a comparative level to the potential I know is available outside of show environments. That would be foolhardy. I only gauge my enjoyment, or outstanding performance aspects, based on the moment… there, at the show. On that day. Not as a judgement call on universal potential. And not in any way disregarding or discounting the valiant efforts from all the exhibitors at the show.
For many, many reasons (exhibit room deficiencies, unfamiliar system components, the mandatory compromises in music selection, the often off-centre listening position, the dudes talking shite next to me and much, much more) I expect the sound performance at shows to only hint at what's possible within a given system's context. Therefore, if something is outstanding, or even just rather enjoyable, that is a very promising thing. And that's what this article aims to inform. I'm listing the systems that impressed in extremely difficult circumstances. Those whose stars aligned for whatever reasons whether random, or predestined.
And this is just as important: in a different context – at a skilled well-equipped dealer or, indeed, in your own listening room – those that did not make the list may equal or surpass the ones that did. So, as always, listening at a good bricks and mortar specialist retailer and, if possible, also within the milieu of your own listening room comes with my heaviest emphasis.
So, here goes… These, in no particular order other than coming upon them in my natural advancement around the crowded MOC across four days, are the rooms that stood out for primarily sonic reasons, although other aspects of intelligent showcasing may also come into play.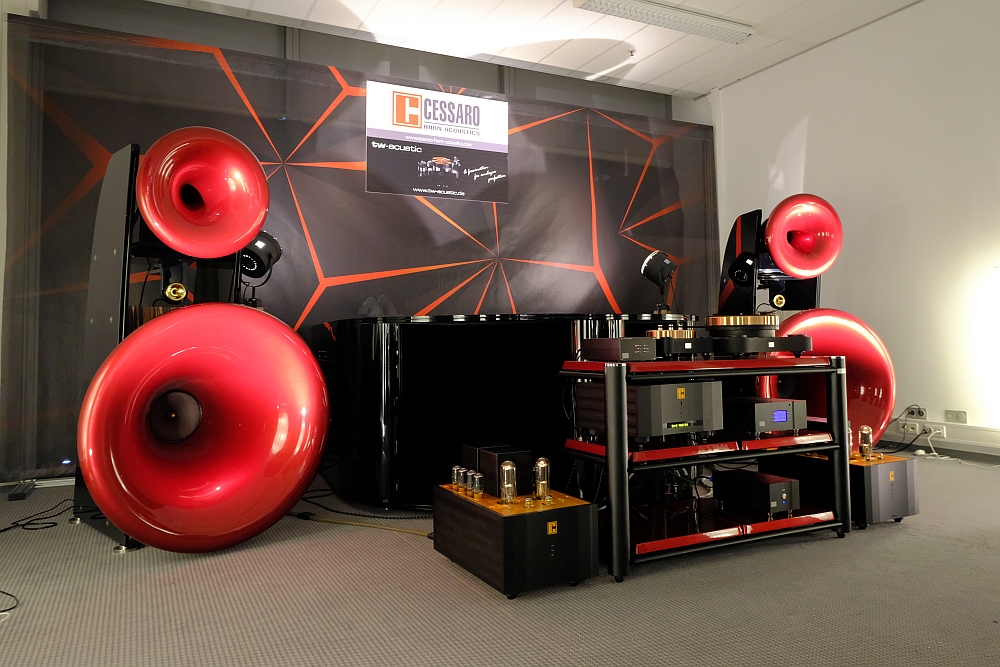 I make no secret of the fact that I find horn loudspeaker designs to have terrific strengths but some deficiencies too – but not universally. Here, with a TW-Acustic turntable mated to Cessaro electronics and speakers (including the massive Cessaro bass horns) the sound was effortless, detailed and thoroughly dynamic with no hint of horn colouration. In fact, even under show conditions, the issues I find insurmountable (a personal thang) with horn systems were mostly not evident here. One of the very best at HEM 2019.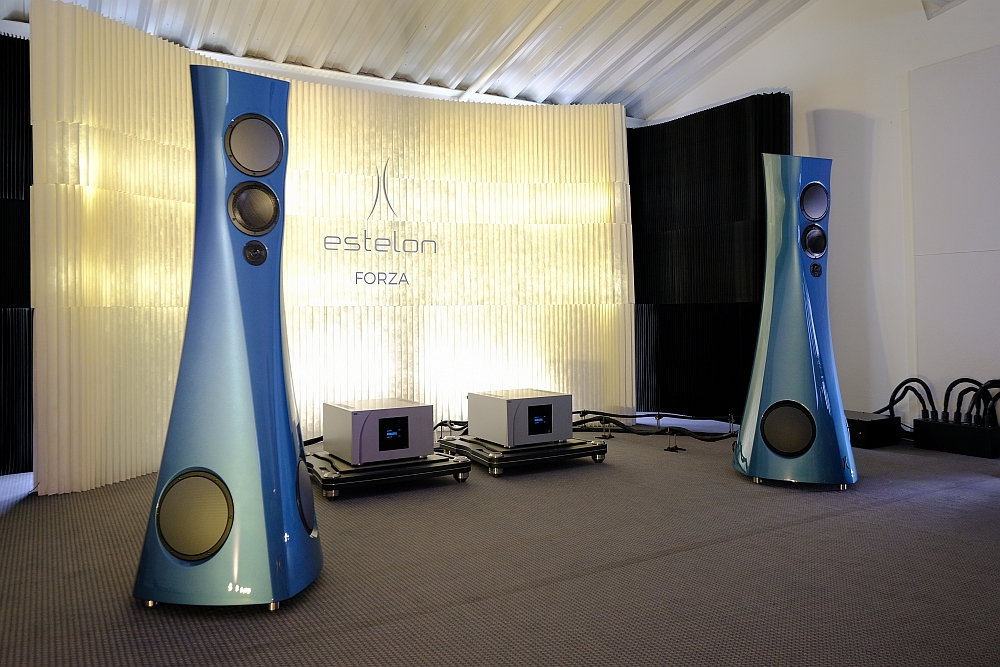 Estelon was showing the new Forza speakers looking stunning in their blue high gloss marble-based composite enclosures. Featuring CH Precision electronics (including the driving…err, force, the M1.1 monos), the sound here was smooth, full-bodied, somewhat laid-back but extremely musical and tonally textured. The Vassilkov team always impresses with its designs and system choices at shows. Extremely promising – we'd love to hear more from these attractively-styled speakers under a controlled/familiar room setting.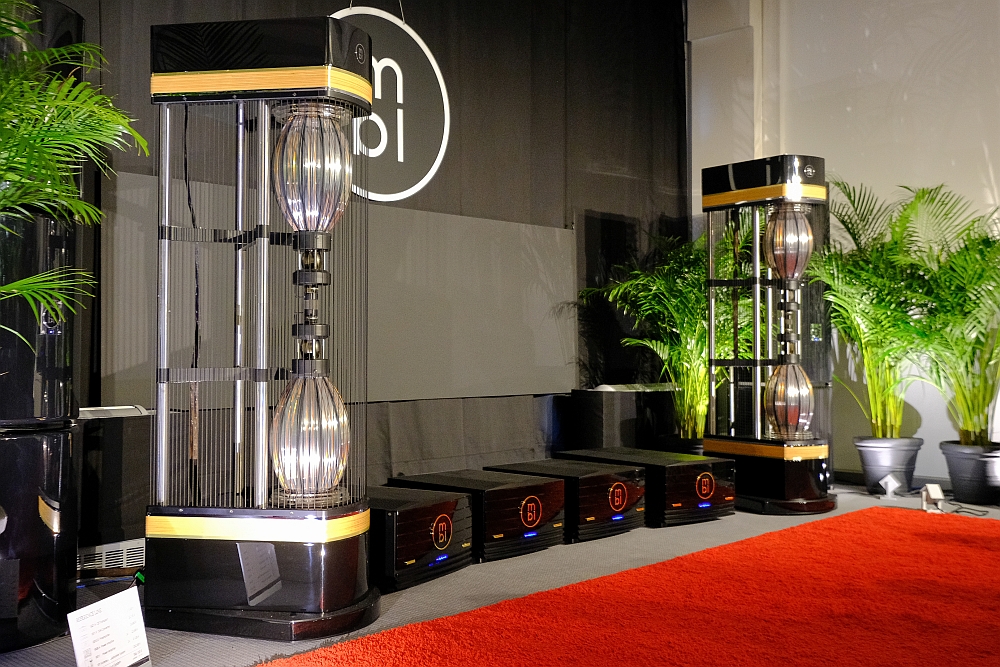 In a room that has been its consistent 'home' for quite a few years, MBL showed once again, two setups featuring an all-white 101 E Mk.II-based system and the flagship exhibit showcasing 101 X-treme mated to the company's 9008 A and 9011 amplification and matching electronics. In line with last year's remarkable result, here the sound was once again a show highlight. My visit timed with Chief Designer Jürgen Reis demonstrating the resolving powers of the X-treme system and illustrating each aspect of performance with a pertinent music selection. Spacious, fulsome, grand and musical with excellent dynamics and verisimilitude, the MBL X-treme powerhouse once again served to indisputably prove the now mature concept behind the company's unique driver technology.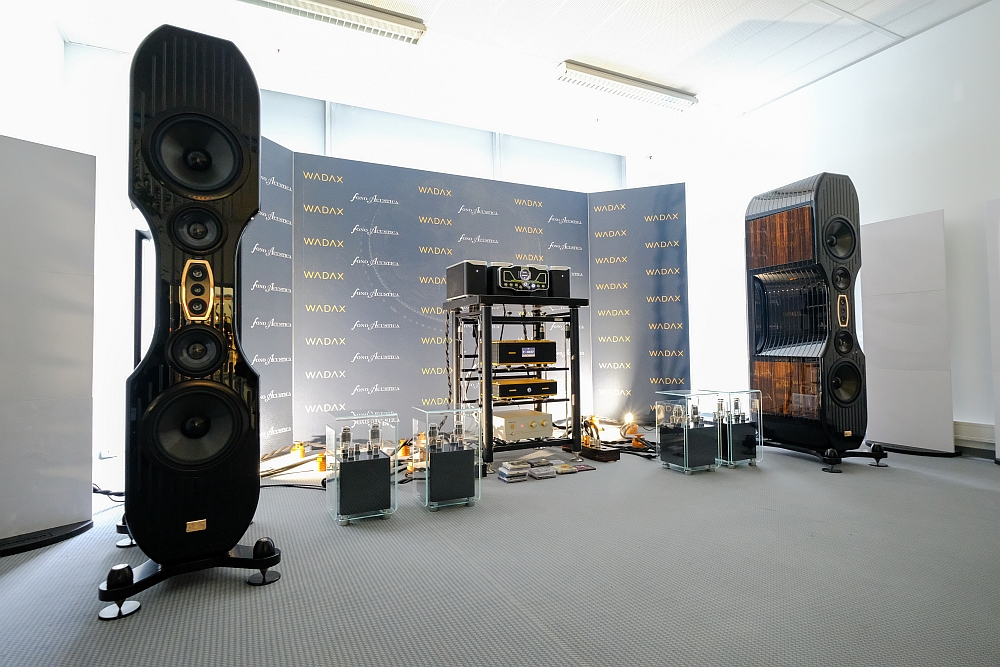 Mega-bucks does not equate to mega-sound sometimes, especially at shows, but in this room it certainly did. One of the priciest systems at this year's HEM, this Wadax/Engstrom/Kharma/Fono Acustica-based setup was powerful enough to blow your socks off while also exhibiting stunning refinement, resolution and largess of scale. Featured was the new Wadax Atlantis Reference DAC, most likely one of the largest DACs ever produced bearing an equally large entry ticket at EU110,000. Equal component largess – and commensurate impressive sonic performance – was exhibited by the rather majestic Kharma Exquisite Grand loudspeakers.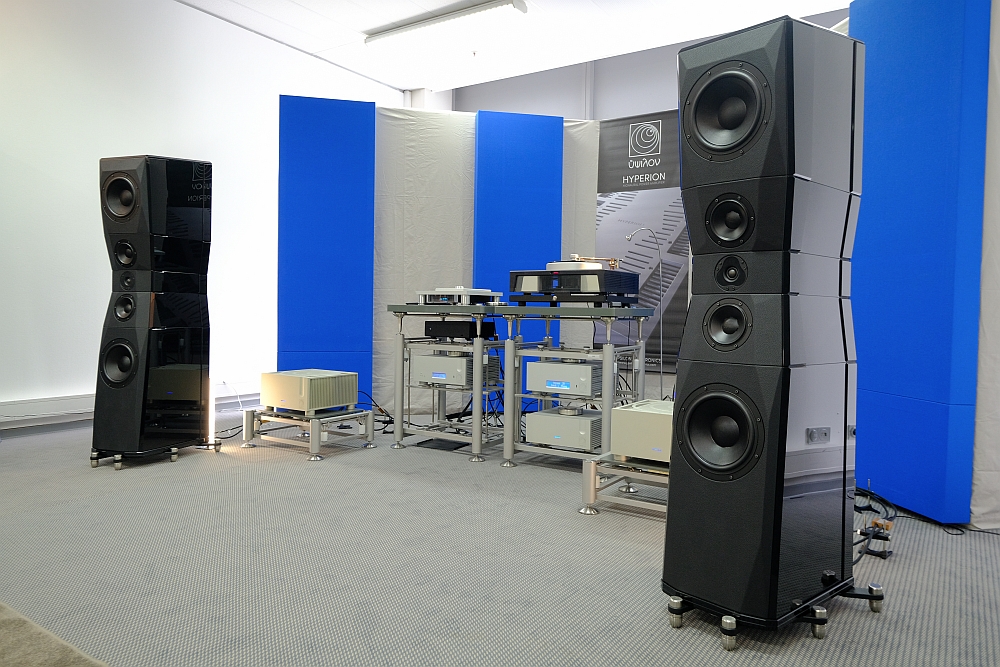 I have high admiration for the Ypsilon range of electronics, having experienced terrific sound via SoundStage! Australia reviewer's Josh Givorshner's SET 100 monos. In addition, I had the pleasure of reviewing the superb CDT-100 player/transport some years ago. With a Döhmann Helix 1 spinning vinyl (Helix 2 is in for review chez Kramer's), a full Ypsilon electronics suite including the recent Aelius II monos (all sitting on Artesania racks) and the magnificent Peak Consult Phoenix loudspeakers, the sound was one of the purest at HEM 2019. Some Jazz and World music played during my visit sounded fluid, smooth yet detailed while balancing thorough resolution, well controlled bass – with adequate punch and depth to boot – and superb tonal fidelity. Yet another outstanding system.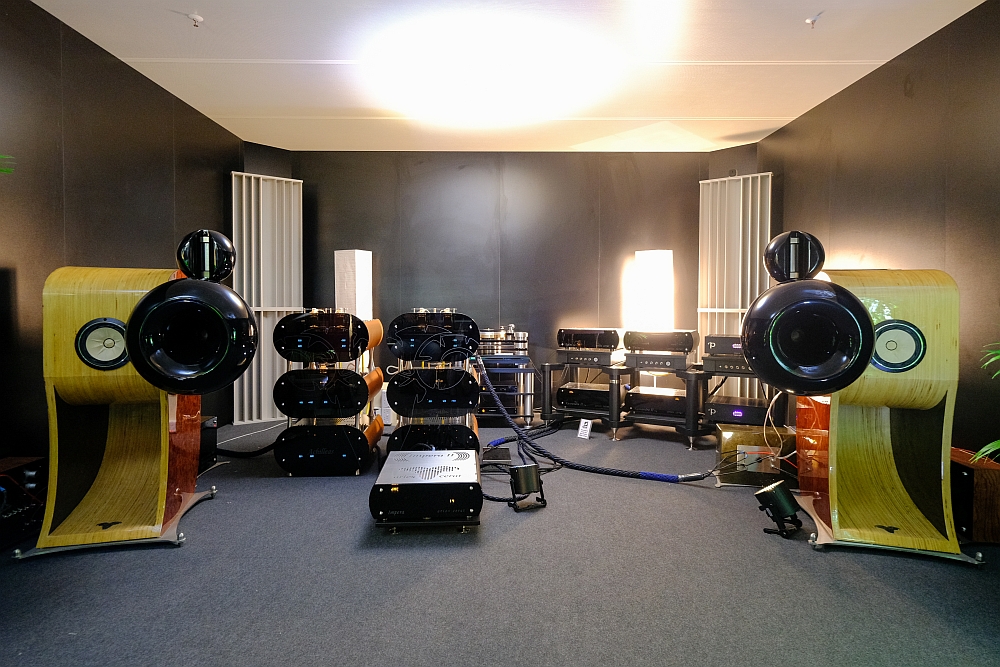 Having heard the Aries Cerat room at last year's Australian Hi-Fi & AV Show and being both somewhat disappointed and then, later, reasonably impressed (depending on when you got to the room) I was expecting good things from this far more elevated system setting. It featured the new ginormous Aries Cerat six-box Achilleas flagship monos (EU250,000) supported by a mix of the company's Reference and Signature electronics and the Rui Borges turntable all flowing to Aries Cerat's Symphonia speakers. In this context, the sound was incredibly dynamic (I really felt a drum track in the pit of my stomach), detailed and spacious. There was tremendous bass albeit with some periodic overhang – most likely room related. Scale was also a word that kept popping into my head as I sat there pinned to the chair. A great showing with a company that has elevated itself to a serious power-niche contender.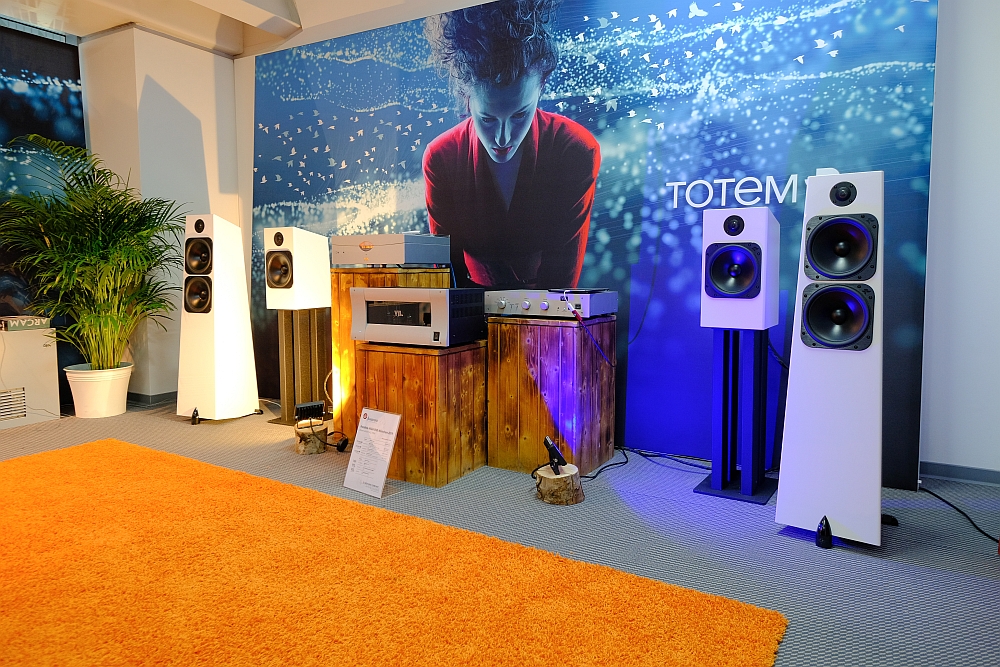 It's not just all about mega-buck systems and stadium-filling large speakers when it comes to great sound. Making the list here is the Totem Acoustic exhibition which, as skilfully presented by company Founder Vince Bruzzese, showed the new Element Fire V2 standmount and Element Metal V2 floorstanding speakers driven via YBA source and VTL preamplification/amplification. The new speakers (I heard the Element Metal V2 during my visit) combined smoothness and musicality with appropriate midrange presence and articulate low frequencies. There was a great sense of natural rhythm which bopped along with a toe-tapping vibe. This is testament of not only intelligent design but also the by-product of the excellent bespoke driver technology.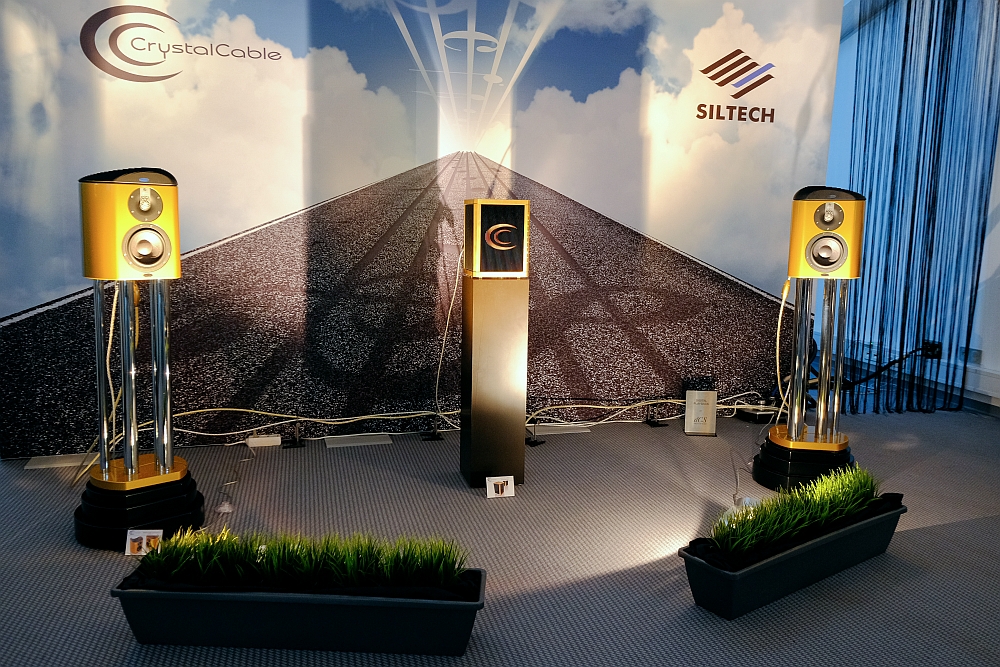 This year, as far as standmount speakers go, about the best I heard were the Crystal Cable Arabesque Minissimo Scala mated to the company's CCI integrated amplifier. The cable choice for the display was a mix of Future Dream (see the full review here) and Ultimate Dream. The Arabesque speakers sounded far more dynamic than they have a right to be at the size, and combined that effortless sound with a full sounding bass register (within the laws of physics), exciting detail, precise resolution and an overall presence which subsequently had me re-navigating the MOC's corridors for a second prolonged listen.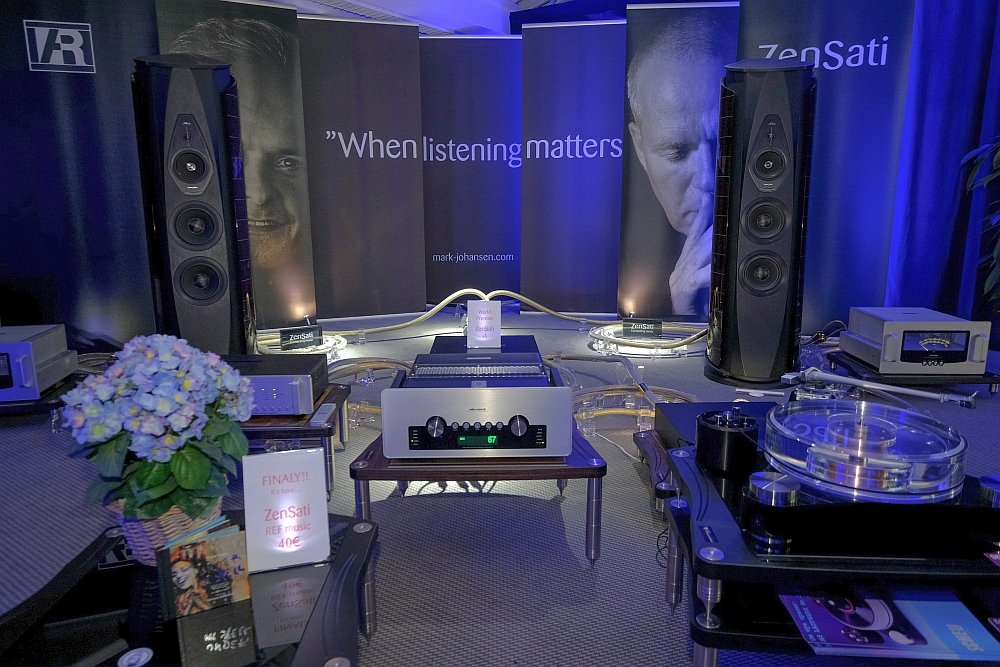 Cable specialist for the über high-end ZenSati/sILENzIO was showing the new super cable – the #X. The system consisted of Stromtank, Audio Research and Sonus faber's stunning Aida speakers all tied with the substantial and jewellery-like #X. The music was all analogue (while I was there) via the excellently produced and beautifully presented vinyl releases from the Muxía Music label, run by producer Jim Laurel. Laurel is a strong supporter of underground artists from Cuba and Latin America and has captured many talented musicians performing at their best and, deservedly, within the context of superb production values. The music here was involving, warm and grand. The percussion, guitars and vocals from the three Trio Palabras ladies were superbly separated and were rich in tonal textures. This was a special exhibit for many, many reasons but not least the sonic performance and music selection, which was far from the usual mundane audiophile fare.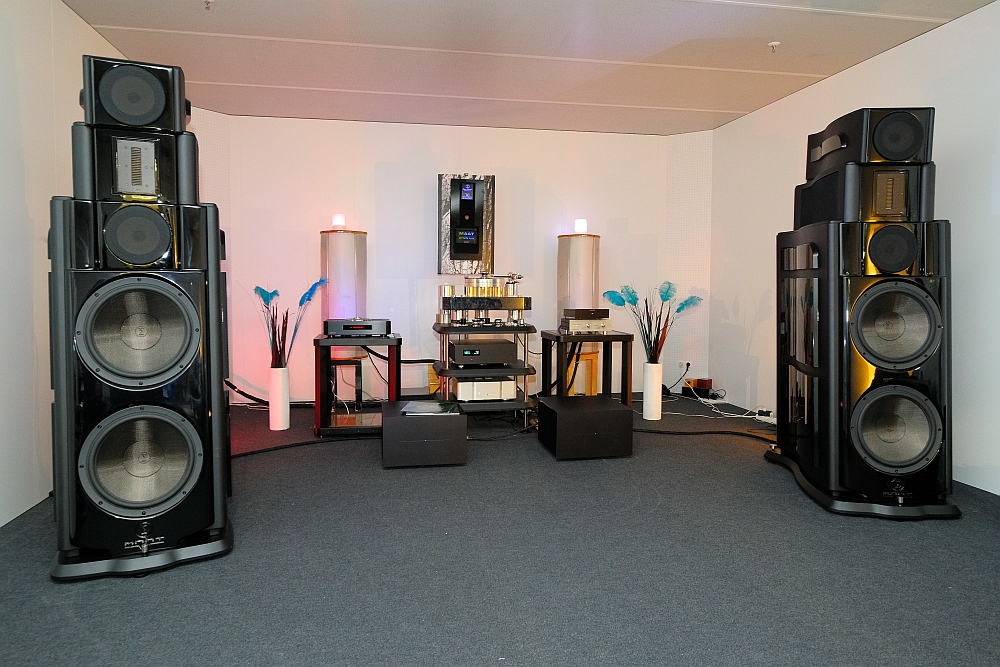 On the very last day and within the show's twilight, a special discovery. In a prefab room, in one of the ground level halls, we stumbled (I had fellow Aussie audio enthusiasts Dave and Viren accompanying me for the ride at the time) upon a company I had not heard of before. On display were massive multi-cabinet Sigma Acoustics MAAT Vector XAC speakers driven by Beyond Frontiers Audio (BFA) electronics from Serbia with Ayon CD player and Tourbillon turntable as sources. Given the size of the speakers and the relatively small room, the Sigma Acoustics speakers disappeared in a way seldom heard from such large monsters. There was also pleasing smoothness, good separation and an overall refined sound with tonal beauty. Bass was well controlled and was only once, briefly during a bass-heavy track, a tad overpowering. A new and rewarding encounter.
… Edgar Kramer
This email address is being protected from spambots. You need JavaScript enabled to view it.
High End Munich 2019
www.highendsociety.de