If you drove in a north-easterly direction from Australia's busiest airport, Sydney International, you'll most appropriately arrive at the outstanding Audio Solutions Hi-Fi specialist store.
I say "most appropriately" because on Thursday 27 of September the Audio Solutions establishment held an event presenting Nordost cables (in conjunction with PS Audio electronics). And, if you translate 'Nordost' from German to English you get 'North East' which is apropos of Audio Solutions location in relation to Sydney Airport. It also points at the compass direction, within the wide geographical landscape of the United States, of the famous cable company's north-easterly headquarters in Massachusetts.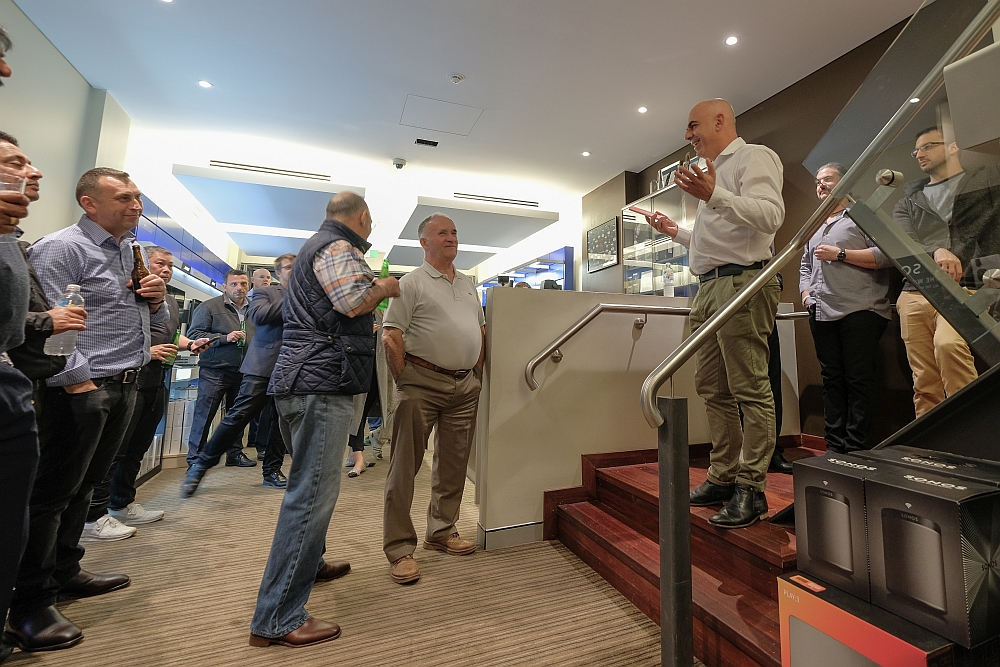 Audio Solutions co-owner Tony Stantzos welcomes his guests
As always, Audio Solution's ever-gracious host and co-proprietor Tony Stantzos was there to welcome one and all, albeit this time flying solo minus business partner Nick Pappas who happened to be away on holidays. After a meet-and-greet period where generous amounts of beverages and tasty Mediterranean delights were voraciously sampled (this author's modus operandi when presented with such deliciousness), Stantzos introduced the various guests to the sizable assembly of loyal Audio Solution customers and friends.
The event was structured as a two-pronged function to run in concurrent sessions. In one room, the ever-affable Björn Bengtsson from Nordost, who was accompanied by Nigel Ng, Simon Zanin and Brendon Brauer from Australian distributor Advance Audio Australia, would present select Nordost products. The aim here was to conduct a number of comparisons and A/B tests based on the… umm, powers (pardon the pun) of Nordost's AC and USB cables.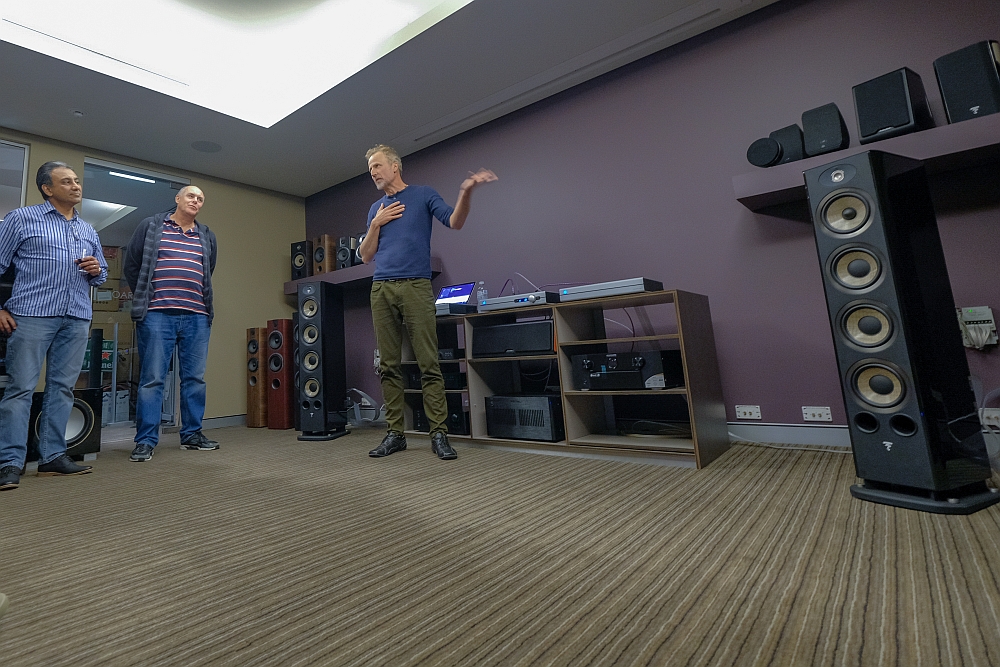 Michael Kirkham introduces PS Audio's Stellar electronics
The second prong belonged to Magenta Audio, with representation via company owner Michael Kirkham and key sales representative Tony Wong. In this second room, Michael Kirkham introduced the PS Audio-based system running via Focal Aria 936 speakers all tied in via Nordost cables. As a special treat, Magenta Audio brought along Mary Webb, a gifted song writer and folk singer with a delicately beautiful voice. Webb records under the newly-launched Halcro Recordings, the highly regarded brand falling under the umbrella of Magenta Audio. Webb, who accompanied herself with a small acoustic guitar and her dexterous mouth trumpet, performed a number of emotive songs from her current and previous albums. Then, Kirkham spun the same tunes via the PS Audio system. The fidelity in Webb's voice and the tonal truth to the instruments was a credit to both the quality of the intelligently-chosen audio system and Kirkham's skills as producer for Webb's Love Like Planets album.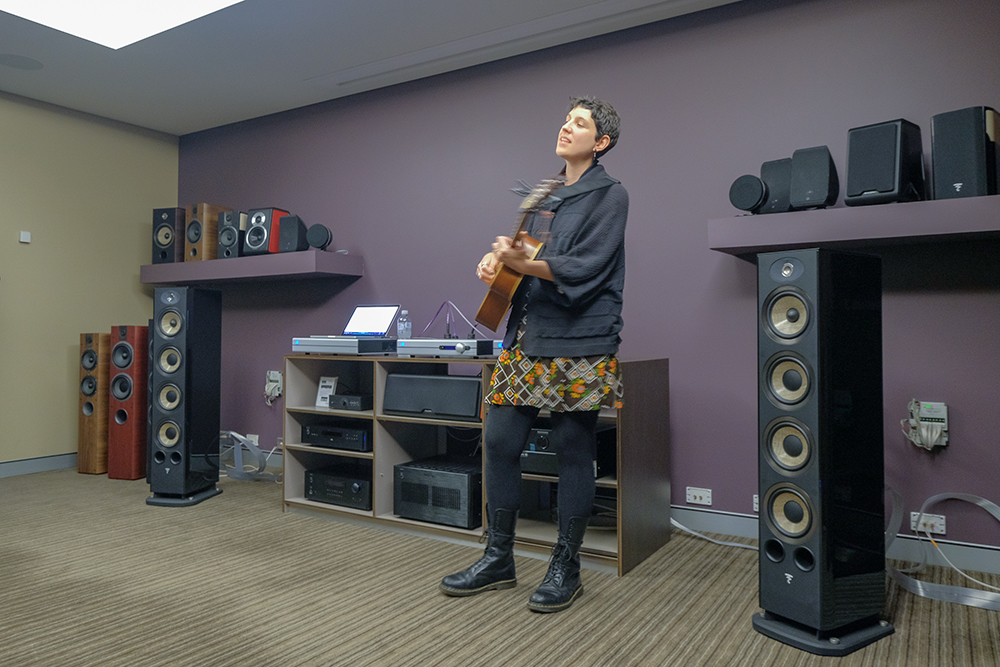 Mary Webb's captivating live performance
The second session saw us entering the largest demonstration room at Audio Solutions where PS Audio electronics powered Bowers & Wilkins 802 D3 speakers via Nordost cabling. There, Björn Bengsston introduced some of the design theories behind the highly acclaimed and multi-award winning Nordost cables. He spoke about the company's Single- and Dual-Filament configurations and winding methodologies, the OFC copper and silver-plating constructions, the multi- and solid-core conductor layouts, the proprietary connectors and the reasons why AC and USB cables may contribute, in general terms, to a system's overall performance.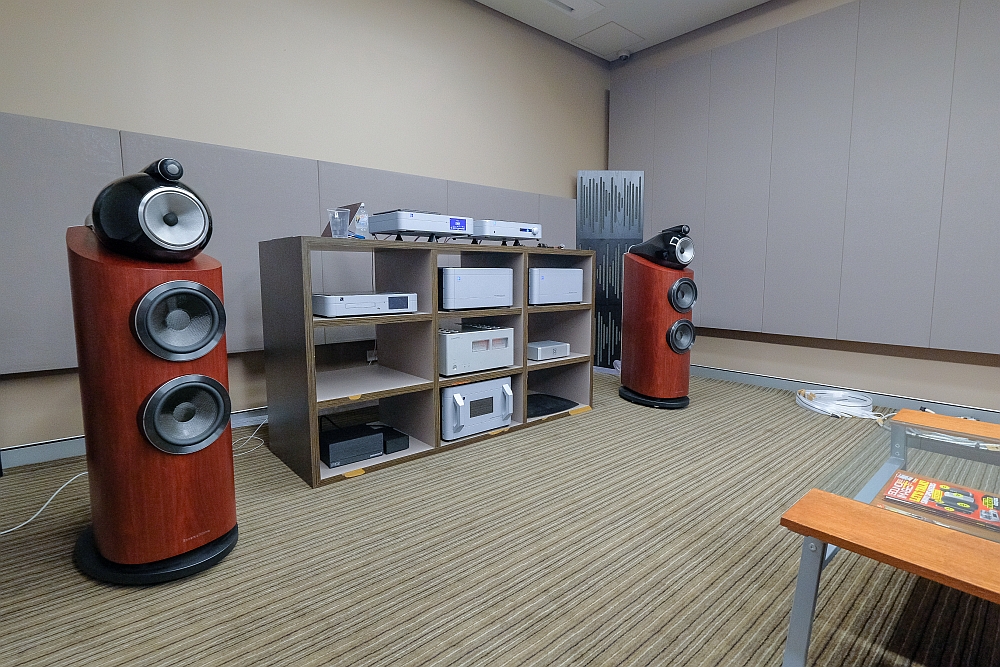 A/B sessions were conducted between Nordost's Heimdall 2 and Frey 2 cables, commencing with AC cables. While the general consensus was that there were reasonably significant differences between the AC cables (deeper bass, clearer micro-detail) the real mind-messing element of the entire night, for this author at least, was the clearly-discernable improvements between the USB cables.
As evidenced on the night, the tests – albeit sighted – showed a step up in sonic performance which does not correlate with my, admittedly limited, experience in cable design in relation to the transfer of digital information based on '1s and 0s'. There was an observable improvement in ambient information and decay on vocals and an improved separation of instrument layers. When asked, Bengtsson admitted to having performed these tests under blind conditions which he stated actually produced similar results. So, audio engineers, don't bullheadedly lock down your theories in neat little boxes because the edifice you've built will be knocked down as swiftly and brutally as a Viking swings an axe… or a stiff cable.
Conclusion
As one of the premium audio retailers in Sydney, Audio Solutions not only offers a superb range of quality Hi-Fi and AV products, but they also continue to nurture a loyal customer base. These events, which the store holds every few months, serve the very important social aspect of this hobby. They also inform while promoting the select brands being showcased at any given event.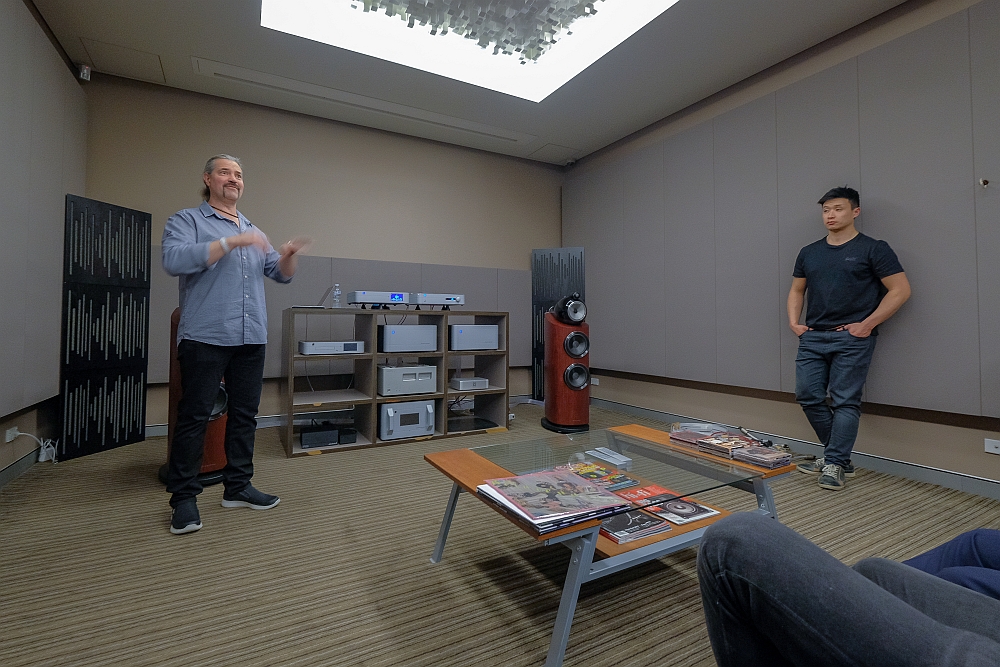 Nordost's Bjorn Bengtsson demoing as Nigel Ng from Advance Audio observes from the wings
On this night, the generosity of host Tony Stantzos, the informative Advance Audio Australia and Magenta Audio personnel (with the respective Nordost and PS Audio brands) and the enlightening demonstrations by the personable Björn Bengsston, plus Mary Webb's live music component made for one of the very best events held at the store.
Oh, and did I mention the delicious Taramasalata?
…Edgar Kramer
Editor-in-Chief
This email address is being protected from spambots. You need JavaScript enabled to view it.
Audio Solutions
+61 2 9317 3330
1195 Botany Road, Mascot NSW 2020
www.audiosolutions.net.au
Nordost: Advance Audio Australia
+61 2 9561 0799
www.advanceaudio.com.au
PS Audio: Magenta Audio
+61 8 8390 1673
www.magentaaudio.com.au