While for the most part, a reviewer's lot is an almost sedentary one, an occupation tied to looming deadlines, the seemingly incessant pounding on the keyboards and square-eyed goggling at a computer screen, the Ying to the Yang is that here at SoundStage! Australia we also get to play with some of the most exotic audio gear on the planet. But aside from playing with awesome kit – sometimes all too briefly – another aspect of the gig that I really enjoy is the travelling. Product launches aside, once or twice a year, I see myself at audio shows where my priority has been towards the industry's flagship event: the momentous High End Munich. It's that show's location that presents some tasty side dishes to the main course. By that, I mean that while in Europe, which is half a planet away from Australia, I usually make efforts to tandem a visit to a manufacturer. Heck, time-permitting, I may even squeeze-in a non-audio-related sightseeing trip. Post High End Munich 2018, I had the opportunity of visiting high-end turntable specialist Analog Manufaktur Germany, more commonly known as AMG.
Motor Speed
Early on a crisp Munich morning, I was picked up from my Schwabing hotel by AMG's CEO Julian Lorenzi who was to be the host as well as the designated driver on our journey into the Bavarian countryside. Our small group was to make its way to the small village of Deining about 50 or so kilometres from Nuremberg.
On the road, we chatted all things audio, as you do and took-in the view while Lorenzi slipstreamed it through connecting Autobahns then off-ramping on to chicanes that cut through dense and lush Bavarian forests. Suddenly… a clearing, wide green lawn vistas and an ascent up a gradual incline saw us arriving at a small industrial estate. Wide electric gates secure the sprawling site which is peppered with private, modern single level hangar-style buildings. We're welcomed to the AMG factory by Lorenzi's jovial wife Carola who is AMG's Tax/Accounts Consultant.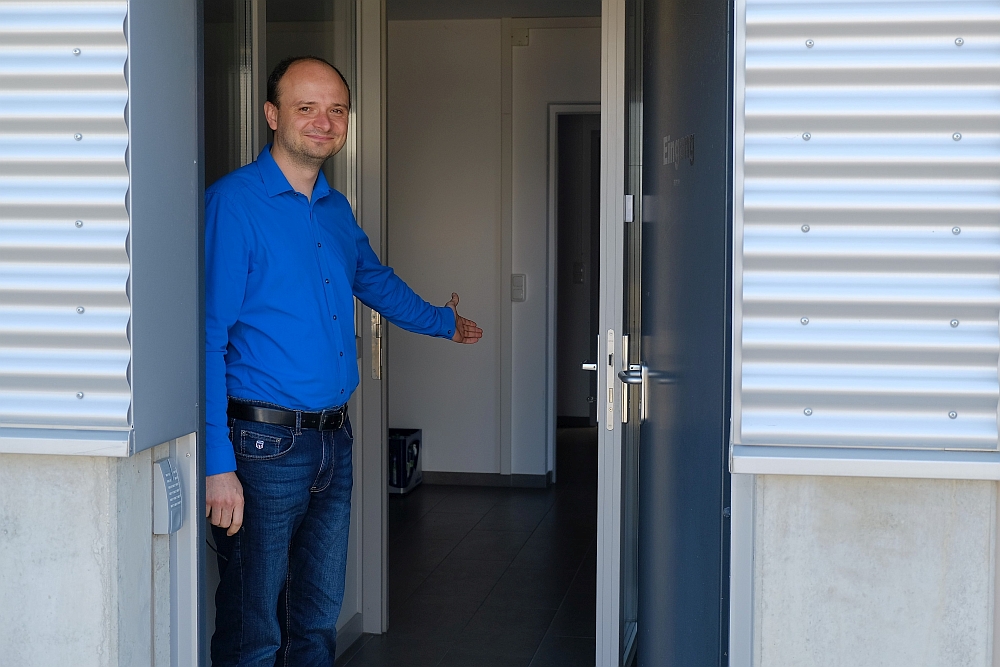 Entering the building revealed it to be in the process of ongoing renovation, as the factory is relatively new, however, the various environments dedicated to specific production functions are efficiently laid out and running at an appropriate operational capacity. There are common office spaces, a spacious boardroom-come-lunchroom, a large open fabrication area holding a variety of machinery including CNC milling machines, an ultra-neat assembly area, an efficiently laid-out parts storeroom and more.
After a short refreshment break and general chitchat in the boardroom, we commenced the tour – itchy shutter finger and notepad and pen in hand.
In the general fabrication space I learned that AMG CNC and other milling machines are responsible for the creation of as many parts in-house as possible. I was truly impressed with the level of machining quality and depth of in-house fabrication – from crucial components down to the lowliest, minutest, yet crucial, screw and bolt. Interestingly, Lorenzi told me that because of his persistent desire to produce as much in-house as possible, he has limited fabrication to an optimum yield of about 70 to 80 units per year.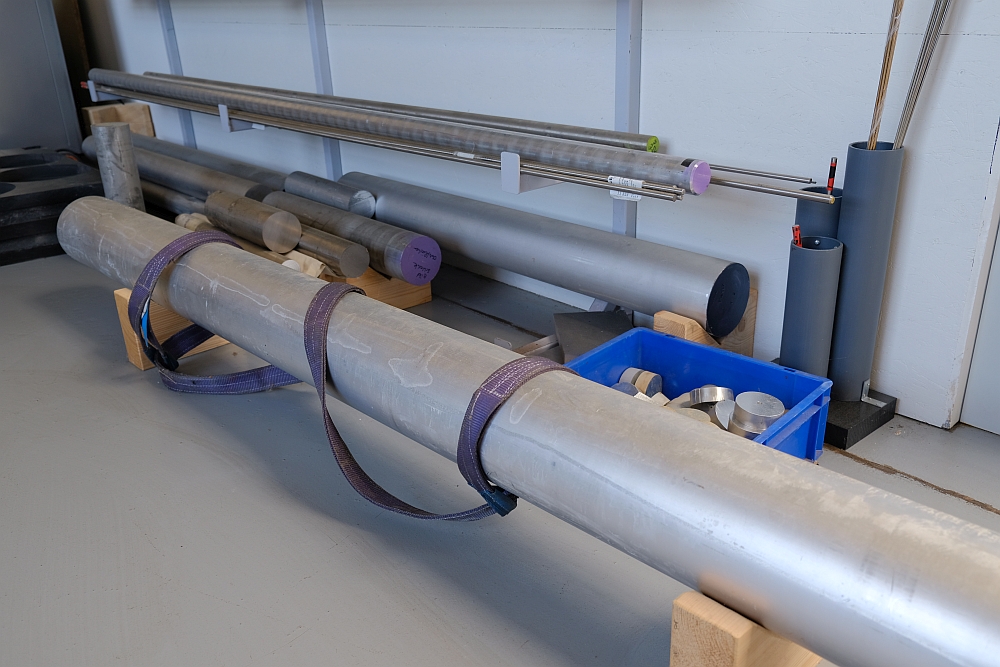 Raw materials were lying about in readiness for machining into platters, plinths, armboards, motor housings, tonearm parts, the various bearings, a multitude of brackets and a number of small yet important small metal parts. Again, as much as can be done in-house. The raw aluminium arrives at the factory in large 3m plates and are then machined in a water-cooled cutter (some steps in the cutting process is done by a "neighbour company"). After rough cutting, the parts go into the CNC milling machines for finer-tolerance cutting and shaping. These two initial stages – prior to yet further machining and finishing – are the most crucial steps to creating the highly-engineered and widely acclaimed AMG products such as Giro and Viella turntables and the company's selection of sophisticated tonearms and cartridges. Almost nothing is wasted – after machining the larger parts of the turntables such as the platters and chassis, the leftover material is subsequently used to machine and produce smaller sections and parts – even very low gauge fastening parts and bolts – for either the turntables or the tonearms.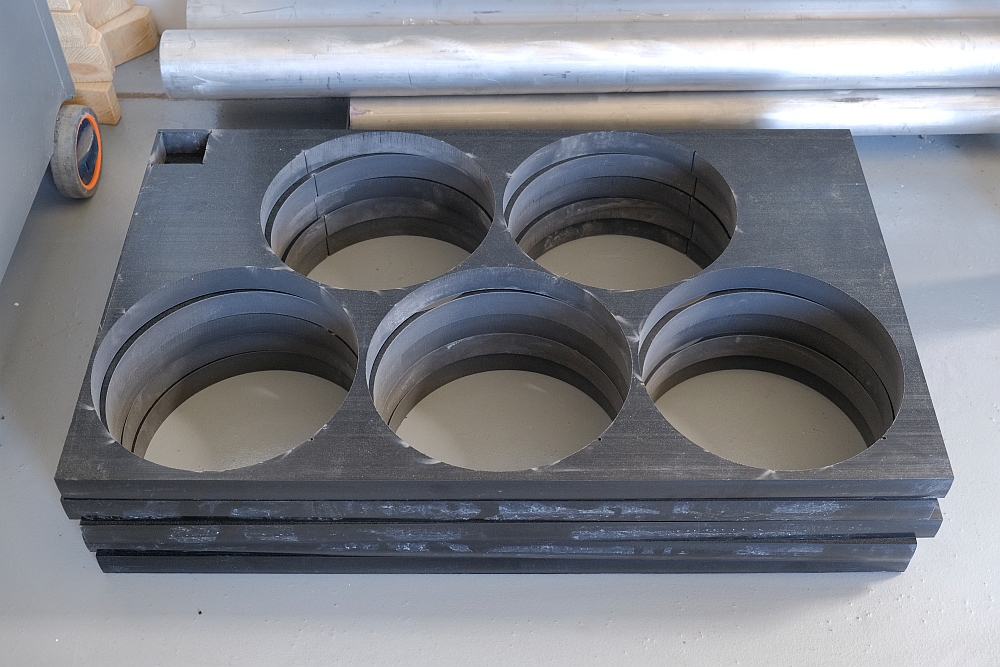 Raw material sheets with platter cut-outs …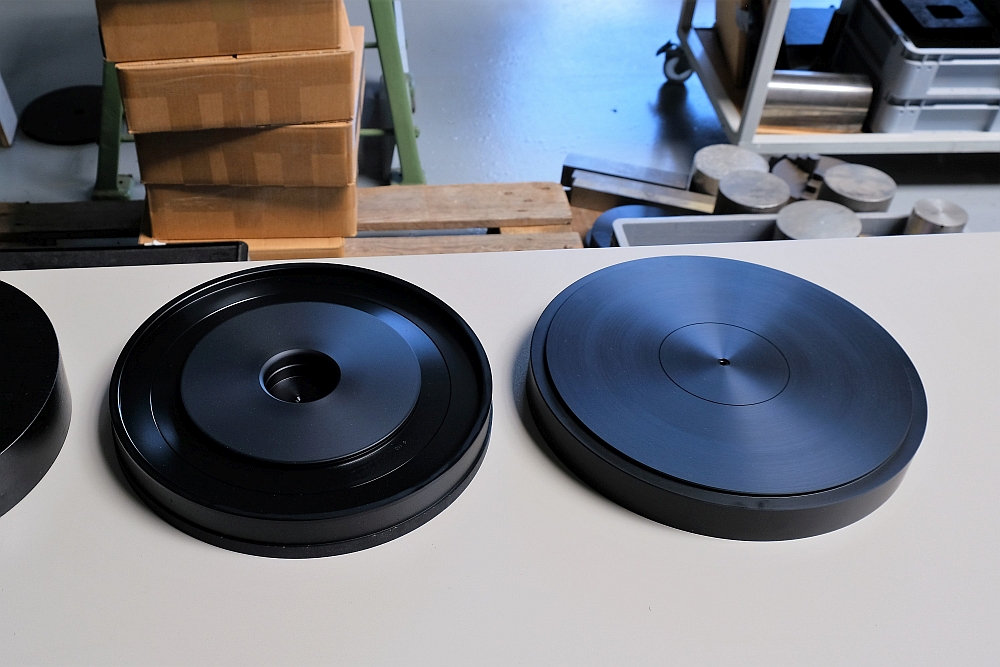 … and the multi-section platter in its final stages.
Lorenzi explained how the ultra-stable high precision platter bearing is machined, filled with oil and is terminated via a Teflon disc prepared in-house. The platter itself is a massive construction combining solid aluminium and a 12mm PVC layer which is precision-machined and joined into what becomes, effectively and practically, a single piece platter. The turntables' motor, bearing, etc. are also manufactured in-house as are the massive sub-chassis/plinths used as support for the turntable systems. Post-machining, parts are remeasured as a final calibration to confirm specifications. The final anodising is outsourced while the ultra-high quality wood veneer trim panels for the Viella turntable are produced by one of Germany's finest furniture finishers.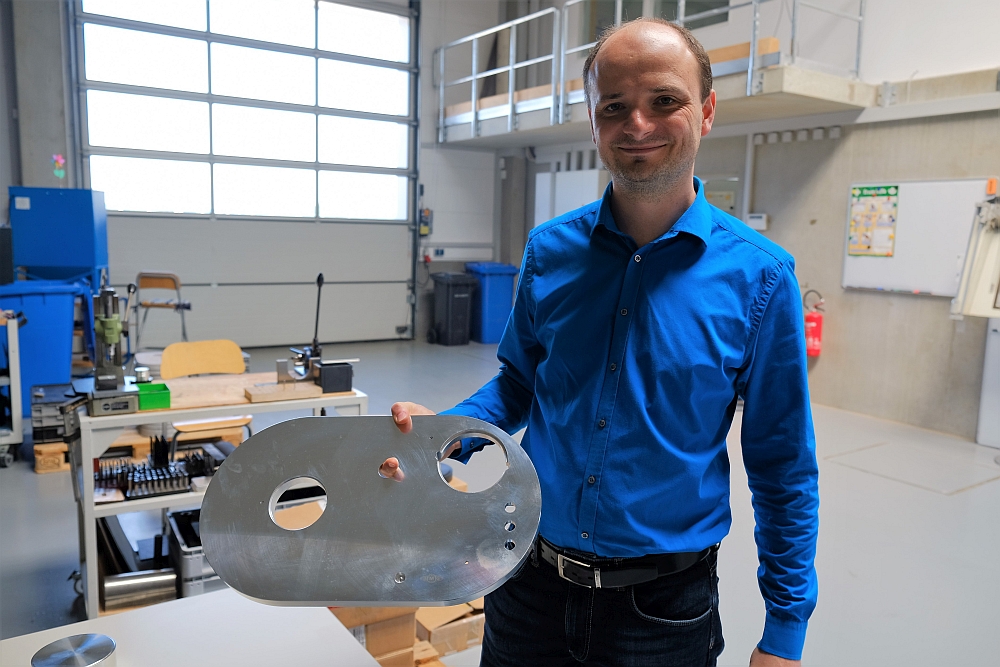 Freshly water-cut and CNC-machined Viella top panel.
AMG eschews outrageously extravagant aesthetic design – as has become more prominent, especially for the Asian market – and claims that customers in Europe, America (the USA is AMG's biggest market) and other parts of the world have come to appreciate the simple functionality and understated style of both the entry level Giro and the flagship Viella. Having said that, AMG is considering specially-anodised editions in order to satisfy those customers wanting something a tad different.
Conclusion
I left very impressed with this dynamic company and its factory headquarters. AMG's use of high-tech computer-controlled machinery and the adoption of sophisticated production processes have proven outcomes – the company's creation of excellence in analogue playback products.
You could think of it as a delicious paradox in terms of the 21st century. AMG's product output encompasses instruments dedicated to a music playback format that has been around for decades but which is now enjoying a much-deserved revival. And yet a further contrast is illustrated by the modernity of the facilities nestled within the gothic fairy tale romanticism of the Bavarian forests. Wirklich magisch.
… Edgar Kramer
This email address is being protected from spambots. You need JavaScript enabled to view it.
MORE FACTORY IMAGES BELOW.
Australian Distributor: Absolute Hi End
+61 488 777 999
www.absolutehiend.com
Analog Manufaktur Germany
Gewerbepark A 7, 92364 Deining
Germany
+ 49 (0) 9184 808 63 89
www.amg-turntables.com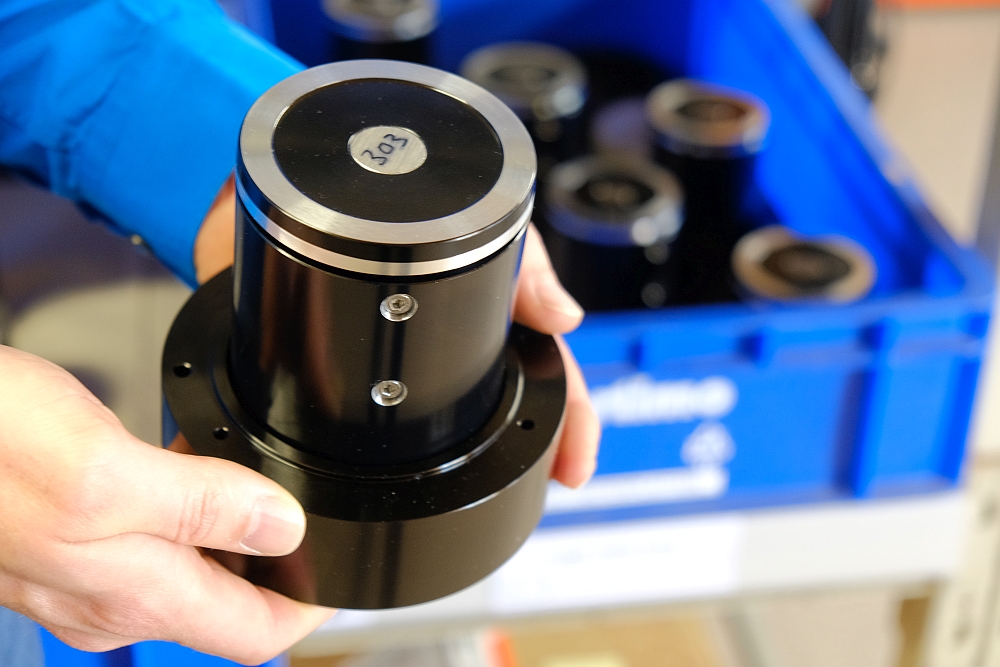 Platter bearing for the Viella turntable.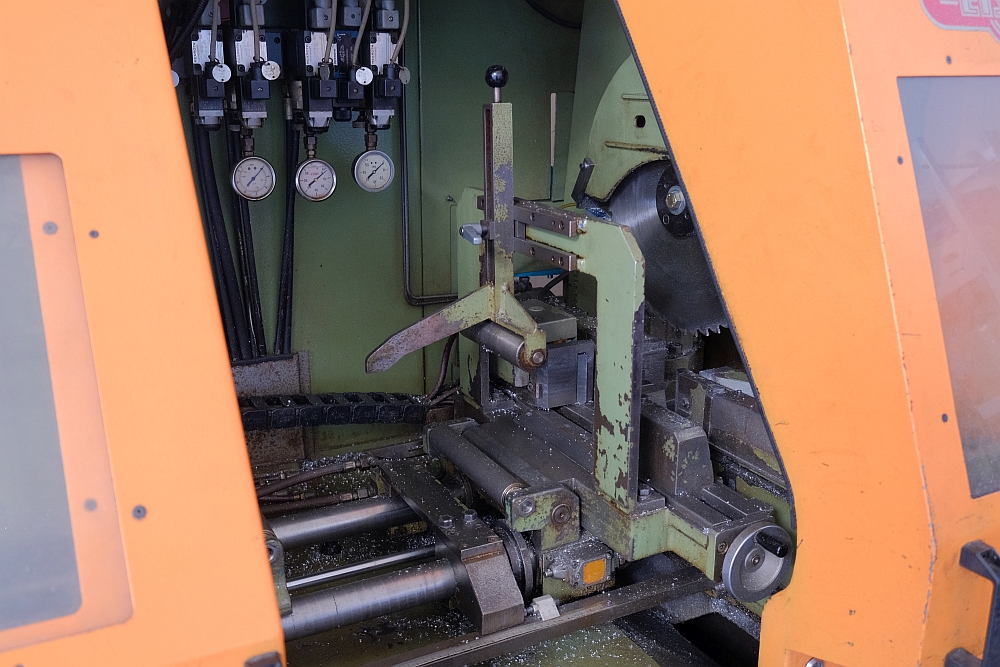 Metal cutting machine.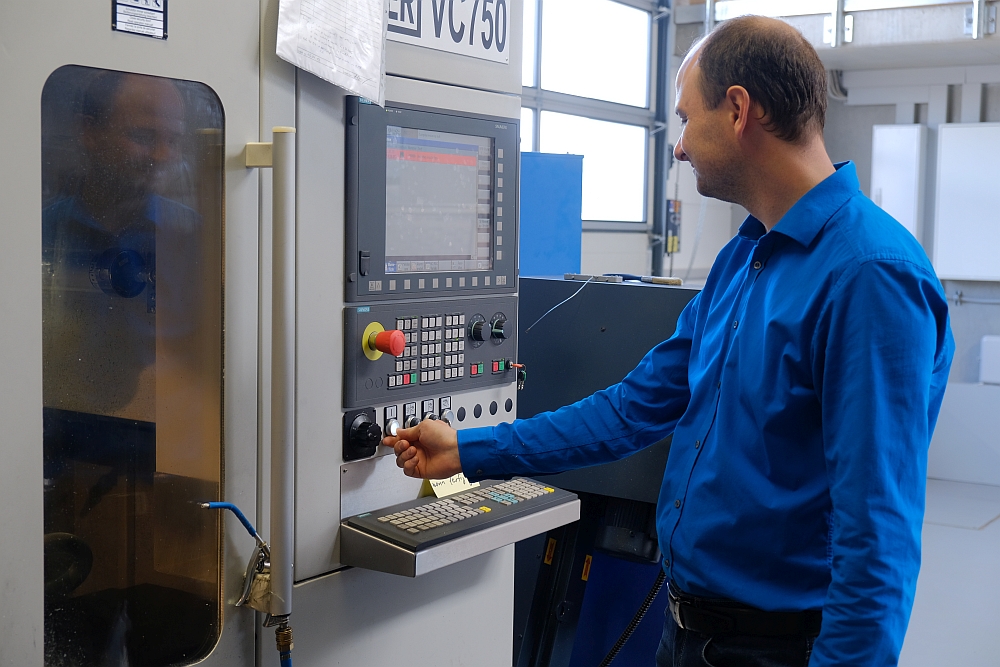 Lorenzi mills a part on the CNC machine.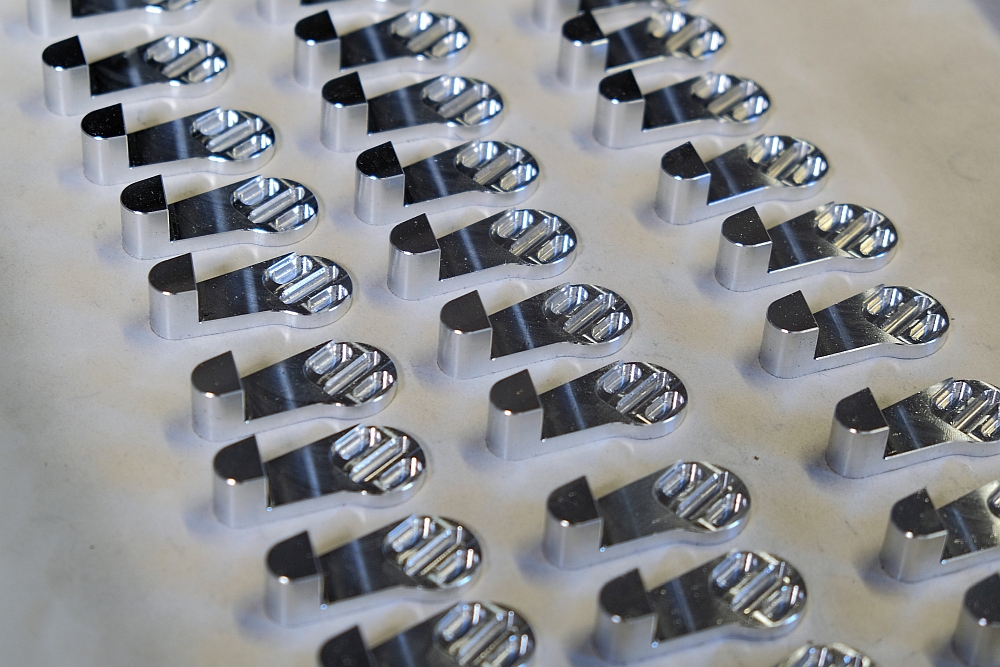 Freshly milled headshells for 9WT tonearm.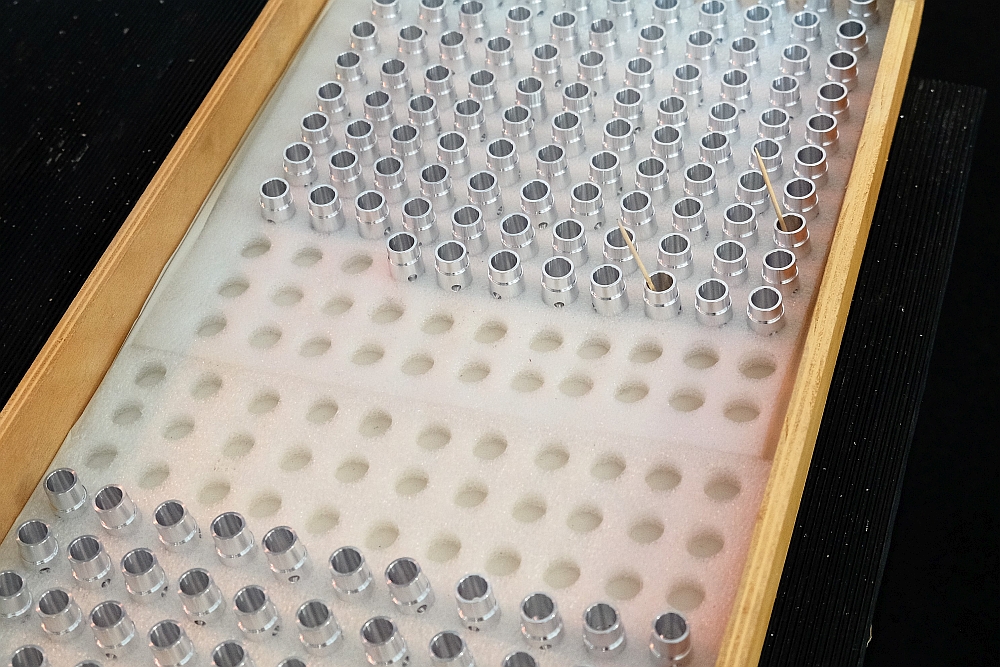 Tray of tonearm lift housings.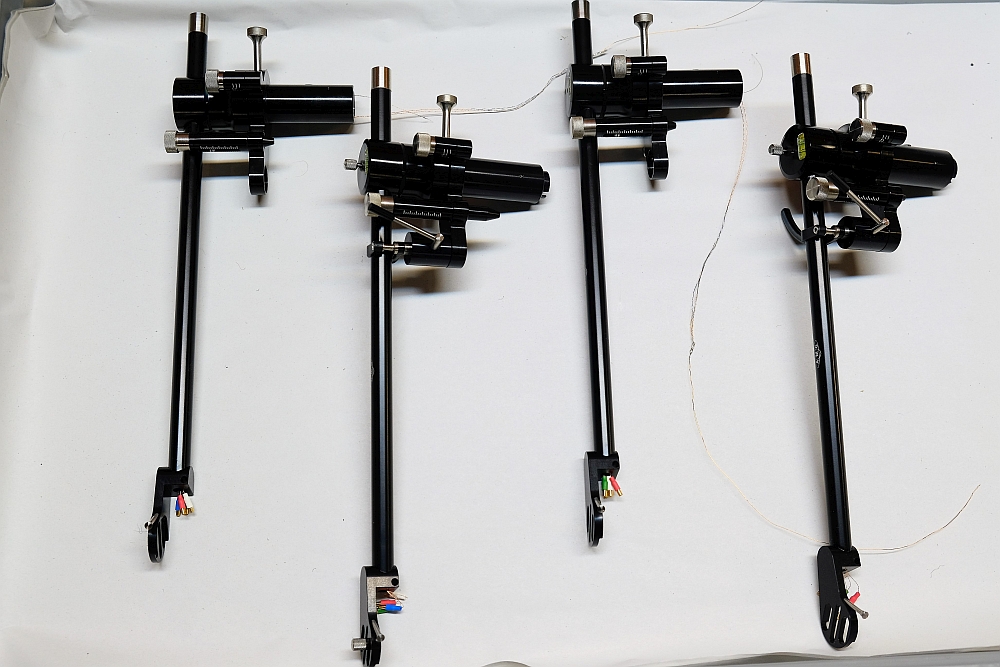 Finished 9W2 tonearms.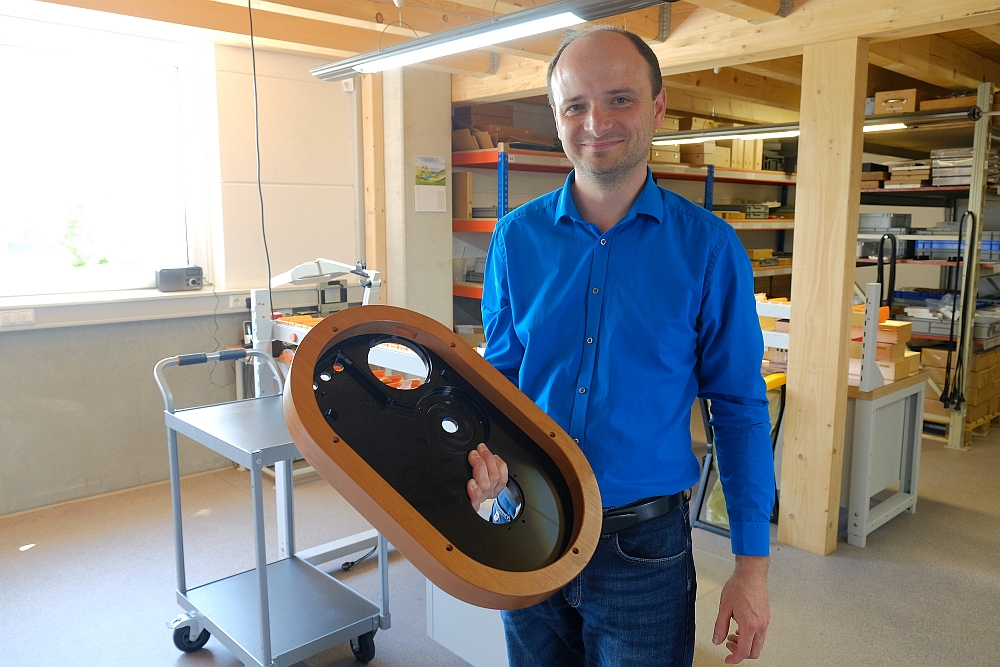 Sub-chassis with wooden dress panel.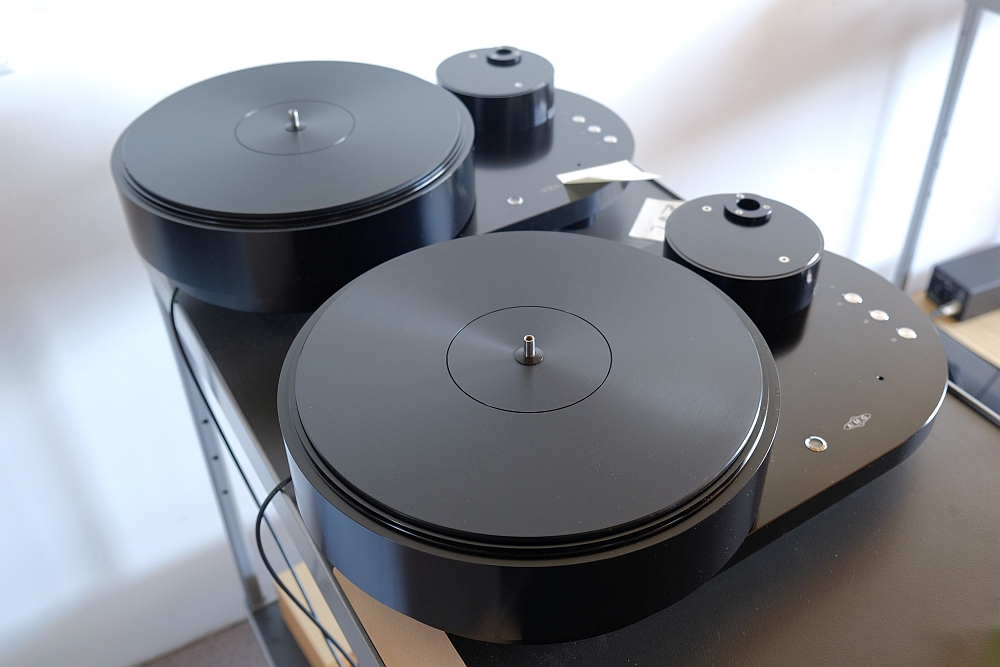 Near-finished Viella turntable prior to final assembly.