Record Store Day 2018, which fell on Saturday April 21, was celebrated throughout Australia with live music events, vinyl sales rich with bulging bargain bins and general black disc camaraderie. At one of Sydney's high-end audio institutions, Len Wallis Audio – with the man himself being there to meet and greet – the celebrations saw Mark Döhmann debuting the new Döhmann Helix 2 turntable while also making an appearance on the day were the superb Brigadiers Audio BA-2 standmount speakers by renowned engineer Brad Serhan.
The system, which sang with sweet detail, powerful dynamics and superb resolution throughout the entire frequency range, consisted of the versatile Musical Fidelity Nu-Vista phono stage supporting the Helix 2 while the rest of the electronics featured Krell Illusion preamplifier and Solo 375 monoblocks. Inakustik and Dana Digital was used for cabling and AC filtering. Reminiscent of an unforgettable audition at Munich High-End a couple of years ago, the Helix 2 showed what an expertly-engineered analogue rig is capable of: pure music. And once again, backed by all the supporting electronics goodness, we were extremely taken with Serhan's BA-2 speakers. These super high quality 2-way standmounts, with their RAAL tweeters and SEAS mid/bass drivers, more than impressed us when we visited the Arcam audio demonstration facility in Cambridge (see story here) and here they clearly exhibited their monstrous low-end capabilities, extreme detail retrieval and their captivating midrange.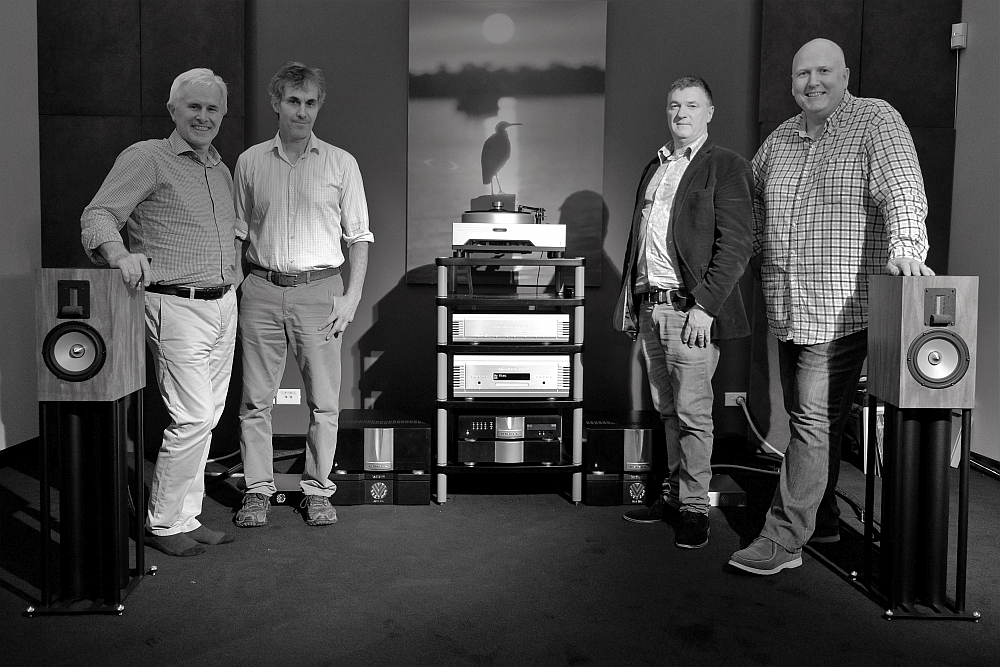 Left to right: Len Wallis, Brad Serhan, Les Davis, and Mark Döhmann
Master DJ Döhmann is an experienced hand when it comes to spinning engaging and even moving music. His custom LP-storing backpack case held a Pandora's box of treasures, some of which are rare pressings seldom heard outside the studio. Döhmann held scheduled presentations – all were standing room only and I'm told that, prior to our arrival, the morning sessions were packed to the rafters – where he introduced the Helix 2, discussed many of the construction technologies, his design philosophies and even his engineering background and history. Ditto for Serhan and Les Davis from Les Davis Audio who respectively talked about the various aspects of their designs.
Döhmann clamps a disc like no other…
The Helix 2, which implements the highly acclaimed Minus-K vibration isolation technology, was mated with a Schröder tonearm and Ortofon Windfeld Ti catridge. Les Davis Audio vibration isolation material was also used throughout. The resolution and musicality from this combo – and the rest of the system permitted this – sounded engaging, musical and ultimately entrancing. Döhmann's music demonstrations are held in high stead by this writer and here, once again, he did not disappoint by spinning the whole gamut of genres. I heard a mesmerising U2 track from the band's The Joshua Tree, classical from a variety of composers, Cowboy Junkies and Led Zeppelin. I'm told that just prior to our arrival, Hendrix's "The Wind Cries Mary" brought tears to some listeners' eyes… I expect an audition of that 1960's masterpiece at some stage Herr Döhmann!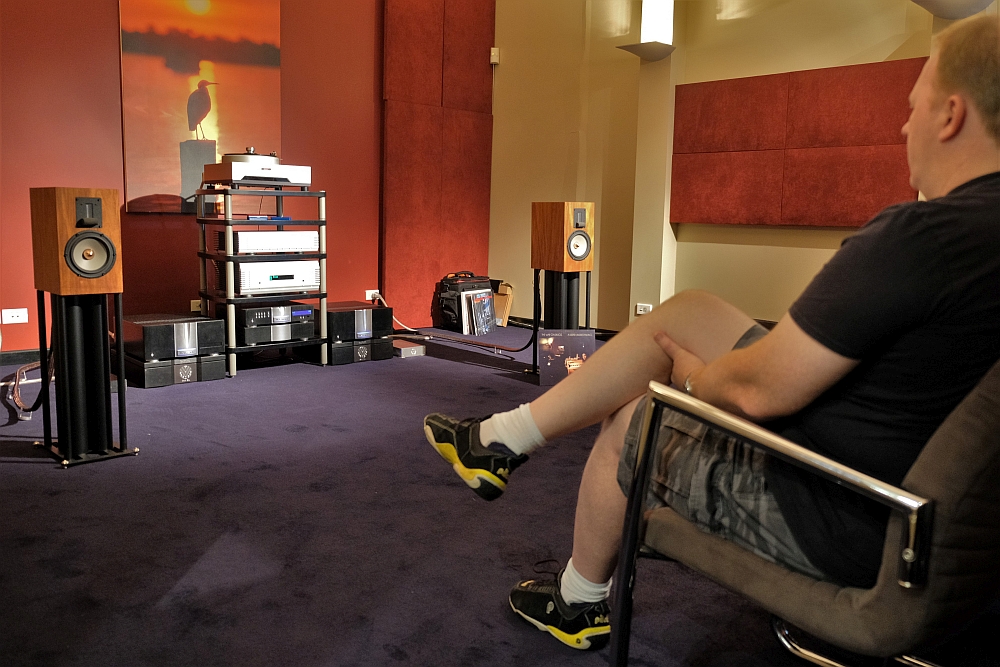 The occasion may have been Record Store Day but, in general, there's some momentum being generated for these types of demonstrations. We hope the local industry calendar is progressively filled with more events where the emphasis is on the music, where the 'tunes' and cowboy gear junkies can meet the designers and audio store hosts while also enjoying the social aspect that comes with these casual functions.
…Edgar Kramer
Editor-in-Chief
This email address is being protected from spambots. You need JavaScript enabled to view it.
Len Wallis Audio
+61 2 9427 6755
www.lenwallisaudio.com.au
Döhmann Audio
+61 410 344 938
www.dohmannaudio.com
Brigadiers Audio
+61 423 161 208
www.brigadiers.audio
Les Davis Audio
+61 423 091 188
www.lesdavisaudio.com.au