Happy 2019 dear readers! It is thanks to you that SoundStage! Australia has enjoyed continuing growth throughout 2018. In the relatively short time since our inception back in July 2017, SoundStage! Australia's team of skilled writers has examined, evaluated and authored reviews for more than 50 high-end products. In fact, in 2018 alone, our writers Scott Campbell, Josh Givorshner, Barry Jones, Peter Katsoolis, Tom Waters and yours truly have produced the sum of over 30 product reviews.
In light of this extensive coverage, we embarked on a mission of careful product-by-product assessment in an effort to launch an incentive to reward design, engineering and performance excellence. After much deliberation and consideration, we are now proud to present SoundStage! Australia's inaugural awards for the most outstanding products of 2018.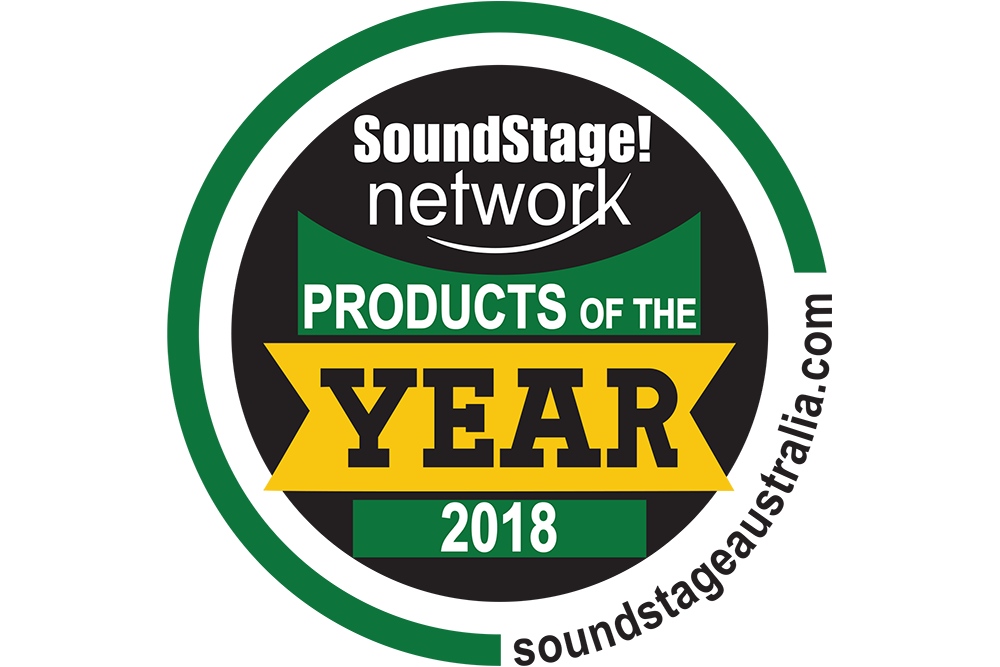 Based on a number of key criteria, our categories reflect the SoundStage! Network's own established format. Product selection is based on formally-reviewed items from the last 12 months. Awardees are chosen after a multitude of carefully considered aspects (each category may award one or more recipients) which include performance, design, engineering, features, value, etc. Below is a brief explanation of each of the categories.
Hall of Fame Award recognises an outstanding product that is current but has been inspired, or pays contemporary homage, to an earlier generation with a rich history or that may have classic status. This Award may not be presented every year, of course.
Aesthetics & Sound Quality is self-explanatory but with an emphasis on high-performing audio that is also aesthetically beautiful.
Innovation in Design places importance on a product that offers a point of difference in terms of unique features, advanced engineering or innovative design.
Outstanding Performance is awarded to a fine-tuned product presenting exceptional sound quality and is among 'the best of the best'.
Exceptional Value combines dollar mileage with superb performance aspects.
Extraordinary Auxiliaries honours the excellence of essentials which are ancillary to the main audio componentry space.
So, without further ado, it is with great excitement that I now announce SoundStage! Australia's inaugural Products of the Year Awards for 2018.
… Edgar Kramer
Editor-in-Chief
Please note: We include a short reviewer's 'grab' as a general prompt, however, we suggest reading the originally-published review (click on the product title) for the complete evaluation.
Hall of Fame
Yamaha NS-5000 Loudspeakers, reviewed by Joshua Givorshner
(February 2018)
"The Yamaha NS-5000s are unusual yet beguiling speakers, clearly successful in their tribute to the original NS-1000s… The NS-5000s offer exceptional value for money and undoubtedly affirm Yamaha's dedication to the production of truly high-end products that preserve their market-leading reputation and to the reproduction of music."
Aesthetics & Sound Quality
Bowers & Wilkins 803 D3 Loudspeakers, reviewed by Edgar Kramer
(December 2018)
"The 803 D3 shares the same technologies… as its larger brethren, with the modular 'pod' construction being introduced for the first time in the 803 model classification… Few speakers have impressed me to this level just out of the box; their full suite of qualities in the areas of soundstaging, imaging, detail, tonality and resolution were all maintained as the signature of this extraordinary design…"
Gryphon Audio Diablo 120 Integrated Amplifier, reviewed by Edgar Kramer
(April 2018)
"The Diablo 120 is a categorically exceptional performer that just plays music in a way that motivates involvement and sweeps you into pure enjoyment, inhibiting dissection and analysis. Devilishly good!"
Innovation in Design
Trinnov Amethyst Digital Processor, reviewed by Tom Waters
(April 2018)
"As well as sounding better balanced and smoother than its competitors, it portrays music with more texture and body. It sounds refined and resists the temptation to spotlight frequencies to give the false impression of detail. Its tonality and decay is exceptional… In the end, I loved the Trinnov Amethyst so much that I kept it."
Outstanding Performance
REL Acoustics 212/SE Active Subwoofer, reviewed by Edgar Kramer
(August 2018)
"The benefits of running a subwoofer of this extraordinary quality – never mind power and capacity to go super deep – with high quality monitor standmounts (or even floorstanders for that matter) are, in my opinion, indisputable. There's bass… and there's Bass."
Vitus Audio RI-101 Integrated Amplifier, reviewed by Edgar Kramer
(May 2018)
"... the Vitus Audio RI-101 commands a recalibration of what an integrated amplifier is capable of achieving in terms of performance. Consequently, it would make for a thoroughly satisfying entry into the ranks of the very best amplification available."
Wilson Audio TuneTot Loudspeakers, reviewed by Edgar Kramer
(August 2018)
"From the midrange on up to the highest treble, it performs an extraordinary imitation of the larger Wilson Audio designs, the last few generations of which have been outstanding in balancing precision and musicality… TuneTot offers further technical and engineering aptitude and the vital musical pleasures which are essential for the most demanding music lover."
Exceptional Value
Definitive Technology Demand D11 Loudspeakers, reviewed by Edgar Kramer
(March 2018)
"…the D11s are a stunning achievement and clearly show that when a large company goes all-out to produce a value proposition, it doesn't mean the end result has to be crippled by compromise… The D11 has floored me… colour me conclusively and definitively impressed."
Extraordinary Auxiliaries
Sennheiser HD 820 Headphones, reviewed by Peter Katsoolis
(November 2018)
"… Sennheiser has succeeded in making the HD 820 the most open, natural and transparent sounding closed back headphone to date… the HD 820 is a technological tour-de-force worthy of space on your noggin."
SGR Audio Model V Statement Audio Rack, reviewed by Edgar Kramer
(September 2018)
"… it's built in Australia by a company which is pulsing with increasing power and interest internationally… now staying in situ as an essential component within the context of SoundStage! Australia HQ's reference system."
sILENzIO Audio Cables, reviewed by Edgar Kramer
(May 2018)
"… the sILENzIO loom achieves the very highest status within my cable universe experience. sILENzIO, unquestionably, joins the industry's leaders in audio signal transmission."
SSA