The Big Red is the most powerful of the Australian kangaroos. It's a heavy, muscled brute of an animal but yet it's extremely agile, swiftly covering long distances at great speeds. Was this great marsupial what ex Linn Senior Acoustical Engineer Dr Rod Crawford, head of Legend Acoustics, had in mind when he came up with this sophisticated speaker's designation?
Most likely. But it also reflects Legend Acoustics' (or Dr Crawford's) penchant for naming its expansive speaker line after all-manner of kangaroo in Aboriginal languages. How Aussie is that? And yes, expansive means that Legend Acoustics offers a variety of options of all sizes many in both passive and active configurations. Here, I'm looking at the latest active offering, a mid-sized 3-way floorstander packaged with on-board amplification and an almost plug-and-play wonder-in-a-box DEQX unit laden with six channels of digital equalisation, preamplification, DAC and crossover with room and driver correction.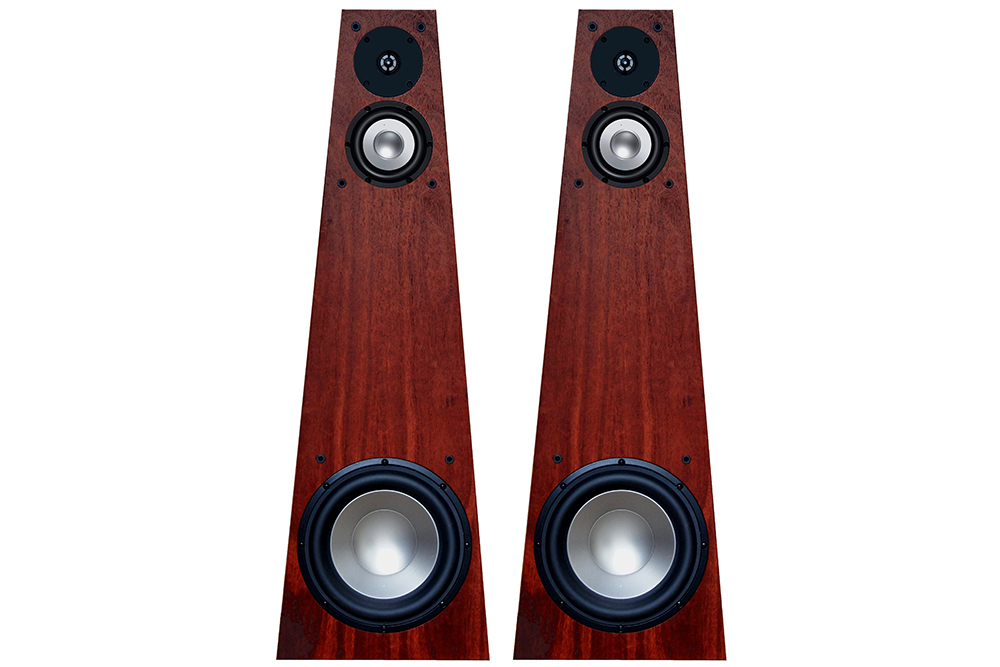 In the pouch
Dr Crawford delivered the units personally and set-up the DEQX according to measurements taken with a calibrated microphone. The process is quite straightforward and will take no more than 15 minutes. Pedants can take more measurements and more time but perhaps very little added value may be wrung from that exertion – the DEQX is very precise as long as the microphone is well-placed within the listening position.
For the purpose of this review, Dr Crawford pre-programmed three different EQ curves and a bypass option. Two different curves applied varying amounts of top-end roll-off (-4dB at 48kHz) and bass management/room correction below 1kHz for my particular room acoustic while provision was made for a totally flat curve and the abovementioned bypass. These can be switched at the flick of a button via the comprehensive remote control provided with the DEQX.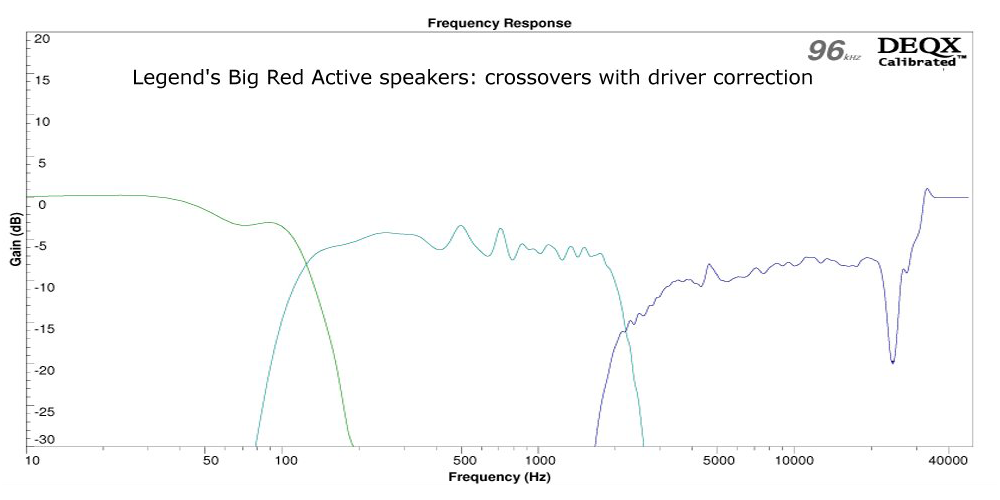 The Big Red Actives (BRAs) are a 3-way featuring an Eton (Germany) Magnesium alloy ceramic-coated tweeter of extremely low distortion and chosen for its neutrality throughout its wide bandwidth. The crucial midrange is handled via a 4 inch SB Acoustics aluminium midrange with underhung voice coil, said to possess extremely low distortion due to remaining pistonic well above the 3kHz suggested crossover point. Finally, a SEAS 10 inch high power high excursion driver handles the low frequencies. This heavy 10kg driver features a massive magnet system, an aluminium cast frame and a large 56mm 4-layer voice coil. Cone excursion is said to be up to 56mm which, combined with the pistonic operation and low distortion makes for powerful bass registers.
In its pouch, the Big Red carries dedicated Class –D amplification via a Hypex Ncore NC122MP for the midrange and tweeter (2 channels at 125 watts each) and an NC500MP for the bass (500 watts mono). The Ncore amplifiers feature in-built over-current protection and very low Total Harmonic Distortion (THD) which fits in with Legend Acoustics' philosophy of low distortion and neutrality. The accuracy throughout the frequency response promises neutral tonality while the ultra-accurate/low distortion phase response – combined with the tapered top section of the cabinet – can result in superb soundstaging and imaging properties.

Aside from all the digital wizardry – and trust me, there's a whole lot real-time digital technology applied within that electronic wonder – the DEQX unit is also a quality preamplifier with digital outputs, two analogue inputs and two digital inputs (including asynchronous USB) as provided in this package. Note your analogue input is converted to digital for correction before outputting an analogue signal to the speakers' in-built amplification. Legend Acoustics provides made-to-measure and colour coded XLR cables which mate the DEQX's outputs in red, green, yellow and blue to the corresponding colours on the speakers' rear panel; wiring the system is a snap. So, given all the available hardware and software on board the DEQX and the versatility of the amplified speaker as a system, the only requirement from the end user is the source.

Legend Acoustics specifies the BRAs' frequency response as spanning between 30Hz and 25kHz at +/-3dB. Each speaker weighs a hefty 45kg and the pyramidal enclosure feels solid – it's well-braced and constrained layer damping is used to further control panel resonance and vibration. The BRAs are available in two real wood veneer finishes, a light oak and a reddish jarrah. A lacquer is applied providing a semi-gloss lustre. Also provided are a full sculpted grille or, if you like your speakers semi-naked, a single round grille covers the woofer while the mid and tweeter drivers are left a la naturel.
Hands On DEQX
Unlike other times when I may fine-tune review speakers' room position to juxtapose against the set-up person's recommendation, once Dr Crawford 'left the building' I pretty much straight away started the auditioning stage. So effective is the DEQX room tuning that moving the speakers about would be an exercise in wasted energy and a potential back ache.
Having said that, I've heard the DEQX transform the low-end in many systems and rooms and, although in my own very neutral environment the bass improvements are there but less overtly, in most situations it reaps priceless rewards. In the case of the BRAs, with the in-built amplification precisely dedicated to wringing the very best from all the drivers – perhaps most notably from that superb 10-incher – the potential in-room results could be revelatory.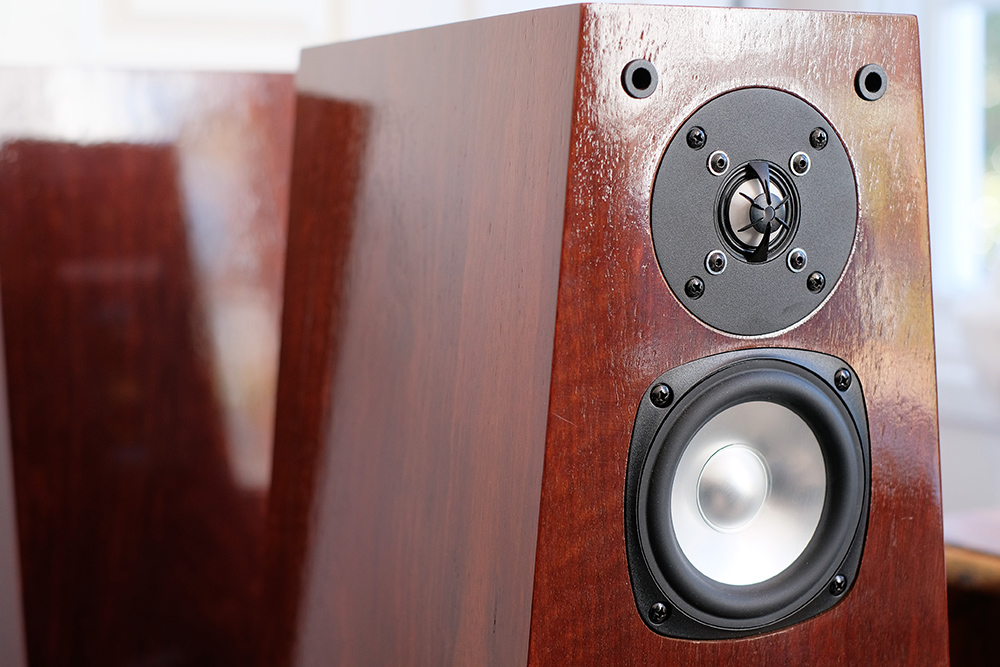 All that low distortion adherence by the designer's engineering philosophy and driver choice has no option but to reflect on the ultimate sound. And that is one of uncompromising neutrality and seemingly unbending observance to accuracy. This is a clean sound that neither sweetens nor brightens the presentation (things that could be added via the DEQX, should you wish to). Your source permitting this is as categorically accurate and analytical a demonstration (in a good sense) as you're going to hear from a speaker.
This should not be misinterpreted as the BRAs being boring or over de-sensitised. In fact, quite opposite. The sound has a quickness and startling attack in terms of both transient information and overall dynamic expression. And obviously notable is the extraordinary low level resolution of nuance and micro-dynamics. The old cliché of "seeing into the recording" most resoundingly applies here.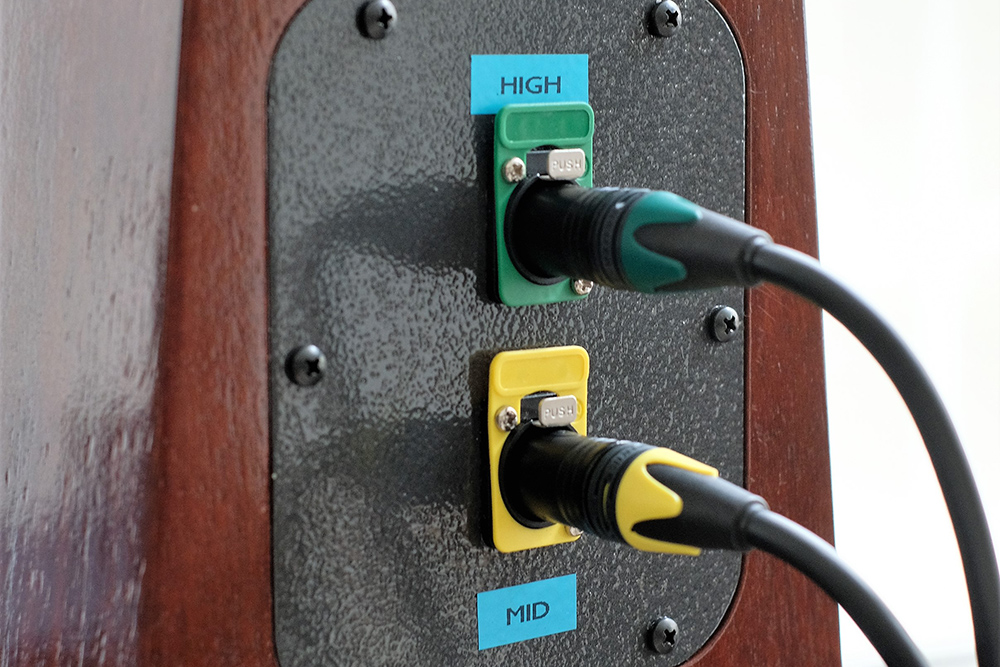 The Neil Crowley Trio's "Skies are rare" for the band's The Face of Mount Molehill release features a mellow piano theme accented with powerful full band crescendo's peppered throughout the song in a swelling and ebbing flow. The BRAs were equally subtle in the tonal and harmonic recreation of hammer on string and vicious in the handling of the powerful drum attacks. The bass notes were delineated against the musical onslaught and defined in terms of detail.
The Ncore amplifiers are not only able to provide superb dynamics but they are also very adept at providing tonal and harmonic information to the dedicated drivers. Given what's handed down from up the chain, the Ncore-driven transducers provide an accurate representation of acoustic music. Case in point is the beautifully-captured cello on Vincent Bélanger's Pure Cello CD. The BRAs cover the entire frequency span of the cello accurately, dipping to the lowest notes while instantly surging to the opposing end of the scale (my estimate roughly from 30Hz to 8kHz if you include lower and upper harmonics). There's astounding levels of fingers-on-strings detail and stunning rendition of the variations in attack and force applied by Bélanger's handling of the instrument. Again, harmonics are well extended and there's plenty of 'air' to the recording's ambience.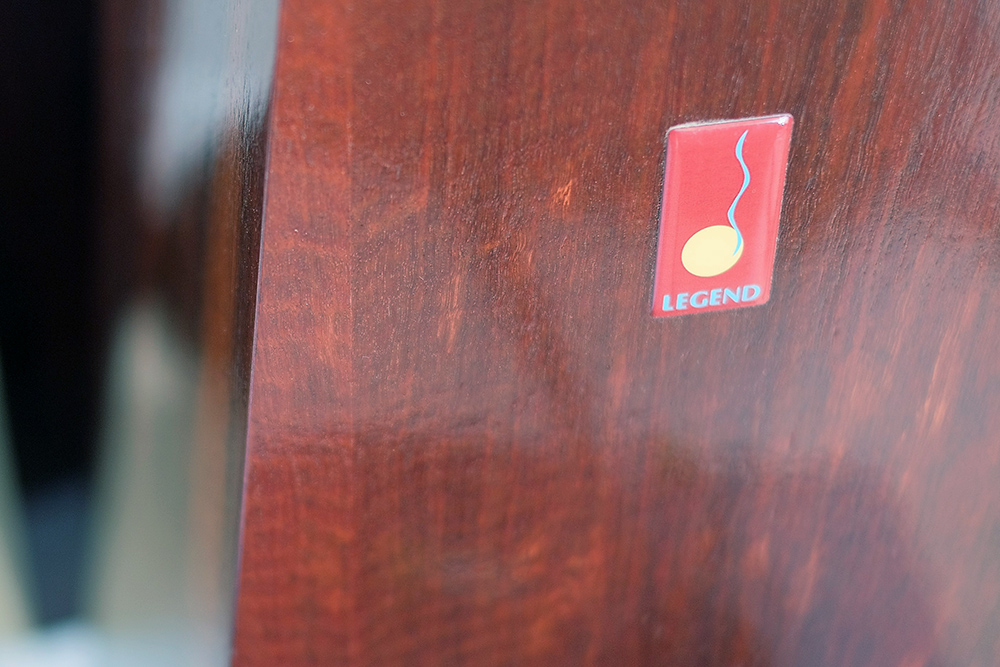 Of course all this low distortion and resolution provides benefits in terms of instrument separation and immediacy in vocals. When things got hectic in that Neil Crowley Trio's piece, the BRAs coped by separating and individualising each instrument so it was discernible and clearly outlined while maintaining the integrity of the musical whole.
Ryan Adams' close-miked vocals on his Ten Songs from Live at Carnegie Hall release made for an extremely real- and present-sounding rendition of his emotive "Gimme Something Good" track. When Adams let's fly, both vocally and with his strumming, the BRAs track it effortlessly. Ditto for his softer articulations with his voice, his piano, harmonica and, again, the hard-strummed guitar throughout the album.
And again, with the DEQX's and Legend Acoustics strict adherence to phase accuracy, the net results were clearly observed in the BRAs' large soundstage reproduction, both laterally and in terms of depth, with precise image placement and focus.
Conclusion
On paper, and often in practice, the concept of an active speaker makes absolute sense and has great potential to surpass passive designs. Especially when it comes to detail and dynamics. In the case of the Legend Acoustics Big Red Actives there's an added bonus – the superb DEQX with its built-in preamplifier's digital and analogue input options, room correction, on-board crossovers, etc. just plug a source and you have a ready to rumble system. And rumble is indeed what the BRAs do… there's superb bass power, outstanding dynamic range; the visceral things while all the rest of the performance expectations are easily met.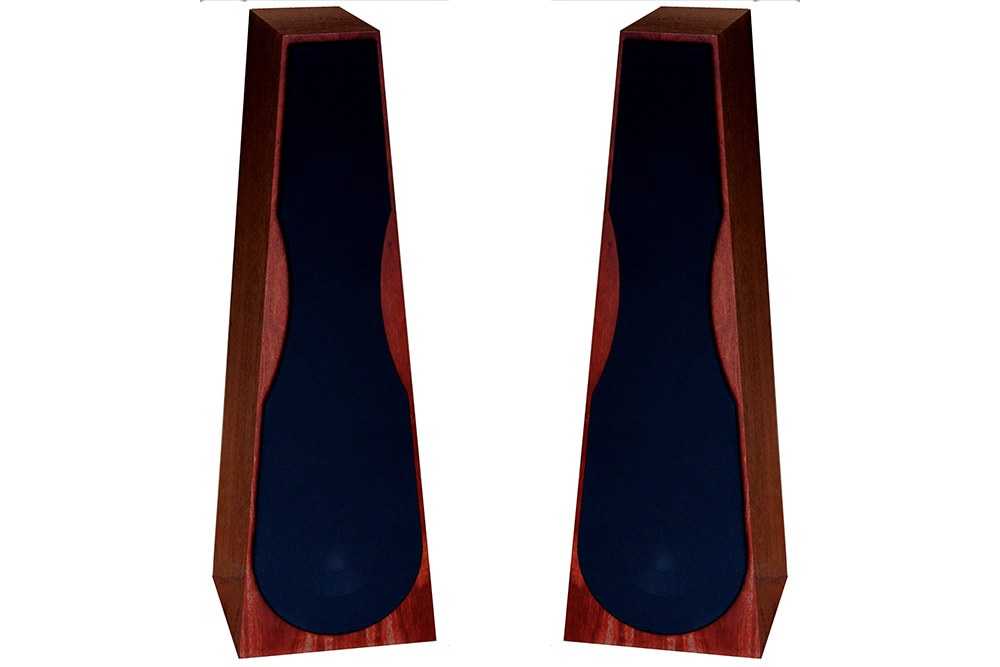 Are you a strict accuracy-at-all-costs guy? Or do you crave a tad of nutritious sweet syrup to your musical fare? With the DEQX-equipped BRAs endless tuning possibilities are just a button-press away. All that while the speakers' considerable bass power is perfectly matched to your room's acoustic signature.
What more can a music lover ask for? Highly recommended.
. . . Edgar Kramer
This email address is being protected from spambots. You need JavaScript enabled to view it.
Associated Equipment
Speakers — Wilson Audio Alexia
Amplifier — Gryphon Audio Designs Antileon EVO
Preamplifiers — Supratek DHT Reference, Lightspeed Attenuator LDR passive
Sources — Yamaha CD-S2100 transport, Totaldac d1-core DAC, MacBook with BitPerfect software, AIFF files
Processor — DEQX PreMate
Cables – Vermouth Audio Black Pearl loom (in for review)
Legend Acoustics Big Red Active
Price: AU$16,500 includes DEQX unit and cables
Warranty: Five years parts and labour.
Legend Acoustics
NOWRA NSW 2541
PH: +61 407 600 009
E: This email address is being protected from spambots. You need JavaScript enabled to view it.
USA Distribution:
Knowledge Resources Corporation
4621 Abiline Circle
AURORA CO 80015-3903 USA
PH: 1 303-519-9076
E: This email address is being protected from spambots. You need JavaScript enabled to view it.