Over the last few decades, periodical fluctuations notwithstanding, the increased availability and reduced cost of high-grade materials, in conjunction with the development of more advanced software-controlled CNC machines and engineering software/computer modelling programs, have allowed the development of high-end audio of increasing sophistication and complexity. While this has meant that current affordable audio components offer superb engineering and build quality, at the other end of the scale, we have über high-end equipment employing up-to-the-minute material technologies and sonic performance that encapsulates what is presently technologically possible. Cable manufacturers are also utilising this wider engineering tools palette, adopting new techniques and materials in complex designs to bring the humble 'wire' up to spec in order to more adequately support these more sophisticated electronics and speaker systems. Enter TARA Labs' The Muse.
Inspired Design
The Muse's position is in the upper echelons of the extensive TARA Labs span of cable solutions offerings and is placed in the 'Extended Bandwidth' group (a 'Controlled Bandwidth' group is populated by cables below The Muse). TARA Labs (TARA standing for The Absolute Reference Audio, as a matter of interest) offers a massive range of cables spanning the entire price spectrum from extremely affordable (Apollo series) to the über high-end (the extreme Grandmaster Evolution). TARA Labs manufactures its cables in Oregon, United States of America.
The Muse cables arrived in a large circular padded carry bag housing the cable loom under review which consisted of XLR and RCA interconnecting cables and the twin leg speaker cables. Aside from the cables themselves, also within were the 'HFX Floating Ground Station System' interface box and a small bag containing the mini-banana connector cables used to hook-up the grounding scheme. A multi-diameter and multi-thread screw also provided can be used to attach the grounding system's cables to a component's chassis or rear panel (if a chassis screw is not easily accessed) as part of this system's functionality. A comprehensive instruction sheet with photographs depicts the connectivity procedures so you needn't panic – it's all pretty easily configured. Further, on TARA Labs' website, there's a video here (scroll down) that provides added instructions.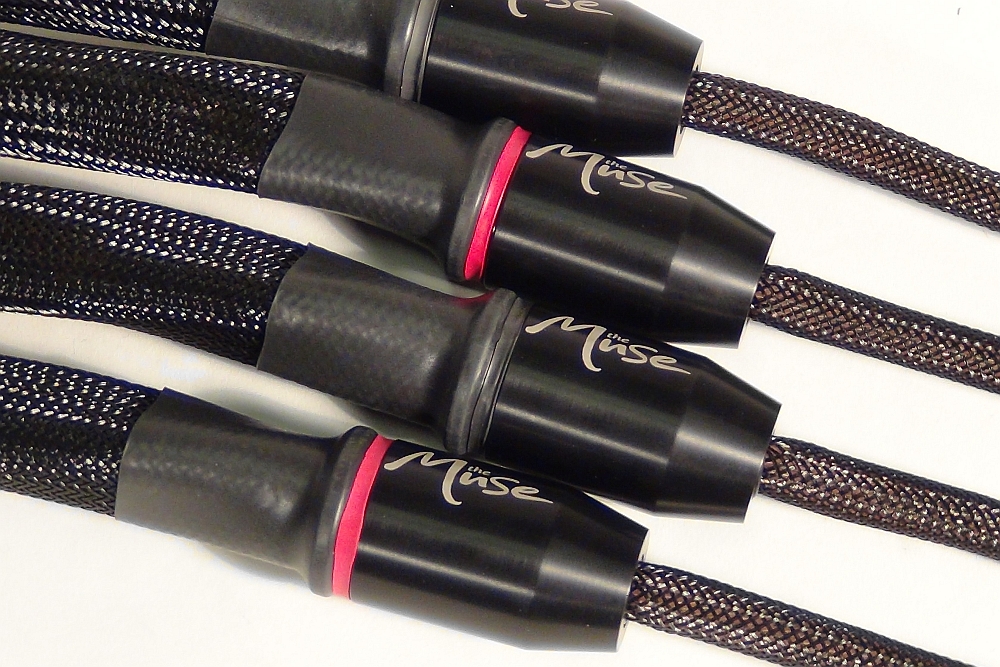 While both the interconnect (RCA and XLR sent for review) and the speaker cables are neatly dressed in plain black cloth, the deceptive visual modesty hides excellent build quality within the outer jackets. The 'HFX Floating Ground Station System' works totally outside the signal path and is centred around an interface box – a small metal brick, and I say "brick" based on the surprising weight for a small item – which has been constructed and machined from a solid piece of aluminium/alloy derived at specifically by TARA Labs. This aluminium/alloy construction has been designed to reduce RFI (Radio Frequency Interference) and EMI (Electro-Magnetic Interference). Within the enclosure of the HFX is "a patented ceramic composite of metallic oxides and an amalgam of mineral elements in a ceramic binder called 'Ceralex'." In theory, at least, the Extended Bandwidth design of The Muse cables should be copacetic with my Gryphon Audio Designs Antileon EVO power amplifier, itself a wide bandwidth design with a specified high frequency extending to 350kHz.
While the connector quality is of very high standards on the interconnect cables, the speaker cables (an independent run per positive/negative leg) are provided with a terrific customisation option. The speaker cables' ends feature a machined metal dress trim which accepts screw-in terminations. TARA Labs provides nicely made gold plated banana plugs and spade connectors which simply screw in on to the trims so, no matter the connector configuration of amplifier and speaker, your bases are covered. In my case, I used the well-made tight-fitting bananas at the amplifier end and spades at the speaker end (Wilson Audio's Alexia Series 2 binding posts don't take banana plugs).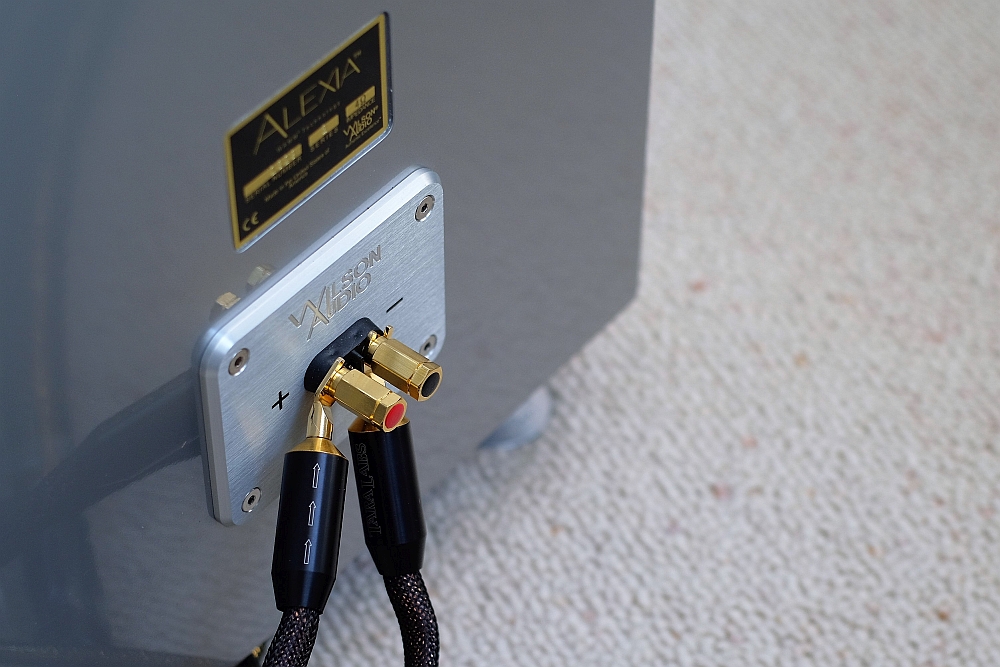 Conductor material is 99.999999% oxygen-free mono-crystal rectangular solid core copper (after the decimal point, six 9s translating to very pure copper, indeed) which has been a conductor topology TARA Labs has been using for some time now and has been refining over a number of product generations. This fabrication is a second generation version which the company calls RSC Gen2. In the case of the speaker cables, there's a fair bit of weight indicating generous amounts of conducting copper. Each conductor is said to be "super-annealed" and "frequency-tuned". This last refers to TARA Labs designing The Muse with very low capacitance – in conjunction with low inductance – in order to extend, or not impede, the high frequency limits. According to the company, further high frequency extension is achieved by "reducing the dielectric construction" which also is said to provide a more neutral and open sound.
Each conductor is hand polished further still and then coated with TARA Labs' "proprietary liquid dielectric to prevent oxygenation before inserting into PTFE Teflon lumens air tubes." This is a labour intensive fabrication technique yet, as far as the air dielectric construction, not dissimilar in principle to many other cable manufacturers' own.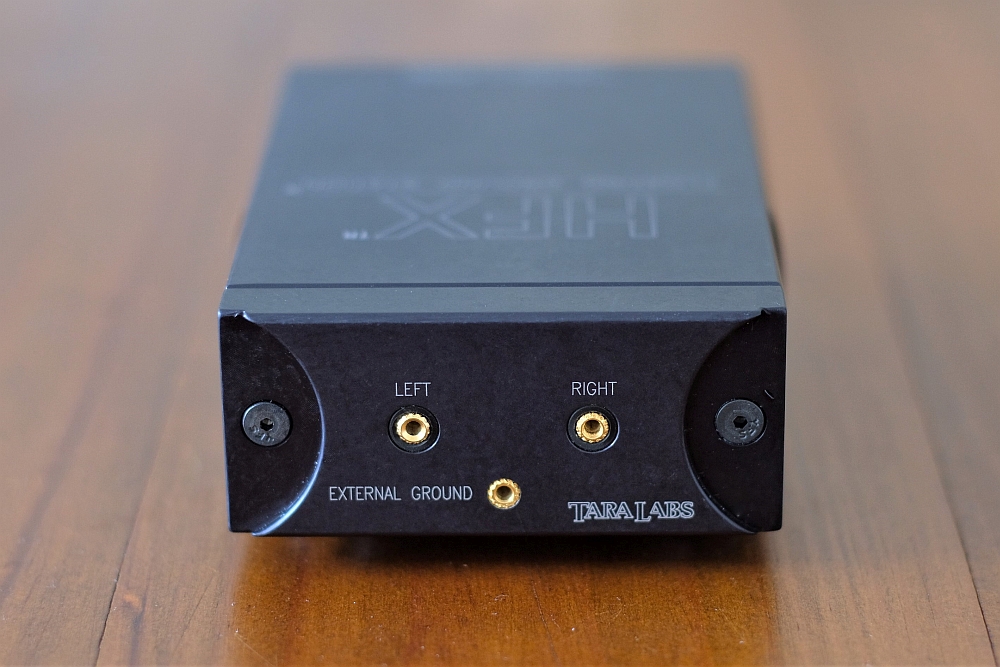 The grounding system connects to the interconnect cables via mini-banana socket-and-plug connectors while a length of grounding wire has been supplied for hook-up between cables and the HFX interface. The idea behind the grounding scheme is to reduce the overall system noise floor as the cables integrate within the context of your electronics. A lower system noise floor promises better differentiation of micro-detail and presents a quieter background for the propagation of music. Potentially, further sonic benefits may be found in terms of sound stage depth and imaging precision.
Stimulating Music
Hook up to your electronics may take just a tad more forethought and time than your standard cables. You'll need to allow for placement of the HFX box and the channelling of the grounding cables. Similarly, allowances need to be made for the grounding screw – as referenced above, a chassis screw can be used or the 'universal' screw/post TARA Labs provides can be fitted instead (a check with your components' manufacturer would also be of benefit in terms of sussing out the best option for grounding). While on paper this may sound like a minor exercise in logistics, in actuality it's easy, quick and almost instinctively explanatory.
Once in place and all hooked-up, the TARA Labs interconnect and speaker loom presented as neutral and with superb detailed. As promised, the noise floor is ultra-low allowing excellent retrieval of the most subtle and musically-delicate nuances. The gentle brushing and percussive fragilities of "Time" and "Con Vince", from percussion virtuoso Maarten van der Valk's Signature CD, were beautifully-rendered and when van der Valk let's fly, the authority and dynamic shock of his powerhouse playing are not stunted in any way. Flinching stuff here…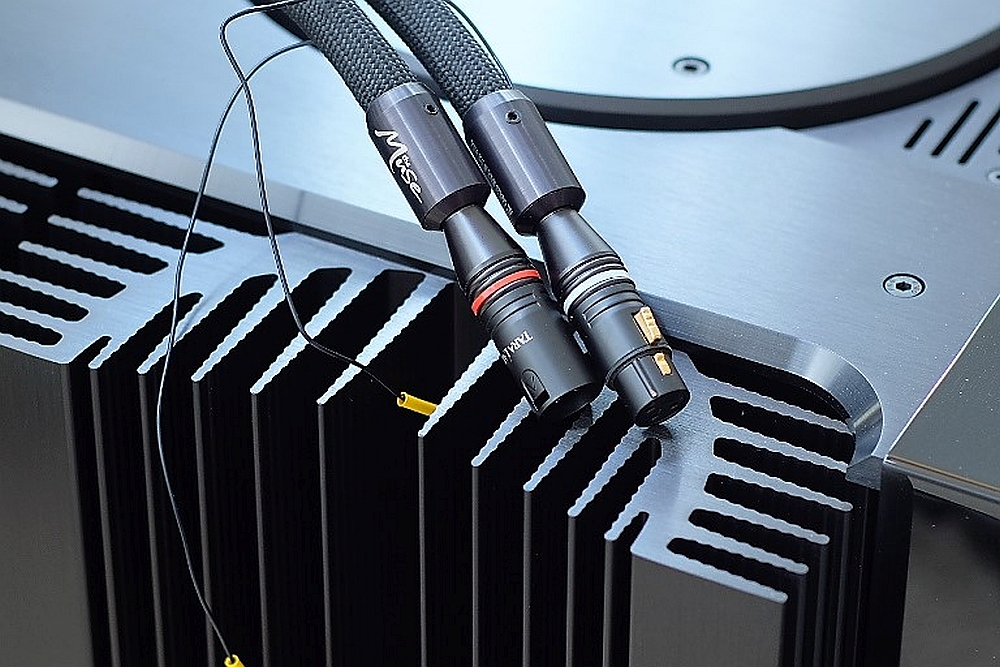 My next test was to examine the staging and imaging powers of The Muse. These cables, as advertised, produced a massive sound field which stretched in all dimensions. There are very few recordings that have captured the wide panorama of Carnegie Hall's stage in its true magnificence. Most famous of all is Harry Belafonte's live recordings where the venue's ambience and Belafonte's wanderings around the stage are expertly captured. And as is the case in my room via the reference system, the TARA Labs cable loom has bagged the space and 'air' of that classic recording while also presenting its liveliness and communicating its emotive power.
In addition to TARA Labs' 'Extended Bandwidth' mantra for this product's high frequencies, the touted extension also applied at the opposite end of the scale. The Muse's solid bass registers were potent and sharp – this last quality being particularly excellent. Fast and rhythmic music had an attacking vibe, an incisive transient, inducing a toe-tapping condition during listening sessions. In fact, this solidity in the bass region itself stretched upwards to provide a superb sense of 'body' to instruments, something that suggests a great transition and fullness in the lower midrange to upper bass. Acoustic guitars, cellos, the higher registers of acoustic and electric bass, all had this 'body' presence and verisimilitude.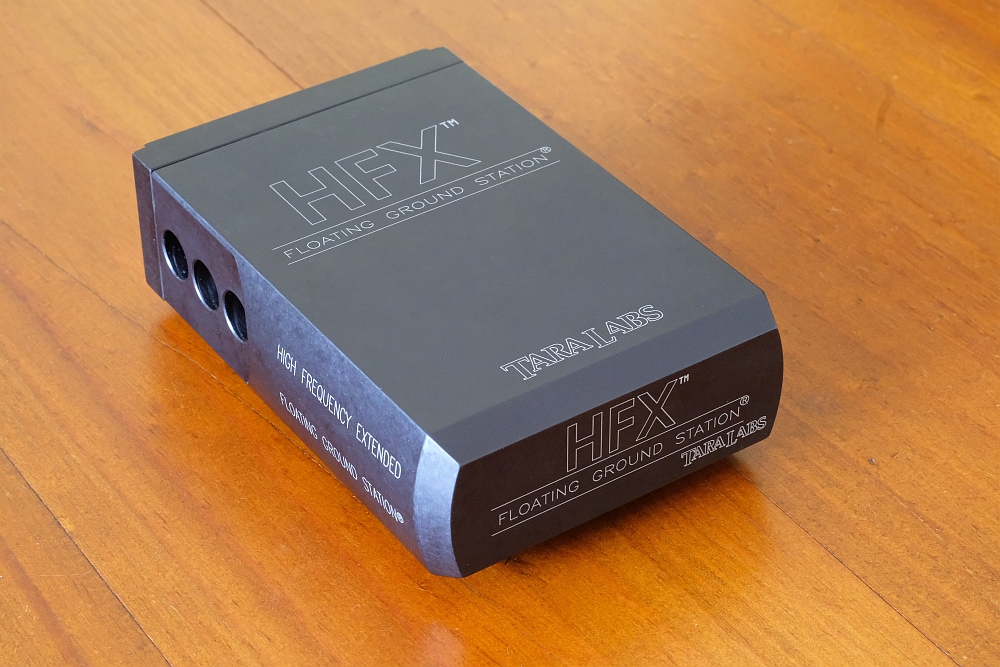 Laura Marling's heartbreaking "What He Wrote" from her stunningly beautiful I Speak Because I Can album rendered the folk singer with a capturing presence while her guitar strumming did not encroach on the precisely separated vocals. "Hope in the Air" features a percussion accent in the last few bars and, although recorded in a distant perspective – the drums don't overpower Marling's delicate vocals – there's nevertheless a solidity and rhythmic purpose to the entire section that serves to reinforce the emotions Marling is conveying through her craft. Her voice emanates from a very dark/quiet background, making it all the more communicative, and a clear musical message conveyed regarding the efficacy of the 'HFX Floating Ground Station System'.
Conclusion
TARA Labs has been at the cable-making game for many, many years. The company has striven to offer, in an undeniably over-saturated market space, solid products which feature high standards in materials, excellent conductor quality along with a few proprietary tricks such as the 'HFX Floating Ground Station System'. This last sets TARA Labs outside the run-of-the-mill; it provides a point of difference but not for the sake of that alone. In principle the 'HFX Floating Ground Station System' has potential to provide a number of benefits crowned by a quieter system overall in terms of grounding scheme (your mileage may vary here, as they say, depending on your own system's grounding configuration and even the quality of your AC power supply). Also commendable and of great practical value are the multiple connector options offered by the speaker cables.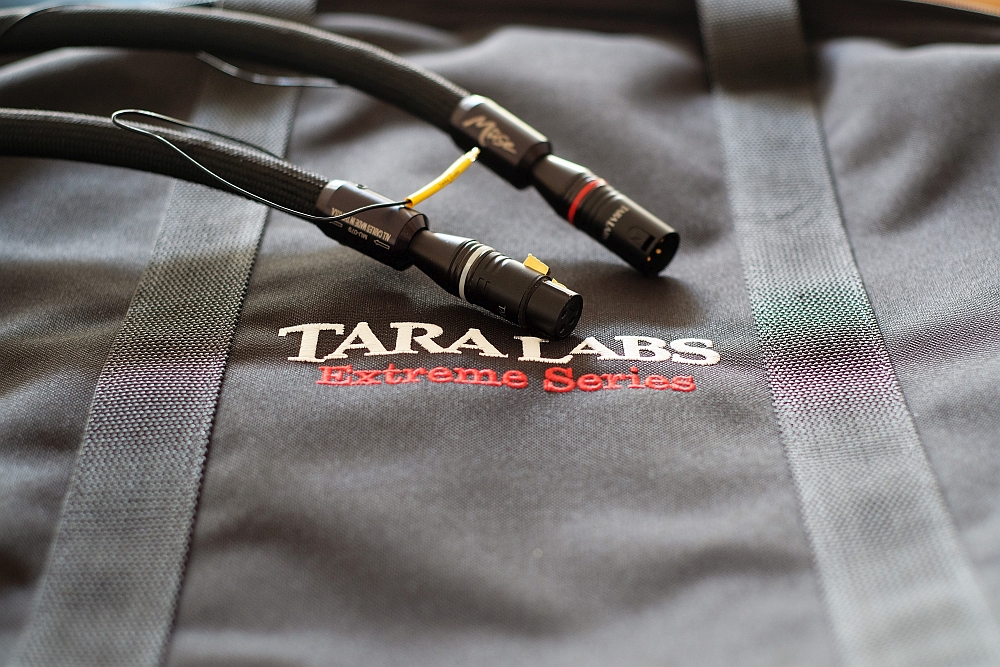 As you would expect at the price point, The Muse's performance is beyond reproach. This cable loom is neutral and allows for stunning dynamic expression while communicating the music in a pacey, enjoyably rhythmic way. Low level detail is easily discerned but without introducing artificiality, in other words, the excellent standard of resolution maintains the integrity of the musical message. And that, more than anything, is inspiring…
…Edgar Kramer
Editor-in-Chief
This email address is being protected from spambots. You need JavaScript enabled to view it.
Associated Equipment
Speakers — Wilson Audio Alexia Series 2, Axis Loudspeakers VoiceBox S (nearfield monitor)
Amplifier — Gryphon Audio Antileon EVO
Preamplifier — Supratek Cortese, Lightspeed Attenuator LDR passive
Sources — Digital: Yamaha CD-S2100 used as transport, Totaldac d1-core DAC, MacBook with BitPerfect software, AIFF files. Analogue: Michell Engineering Orbe with Gert Pedersen Level 3 modifications and Origin Live Ultra upgraded motor, Trans-Fi Terminator air bearing linear-tracking arm, Grado Reference cartridge, REDGUM Audio RGPH2 phono stage
Processor — DEQX PreMate
Cables — sILENzIO loom, Vermouth Audio Black Pearl Mk.II loom
Audio Rack — SGR Audio Signature
Miscellaneous — Les Davis Audio Viscoelastic CLD discs, Nordost Sort Kone BC
TARA Labs The Muse Interconnect and Speaker Cables
Price: AU$9990 for 1m RCA & XLR, AU$17,150 for 2.4m speaker cables
Australian Distributor: Absolute Hi End
+61 488 777 999
www.absolutehiend.com
TARA Labs Inc.
716 Rossanley Drive
Medford OR 97501
+1 541 488 6465
www.taralabs.com