With more people than ever now relying on streaming services such as Spotify, Tidal, Apple Music, or one of the plethora of more esoteric services as the primary source for their music, it is encouraging to know that most hi-fi manufacturers are now offering dedicated components to allow us to get our 'musical fix' in this manner (and potentially put an end to the accumulation of little silver discs to clutter up the cupboards).
Of course, many of us have been holding off purchasing such a component, instead making do with a computer-based source feeding a dedicated DAC or an integrated amplifier with built-in DAC, and struggling with what becomes a complicated 'multi-use' setup as opposed to the plug-n-play ease of CD. I can't recall how many times I've had to reboot my laptop (or pry it from my wife's hands…) before I could sit down to listen to a few tunes, not to mention the endless hours spent wondering why the cover art hasn't shown up in the format (or quality) I expected, or organising and re-organising WAV files, FLAC files and the occasional MP3 file (now mostly deleted), into appropriate folders. Not to mention the time spent searching for better quality ripping software, installing better quality media playing software, installing the latest version of blah, blah, blah so that I can actually install the latest version of the new media player I now want to use etc. (no, we are not an Apple family). Anyway, I'm sure you get my drift.
So, what initially began in the realm of computer based audio around 10 or so years ago has now become mainstream and a look at one of the many dedicated hi-fi streaming offerings and ways to simplify one's life is warranted.
Lumin was one of the first new start up manufacturers to emerge with a high quality dedicated streamer or network media player in 2013 with the A1 which was well reviewed and hailed by many at the time as one of the ultimate streaming source components of the day. Since then Lumin has steadily expanded its product line-up and now includes several models catering to a wide range of demands and budgets.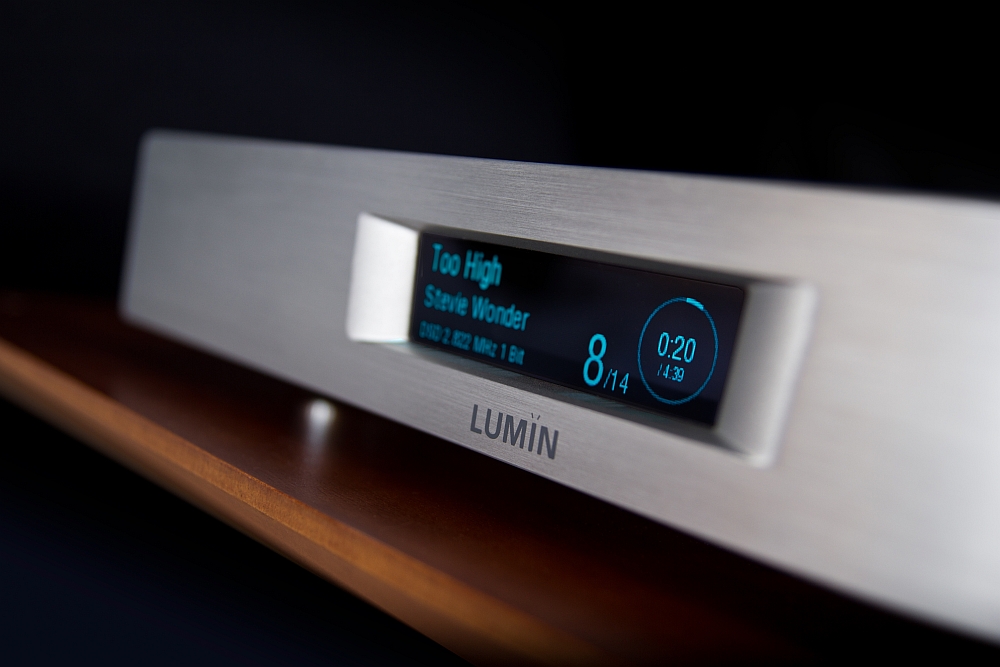 The Lumin T1 Network Player shares the same circuit design with the award winning Lumin A1, including Wolfson WM8741 DAC chips and Lundahl LL7401 output transformers. Indeed, the highest-grade matching components, circuit design and spacious layout, including true balanced audio outputs, are common to both. To reduce the fiscal impact, the T1 sports a precision-machined aluminium front panel instead of a case milled from a solid aluminium billet. It uses a single PCB instead of multiple PCBs with compartmentalised internal shielding between digital and analogue circuits. It is, however, solidly built and beautifully finished and is supplied with an external dual-toroidal power supply for which the voltage is specified at the time of order.
According to Pixel Magic Systems (Lumin's parent company), with the T1, the aim was to try and retain all the award-winning musicality of the A1 while enabling it to be heard by a wider audience.
Spoilt for Choice
Spotify, Tidal, Qobuz, TuneIn, Lumin can stream them all. Lumin appears to have focused on those services which provide the highest quality content. Not surprising. TIDAL and Qobuz are built into the heart of the Lumin App which means the same Lumin browsing interface and searching capabilities. You can mix playlists between local hard-disc stored music, Tidal or Qobuz seamlessly and you can even save playlists back to your Tidal or Qobuz accounts.
Like Tidal and Qobuz, TuneIn is also built into the heart of the Lumin App. Simply create a free TuneIn account and add Radio Stations to your TuneIn 'Library' for them to appear in the Lumin App. For those not familiar, TuneIn is an internet radio service which enables you to discover, follow and listen to what's most important to you — from sports, to news, to music, to talk – more than 100,000 real radio stations and more than four million podcasts streaming from every continent.
Spotify is a little different. Rather than integration with the Lumin app, the T1 supports Spotify Connect, which means you need to select Lumin as a playback device from within the Spotify App. Lumin is also an AirPlay compatible receiver. Streaming to Lumin is lossless providing that the iPhone/iPad is set to maximum volume. Lumin will appear on your iOS device with the name you have given it in the Lumin App settings.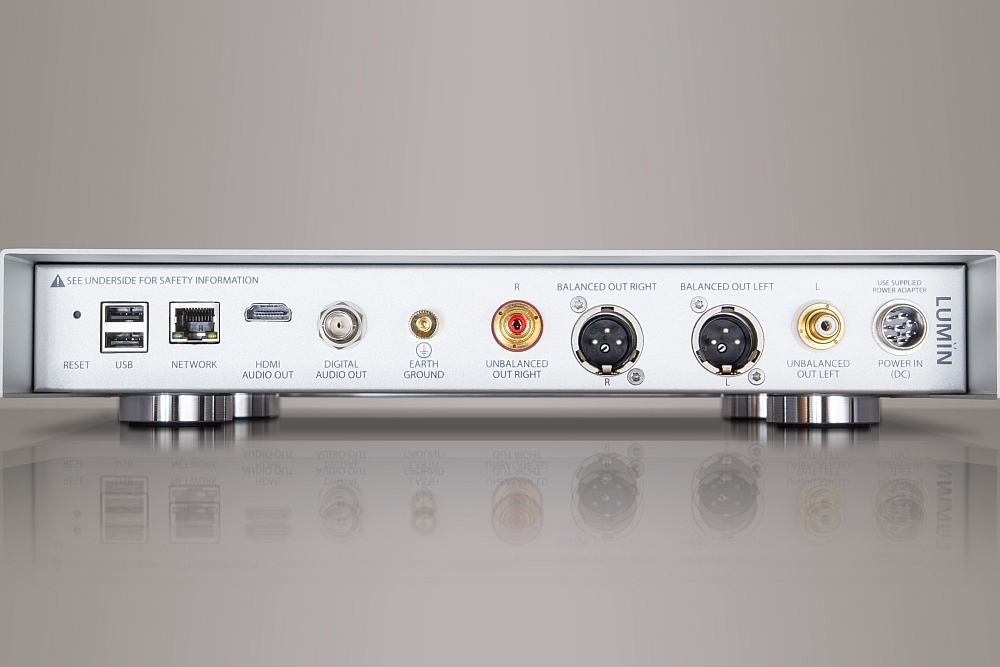 Recently via a firmware upgrade, Lumin has added MQA decoding ability (firmware upgrades have been released at a regular pace since the T1 was introduced – reassuring to know that there's a commitment to the product and that your player can evolve with the introduction of new technologies). Having MQA compatibility allows access to the maximum available Hi-Res music data (up to 24-bit 384kHz). For the uninitiated, MQA is a technology that aims to reduce the file size of high resolution audio to allow streaming while potentially increasing sound quality by aligning the compression techniques with how people hear. With Tidal now supporting MQA, there is an expanding range of content. When streaming your own local content, the T1 supports up to DSD64 (2.8MHz) and PCM up to 32 bits and 384kHz sample rates.
Then there's Roon. For many, Roon is the most engaging, and enjoyable way to browse your music. The T1 is certified by Roon as a Roon Ready device which ensures the ability to transparently discover and connect to Roon, with no complicated network configuration, and with bit-perfect delivery of audio to your DAC. In addition, Roon can provide real-time (up to DSD128) conversion and DSP processing for room correction and equalisation. The T1 also offers Gapless Playback, On-Device Playlists and truly robust music buffering providing a stable drop-out free experience. Not all streaming devices can deliver this.
Setting Up
Having owned and enjoyed a Sonos ZP90 zone player since around 2010 and having tried various cables and DACs to enhance its sonic capabilities I was never able to achieve what was possible through my CD player (at that time a Naim CDX2) or more recently through my Oppo 105D universal disc player when used as a streamer. As good as the Oppo was with its superior ESS DACs, the UI (user interface) was far from as engaging as the Sonos and consequently I kept both devices in the system, one for day to day use and the other for more serious listening. As I unboxed the T1, I wondered if it could combine the best of what the Sonos and the Oppo had to offer.
There are no switches or knobs to mar the uncluttered clean lines of the T1 nor is there a remote control since Lumin has designed an app which runs on Apple and Android. The Lumin interface is similar to Sonos; it's an intuitive layout with high resolution graphics via an app compatible with both iPhone and iPads (even my lowly iPad mini v2). This makes music browsing and selection a pleasure for everyone rather than a chore.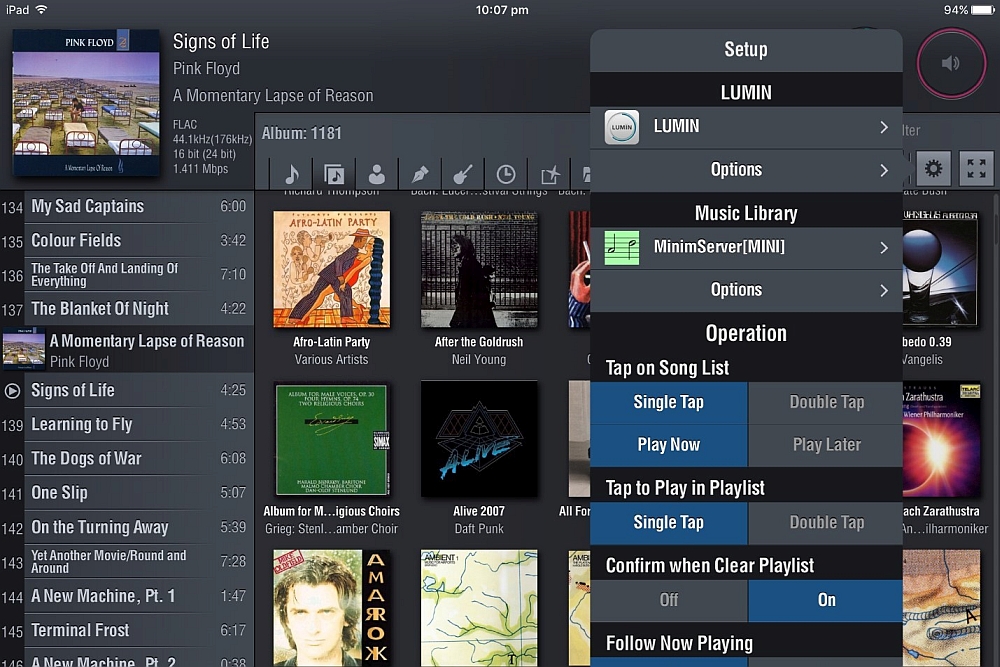 With streaming products, one of the most important features is the user interface. One spends so much time here making selections that a clunky interface with lacklustre graphics can really make for an unpleasant experience. The app controls both music selection, volume and hardware configuration. You can adjust things like up-sampling, the look and feel of the app, and power on/off to name a few. Both the built in display and the app show the bit and sample rate so there's no guessing as to what you are listening to.
Connections can be made via unbalanced RCA or balanced XLR outputs into your preamp. Despite popular belief, which connection is ultimately more successful depends on exactly how the balanced circuits are implemented in both devices, so comparing both is worthwhile and bearing in mind that what sounds best in one system may not sound best in another. In my system the difference was marginal but I leaned toward the balanced connector using Kimber Cable Timbre interconnects rather than my unbalanced Van Den Hul D-300 III interconnects.
The T1 has a digital output (BNC S/PDIF specified for PCM up to 24-bit/192kHz and DSD via DOP at 2.8MHz) which allows use of an external DAC should you own one with even higher capabilities.
ILuminating
The T1 is equipped with USB ports allowing access to music files on a USB stick or USB Hard Drive. It also connects via 100MB Ethernet cabling (not Wi-Fi) to your home computer network. This allows you to access music stored on a computer, Network Attached Storage device (NAS) or Lumin's own L1 and ensures consistent connection quality. For kicks, I decided to try connecting the T1 to a TP Link TL-WA850RE universal Wi-Fi range extender which also has the ability to accept an Ethernet connection and convert it to Wi-Fi. This worked a treat and with no detectable reduction in sound quality or drop outs (although this may be Wi-Fi network quality dependent).
Typical network setup is rather easy! Lumin recommend either Synology or QNAP as compatible Network Attached Storage (NAS) hardware and they recommend using MinimServer as the UPnP Media Server to access music files stored on your computer or NAS. These recommendations are on the basis that much of their product development and testing was done on these combinations of hardware and media server. Of course, Lumin also recommend their L1 (visually the same as the power supply) which is a plug-n-play NAS type device with a built in UPnP media server offered in 2TB or 5TB capacity. One advantage of a traditional NAS device is the protection offered from Hard Drive failure by way of a spare Hard Drive containing a mirror image of the music library.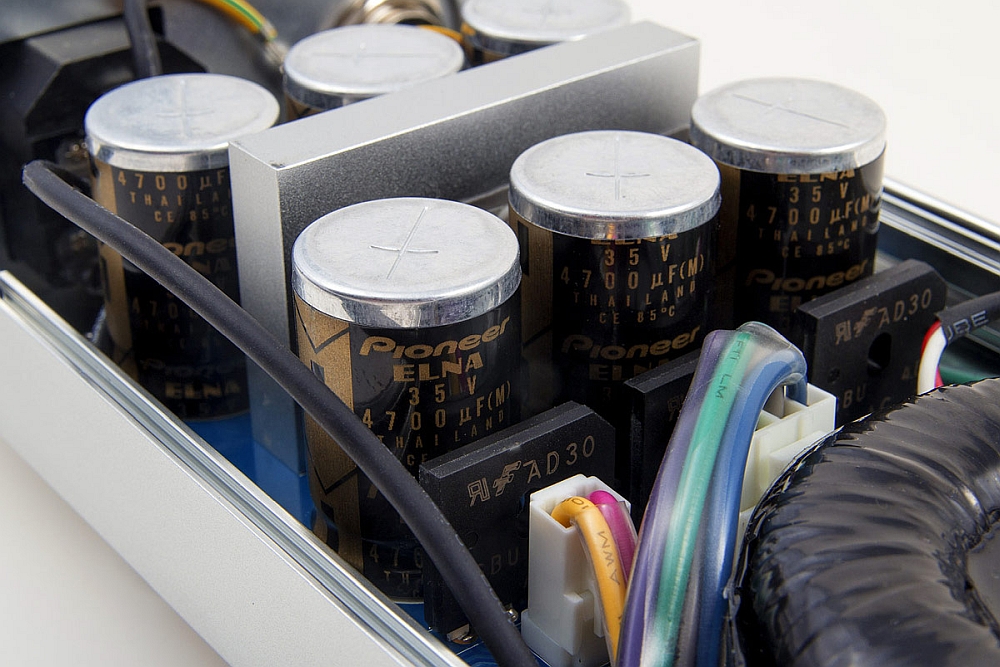 Not having either of these combinations, I connected the T1 to my Western Digital MyBookLiveDuo NAS (now three years old) which has a built in UPnP media server and pointed the T1 to the network location of my music files i.e. \\MyBookLiveDuo\Music. The T1 detected the folder and began adding my music to its library. Awesome! I let it go overnight and like a five year old on Christmas morning, I woke up early and headed straight to my music system to test it out with some tunes. Everything appeared to work except that the number of Artists and Albums in the library did not match the number that I knew resided on my NAS. After several attempts at re-scanning and getting wildly different numbers, I admitted defeat and went searching for MinimServer.
Installing MinimServer on Windows 10 was entirely painless and worked a treat. The issue now was that almost all of my cover art (album covers) were missing! They were still visible on my Sonos, however unlike Sonos which relies on a .jpg file stored in the folder with the FLAC or WAV files, MinimServer needed the image to be imbedded into the metadata of the audio file. For this, MinimServer recommends Mp3Tag. Don't be put off by the name; Mp3tag is a powerful and easy-to-use tool to edit metadata of all manner of audio files (not just Mp3). It supports batch tag-editing for multiple files at once (which was exactly what I needed) and uses online database lookups e.g., Discogs, MusicBrainz or freedb for cover art and metadata. This allows you to automatically gather proper tags and download cover art for your music library. This may sound complicated but if you're very particular about how you're music library is organised and visually presented, this will solve your problem. Of course, if you'd prefer to apply minimal effort, that's where Roon can weave its magic.
The Sound
Now that we're connected and organised, time for a listen. Within less than a minute of listening, I could tell the T1 was noticeably smoother than the Oppo 105D and considerably more detailed and coherent than the Sonos.
I decided to start off with Elbow's The Take Off and Landing of Everything album (a HD Tracks 24-bit/192kHz FLAC download). The track "Honey Sun" begins with several seconds of the band fooling around from across the room and the Lumin easily captured the room ambience and portrayed a realistic sense of distance and space. The humming from back-up vocals emerged with 'in-room' realism and the percussion was clearly placed at the back of the sound stage showing a good sense of depth. High resolution audio doesn't always guarantee the extra level of presence but when it's done right I've found it to easily exceed what I've heard from 'red-book' equivalents.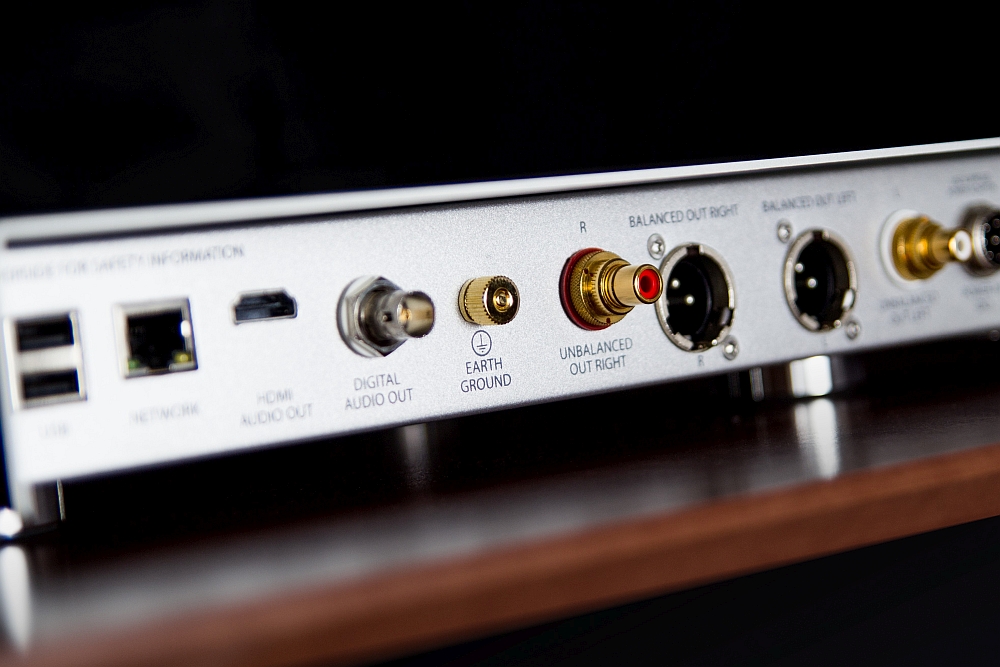 With Porcupine Tree's "Russia on Ice" (2007 stereo mix) from the Lightbulb Sun album the kick drums sounded remarkably close to what they do when standing 10 feet from the stage at the Swan Basement bar North Fremantle. The bass having a clearly defined start and stop provided a sense of realism rather than reminding you that you're listening to a mere reproduction. At around 10 minutes in, when things really get going, the impact of Chris Maitland's drums collide with Steve Wilson's edgy guitar to form an all-out aural assault.
The T1 manages to retain its resolution here, cymbals having wood on metal impact rather than turning splashy. On the Sonos, at this volume, the sound starts to turn into more of a confused mess by comparison (perhaps an unfair comparison considering the price differential). At around 11 minutes in, the synth bass plunges into subterranean territory – when played at high volume a truly a hair raising experience!
On Steely Dan's "What a Shame about Me" from their Two Against Nature album Donald Fagen's voice had more 'body' to it than either the Oppo or the Sonos could muster. It was a relaxed, smooth sound with more warmth than I typically experience from digital sources. I switched back and forth between the Lumin and the Oppo several times on this track as my first impression was that I might be sacrificing detail and resolution for a smooth lush sound, however this was not the case, the Lumin retained all the detail the Oppo's ESS chipset delivered but simply added the polish. In particular the cymbals were stunning, and Walter Becker's Guitar delivered surprising attack.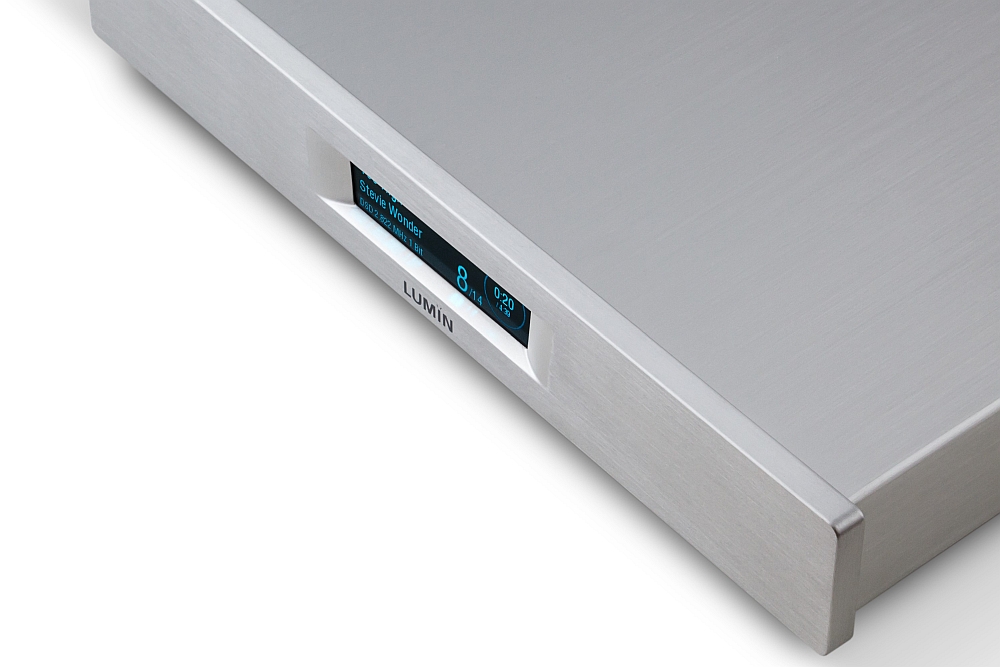 Digging out an old favourite from Tidal and streaming Hunters and Collectors "Say Goodbye" from their Human Frailty album I was surprised how good it sounded considering the vintage. I sure didn't recall it sounding like this when I listened to it back in the day, although in fairness, that would have been via my first remotely credible audio system (components which I won't name or shame here…). John Archer's bass guitar pretty much leaped out at me around five seconds in, and Doug Falconer's drums had that 'fat' sound that you get live, up front in a small venue. Mark Seymour's vocals and Shelley Conway's backup vocals were clearly occupying separate space within the overall sound stage.
There's just something about live albums… John Mayer's "Neon" from his Where the Light Is album recorded live at the Nokia theatre in Los Angeles revealed just how the Lumin could transport an artist from the stage into your living room. Mayer's precision finger work and relaxed vocals sat squarely between my speakers. The only giveaway being that the space Mayer is performing in is far larger than my living room and the ambience is incongruent – but that's not a fault of the Lumin, it's reality.
Conclusion
The Lumin T1 Network Player doesn't get in the way at all, it doesn't draw attention to itself in any particular respect either for good or for ill. It just renders music. Investing $6000 in a source component is a substantial commitment, however considering the simplicity and the level of performance the T1 delivers, in my opinion it's one that is easily justified. The Lumin T1 has quelled all of my gripes about digital audio. No Longer am I left wanting for less complexity, more stability, easier access or better sound.
… Barry Jones
Associated Equipment
Speakers— Martin Logan Spire
Amplifier— Perreaux e250i 40th anniversary edition integrated amplifier
Sources— Digital: Lumin T1, Oppo BDP-105D, Sonos ZP90. Analogue: Rega RP6 turntable, Rega Exact-2 cartridge, Rega Aria phono stage & Rega Couple interconnects
Processor— DEQX HDP-5
Cables— Nordost White Lightning, Kimber Cable Timbre balanced and Van Den Hul D-300III unbalanced interconnects, Atlas Compass Digital Coaxial Audio Cable, QED Performance Graphite USB
Miscellaneous — Isotek Sirius Power Conditioner, custom made bass traps in front wall corners
Lumin T1 Network Player
Price: AU$5,990
Warranty: Two Years
Australian Distributor: Audio Magic
+61 3 9489 51 22
www.audiomagic.com.au
Pixel Magic Systems Ltd
Unit 603–607, IC Development Centre
No. 6 Science Park West
Hong Kong Science Park
Hong Kong
+852 2655 6778
www.luminmusic.com