In an expansion of Goldmund's spare-no-expense Eidos platform, the Swiss company has unveiled the Eidos SACD Player, a smaller-form derivative of the colossal Eidos Reference SACD player.
The new Eidos SACD Player features a USB input allowing Computer Audio playback and effectively adding digital-to-analogue conversion capabilities to its in-built CD and SACD disc-spinning transport system. The USB input allows high-resolution file playback to 384 kHz PCM and DSD512. The disc transport can accept SACD and CD, of course, in addition to a wide variety of CD- and DVD-R/RW ripped formats (audio files only). Said disc transport is from D&M and is mechanically isolated via dampers while also being "integrated into the Goldmund mechanical grounding system."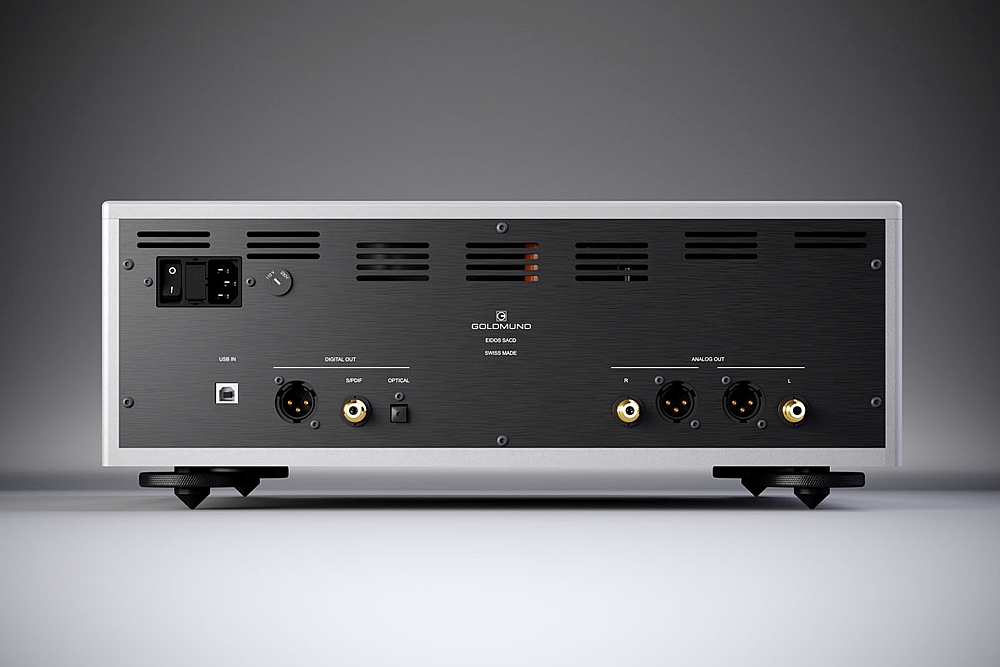 Digital outputs are comprehensive, with the Eidos providing AES/EBU via XLR, RCA coaxial S/PDIF and Toslink optical. Analogue outputs include balanced XLR and unbalanced RCA sockets. Goldmund states the Eidos inherits the same highly engineered audio card as the 'Reference' flagship. Also on-board is a newly engineered power supply, shielding scheme and optimised circuit layout arrangement said to improve performance and isolate the various electronic and digital stages.
Goldmund's long-used mechanical grounding scheme is incorporated into the chassis and is reinforced by coupling spikes mated to metal receptacles for further draining to ground any vibrational distortions. This is in addition to the Eidos' superbly inert and massive chassis which comes in Goldmund's signature silver/grey. A slanted control panel features the various functions buttons while, just below, the front fascia is adorned with the typical gold plate and logo as used in all the company's current product lines.
Goldmund quotes the Signal-to-Noise Ratio (SNR) as less than 128dB, the Total Harmonic Distortion + Noise (THS+N) as approximately 0.00018% (Stereo Output) while the Dynamic Range is 128dB and Crosstalk is around 120dB. Standard analogue output is a tad lower than the usual at 2 Volts, but the player also offers a 'High Analog Output' at 4 Volts.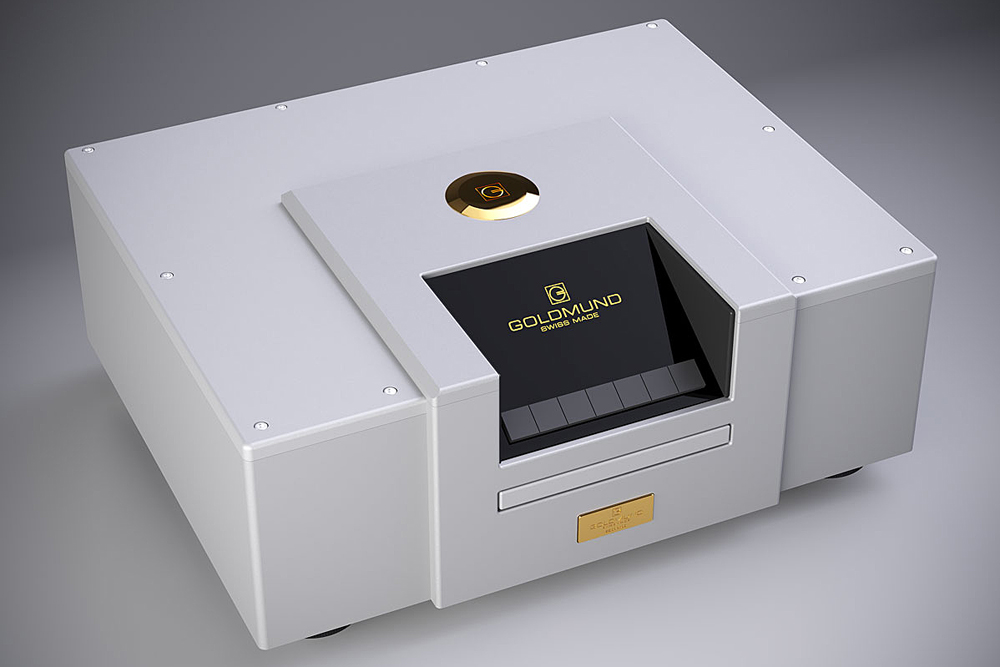 The new Goldmund Eidos SACD Player is distributed in Australia via luxury importer Absolute Hi End.
Goldmund Eidos SACD Player
Price: AU$149,950
Australian Distributor: Absolute Hi End
+61 488 777 999
www.absolutehiend.com