Known for its all-aluminium cabinetry, in-house-designed drivers and superb measurement characteristics, YG Acoustics now announces its new and more affordable 'Peaks' loudspeaker range.
The new Peaks range features a line-up of five sealed-box loudspeaker models, two of which are standmount designs along with three floorstanders, and a bespoke subwoofer to match. Despite the affordability in relation to the company's other offerings, the Peaks line encompasses proprietary transducer designs in the 'ForgeCore' tweeters and 'BilletCore' drivers as featured in YG Acoustics' more upscale models.
Precision machined and wave-guide-contoured aluminium is still used for the speakers' front baffle, however, YG Acoustics now employs a 25mm-thick specially-formulated resin fibre material for the cabinets' side, rear, bottom and top panels. This has allowed the company to offer very attractive high quality timber finishes such as 'Balanced Oak', 'Flamed Rosewood' and 'Datuk Ebony'. The resin cabinet walls are manufactured in Europe with high tolerances using custom presses. The Peaks cabinets are extensively braced and feature internal acoustic absorbing panels in order to control vibrational distortions.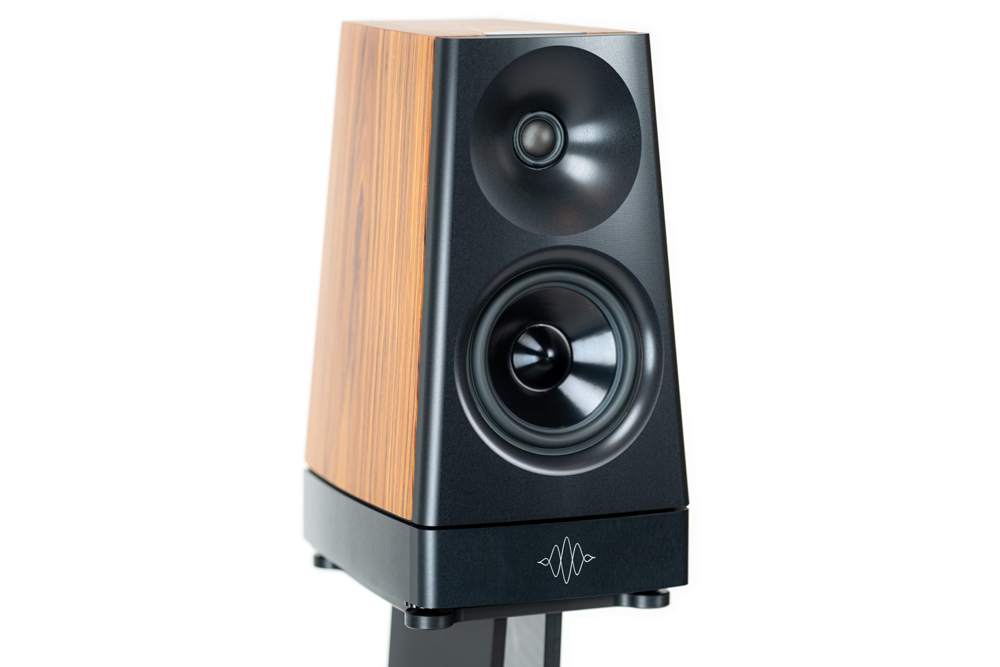 The Peaks line-up starts with the 150mm two-way standmount Cairn (AU$13,500) and is followed by the Tor (AU$16,500) 180mm two-way standmount, with both speakers featuring YG Acoustics renowned 25mm ForgeCore tweeter. YG Acoustics has designed bespoke black machined aluminium stands for the Cairn and Tor loudspeakers (AU$2500).
The Talus (AU$22,500) carries through the same 180mm mid-bass driver in a 1m tall floorstanding two-way design and is then followed by the Ascent (AU$31,250) which now introduces a 200mm dedicated bass driver in a three-way configuration. Topping the Peaks range is the appropriately-named Summit speaker (AU$39,500) which retains the same 180mm midrange driver but now replaces the Ascent's 200mm bass driver with a dedicated 250mm bass unit in a 1.1m-tall floorstanding cabinet.
Finally, the Peaks range is completed by the Descent subwoofer (AU$12,500) which includes an on-board 1000 watts amplifier driving the new 280mm BilletCore driver. The new bespoke driver also features a large "advanced" magnet system powering a 75mm voice coil wound around a titanium former.
CEO David Komatz told SoundStage! Australia, "Through its unique combination of cutting-edge science and engineering, Peaks represents an approach with no compromises. Everything from the drivers, cabinets and crossovers, through to the veneer, lacquer and internal cabling has been carefully selected and modelled to deliver the most accurate, most musical performance possible." Komatz went on to say, "We couldn't be more excited to announce formally this exciting new series to the world. As always thank you for your steadfast support of YG Acoustics!"
The YG Acoustics product range is distributed in Australia via Absolute Hi End and is available to audition across the country via the company's specialist audio dealer network.
YG Acoustics Peaks Loudspeakers
Price: See Text
Australian Distributor: Absolute Hi End
+61 488 777 999
www.absolutehiend.com