McIntosh Laboratory's new C12000 two-chassis high-end preamplifier combines both solid state and vacuum tube circuitry and multiple input options to cover all sonic bases.
The C12000's dual chassis architecture separates the audio and control sections into the 'Preamplifier Module' (C12000ST) and the 'Controller Module' (C12000C) respectively, for what's stated as providing potentially purer sonic performance. The Preamplifier Module houses all the related circuitry for inputs and outputs where the dual-mono design separates the circuitry both electrically and mechanically. Said circuitry is built around two 12AT7 and one 12AX7A valves per channel for the valve output while the solid state output comprises a "discrete balanced op-amp".
The Controller Module's dual isolated power supplies drive the left/right channels alongside powerful dual microprocessors associated with power control, data ports, on/off triggers, and external control connections (IR remote and RS232 controls).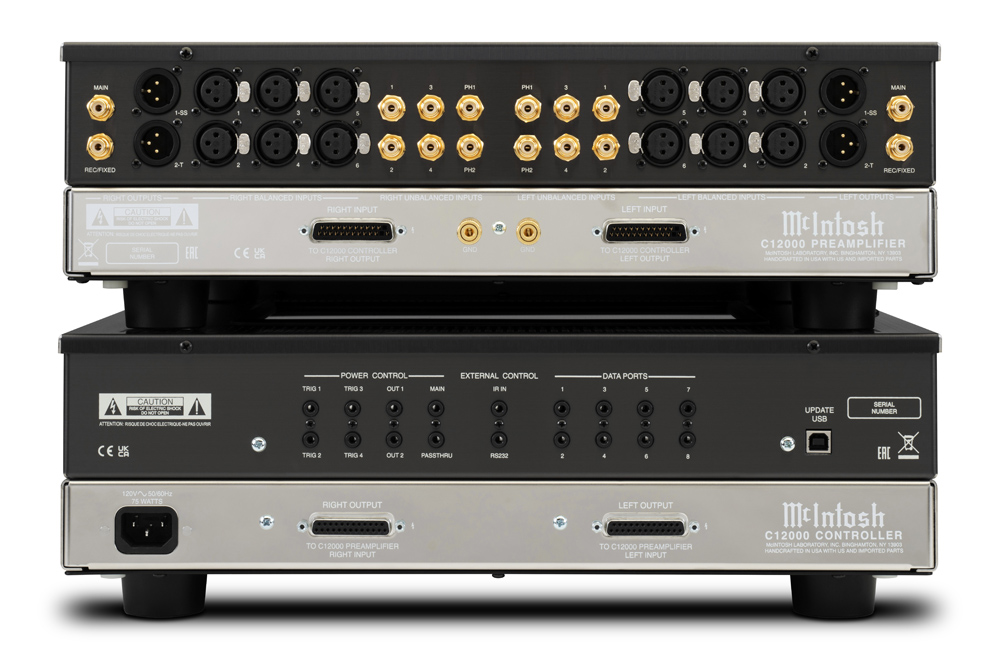 The fully-balanced C12000 sports a staggering total of 12 analogue inputs which are made-up of socketry for six balanced XLR, four unbalanced RCA and dual phono stages taking RCA connectivity. Outputs are via both RCA unbalanced and dual XLR balanced providing a choice of routing via either the solid state or valve output stages. Each of the two phono inputs can be configured for either Moving Magnet (MM) or Moving Coil (MC) operation. The phono stage provides RIAA equalisation and offers adjustable settings for gain, capacitance and resistance loading catering to a wide variety of cartridge loads.
Four 12AX7A valves are used in a fully balanced two-per-channel configuration. Also on-board is McIntosh Laboratory's bespoke headphone amplification featuring a "high output, high drive" output with the company's user selectable Headphone Crossfeed Director (HXD). The C12000 offers a pass-through for integration into home cinema installations.
Of course, the McIntosh Laboratory aesthetic language is carried through the new C12000, with the units sporting the ubiquitous large blue meters, black glass fascia, retro-style control knobs and bespoke heavy-gauge brushed aluminium handles. The Preamplifier Module features front and top panel windows showcasing the unit's green-lit valves as a further form of eye candy.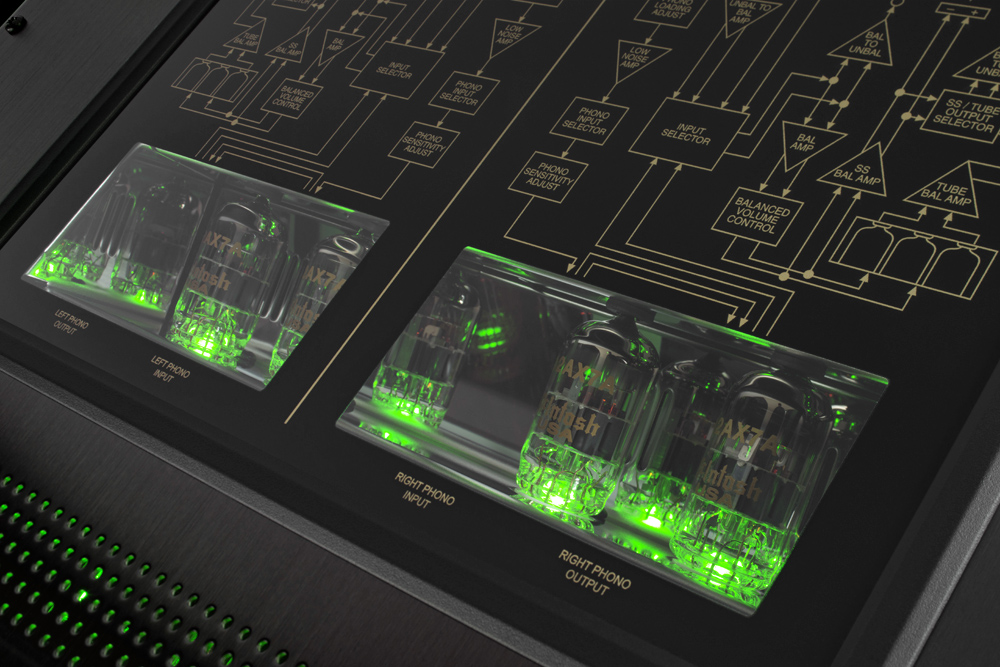 McIntosh Laboratory told SoundStage! Australia, "Comprised of C12000C and C12000ST modules, the C12000 Preamplifier is the next generation of McIntosh's acclaimed two-chassis preamplifier design. The two-chassis design allows the audio section to be completely separated from the control and power sections" and then went on to state, "Splitting these primary purposes of a preamplifier up into separate chassis will deliver the purest sound reproduction possible."
The new McIntosh Laboratory C12000 two-chassis preamplifier is expected to arrive in the country in January 2022. Availability will be via importer Synergy Audio's established network of country-wide specialist audio retailers.
McIntosh Laboratory C12000 Preamplifier
Price: AU$29,990 (AU$14,995 each Module)
Australian Distributor: Synergy Audio
+61 3 9459 7474
www.synergyaudio.com