One of High-End Munich 2018's headliner releases was Dan D'Agostino's monstrous Relentless mono amplifiers. Now three-and-a-half years down the track, a companion piece completes the über high-end combo in the new Relentless preamplifier.
The Relentless preamplifier is a three-box design featuring a number of innovations and firsts for D'Agostino Master Audio Systems. For starters, the strikingly-styled preamplifier is made-up of three independent chassis, two of which house the left/right audio channel circuitry and a centre-placed unit for the massive power supply. The arrangement is said to keep the power supply 'feed' as short as possible while the individual chassis are connected via a unique 30-pin, 20-amp, gold plated interlocking connector system incorporated in each chassis' footer. The system, of course, does away with interconnecting cables and their inherent losses and compromises.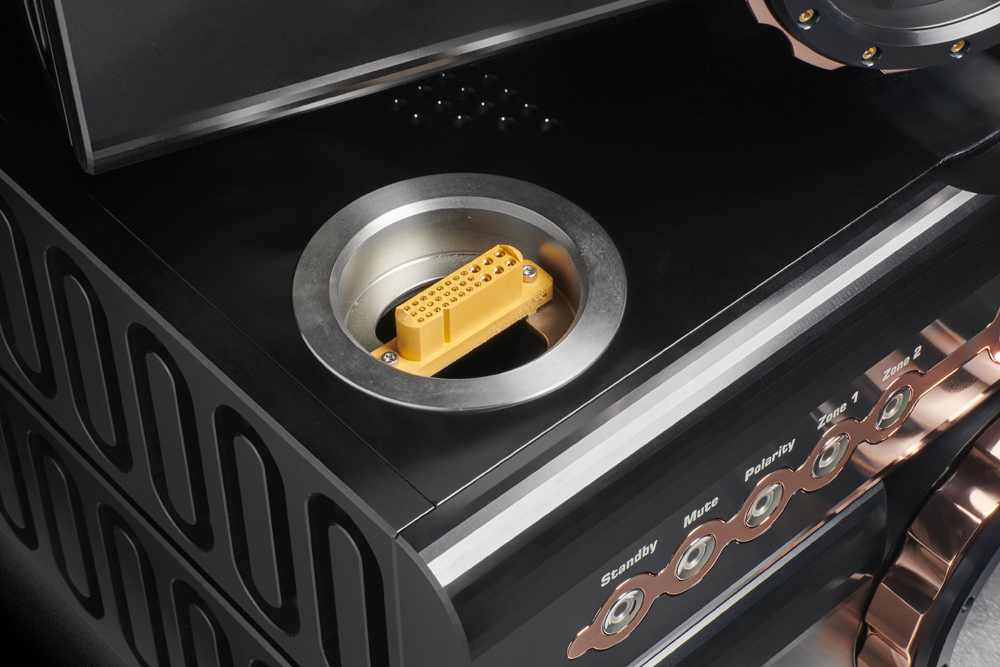 Further, the connecting scheme isolates the audio signal physically and electrically providing unrivalled channel separation. The ground planes are isolated from each other – for both the analogue and digital components which are also optically coupled – while D'Agostino has employed gold plated contact, hermetically-sealed relays.
While on the signal circuitry, D'Agostino claims a first for the company's preamplification offerings. The new circuit is said to be unique and is a new discrete differential FET input stage featuring a "voltage input signal capability of an extraordinary 30 volts". Source compatibility is guaranteed via the Relentless' input impedance being an astonishingly-high 1 Mohm. A proprietary bias circuit is said to maintain a stable bias which manages any temperature anomalies.
Common-Mode Input noise is eliminated via the true-balanced topology featuring five inputs and three multi-zone outputs (all XLR, of course). D'Agostino states, "All signal gain is realized in the current domain using proprietary multiple-output current mirrors with nearly 30 times the linearity of other designs."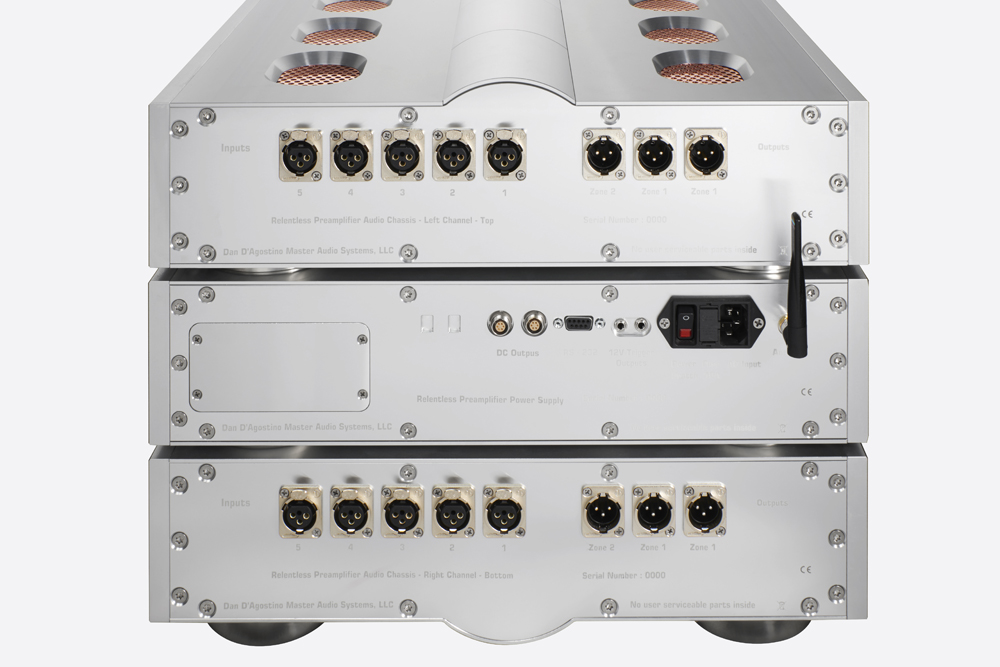 The power supply chassis features "extensive" electrical and magnetic shielding for the purposes of protecting sensitive audio signals. AC RF noise is eliminated via an internal filter circuit while it also compensates for "asymmetric power waveforms and DC on the mains." There are two 150 VA toroidal transformers within the power supply chassis with the analogue circuit having its own transformer and the digital and control section being catered to by the other one. A filter capacitor bank of 26,400 microfarads also forms part of the massive power supply scheme.
The Relentless preamplifier can be fitted with an optional Digital Streaming Module (DSM). The DSM is 'field-upgradeable' and features digital input options for sources with S/PDIF coaxial outputs in addition to optical and USB inputs. The module features streaming and Wi-Fi capabilities in addition to offering LAN connectivity via RJ45 (10/100/1000 Gigabit Ethernet for latency-free playback). The DSM module is housed in the power supply chassis.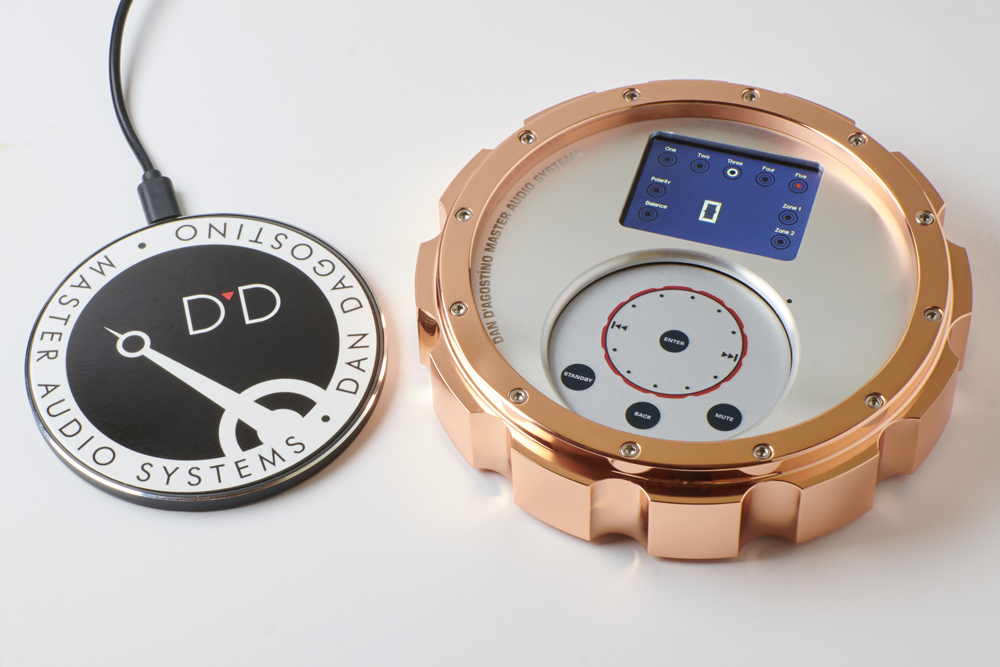 D'Agostino offers an iOS app for controlling the Relentless preamplifier and streaming/music playback control in addition to native-within-app Tidal, Qobuz and Spotify music service access plus MQA decoding. Roon is available as an alternative music library management and service playback option (Tidal and Qobuz). The DSM's in-built balanced digital-to-analogue converter (DAC) can natively handle PCM signals to 32-bit/384 KHz while DSD is catered to at up to DSD256 (11.2MHz).
The Relentless preamplifier is supplied with a new 'Bi-directional' remote control in its own an aluminium and copper chassis. The remote features its own display screen which updates itself with any setting which has been changed manually. In other words, the commands are "bi-directional". The remote control uses Bluetooth Six technology which means it's operational at much longer distances and without having to be directly pointed at Relentless.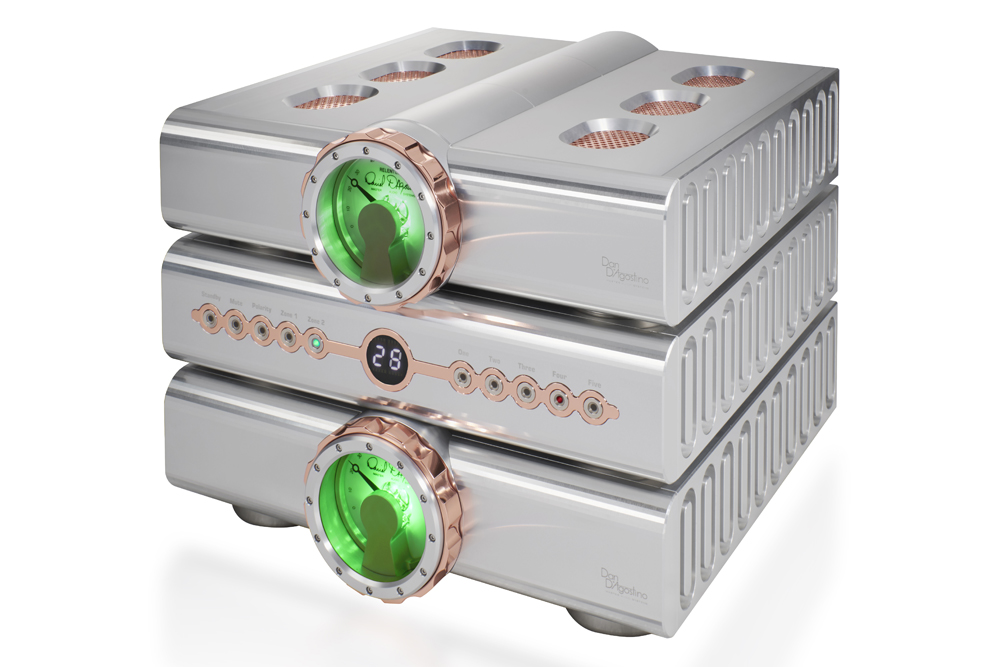 The preamplifier is styled in the unique Relentless language, so there are the Venturi motifs while also maintaining the signature dial a-la Breguet, here used as the twin volume controls in the audio channel chassis.
The new Relentless preamplifier starts shipping globally in November 2021. Local availability and pricing have not been confirmed, however, the Relentless preamplifier is priced at US$149,500. The optional DSM module has been slated to cost US$14,950 and can either be ordered with the unit or at a later stage.
Dan D'Agostino Master Audio Systems Relentless Preamplifier
Price: AU$249,995, DSM AU$24,995
Australian Distributor: Advance Audio Australia
+61 2 9561 0799
www.advanceaudio.com.au