Announced in early 2021 and landing on our shores by July, Rogers' newly-invented E20a/ii integrated amplifier revives the original and highly-touted E20a with 21st century improvements.
Back in 1995, Rogers released E20a high quality integrated amplifier in order to support the company's highly successful, and now classic, BBC-style LS3/5a loudspeakers. Now, in a renewed effort to accompany the increasingly popular LS3/5a Classic (winner of a SoundStage! Australia Award, our link here) and the new LS5/9 loudspeakers, Rogers has designed a perfect-match integrated amplifier in the E20a/ii.
As good a match as the E20a/ii is with Rogers designs, the amplifier is capable of performing with any loudspeaker with appropriate sensitivity and impedance characteristics. The E20a/ii is capable of outputting 18 watts per channel via a Class-A circuit employing four 6L6GTs as the power valves. The circuit is completed by a pair of 6SN7 valves employed as phase splitters and a 12AX7 as the anode follower. A 'Phono' version features a further 12AX7 applied to the in-built Moving Magnet (MM) phono stage. The circuit is 'self-biasing' which relieves the end-user from any valve maintenance procedures throughout the valves' life.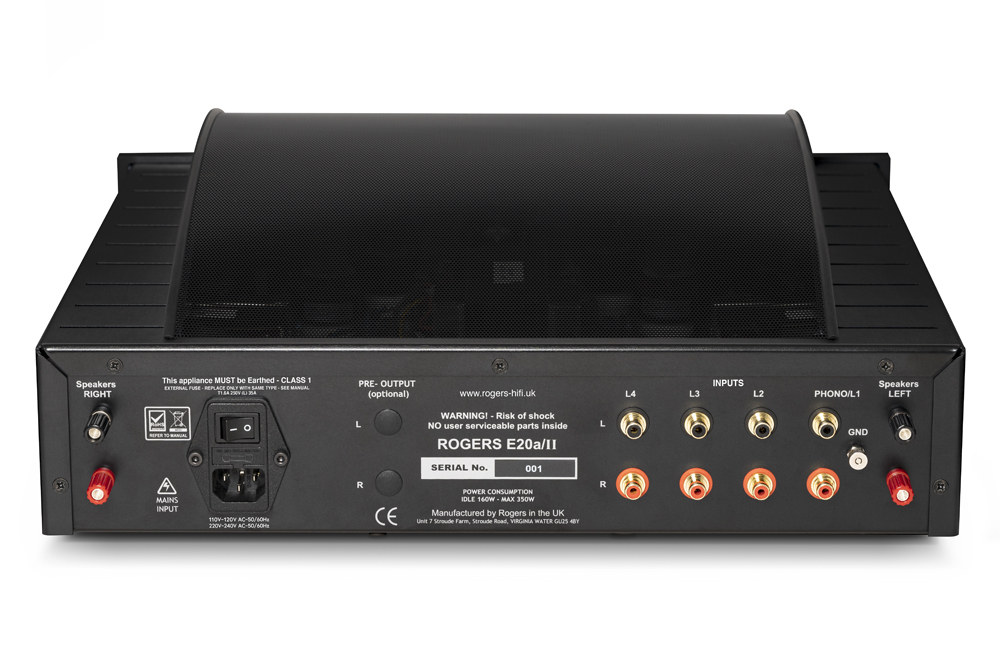 In addition to the phono input, the E20a/ii features three single-ended RCA inputs. In the 'Line' version of the E20a/ii the phono input operates as an additional line level input. The amplifier can be ordered with an optional single-ended RCA output allowing connectivity to external power amplifiers (therefore using the E2a/ii's preamplifier stage).
Rogers has specified the E20a/ii as having a Frequency Response between 20Hz and 20KHz +/- 0.5dB with an Input Sensitivity of 6mV for the Phono stage and 150mV for the line inputs while Input Impedance is stated as 47 kohms for the Phono stage and 100 kohms for the line level inputs. Rogers states the E20a/ii is best suited to a nominal 8 ohms load.
High quality large output transformers are said to provide strong bass performance and high dynamic contrast capabilities. Internal cabling is long crystal oxygen-free copper ("LCOFC") while all circuit boards have been decoupled from the chassis in order to minimise microphonic resonance and distortion. Speaker binding posts are silver plated while all RCA sockets are gold plated, chassis-mounted and hard-wired for "optimum" signal transfer. The E20a/ii is provided with a remote for volume control.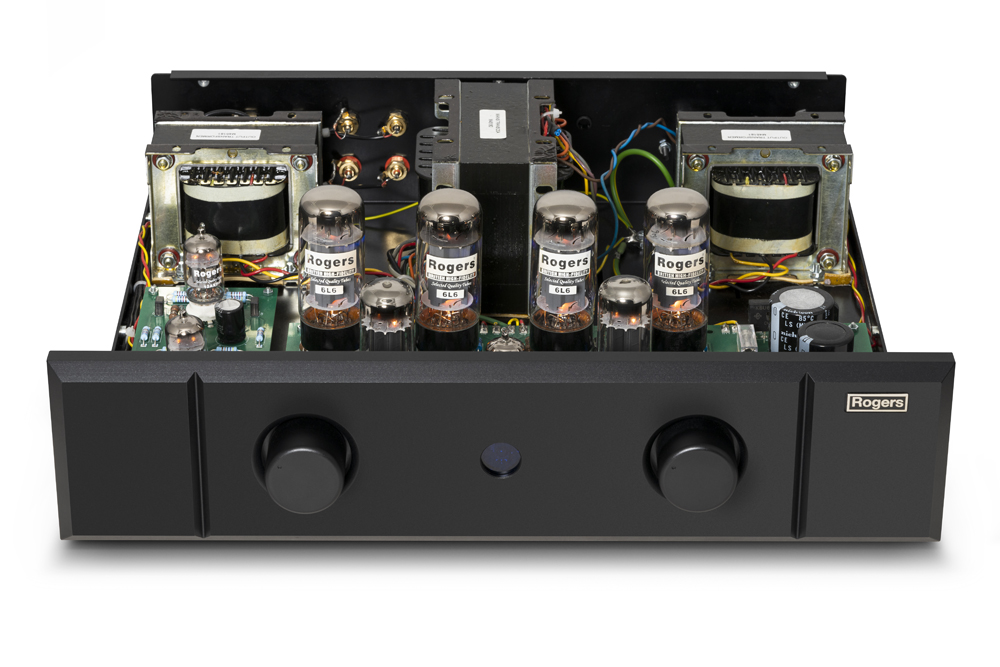 The Rogers E20a/ii integrated amplifier is available in Australia via distributor Audio Magic's specialist audio retailers around the country.
Rogers E20a/ii Integrated Amplifier
Price: Line Version AU$7400, Line/Phono Version AU$8400
Australian Distributor: Audio Magic
+61 3 9489 51 22
www.audiomagic.com.au