Aesthetix has announced the company's first ever integrated amplifier, which will be available in Australia in October 2017. In keeping with Aesthetix power amplifier designs the new integrated is a hybrid unit aiming at combining the best of valve and solid state technologies.
The Mimas is a powerful integrated specified to output 150 watts into 8 ohms. Connecting options feature five balanced XLR and unbalanced RCA inputs while a preamplifier output (both balanced and unbalanced available) allows the Mimas to operate as a preamplifier when mated to one of Aesthetix power amplifiers. Further connectivity is provided via an RS232 via DB9 connector and the Mimas also features an IR extender option. An in/out trigger via 3.5mm jack provides power on/off functionality.
The zero-feedback hybrid design features a 12AX7 valve per channel – which allows for many tuning options via the multitude of variations that exist for the 12AXX series of valves – while the output stage embodies Aesthetix updated proven solid state circuitry.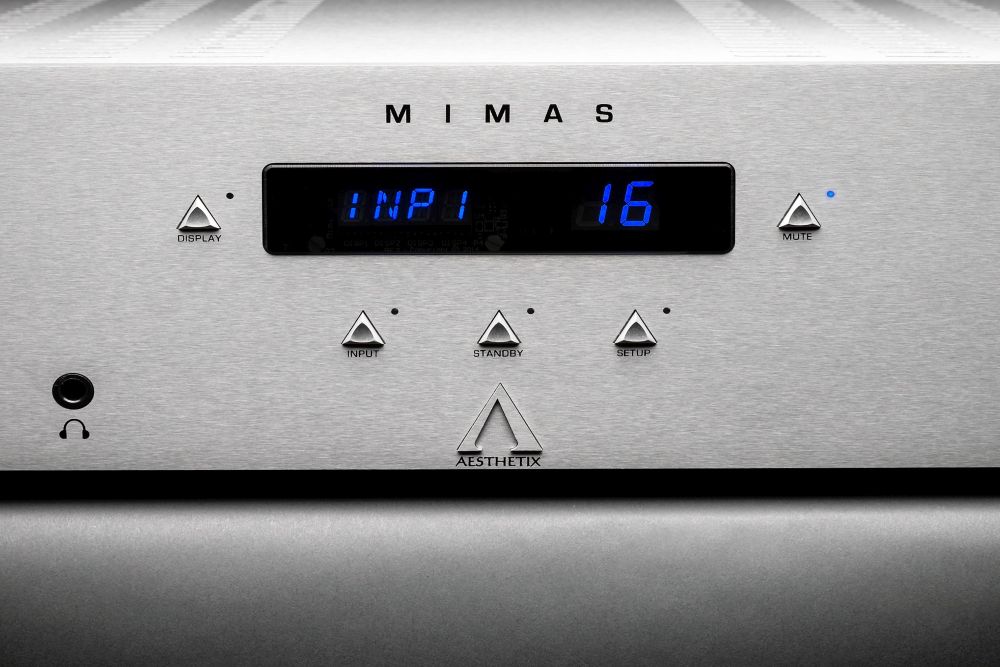 "Vacuum-tubes seem to be the best suited for voltage amplification of audio signals, delivering the most neutral, grain-free, full-bodied sound if properly implemented," says Chief Engineer and company head Jim White. "Aesthetix uses transistors and other technologies where appropriate, frequently in power supply regulators and power amplifier output stages."
Aesthetix is offering optional plug-in modules for the Mimas. These include a high quality Moving Magnet/Moving Coil phono stage with variable gain options which can be adjusted via the front panel or the remote control. Also available as an option is a digital-to-analogue converter board with two S/P-DIF RCA inputs and TOSLINK and USB inputs. The DAC board is capable of playback at resolutions up to 24-bit/352kHz and DSD and DSD2.
The Mimas integrated amplifier weighs in at 18.6kg, is provided with a full function remote control and is available in silver and black anodised aluminium finishes.
Australian Distributor: Absolute Hi End
+61 488 777 999
www.absolutehiend.com
Price: AU$10,000 plus AU$1500 each for phono and DAC options