aqua (acoustic quality) has launched the LinQ, a completely modular 'Network Interface' which marries your network to the company's family of products to provide an all-round digital playback and streaming solution.
Italian digital specialist Aqua has developed a proprietary and fully modular platform for interfacing networks and Digital-to-Analogue Converters for streaming capabilities. The bespoke modules perform specific dedicated functions such as a Roon Ready (RAAT) and UPnP/DNLA streaming at the time of publication, with two further module bays being available for future functionality and upgrades, making the LinQ redundancy-proof. Each self-contained module is galvanically isolated and houses its own power supply and is activated by simply plugging into a connector/socket bay.
Founder and CEO Cristian Anelli told SoundStage! Australia, "We prefer to use know-how developed in-house, for a number of reasons in respect to the Aqua sound quality standards. Fast and standard technical solutions do not belong to the aqua philosophy. aqua has developed an extremely streamlined long-life platform and network bridge modules, focused on audio playback functions. This has required a considerable effort in terms of time and resources, but the result is immediately evident on first use."

Output options are extensive, with aqua applying proprietary-coded FPGA design. There are three 110 ohms AES/EBU outputs, two capable of up to PCM 24-bit/384kHz and DSD128 resolutions while the third sees the same PCM resolution but tops-out at DSD64. Further outputs are via 75 ohms BNC and RCA coaxial S/PDIF with PCM resolutions of 24-bit 192kHz maximum. An Ethercon RJ-45 connector provides signal via aqua's 'AQLink' proprietary I2S methodology for high quality connectivity to the company's own I2S-capable DACs. On the grounds of sound quality and a higher level of digital playback, Aqua has eschewed USB connectivity by providing the aforementioned AQLink I2S output option.
aqua has always designed components with solid power supplies and the LinQ is no exception. There are two low noise C-Core power transformers on-board and the general circuitry is populated with high quality parts throughout. The styling, build quality and Nextel finish provide a perfect styling companion for the rest of the aqua digital products family.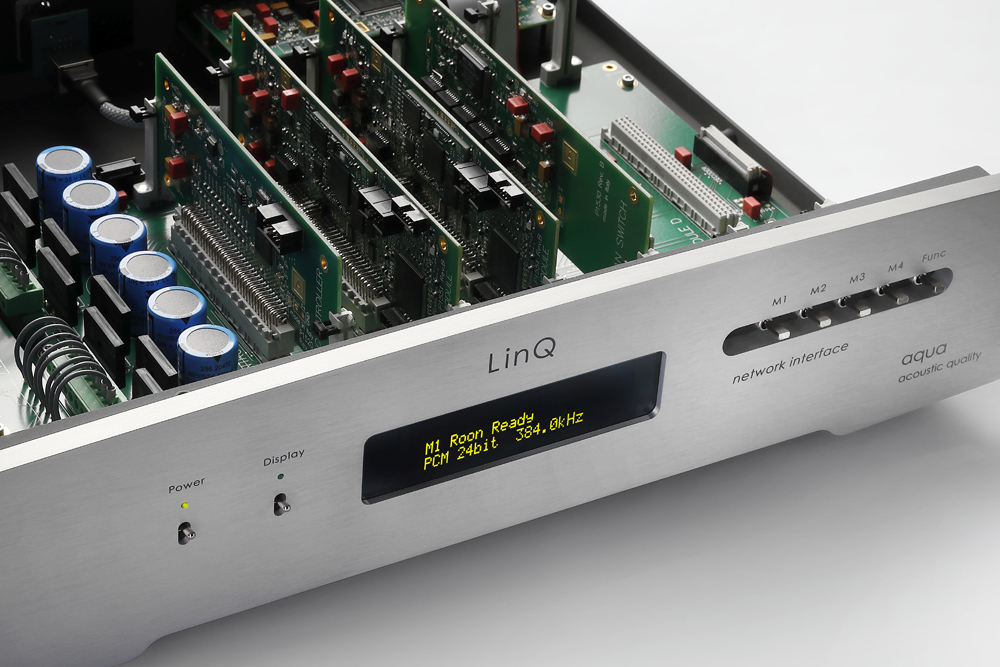 aqua digital products are available via Australian distributor Magenta Audio's country-wide specialist dealer network.
aqua LinQ Network Interface
Price: TBA
Australian Distributor: Magenta Audio
+61 8 8390 1673
www.magentaaudio.com.au