Just landed on our shores and available for auditioning are the mythical-God-named Triton Reference flagship speakers from America's GoldenEar Technology. Inkeeping with the svelte design of its stablemates, the Triton Reference speakers do, however, take the concept to another level.
The Triton Reference is a larger-scale figure, possesses all-new high-grade driver technologies and adopts a tall, elegant cabinet in a beautifully-executed piano gloss finish on its cabinet sides, rear and top. And indeed, the driver count is surprisingly high with a mix of dedicated drivers starting with the D'Appolito-configured High-Velocity Folded Ribbon (HVFR in GoldenEar-speak) tweeter, a high-gauss potent magnet system design, followed above and below by 6-inch 'High-Definition cast basket' midrange drivers which feature an unusual slotted 'Multi-Vaned' phase plug. The tweeter and mid drivers are mounted on a separate chamber which features angled walls in order to not only avoid standing waves but, as a side benefit, provide further bracing and cabinet strengthening (in conjunction with strategically-placed damping pads and lamb's wool and Dacron damping).
Directly below the tweeter and midrange array – all are crossed over via a 'Linear Phase Balanced' crossover network – are three 'racetrack' 6 inch by 10 inch 'Quadratic Reference' bass drivers with very large focused field magnet systems. These bass drivers are coupled to four 9.5 by 10.5 inch 'Quadratic Planar Infrasonic' passive radiators located on the enclosures' sides. The 6 by 10 inch drivers are driven via a dedicated 1800-watt 56-bit DSP-Controlled Class-D amplifier. A massive 3.32 inch steel plate underneath the gloss black plinth provides low-centre-of-gravity cabinet stabilisation and solid floor coupling.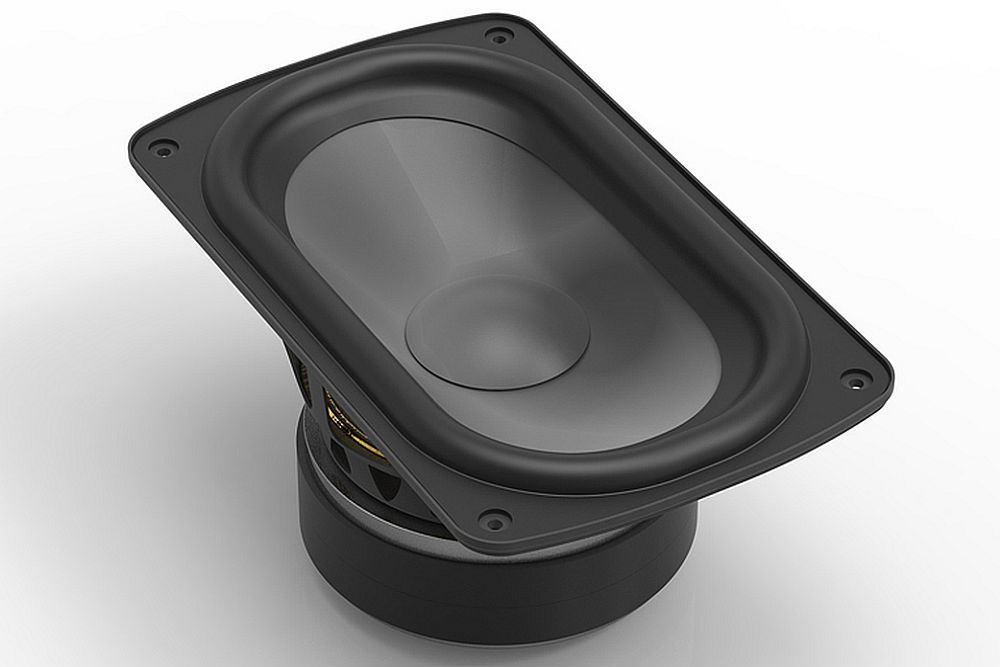 "The Triton Reference is an evolution of everything that we have achieved with the Triton One, but taken to a stunning new level of sonic performance and sophisticated visual design", said Sandy Gross GoldenEar technology's President. "All the components in the Triton Reference including the larger active sub-bass drivers with huge Focused Field magnet structures, upper-bass/ midrange drivers also with Focused Field magnet structures, and GoldenEar's signature high-velocity folded ribbon tweeter with 50% more rare earth neodymium magnet material, are brand new and have been specifically developed for use in the Reference."
The impressive specifications state the Triton Reference's frequency response to span from an ultra-low 12Hz to 35kHz with no parameters given although GoldenEar states the speakers are flat down to 20Hz. Efficiency is a healthy 93.25dB with a "compatible with 8 ohms" impedance.
SoundStage! Australia had the pleasure of briefly auditioning the Triton Reference at Sydney's Audio Connection store in Leichhardt and preliminary impressions, with unfamiliar electronics and room acoustics, were of an impressively powerful and large-scale presentation with superb detail retrieval without harshness, deep bass and a very large soundfield.
We look forward to further exploring this high quality high value speaker system in the near future.
Australian Distributor: Kedcorp
+61 2 9561 0799
www.kedcorp.com.au
Price: TBA
Warranty: Five years on speakers & three years on electronics