Chord Electronics' highly successful and very portable Poly music streamer has been given a bump-up in terms of functionality and usability via the slick-looking GoFigure dedicated configuration App.
After a six month development stage and with the aid of numerous 'Beta Testers', GoFigure has been designed to support the configuration of the multi-functionality Poly music streamer. Easy Wi-Fi network 'wizard' setup (also capable of setting up Bluetooth playback) and simplified and intuitive function/settings configuration is now available via the GoFigure App which is, at this stage, available for iOS devices (Android version is coming soon).
"Although Gofigure has designed to work in combination with third-party control point Apps, it does support QuickPlay, enabling playback of MPD-generated playlists on Micro SD cards via Poly's built-in card-reader" Chord Electronics Founder John Franks told SoundStage! Australia. He continued, "Any number of playlists can be created, including the entire card, with all lists visible within the App. Although QuickPlay is not intended to replace third-party control point Apps, its easy access to pre-configured playlists is ideal for initiating music playback when in the gym, exercising or when not wishing to frequently interact with the control device."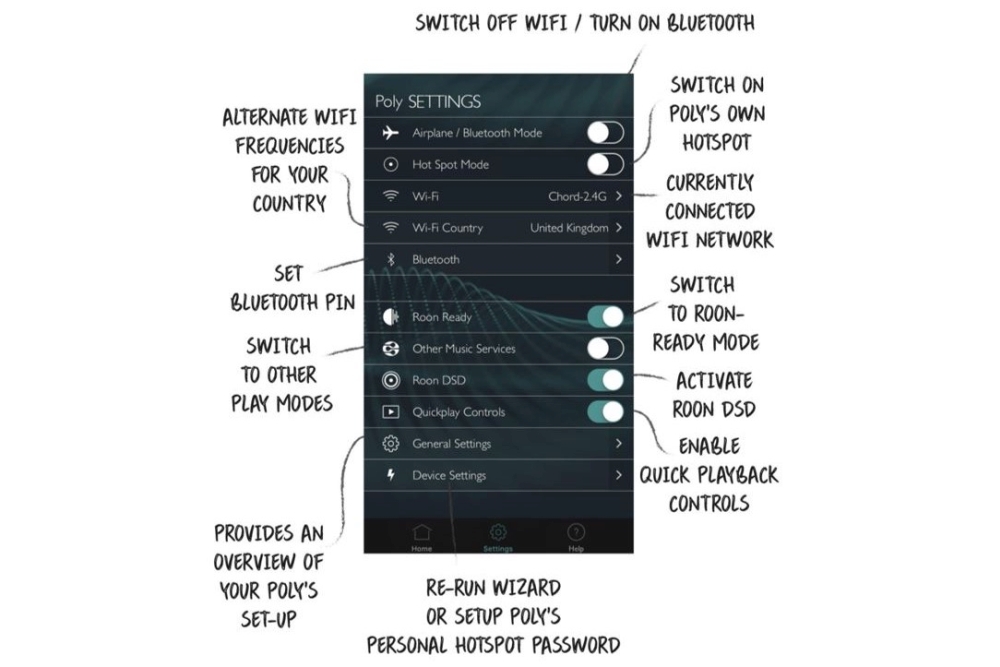 Easy access allows Roon operation via Poly too with in-App slider switches allowing Roon DSD and Roon-Ready operation. On the App's 'Home' screen you'll find a wealth of well laid-out system information such as the status of the currently-connected network, the play mode in current use, whether a 'Hot Spot', Wi-Fi or Bluetooth is being used, the battery level status and much more, while a 'General Settings' menu graphic can display a host of further system status information.
The Chord Electronics GoFigure App is available as a free download from the Apple App store.
Australian Distributor: Radiance Audio Visual
+61 (0) 2 9659 1117
www.radianceav.com.au