The showroom of an audio distributor is not what generally comes to mind when you think of 'sonic purity'. In reality, your average audio showroom sound is frequently sullied by the reverberation of a dodgy commercial drywall partition job or by the noise of a home theatre system blaring down the hall. Combine that with the bothersome clamber of other patrons and the low-level bass blur from all the passive movement of the drivers of every unused speaker randomly crammed into the corners, and you've got a recipe for sonic disaster.
Wouldn't it be nice if someone considered a new way to execute the dealer showroom concept? After all, to ask you to drop considerable coin on some audio gear in such an audibly hostile environment would be like asking you to test drive a Lamborghini in the middle of a garbage dump, or study for an exam in a pachinko parlour… No thanks! As it turns out, there is at least one place where the mould has been broken [This is a niche incentive at this stage but, thankfully, becoming a growing trend – Editor].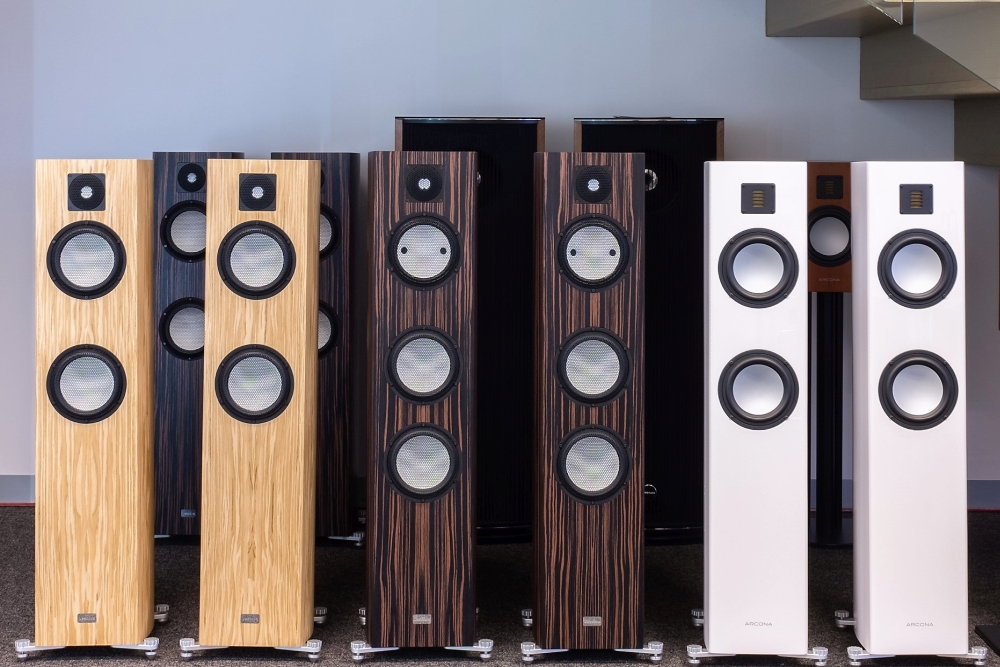 Recently I was fortunate enough to receive an invitation from Warwick Freemantle, proprietor of distributors Pure Music Group, to take a short trip down to Melbourne to visit the company's retail showroom which operates under the name of Sonic Purity. The hook was that currently gracing their showroom were the latest and greatest reference offerings from formidable German manufacturer Audionet: the Stern preamplifier and Heisenberg monoblock amplifiers. They were at the time waiting to be shipped out to a clearly very discerning and, now no doubt, very satisfied client. To suitably complement this ultra-high-end setup was the gorgeous TechDAS Air Force 3 air-bearing turntable with Thales Simplicity II tonearm and Lyra Etna cartridge. Phono preamplification was handled by the Audionet PAM G2 with EPX external power supply. Speakers were the svelte yet unambiguously 'built-for-business' Gauder Akustik RC-7s. The system was wired with Argento Flow cabling throughout. How could I refuse?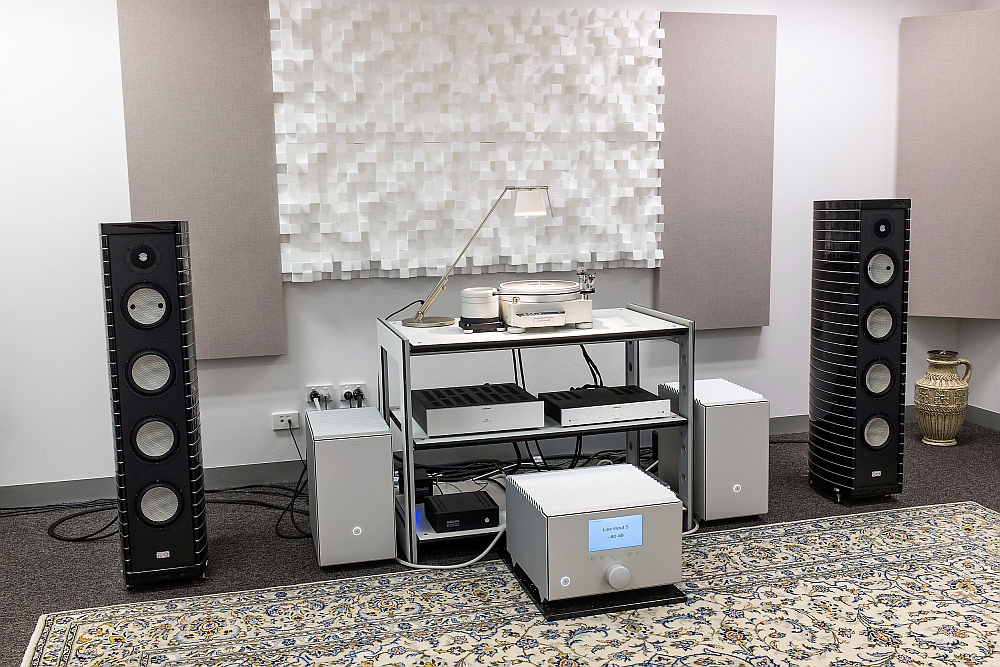 In discussions preceding my trip down south, Warwick informed me that the ethos of Pure Music Group was to create high-end audio component matching based on his expertise and know-how and that of his offsider, the equally knowledgeable and friendly Rom Beyerle. The company prides itself in the ability to mate components together to create musically satisfying systems that are more than just the sum of their parts. Auditioning is on appointment-only basis, facilitating the background-quiet, dedicated time allotment and overall experience that only comes with this one-on-one type of service.
In the evening of my arrival, I was graciously shuttled off to a commercial suite situated in an eerily calm light industrial setting. I was greeted with warm smiles and firm handshakes and a small showroom brimming with audio goodies. Spot-lit glass cabinets contained cables, tonearms, cartridges and other small components from the likes of Argento, SME, Thales, Kuzma and ZYX; while standing proud were a range of speakers from Gauder, ME Geithain and Kii Audio.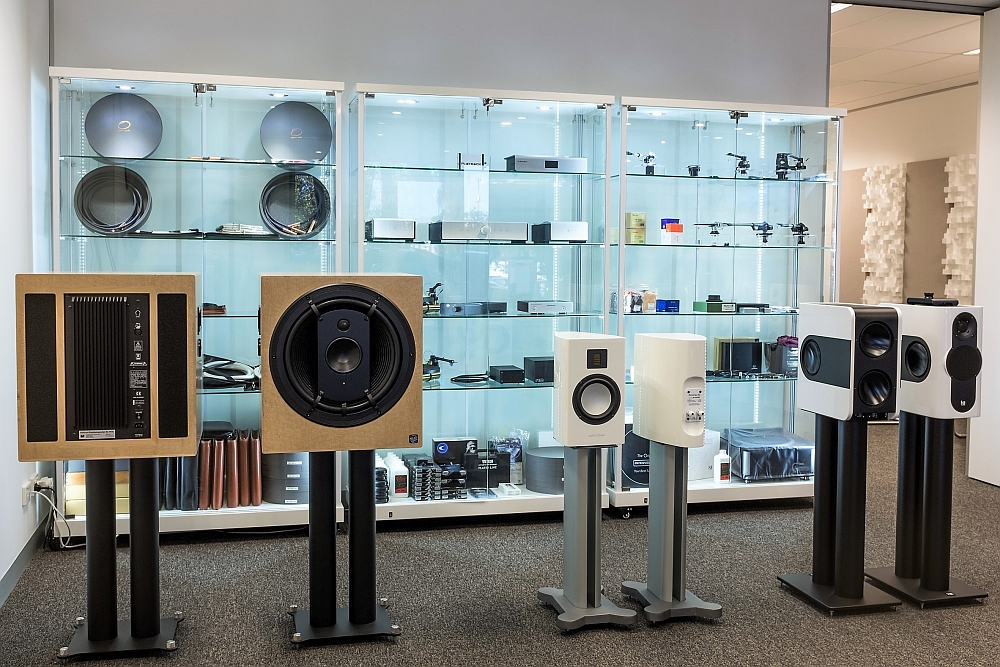 After a brief introduction to some models with which I wasn't familiar, I was guided into the next room, the auditioning space. My grin hastily widened…
The Sonic Purity listening space was a relatively unassuming office space of about 5.5m by 6m with a ceiling height of 2.5m. The ceiling was cladded with regular office-style ceiling tiles and the walls were intermittently lined with well-measured applications of acoustic diffusor and absorption panels. Some nice home touches (an oriental rug, ornamental jugs and some other accoutrements) helped brighten the space. The character of the reflected sound from our ongoing conversation hinted that, contrary to what I had expected, I was likely in for some good sound. I was… and it was truly a first in my experience of distributor showroom-style demos.
Only vinyl was played that night (Warwick prefers it that way, and I certainly wasn't complaining), and the genres were varied, with tracks from Steely Dan, Satchmo, Ry Cooder and Yello, to name a few. Irrespective of genre, the music was explosively dynamic yet detailed and highly nuanced. The system was capable of delineating complex harmonics and produced an airy yet astonishingly vivid soundstage, with height, depth and layering up there with the best systems I've heard. Plucked strings and drums leapt out from the exceptionally quiet backdrop cast by the TechDAS 'table, while the space between the soundstage elements was laid bare, manifesting nearly perfectly the ambience of the recording environment therefore rendering it practically holographic. The deeper mid-bass registers of male and mature female vocals were palpably realistic, projected with chesty resonance and three-dimensionality that made them feel like they were really in the room.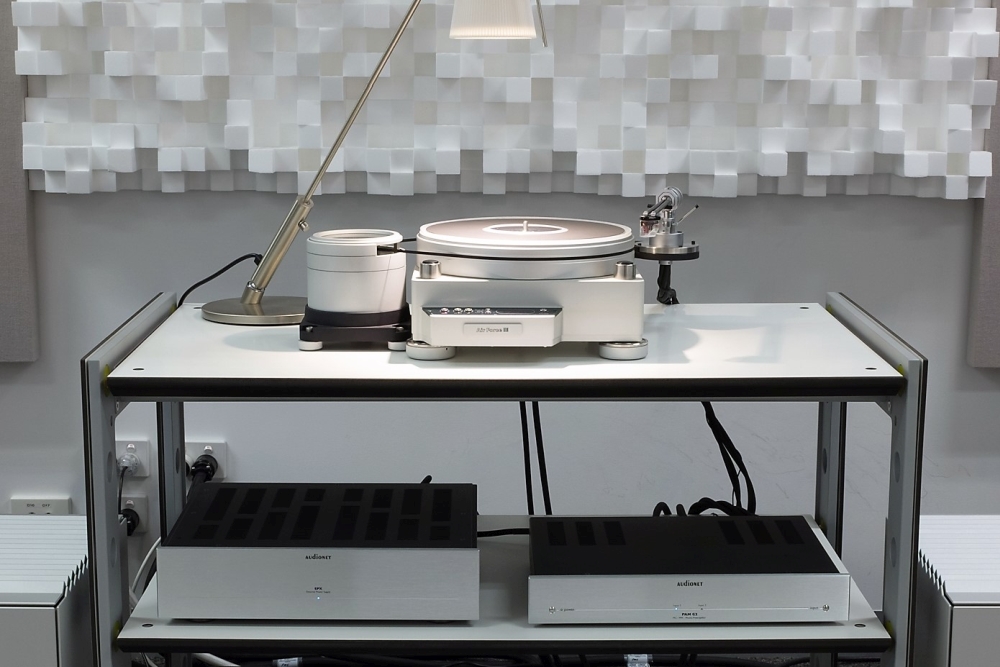 I stayed glued to my chair for about four hours and could've easily stayed for longer. There was just no fatigue factor in this system and I liked just about everything I heard.
The system was unmistakably solid-state. Die-hard tube lovers may have yearned for a little more midrange bloom and overall fluidity. From being used to listening to my hybrid Ypsilon SET-100s, the differences in the overall system presentations was immediately apparent. Nevertheless, such quibbles in no real way affected the appreciation for what was a highly resolving, and deeply musically satisfying setup. The fact that this system sounded as superb as it did essentially fresh out of the box is really quite remarkable!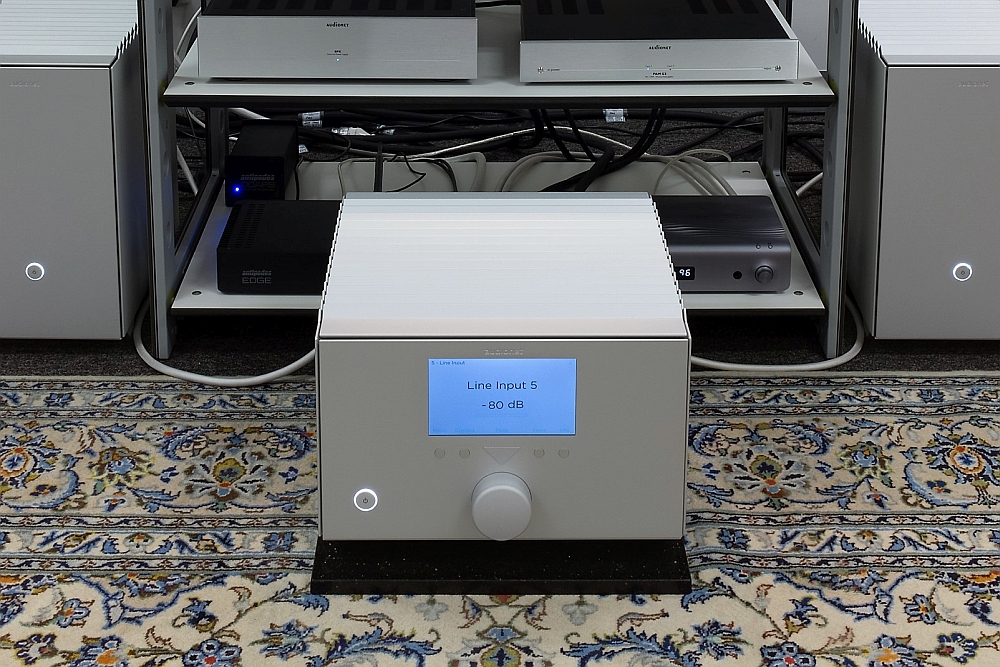 A hearty thanks to Warwick and Rom for a great night. The search for sonic purity in the distributor showroom may indeed be over.
… Joshua Givorshner
Sonic Purity
+61 (3) 417 015 073
www.sonicpurity.com.au
Pure Music Group
+61 (3) 409 504 805
www.puremusicgroup.com.au