On the occasion of their 20 years in business, and to inaugurate their brand new factory in a new industrial estate about 40 minutes outside Munich, Oliver Göbel invited members of the press, some of his best dealers and their clients to visit his new premises. And I was invited along on behalf of SoundStage! Australia by my good friend and Chief Editor Edgar Kramer.
Bavarian Road Trip
We had congregated earlier on the Göbel stand at the High End Show at the MOC in Munich and had a chance to listen to one of the company's fabulous speakers there, more on that later…
We then boarded two buses for the long ride to the factory where lovely displays of delicious food and a great selection of beers and wines were waiting to delight our senses. Oliver Göbel and his wife Caroline welcomed us warmly to the freshly minted boardroom before we were taken on a guided tour of the factory.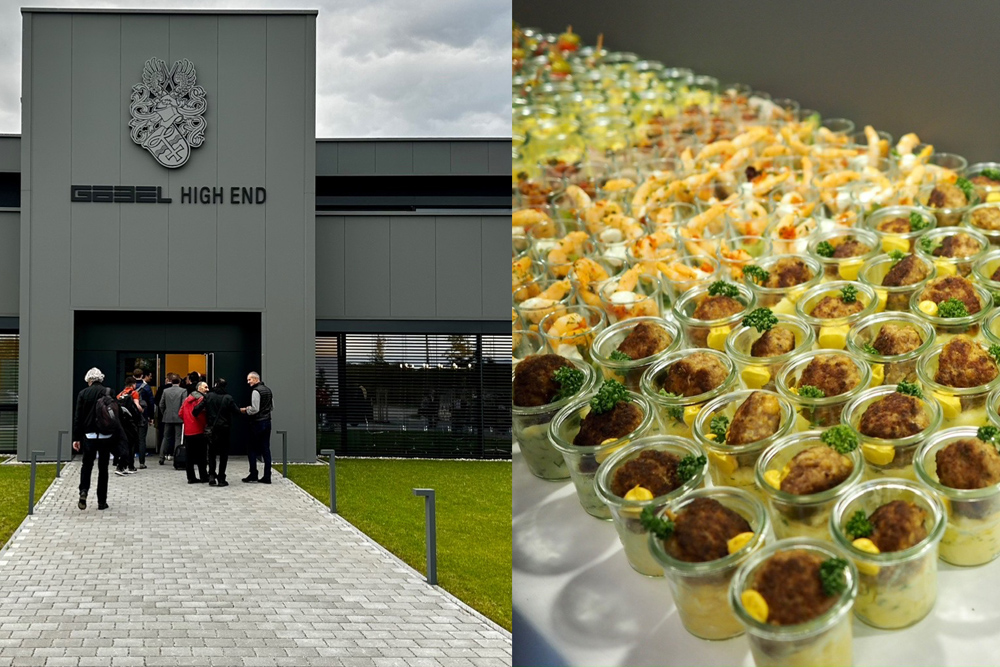 The Göbel Exhibit at High End Munich 2023
To start with, a little caveat… Although I had seen photos and had researched the company website, I had actually never heard Göbel speakers in real life. So it was with somehow virgin, but educated, ears, that I walked into Göbel's stand…
And obviously we are clearly into very high-end hi-fi here, the gear driving the mid-sized but fine sounding Divin Marquis speakers and their Divin Sovereign matching subwoofers was equally amazing and at "money is no object" level!
Here is the list of components in this impressive system:
CH Precision L1 preamp
CH Precision X1 external power supply
One pair of CH Precision M1.1 amps in bi-amping configuration
A full top of the line WADAX digital frontend with Reference server with external power supply and the Reference DAC with external power supply
A full top of the line Kronos Discovery analog turntable frontend
Power Conditioners GigaWatt PC-4 EVO+ and GigaWatt PC-3 SE EVO+
Completely wired with Gœble Lacorde Statement cables.
Rack and amp stands from Kronos
These are clearly some of the best components available today! And it showed, or should I say "it sounded" so. It sounded effortless, accurate, while staying musical and totally immersing in the music being played… Divine indeed!
Up there with the likes of USA's Wilson Audio, French Audionec or Estonian Estelon to name a few of my favourite speakers on the planet, and round-about in the same price bracket.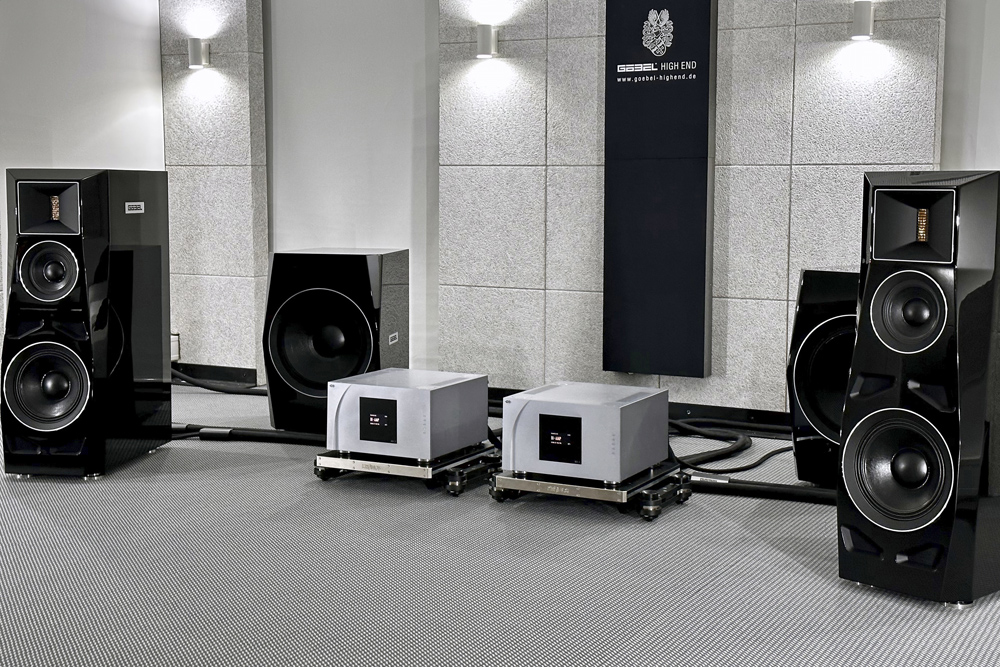 Arrival: The Göbel Factory
Let's just start by saying that Oliver and I share the same passion for designing speakers – mine going back 50 years – and for design and architecture – my primary source of income for the last 30 years.
So, I was very keen to see how he had applied the same care and attention to detail to the design and layout of this new production and testing facility as he has been doing with his speakers for the last 20 years of running his own business.
And I was not disappointed! I was particularly amazed by the design of the factory which is tightly linked to the production and testing workflow. Also, the building is very well lit, the passageways large enough to accommodate the movement of components, drivers, large and heavy enclosures. These in turn travel down to the packing and storage area which can handle with ease finished speakers weighing up to 580 kgs and almost a tonne when packaged into six individual bespoke flight cases!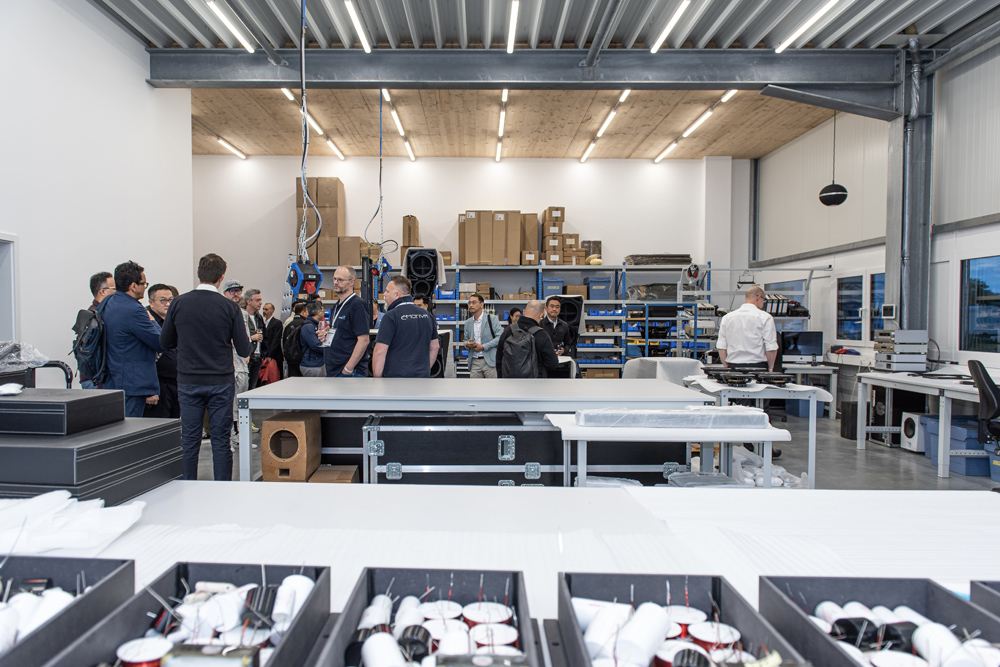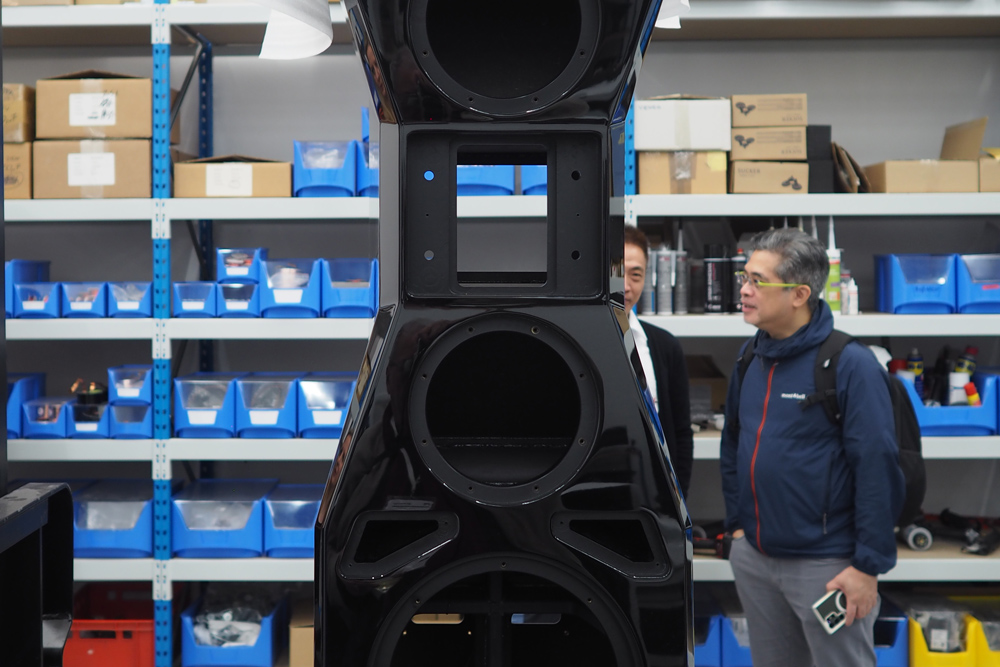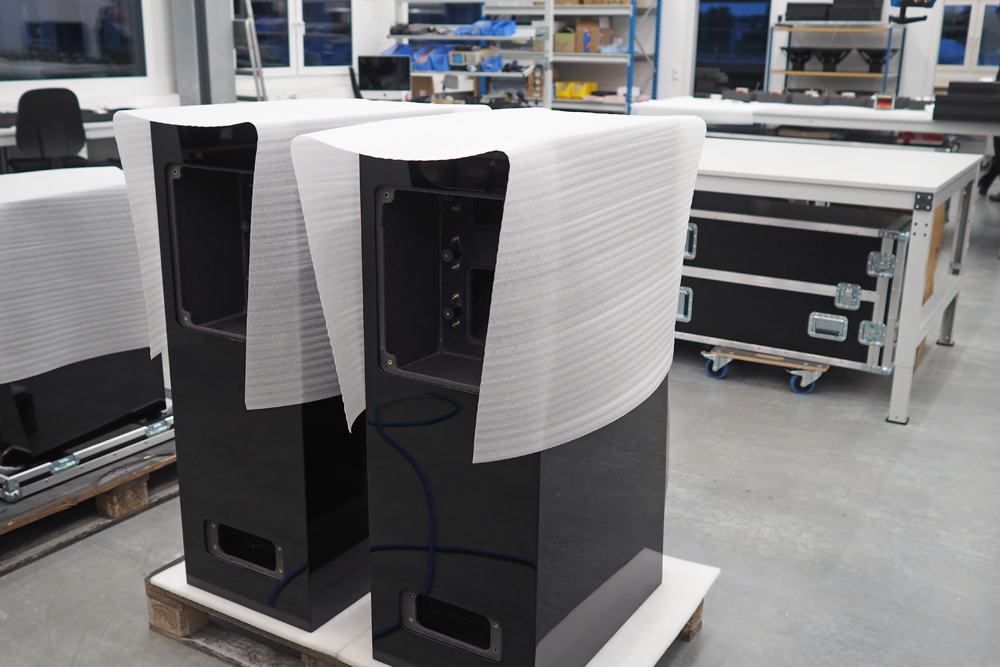 Lacorde cables
Asking Oliver Göbel about the associated cable brand, he responded thus:
The Lacorde Statement cable line actually came quite naturally, as in the beginning we were looking for the best cabling inside our loudspeakers. So, then our loudspeaker cable, the Lacorde Statement Speaker cable, was our first cable product in order to provide a perfect signal transfer from the amp to the loudspeaker. Then our cable product range continuously expanded over the time to a full line of cables of the highest grade.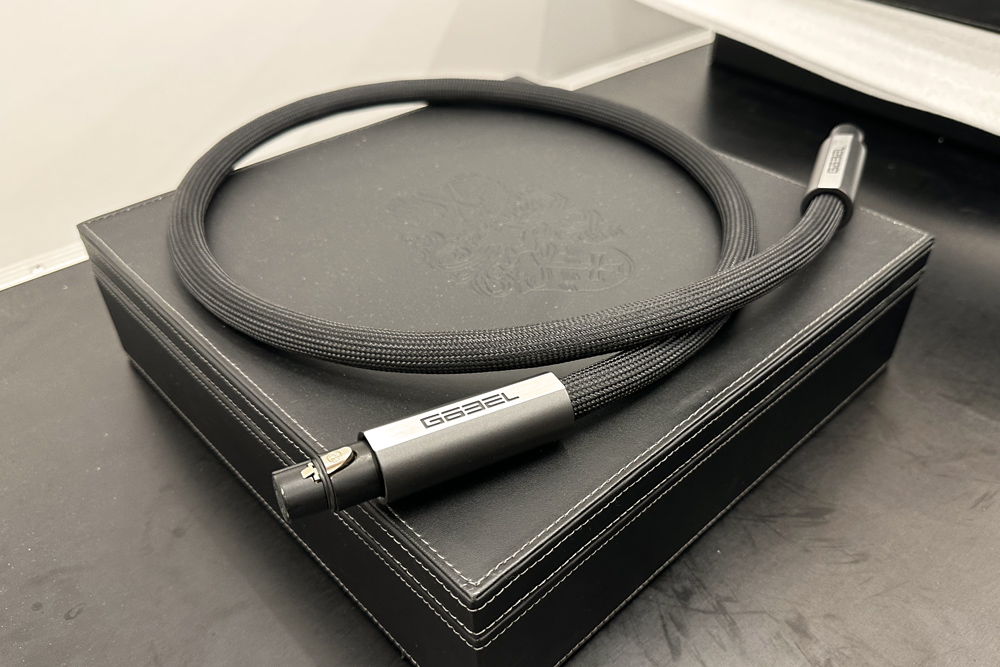 Measurement systems
Having worked 15 years for Hewlett-Packard in the Test & Measurements Division in the 80s and 90s, as well as my current interest in measuring my own speakers, I was keen to discover how Oliver was going about it. And obviously, the system(s) he uses are on par with the whole ethos of his design principles and manufacturing process.
Let me share with you a discussion we had via email after the High End Munich show for the purpose on this article:
During development, all our measurements for our loudspeakers are performed in a full anechoic chamber at a very near university with raw room dimensions of around 11 x 10 x 9 meters. Additionally, it is a room in room concept, which is isolated from the rest of the building with over 256 springs. The structure depth of the damping wedges is 1.8 meters. Herein we can perform measurements down to 45 Hz with 99% reflection-free behaviour. This is the basis of all our loudspeaker developments! Of course, massively supplemented by extensive fine tuning and component choices during auditioning.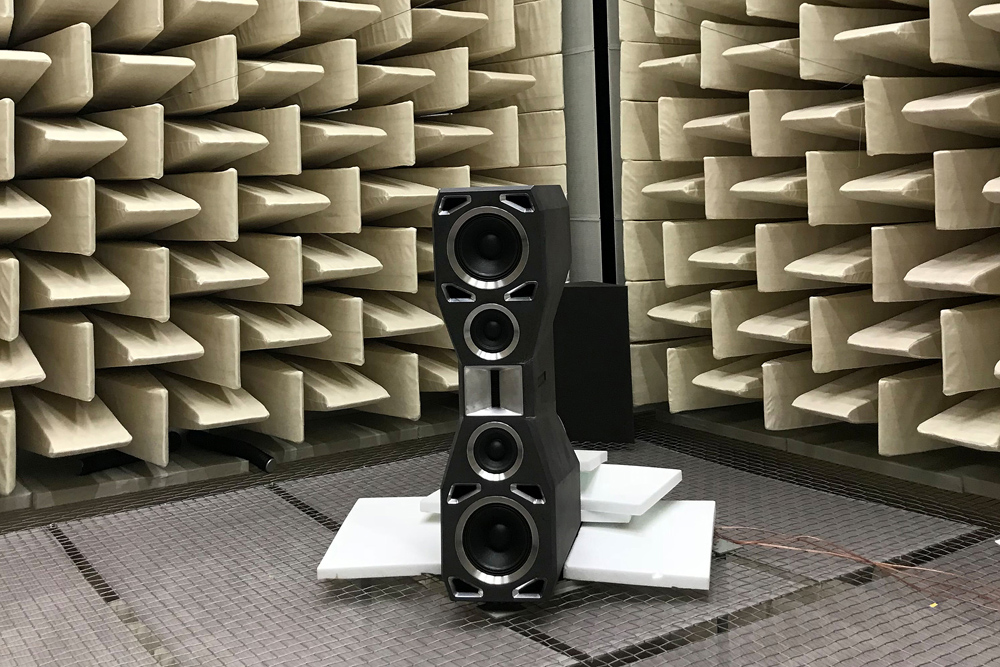 In our new company headquarters we now additionally have our own full anechoic chamber with raw dimensions of around 6 x 6 x 5.2 meters. The structure depth of the damping wedges is 1.0 meter and we can perform measurements herein down to 95 Hz with 99% reflection-free behaviour. This in-house full anechoic chamber is of course used for developing but, most of the time, for fine adjustment of every loudspeaker, which is leaving our premises. Because really every loudspeaker gets its crossover fully fine adjusted in our in-house full anechoic chamber, in order to assure a flawless functionality.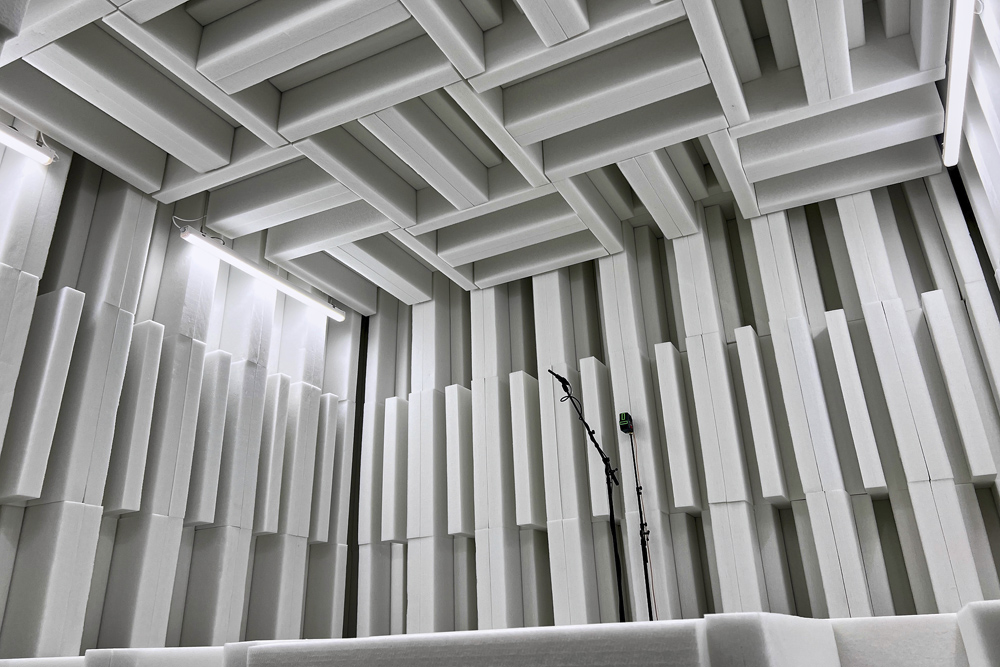 In house, we are using a 32-bit measurement system called DAAS 32pro from a German manufacturer together with a computer controlled turntable from Outline. At the university we, of course, also use our DAAS 32 pro measurement system in order to ensure comparable data, as well as the latest Klippel system with laser Vibrometry, the latest top of the line Audio Precision measurement system and an ELF robot measurement system from four audio for balloon measurements.
The Packaging
I will let Oliver explain that final part of the manufacturing process in his own words:
Each loudspeaker from us is packed in one flight case. Fully assembled, so at the client's place there is no need to mount anything! The flight cases are constructed to easily unpack the loudspeakers, so you don't have to lift them out of the flight case. Therefore, the flight case is made out of three parts. A bottom cap and 2 halves above. With a flight case lying horizontally, you can firstly remove the end cap. Then rotating the flight case upright onto its now exposed end, meant that the speaker inside is now already resting on its own feet. The remaining two halves of the case can then be unfastened and removed. Included in the accessory box are also eight Delrin coasters; placing these under each of the speaker's four feet allowed you to quite easily slide the loudspeaker to where it should be placed.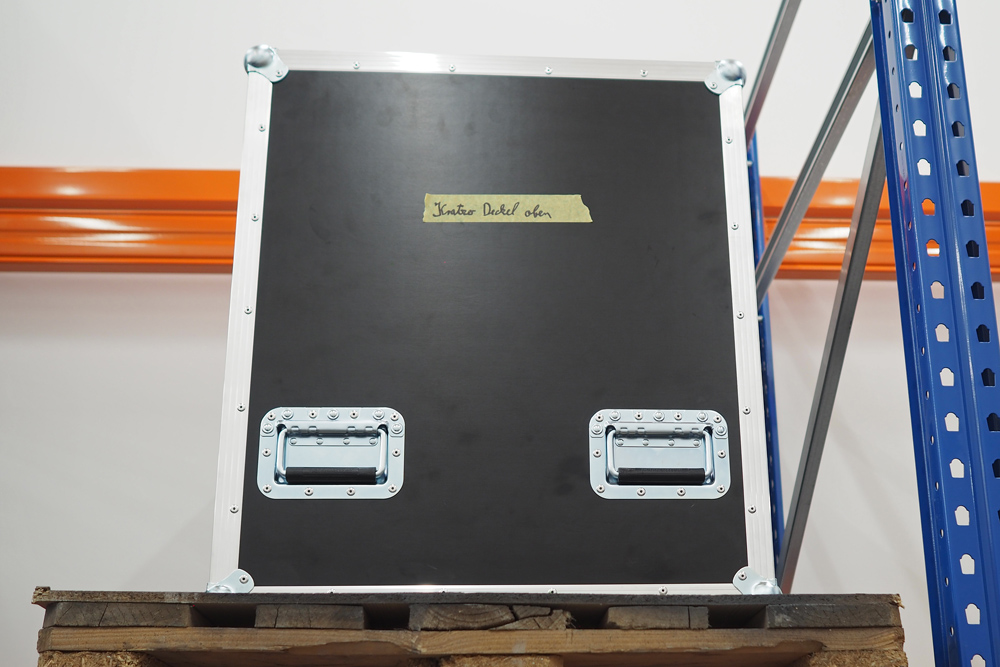 Listening rooms
The factory wouldn't be complete without the appropriate listening rooms. And there again, no stone has been left unturned and everything is of the highest calibre. I will let Oliver tell us all about them in detail:
Room 1 is our biggest auditioning room (around 110 m2) with 3.7 meters ceiling height in our new company headquarters. In the room we have one pair of Divin Majestic loudspeakers, one pair CH Precision M10 amplifiers in bi-amping configuration, CH Precision L10 preamplifier, a full top of the line WADAX digital frontend with Reference server and external power supply and the Reference DAC with external power supply. Analogue is with the top of the line Kronos Discovery turntable frontend, completely wired with our Lacorde Statement cables. Rack and amp stands from FalkenOhr.
Room 2 is a large auditioning room (around 50 square meters) with 3.7 meters ceiling height in our new company headquarters. There we have one pair Divin Noblesse loudspeakers with a pair of Divin Sovereign subwoofers. Riviera Audio APL01SE preamp, Riviera Audio AFM100SE mono amps, CH Precision C1.2 DAC/Streamer with CH Precision X1 external power supply, CH Precision D1.5 disc transport with CH Precision X1 external power supply, MUTEC REF10 SE120 external 10 MHz clock. All is wired with our Lacorde Statement cables. Rack and amp stands from FalkenOhr.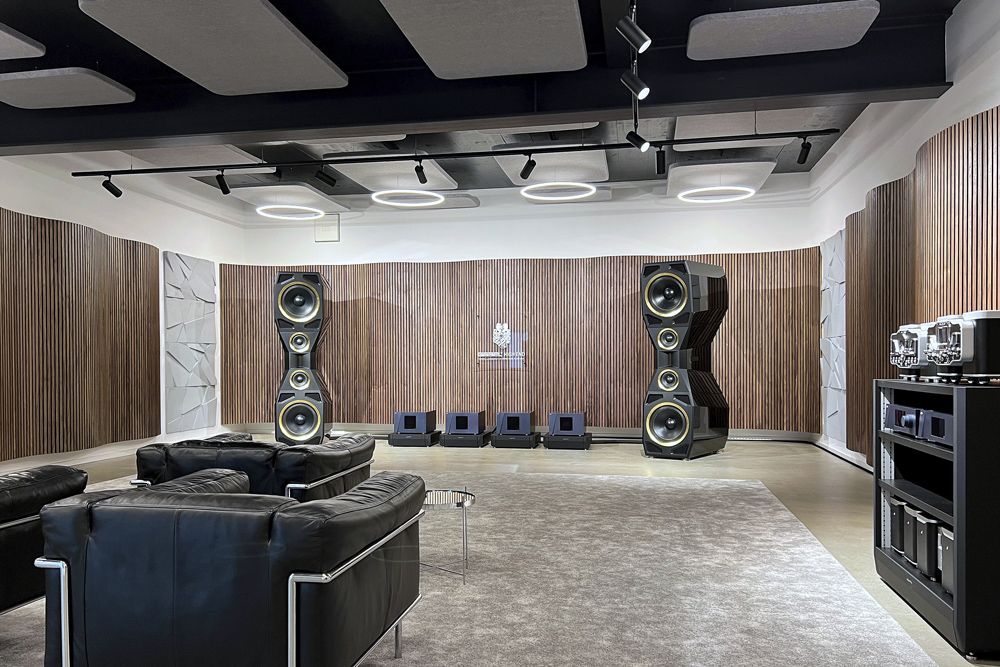 Room 1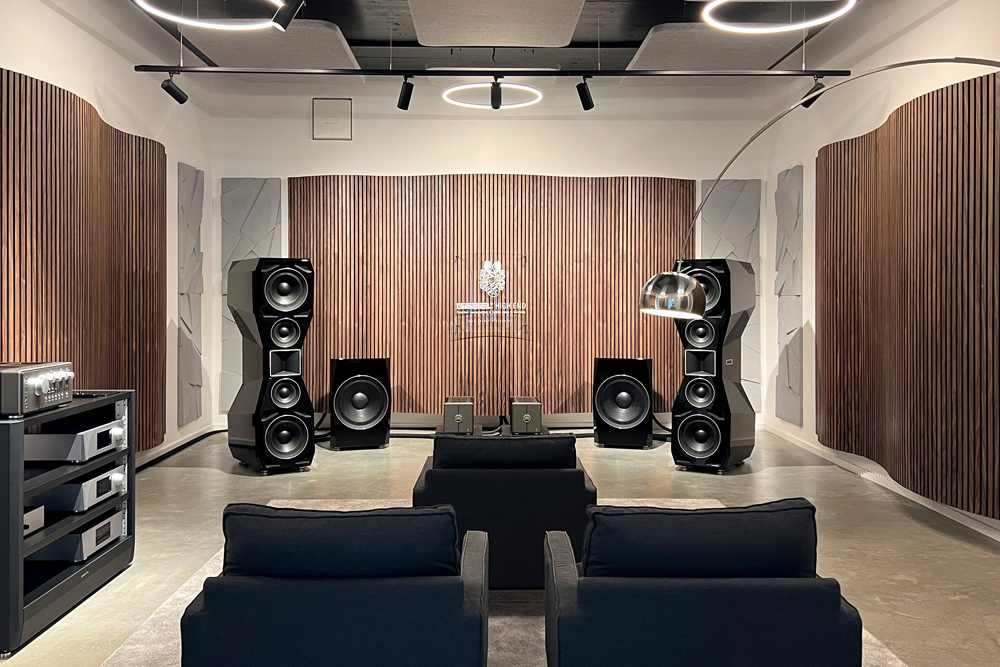 Room 2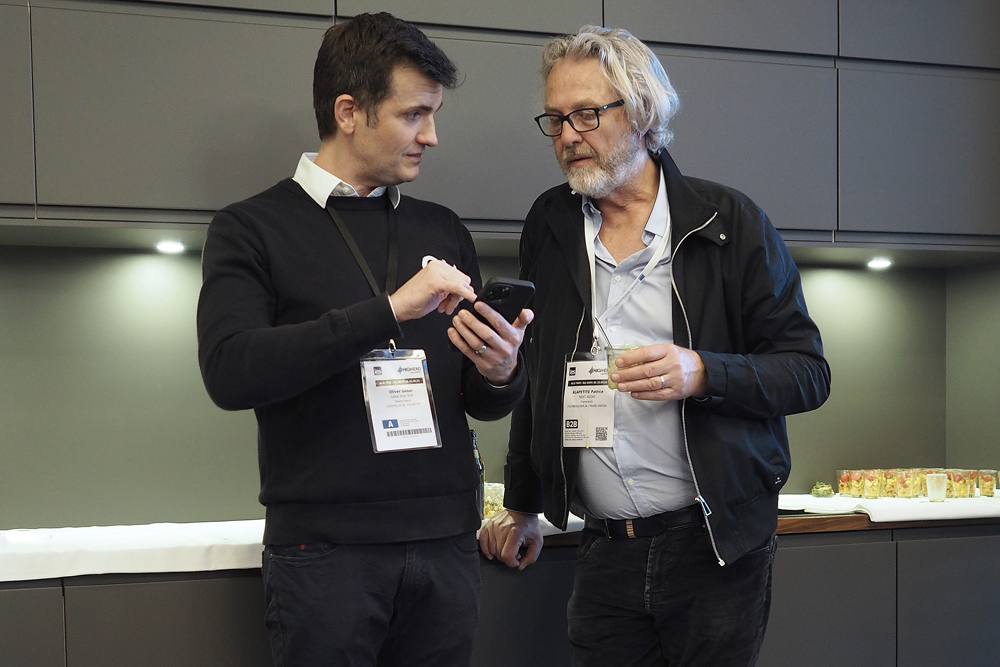 Oliver Göbel (left) mid-discussion with guest
Listening impressions
All three systems sounded absolutely amazing! Effortless, distortion free, full and coherent range, due in great part to the high efficiency of these speakers and the spectacular 8 inch bespoke driver reminiscent of the Altec LE8 or Supravox RTF 215 with their corrugated suspension.
Clearly the design of the crossovers has been optimised for a very linear phase, a difficult task considering the very low frequency at which the midrange driver crosses over to the bespoke AMT tweeter at 1600 Hz, an octave below where I stitch my drivers in my own designs, and bang pang in the middle of where the human ear is the most sensible. Chapeau Monsieur!
Another consequence of both the stiff suspension and the high efficiency, is the speed of these speakers, what used to be called slew rate for measuring amplifiers and a term I have been reviving over the last few years. Slew rate is another way to indirectly measure phase and group delay, as per my ex colleague, the late Siegfried Linkwitz.
Of all three systems, the middle one using the Riviera electronics driving the Divin Noblesse speaker and matching Divin Sovereign subwoofers was, in my humble and very personal opinion, the one system I could happily live with forever if I could afford it. I'd be there, in that elusive old barn in the French countryside surrounded by my own vineyard…
That system had a degree of coherence, full bandwidth and minuscule distortion that was second to none. I almost forgot to enjoy that lovely German wine I indulged in throughout the evening…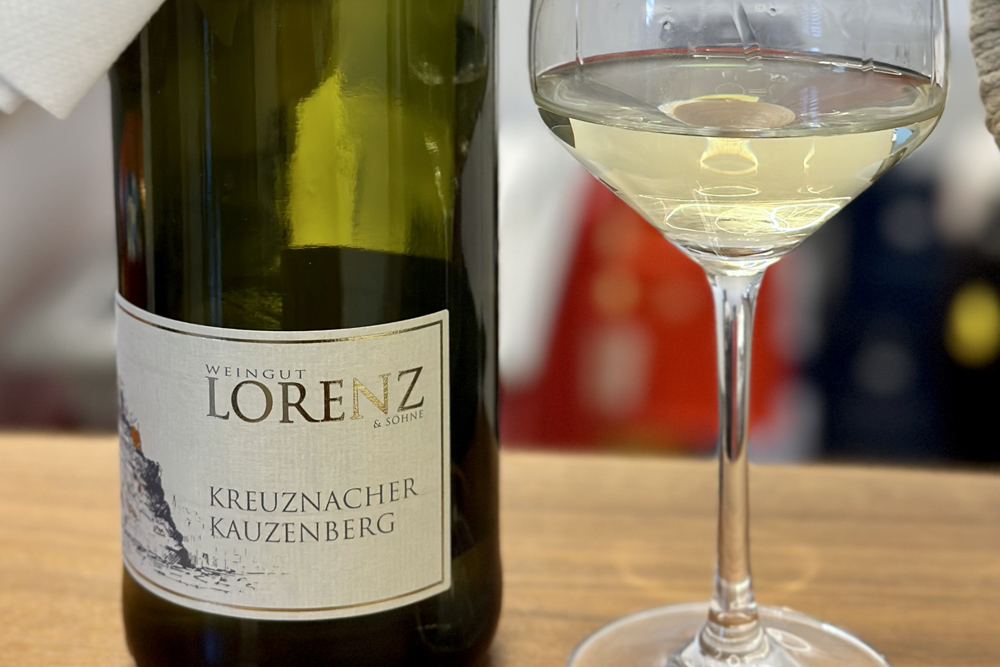 Conclusion
I would like to thank again Oliver and Caroline Göbel for their great hospitality and all the information they happily shared with us during the event and afterwards via email.
Göbel speakers are not only designed and manufactured to the highest standards, but they also render the music they are fed with in an effortless, accurate and still musical way, a treat that not every high end manufacturer can claim…
"I'll be back" as they say in the movie…
… Jean-Marie Lière
www.soundstageaustralia.com
Göbel High End
Australian Distributor: Lux Audio
+61 (0) 431 820 432
www.luxaudio.com.au
Göbel Audio GmbH
Roedersteinstr. 9
84034 Landshut
Germany
+49 (0) 871 97 511 657
www.goebel-highend.de