For many audio enthusiasts, luxury cars and high-end audio are symbiotic… like Astaire and Rogers, or Lennon and Mc Cartney, Fripp and Eno. Like the almost interdependent association between the auto and the audio, others also stretch these relationships to cameras, watches and even high-end writing utensils. However, think unrivalled luxury in the auto industry and the name Bentley draws gasps of awe and lustful admiration. The über luxury brand has had an association with Naim Audio for round about 10 years now, with the quintessential British brand supplying bespoke electronics for Bentley Motors' top models. BusiSoft AV, Australian distributor for Naim Audio and Focal among many other high-end brands, staged an event at Melbourne's Bentley showroom to showcase Naim's Statement preamplifier and power amplifier masterpiece to dealers and their selected customers and also to introduce these flagship products to an affluent new audience.
In a dedicated section of the spacious Bentley showroom, the audio display featured in domination the towering Naim Statement NAC S1 preamplifier and NAP S1 monoblock amplifiers… front and centre. Flanking this electronic monolith (the three items marry as one aesthetically and physically) were the equally impressive Focal Maestro Utopia speakers in striking white gloss. Guests were welcomed by BusiSoft's Founder George Poutakidis who introduced himself and the company prior to handing over to Paul Bennett and Mark Raggett from Naim Audio who provided insights into both the company's history and its involvement with Bentley.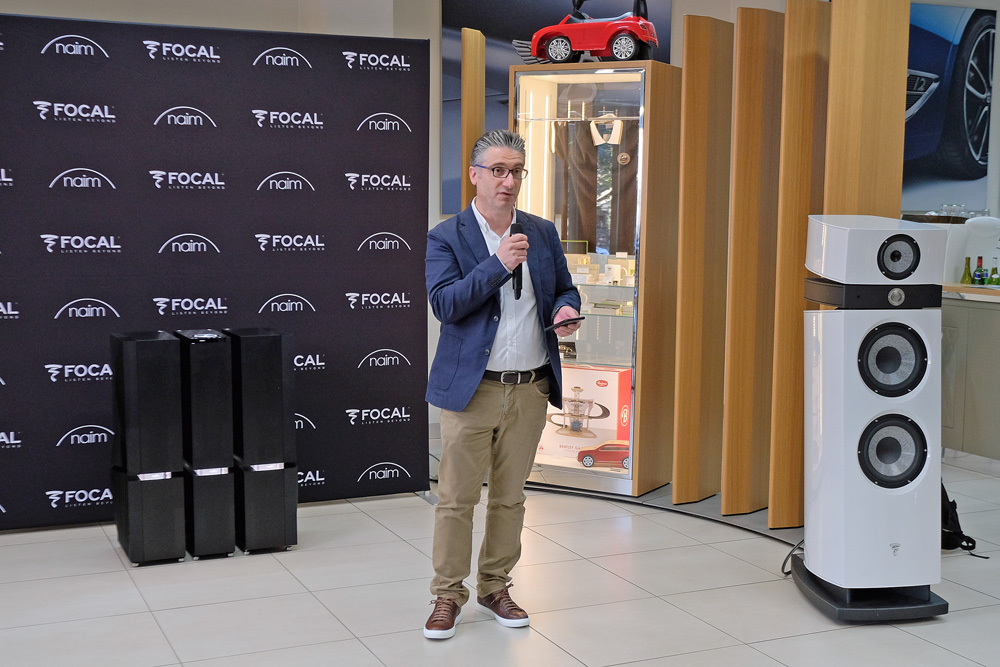 After a short intro, Paul Bennett told the audience that, frankly, "If you listen to the gear, then we've failed. We're all about the music… we're in the business of making time machines and at Naim we'd like to think we've achieved that." Bennett then went on to introduce Raggett, one of Naim's longest-standing employees who has been with the company for over 30 years. Raggett provided informative facts about Naim's nascent 1973 days and its growth over the decades to the sizeable company it is today. He also explained the challenges Naim Audio faced – after being chosen by Bentley, over other competing British companies, to design a bespoke in-car audio system– in engineering what was to be, at the time, the most powerful audio system in the world for an in-car environment. Being a home audio specialist, the company had no experience in that space, and in fact, as Bentley personnel put it, "no one has heard of Naim…". Given the challenge, Naim's engineers adapted and developed technologies to accommodate Bentley Motors' mandate with remarkable success.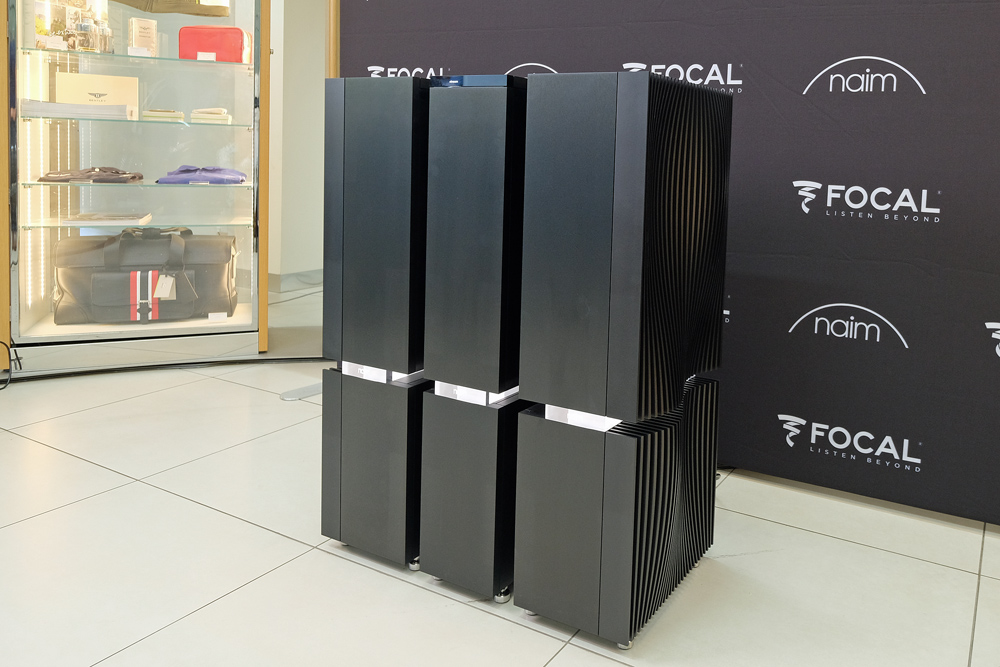 But the challenge went both ways. Naim challenged Bentley to modify its car batteries, wiring looms, acoustic space treatment and even vehicles' windows and associated motors. Both the engineering teams reworking of designs in order to extend their products' core strengths – Bentley adjusting construction and component parameters and Naim developing designs into the new space – resulted in an extraordinary high-end audio system for Bentley Motors' revered motor vehicle creations.
Post the presentation, we were treated to a variety of music via the system at hand which also included the ND 555 streamer with 555 PS DR external power supply and Naim music server. While the environment was not conducive to critical listening, the audio performance bore the marks of excellence in terms of sheer musical detail, bass power and dynamic expression.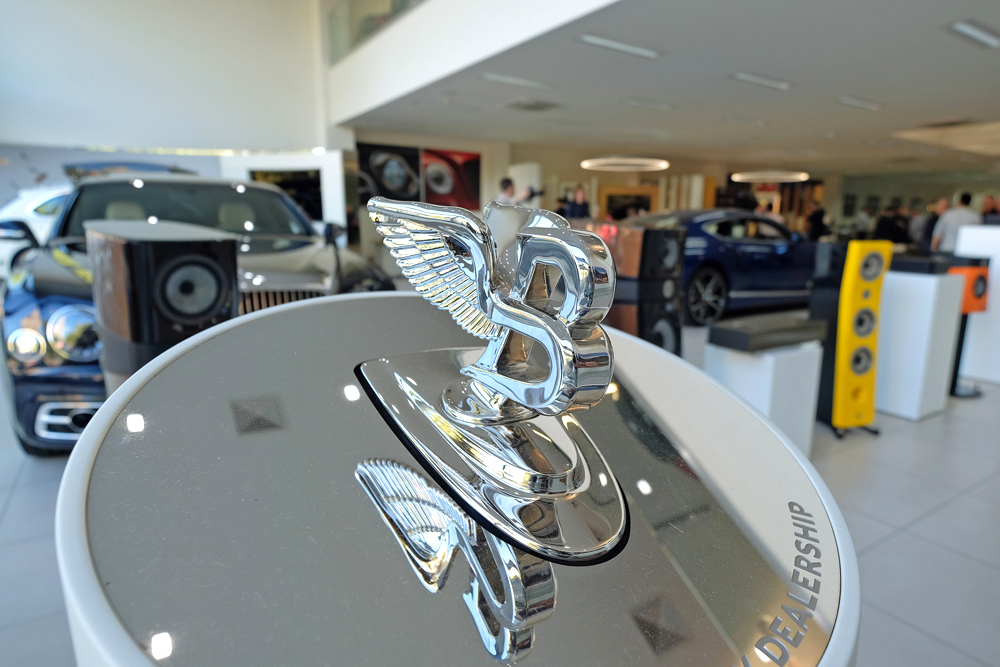 Of course, the tunes were enjoyed even more courtesy of the excellent wines provided by Armadale Cellars. Principal Philip Hude gave a short but extremely informative presentation introducing his produce, the grape types he most treasures and his recommendations from his superb stable.
BusiSoft AV Founder George Poutakidis summarised the gist of the event thus, "We wanted to attract the luxury buyer outside of the traditional audio customers. Even one percent of the luxury car market is bigger than 100 percent of the audiophile market. As far as the Naim Statement, this is the most impressive pre/power product both aesthetically and from a sonic point of view. As are these Bentley cars which are not only beautiful but also excel in performance too. And teamed with Focal, both these brands are luxury, they're both handcrafted in the country of origin and they're both striking in design. They are unique."
… Edgar Kramer
This email address is being protected from spambots. You need JavaScript enabled to view it.
Naim Statement NAC S1 Preamplifier and NAP S1 Monoblock Amplifiers
Price: NAC 1 AU$120,000, NAP 1 AU$102,500 each (AU$205,000 stereo pair)
Australian Distributor: BusiSoft AV
+61 3 9810 2900
www.busisoft.com.au
Bentley Melbourne
6 Hood Street
Collingwood 3066
Melbourne Australia
+61 3 9848 9000
melbourne.bentleymotors.com/au/en/home