Who's up for a bit of Hi-Fi dominance and submission? On 15 October, at Audio Connection in Sydney, attendees got to experience exactly that in the form of the latest Nordost QRT devices, the QPoint Resonance Synchronizer and QSource Linear Power Supply. First introduced at Munich earlier this year, the devices have already garnered a number of awards for their ability to "synchronize" the performance of individual system components. The indefatigable Björn Bengtsson of the Nordost design team was on hand, en-route to the Melbourne Hi-Fi Show 2019, to demonstrate the rather obvious improvements these products bring to even the highest calibre of audio systems.
In-sync
While the massively engineered D'Agostino Progression monoblocks used on the night are renowned for their iron-fisted control and authority, it was soon shown that even these overlord amplifiers could be whipped into better musical shape by the application of these ingenious devices from Nordost.
Now let's run the voodoo down at the outset. There is significant science behind the Nordost QPoint and QSource. As recognised by Nigel Ng of Advance Audio Australia, Nordost's Australian distributor, Bengtsson is uniquely positioned to explain "the theory" being involved in the development of these products from their R&D stages to this compelling presentation. Indeed, Nordost stakes its reputation on nights like these. Says Bengtsson: "At Nordost, when we develop products, we have an internal saying that it has to be demonstrably better otherwise it is not a good product. Because we live through this, we do demo our products".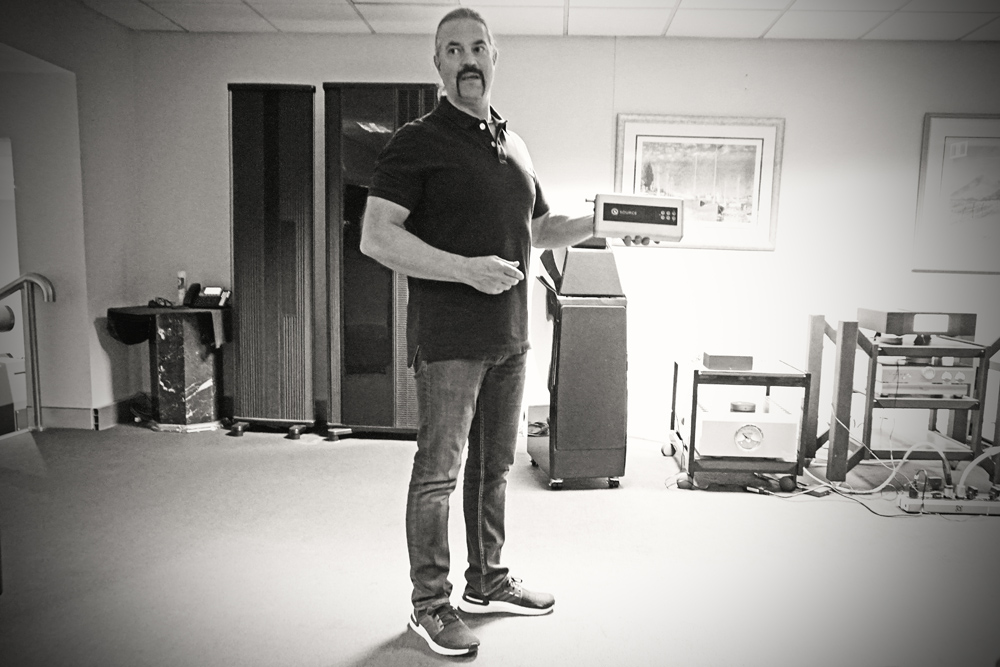 Bjorn Bengtsson tackles audience Qs on QSource & QPoint
The QPoint and QSource are based on the naturally occurring phenomenon known as synchronisation. Bjorn showed the attendees the famous video clip from Harvard University where five metronomes that are totally out of synch soon start to conform or 'synchronise' to the one more dominant metronome. "Long story short, in synch you consume less energy, and therefore it means better precision". And whereas the Nordost QKore 1 parallel grounding unit that I reviewed some time ago (here) worked a treat in purifying the AC domain, Nordost has now come to appreciate that what happens in the DC domain can be very different. Inside most components is a teeming metropolis of disparate parts. Regulators, transformers capacitators, rectifiers, resistors and the like. All mechanically move internally and clatter and rattle against each other thereby making noise: "As soon as you put DC through them they start to resonate. So our idea here is to produce a resonance that is very precise and subtle but stronger than all of the individual parts to dictate a synchronised pattern where the other components can synchronise to because those internal resonances are polluting and introducing a lot of noise".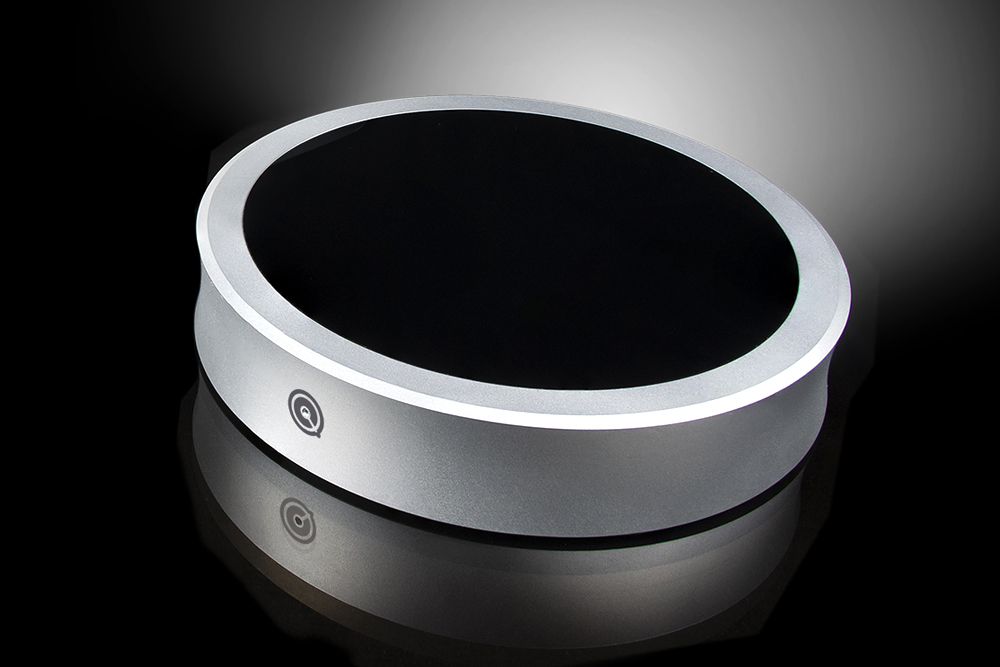 After a couple of pizza runs, the practical demonstration commenced in earnest with the introduction of one of the QPoints underneath the D'Agostino Progression preamplifier, courtesy of Google images, at its identified site of greatest internal parts count or density. The positioning is important. Rather than the power supply: "Go for the busiest area, the most populated". The QSource is a circular puck-like thing which through means of coils and a clock produces an electro-magnetic field by means of which the internal components adopt, or strive to adopt, its dominant pattern or resonance thereby resulting in each element of the equipment coming into line. The result is less energy consumption and the parts work more efficiently, precisely and effectively. Each puck can switch between two slightly different patterns indicated by either a blue or a green light because "some components do react differently and we all hear slightly differently". The synchronisation takes about 10 seconds to get in synch but after 10 minutes you clearly won't want to take it out of the system.
The first recording played through a Roon Nucleus source was a DSD track of Ella Fitzgerald and Louis Armstrong. Lordy, even though I was kicking back at the side of the congregation, the difference was readily apparent – the vocals were far more detailed and nuanced. Both singers' vibrato was much more evident. There was far greater presence and separation. Clarity and coherence were appreciably heightened. True to Nordost form, the effect is incremental and as Bengtsson DJ'd his way through a variety of musical genres from an incredibly moving performance by a Swedish female folk singer singing in her native language to Bryan Ferry to some heavy dub step, the addition of each QPoint led to quite dramatic improvements with noticeable gains in focus, dynamics, and straight out musical engagement. Watching from the side I found it very interesting to observe the attendees' reactions, all agreeing that they were hearing a much more enjoyable version of the same track.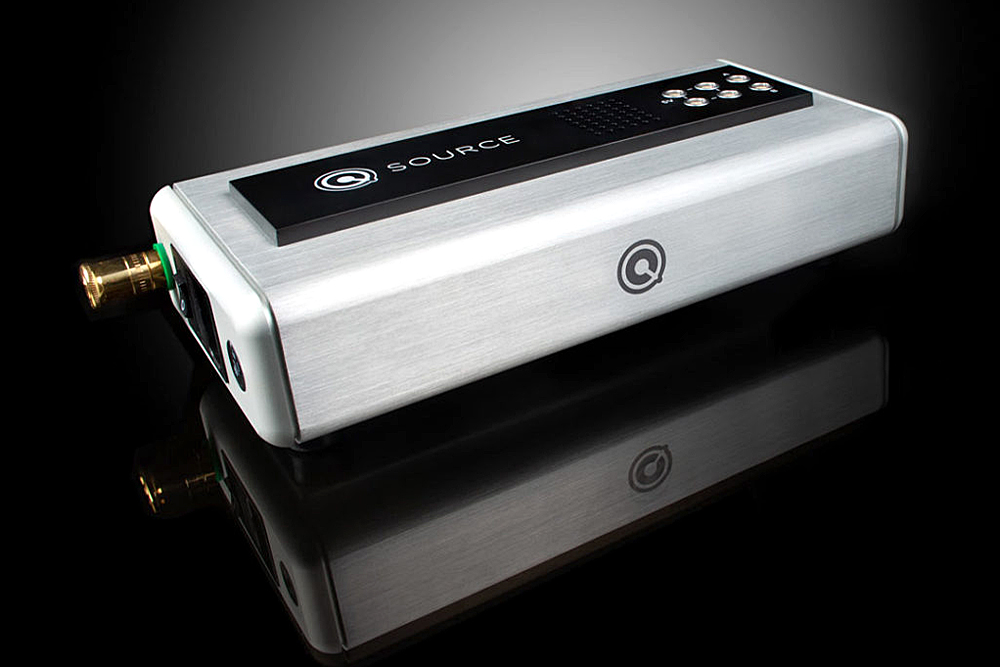 Nordost recommends ultimately using one QPoint per system unit. They each ship with a 5-volt wall-wart switch mode power supply but for best effect Nordost has created the QSource Linear Power Supply. Ironically, as you start to use more QPoints the switch mode power supplies will feed more pollutants back into the system. "We started to realise that systems using more than one QPoint will really benefit from a linear power supply with a very stable voltage output. In addition, that can feed more than one QPoint simultaneously from the same power source. There is a clock in each QPoint and obviously a clock is dependent upon the quality of the power to be as precise as it can be".
The QSource uses a transformer but is fan-less and convection cooled for no added noise. (You could always use some QKones, of course, to raise it up off the carpet for a bit of extra air flow…). Indeed, the whole chassis of the QSource acts as a heat sink. The QSource can drive up to four QPoints at the same time. But in the age of streamers, network switches and small DACs that have external switch mode power supplies, what if you could get rid of all the switch mode power supplies in your set up and replace those too with a high quality linear supply? The QSource has been given two extra variable voltage outputs for just this purpose with a most obvious beneficiary being the Roon Nucleus. Compared to more expensive streamers, the Nucleus is found wanting due to its el cheapo switch mode power supply. Powered by the QSource Linear Power Supply, however, it actually puts in a surprisingly high-end performance.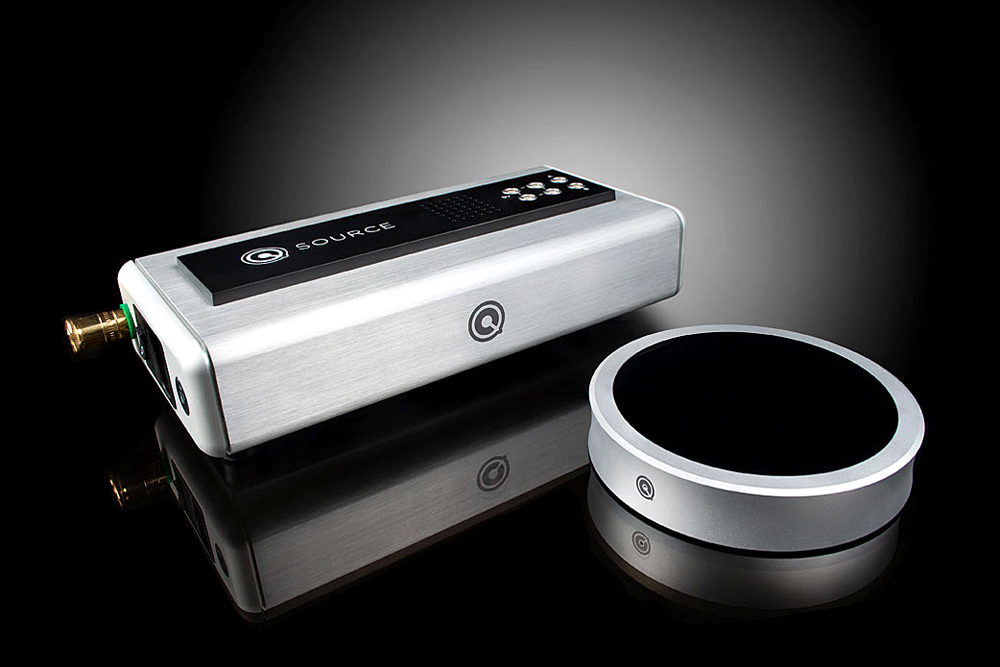 Using the same procedure at matched volume levels, Bengtsson then went on to demonstrate the effectiveness of upgrading to the QSource. When removed, you simply cannot un-hear the musical improvement afforded by the Nordost products. Most noticeable now was the improved bass response which was tighter, deeper, and more rhythmically propulsive. I could swear I could physically hear different rattles in the roof tiles in the ceiling. The sound was more dimensional and 3D palpable with greater layering and delineation of soundstage. I already can't live without a slew of Nordost QRT products in my home system.
Conclusion
Having now experienced the demonstrable benefits of the latest QPoint and QSource in a non-familiar system under show room conditions, hearing that magnitude of improvement under these circumstances, I can't wait to hear what these devices can do in my own home with my system playing the Blue Oyster Cult, of course. "Dominance, submission, radios appear"!
… Peter Katsoolis
www.soundstageaustralia.com
Nordost QSource and QPoint
Price: QPoint AU$1295, QSource AU$4295
Australian Distributor: Advance Audio Australia
+61 2 9561 0799
www.advanceaudio.com.au