PMC is one of the very few loudspeaker companies with wide acclaim and significant market penetration in both the professional and domestic arenas. While the company's top-end SE products have been universally revered, it could be said that their utilitarian, plain purposefulness is PMC's pure expression of function over form. Perfect examples of sonic performance over aesthetic beauty. Now, PMC has launched its most ambitious project and, this time, both the spheres of engineering and design have been thoroughly and forcefully tackled in the visually arresting Fenestria loudspeaker system.
Window of Opportunity
SoundStage! Australia was invited to an evening at Sydney's legendary Studios 301, the venue for the launch of PMC Audio's newest flagship. Just to scratch the surface, artists such as Australia's Jimmy Barnes, Tash Sultana, Guy Sebastian and international artists like Prince, Bruce Springsteen, Lady Gaga, Maroon 5, Rihanna and Justin Bieber have used the facility as a hub for the creation of some of the biggest-selling music of all time.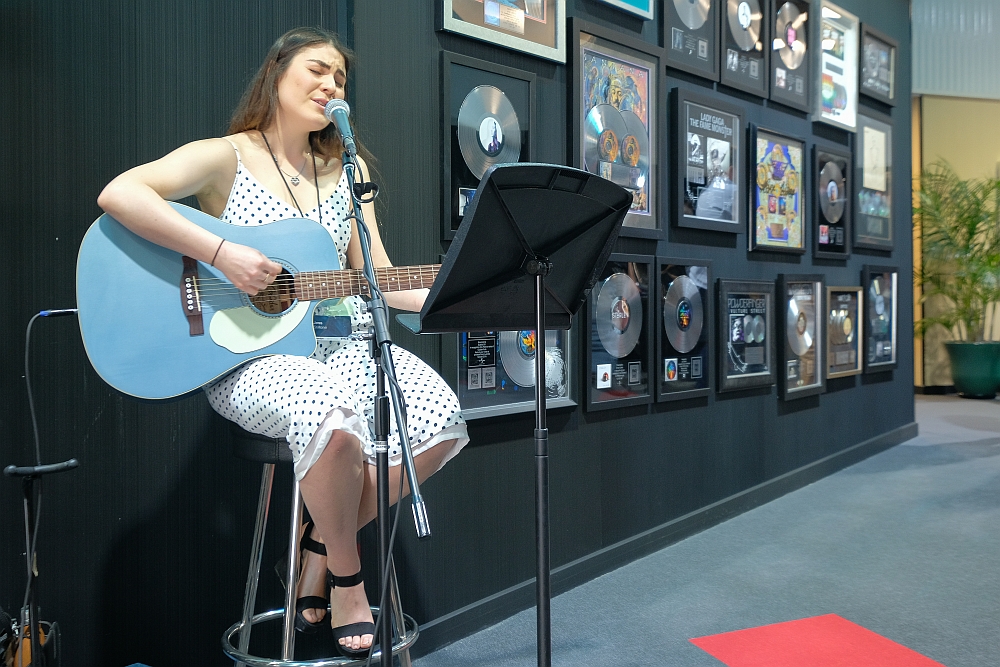 The talented Jess Stillone strummin' it
Aside from the internationally famous studio production and mastering facilities, the venue is often used as an events space so it's well set-up for product launches of this type. After some nibbles, a lager or three and a short catch-up with industry colleagues – all while accompanied by sweet live tunes by Jess Stillone – we were then ushered into the first of the studios on our journey to the ultimate destination – a full view into PMC's new Fenestria.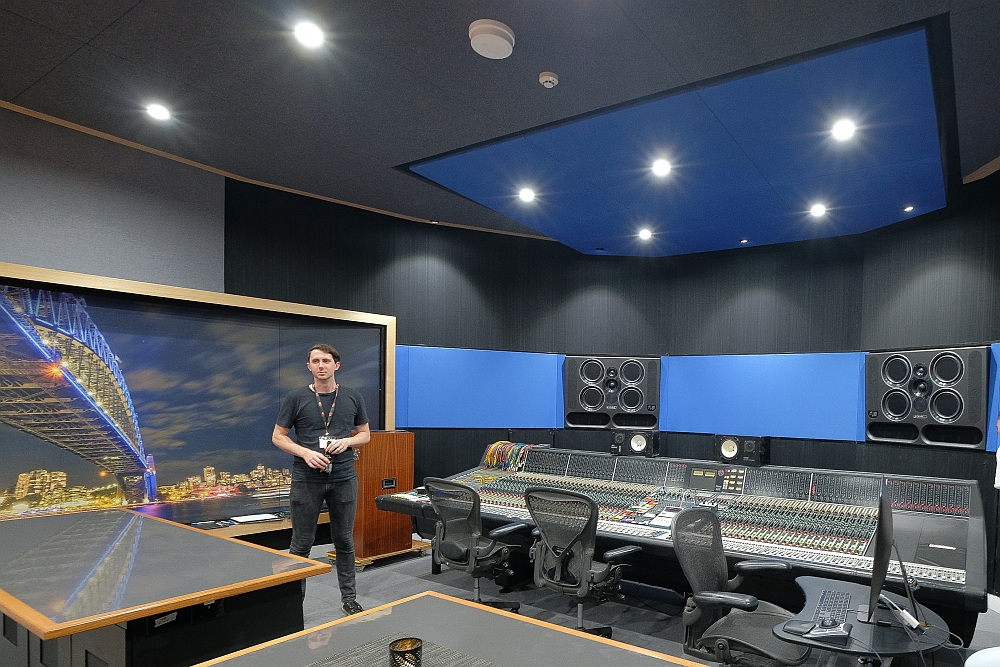 Recording Engineer Owen Butcher runs through Studio 1's machinations
In Studio 1 Chris Allen, PMC's International Business Development Manager Pro, introduced Recording Engineer Owen Butcher who traced through the room's bespoke state-of-the-art acoustic construction designed by Jochen Veith, whose talents also encompass pro-level photography as illustrated by large photo panels around the studio. Studio 1 sits on substantial concrete blocks and its walls are angled to focus the sound "into the room". Extensive acoustic treatment and "reflection manipulation" by way of diffusor/absorptive panels and Helmholtz resonators has been employed. Butcher then presented the awesome Neve 88R 72-channel console and flush-mounted PMC QB1A top professional active monitoring system as the crowning glory of this unique creative environment. We were briefly treated to some music where the system displayed superb resolution and super-extended bass.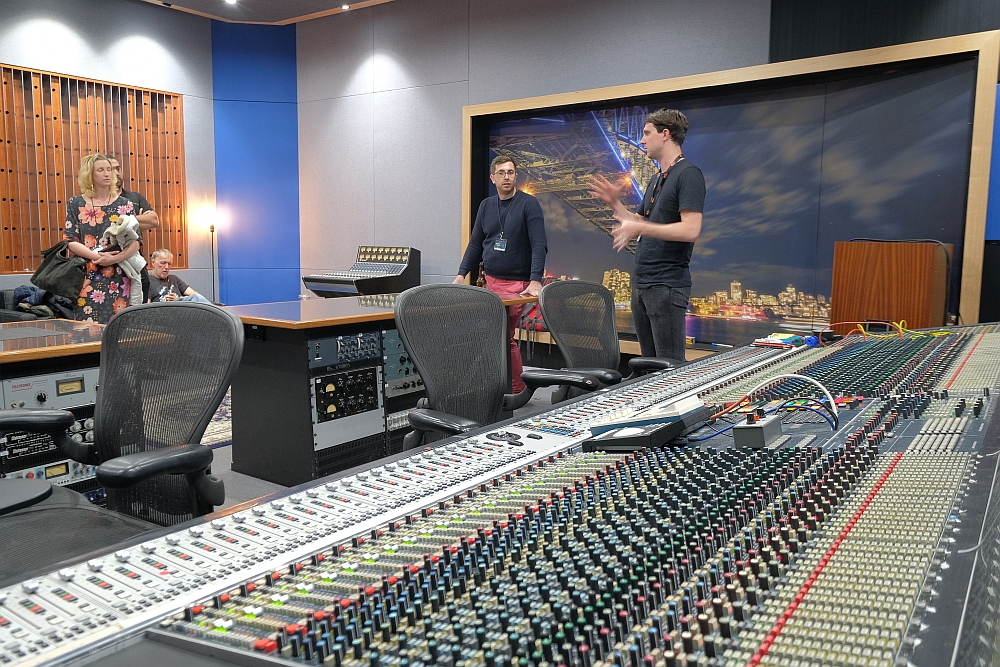 Moving further into the inner sanctum saw us arriving in Studio 3 which is set-up for multi-channel production. Again, PMC speakers all-round via MB3 XBD-As. Music here was compared in stereo and multi-channel versions. The system was smooth, yet crystal clear and also displayed a solidly deep bass register. While the multi-channel music was all-enveloping, of course, the stereo playback via the highly accurate PMC monitoring system also communicated a large sense of space and ambient cues.
Next, we were led into one of the mastering studios, Studio 9, where Mastering Engineer Andrew Edgson walked us through some of the challenges that can be encountered when providing a music mastering service. I pondered about the fine balancing act that must be required to fulfil the expectations of the musicians, the producers and the record company executives while, at the same time, aiming to derive an outcome that is satisfactory to Edgson himself, as the engineer. Ultimately of course, Edgson's efforts in conjunction with the music content itself, must be fulfilling for the music lover/end-user.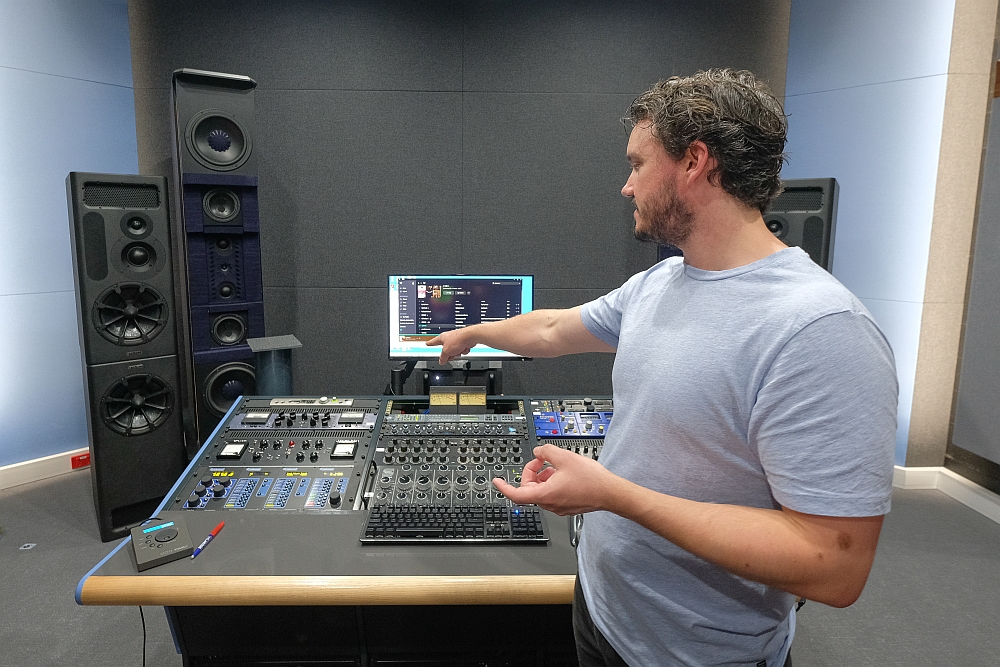 Mastering Engineer Andrew Edgson talked about the mastering process and A/B-ed Duntech and PMC speakers
In this studio, A/B-ing music between Australia's somewhat-long-in-the-tooth Duntech Sovereigns and PMC's MB3 XBD-As with matching subwoofer showed the latter's fuller bass and more solid and present midrange out-gunning the Pass Labs-driven Sovereigns.
The final leg of the tour saw us in the massive live recording open space (annexe to Studio 1) where Australian PMC distributor Interdyn, in conjunction with retailer the Life Style Store, presented Fenestria (AU$89,990).
Chris Allen ran through a presentation depicting the various – and rather considerable – technologies and engineering philosophies making up this highly advanced, refined design. Allen opened with, "At PMC we are super passionate about sound and music. Here, we are bringing our best ever loudspeaker design and, we believe, one of the very best in the world."
The Fenestria loudspeakers feature all-new drivers and PMC's preferred transmission line bass augmentation system which it terms Advanced Transmission Line (ATL). "We've used aerodynamic technologies derived from Formula 1 to design our ATL system…" said Allen. The long transmission line is terminated via what PMC calls 'Laminair', a system of vents designed to provide controlled air flow, with the claimed result of tighter, more defined and deeper bass frequencies.
The ATL-augmented low-end is supported via four 165mm transverse-weave multi-cellular/carbon fibre bass drivers per cabinet which load into the ATL system to vent forward into the room. The midrange and tweeter drivers are housed in a machined aluminium housing, termed the 'Nest' which is decoupled from the main enclosure via four isolation mounts in order to avoid vibrational distortion. The 75mm midrange soft dome has been engineered to provide high power, low distortion and wide dispersion. The Nest array's tweeter is a 19.5mm 'Sonomex' Ferro-fluid cooled soft dome with large neodymium magnet system. It sits on an Aureole isolation gasket mount for further vibrational isolation.
Similar isolation techniques have been applied to the crossover which sits within the speakers' solid plinth and is decoupled from the main enclosure. Further, ten anti-vibration points have been embedded in the crossover housing at key points. The crossover provides a degree of room-tuning via a subtle equalisation system.
The speaker enclosure itself is equally heroic in construction. The cabinet proper has been designed to be solid and non-resonant, yet further resonance control measures have been applied by way of additional panelling, or 'Planar Wings'. Tuned mass damping is a principle which is used in the construction of tall buildings in order to control sway and earthquake shake. The Planar Wings attached to the sides of the Fenestria act in a similar fashion by resonating in opposition to the main cabinet, therefore cancelling resonant vibration. The Planar Wings are available in 'Silk White' and a number of high quality wood finishes.
The Fenestria's frequency response has been quoted at ranging from 23Hz to 25kHz (no parameters) while the impedance is a nominal 4 ohms. Sensitivity is about average at 86dB at 1 watt/1m. In this writer's opinion, a powerful amplifier capable of good current output would be the best match.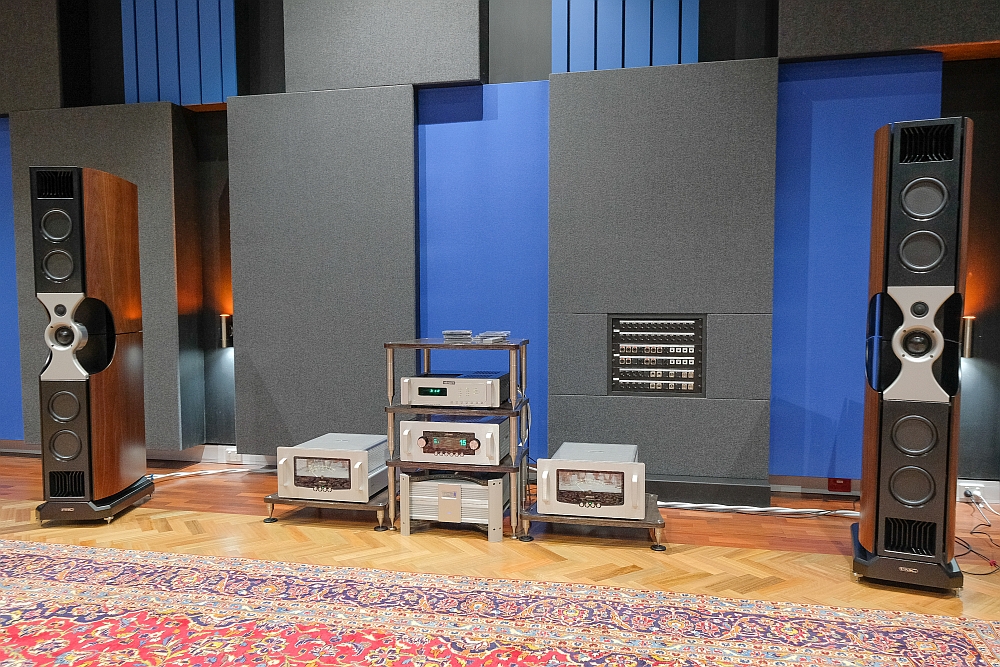 Post-presentation we were treated to a listening session with a variety of music genres. Driven via Audio Research electronics – featuring the stunning new 160M monoblocks – the Fenestria loudspeakers sounded powerful, detailed and with superbly extended bass. The configuration of the tweeter and midrange within the isolated 'Nest' promises excellent soundfield performance with, potentially, a wide and deep soundstage and well-focused, precise imaging.
On a very interesting side note, Vinod Christie-David from the Life Style Store mentioned the imminent opening of two PMC-dedicated auditioning studios at the Parramatta-based retailer. There, customers will be able to experience much of the PMC consumer range, including the Fenestria, in the comfort of well-appointed listening studios. We look forward to sampling the audio delights there soon.
Conclusion
PMC's reputation in the professional landscape is enviable and staging the launch of the company's flagship consumer product (which also bears obvious pro market suitability) at Studios 301, one of the world's best, will serve to further engrain the brand's appeal across both spaces.
At the end of the day, whether pro or consumer, the equipment is the servant of art and that can be as universally beautiful as music heard through an open window.
… Edgar Kramer
Editor-in-Chief
This email address is being protected from spambots. You need JavaScript enabled to view it.
PMC Fenestra Loudspeakers
Price: AU$89,990
Australian Distributor: Interdyn
+61 3 9426 3600
www.interdyn.com.au