As you wind your Fiat (or Maserati, wishfully) through the snaking and narrow byways of the glorious olive tree-speckled Tuscan countryside about 45 minutes from Florence's centre, you'll arrive at the typically quaint village of Montespertoli. There, in a small industrial park, you'll find Gold Note, a quintessentially Italian audio company creating products spanning the entire gamut of the audio chain from source to speakers. Of course, cabling is required too, as is an attractive audio rack to sit components on – see the gorgeous Galileo audio racking system. Full solution? No, actually I'm just short – the company now produces a growing, beautifully presented and expertly mastered, line of recordings on both vinyl and CD.
And yes, quintessentially Italian because Gold Note's offerings are distinctively designed and impeccably finished using a variety of quality materials in the fashion of Italy's irrefutable and unmatched reputation for elegance and style. From fashion to motor cars to electronics and more, the design aspect – on occasion some may even say beautiful eccentricity – of Italian products is gobsmacking and uniquely… arresting.
Our host, Maurizio Aterini, Gold Note's head man and production engineer, collected us from Firenze Station, in the heart of the city, and on the way to the factory provided some entertaining insights into this most interesting of companies. We were told Gold Note had been providing substantial OEM work for a number of high profile companies – although less so right now as Gold Note's own products have had a marked increase in demand around the world, placing added Gold Note-branded demand on production. In fact, the company has seen steady growth to the point that it's had to take-up a nearby factory (100 metres down the road) in order to accommodate its growing inventory of machining equipment including advanced DMC CNC units. These are capable of loading a variety of tools and cutters depending on the 3D model CAD and CAM software in operation at any given time.
Tricked out by subtly changing LED colour lighting, the stairwell behind the main entrance leads the visitor to a mid-sized demo room where Aterini and the Gold Note team can spend time tweaking and tuning in an environment resembling an average lounge room, both in terms of comfort and its acoustics. The space is also used for product demonstrations to customers and visitors. It was there that we met Tommaso Dolfi Marketing Manager who joined us on the tour.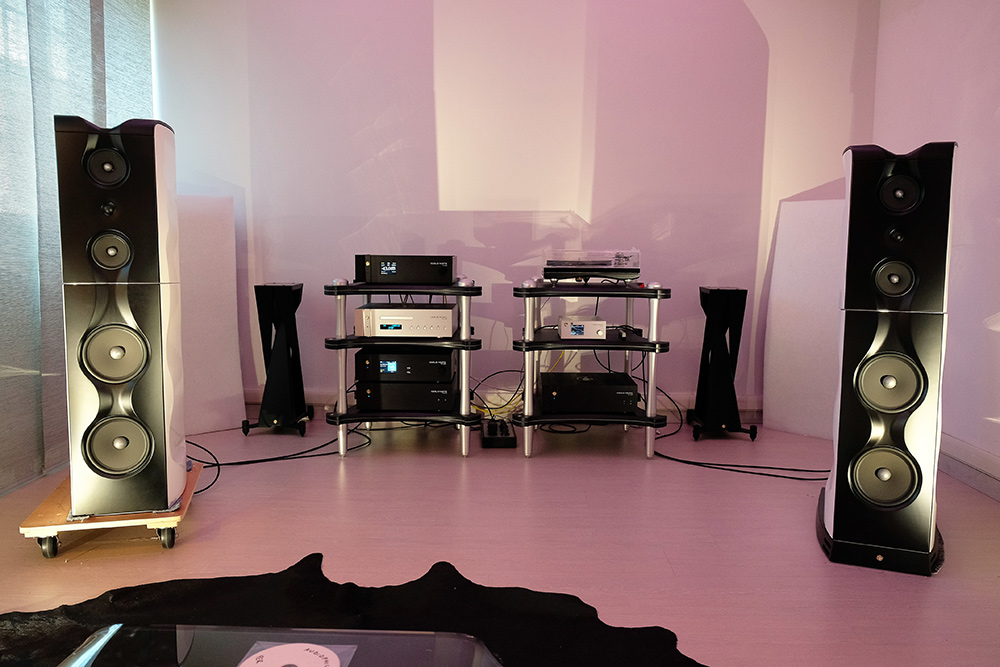 The system featured the relatively new XS-85 large floorstanding speaker, a tower with a D'Appolito configuration in MTM on its top section (twin SEAS 150mm Nextel drivers and a German Ehmann & Partner 28mm soft silk dome tweeter) and twin 220mm bass drivers in a sculpted profile offering subtle 'horn loading'. The sound was smooth, yet detailed, with plenty of heft and body throughout the midrange, all grounded by a solid bass register that, given a larger environment, would be sure to propagate to room-shaking levels. The finish looked absolutely top-notch and I was told involves many stages of curing and polishing to achieve its extraordinary lustre. The XS-85s were powered via Gold Note's top-range 1000-series electronics and all hooked up via Gold Note's own cables.
Worthy of further commendation is Gold Note's ability to control just about every aspect of production. Aside from the wide product coverage, Gold Note produces its own aluminium chassis (and also offers this service to other high-tech industries, a measure of the high standard achieved at the Gold Note metalworks), all the extensive metalwork involved in the flagship soon-to-be-released XS-87 loudspeaker and is now also manufacturing its own high quality binding posts for use in its expanding loudspeaker range.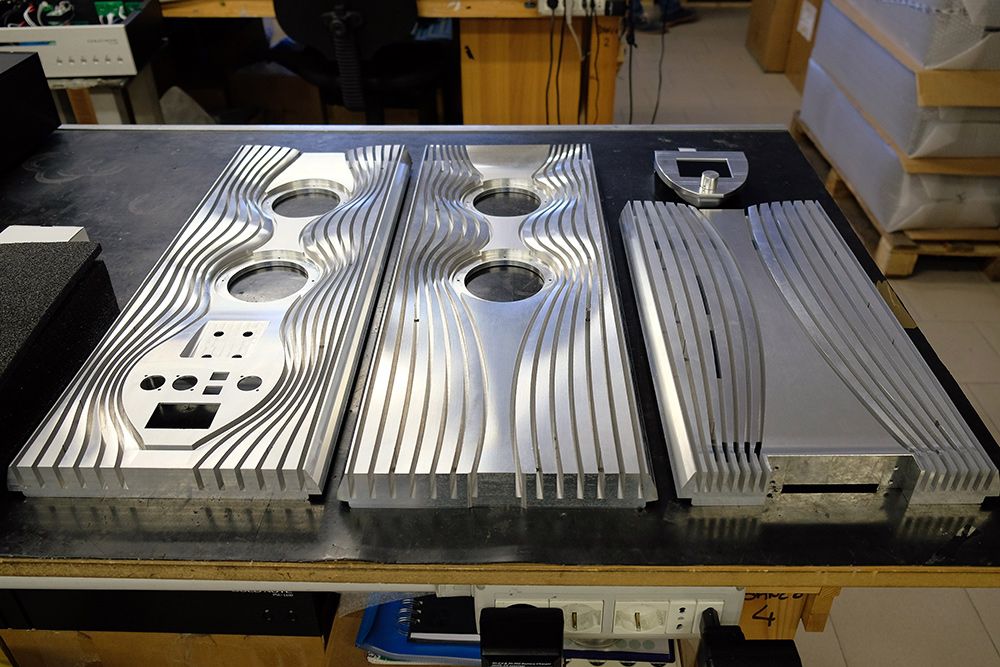 The main development and testing areas are well organised spaces – even though even here the tightness of paraphernalia would suggest Gold Note is outgrowing this facility – and there are efficient work spaces and systems in place. Of note, pardon the pun, is a custom-designed computer software and multi-channel testing device that makes it a breeze for a technician to establish viability and performance, under test, of 24 units at a time. Further, it measures components to reference curve levels in around two minutes when they are then set-up for a 24 hour burn-in and subsequently re-tested. The effectiveness and efficiency of this Gold Note-designed program has seen serious OEM interest. Henry Ford eat your heart out.
The saying goes that pictures speak a thousand words. Without further ado, below is a rather telling story through pictures of a company that is steadfastly growing while enjoying tremendous – and deserved – success by offering a variety of excellent products encompassing the entire audio chain and beyond. Pure Gold.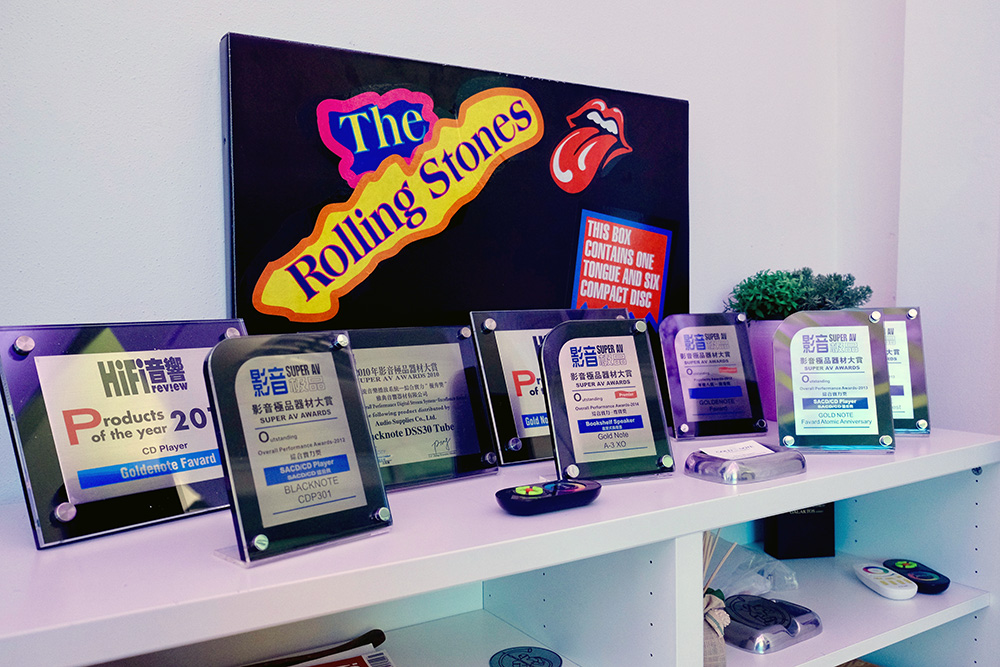 Proudly displayed – Gold Note has received many product awards from around the world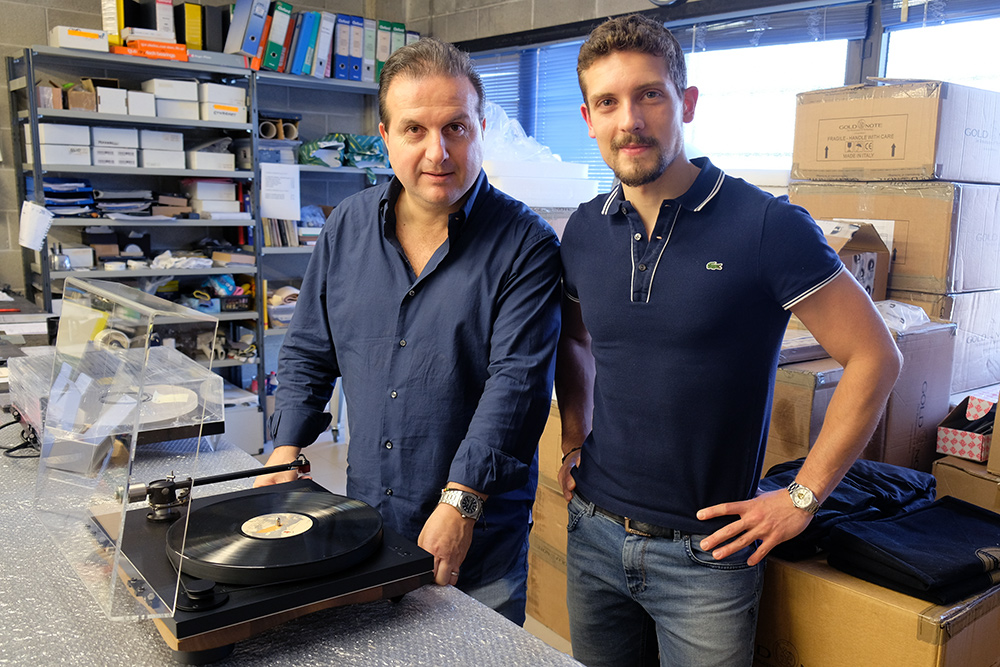 Maurizio Aterini and Tommaso Dolfi with the new Pianosa turntable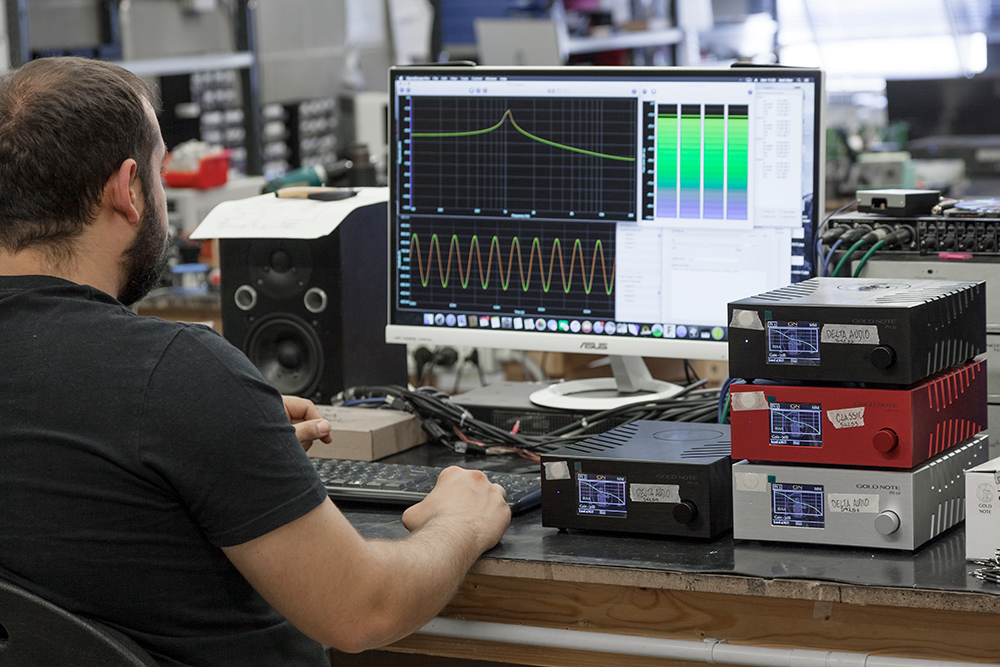 In the testing area, Stefano is performing routine quality controls on a batch of PH-10 phono stages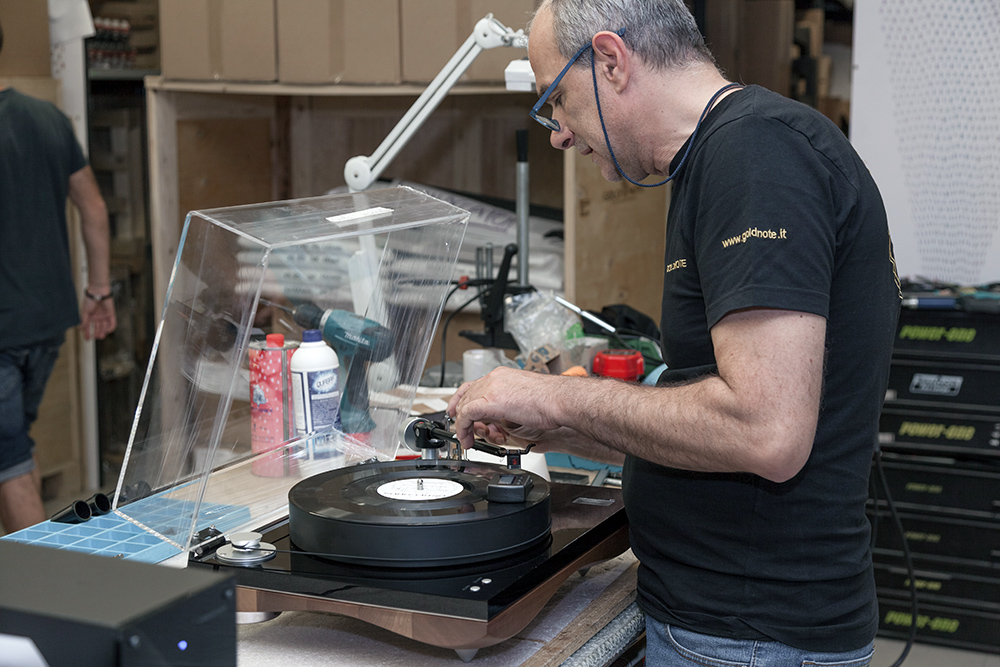 Garlo checks the tonearm mounted on a Mediterraneo turntable (all components are checked one by one)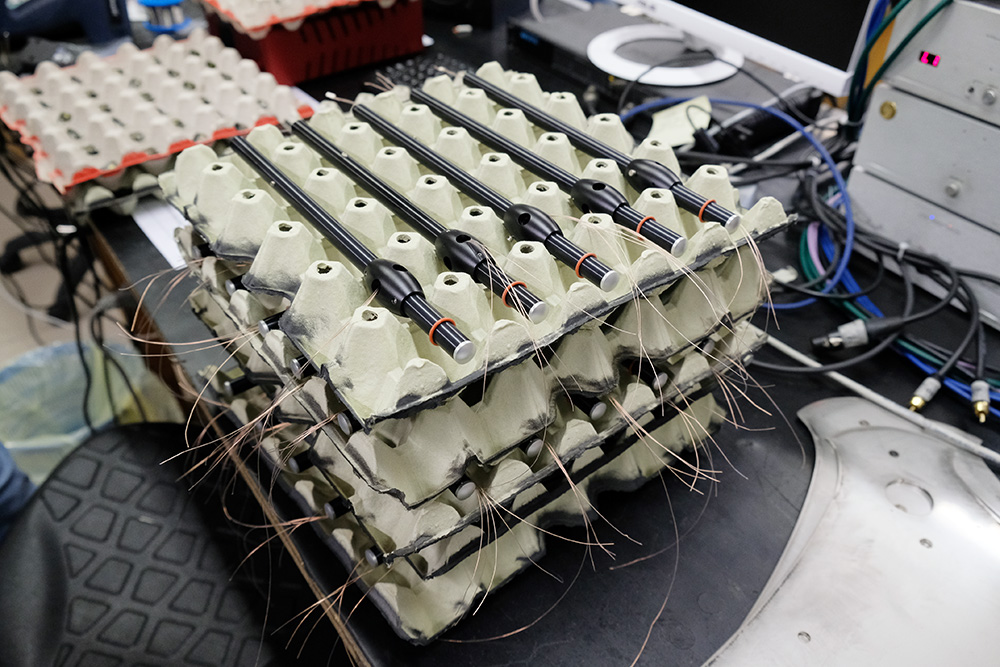 Great use of egg cartons – freshly-produced arms...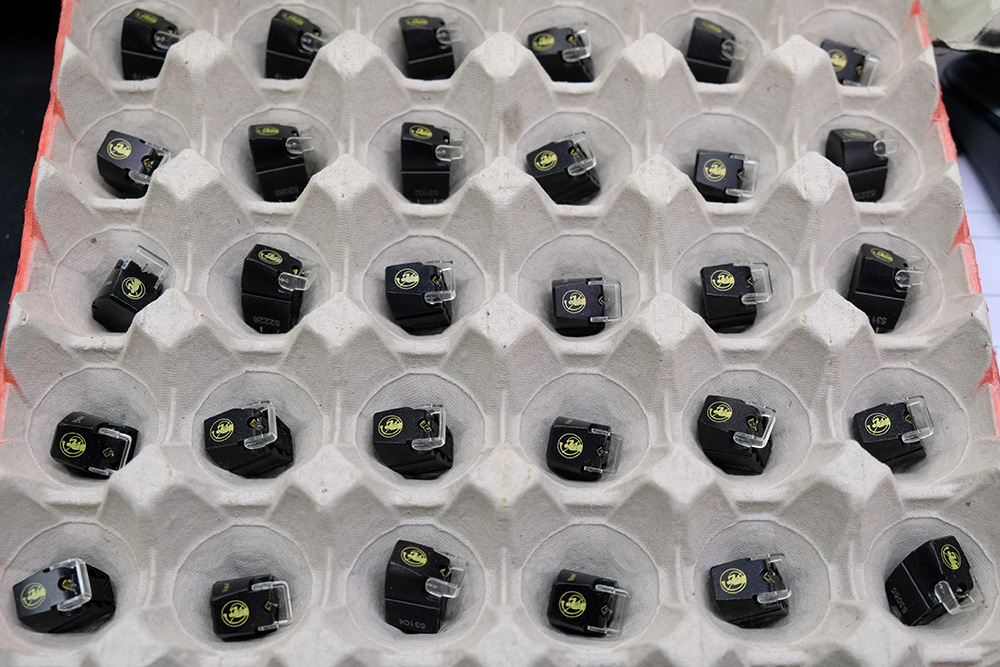 ... and cartridges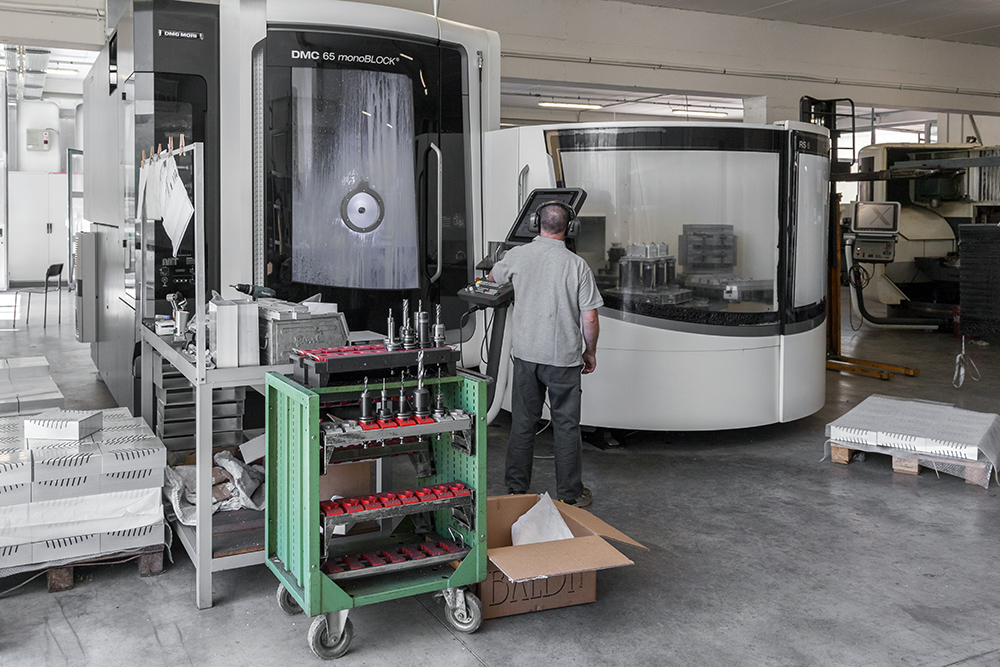 Giorgio working at the pallet CNC milling machine to sculpt the 'gills' on PH-10s


Yet more milling equipment makes up the machining inventory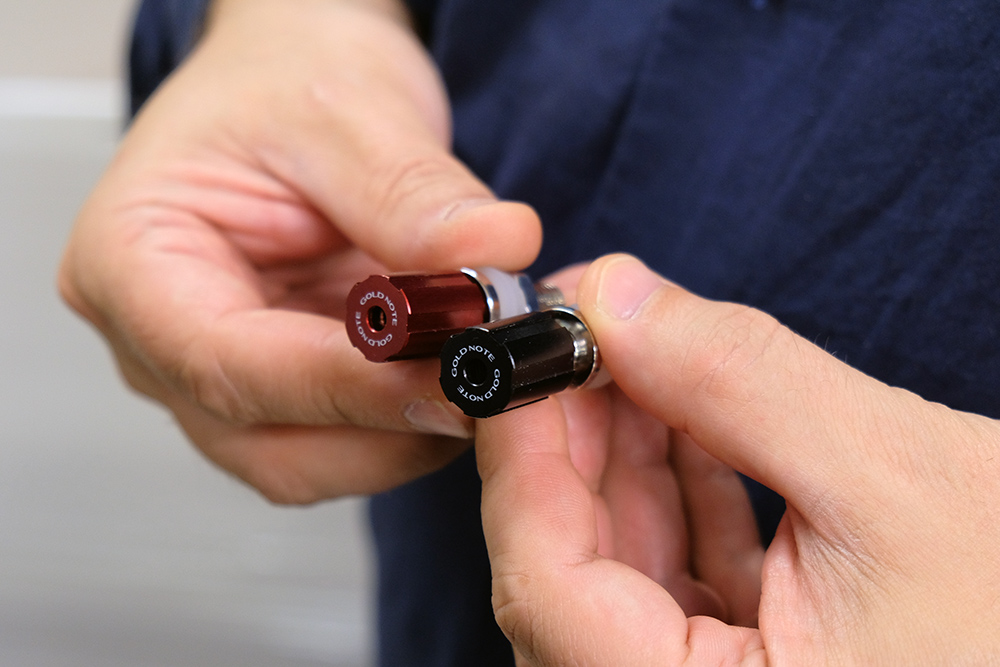 Gold Note's own machined speaker binding posts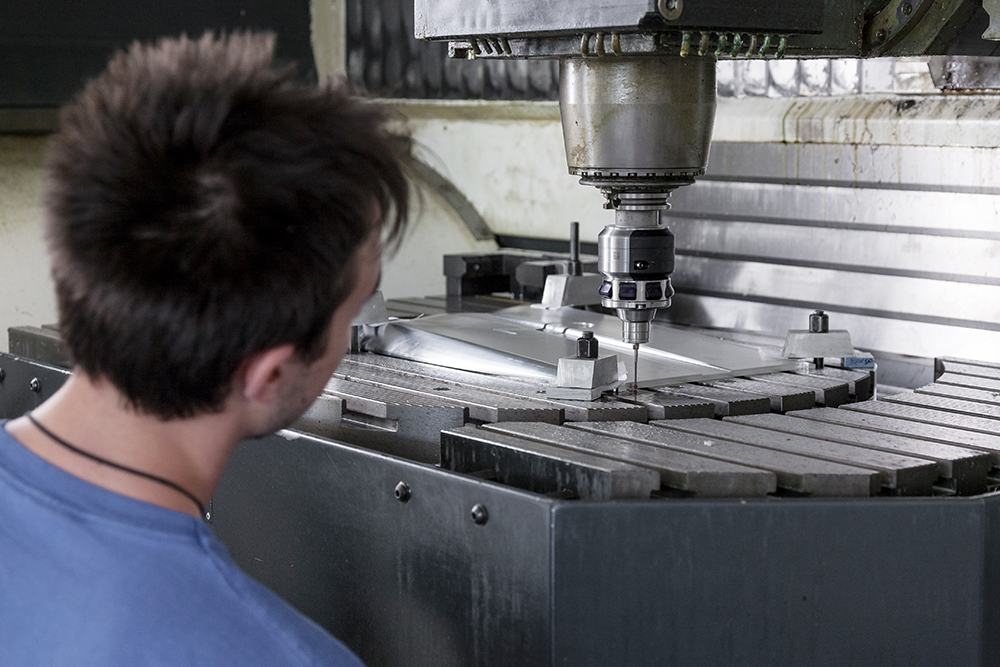 Simone setting up the CNC milling machine to refine the top plate of the XS-87 loudspeaker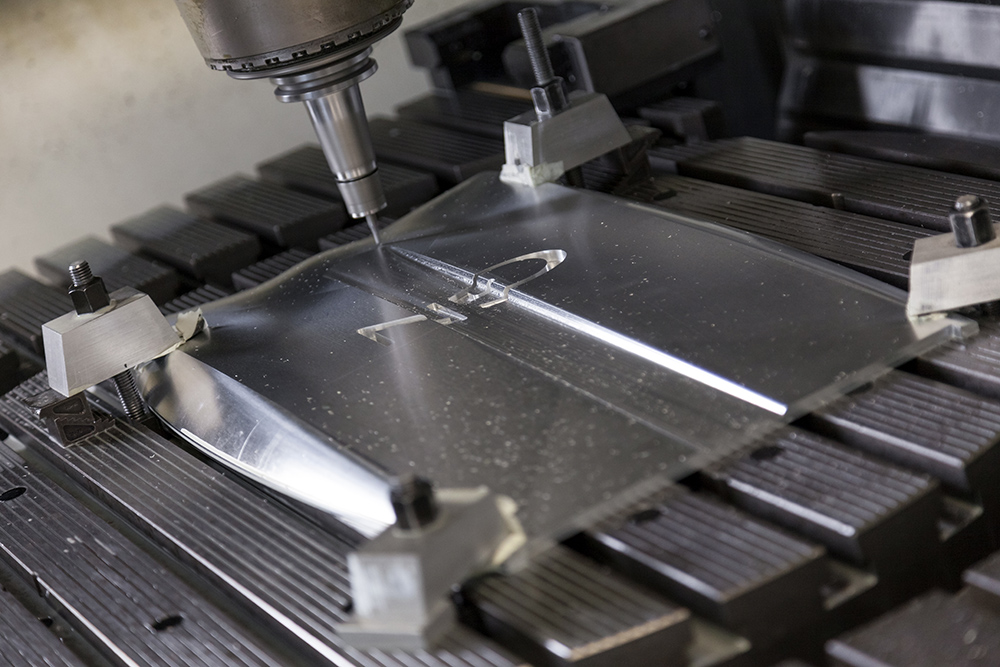 The Gold Note logo being machined into a chassis panel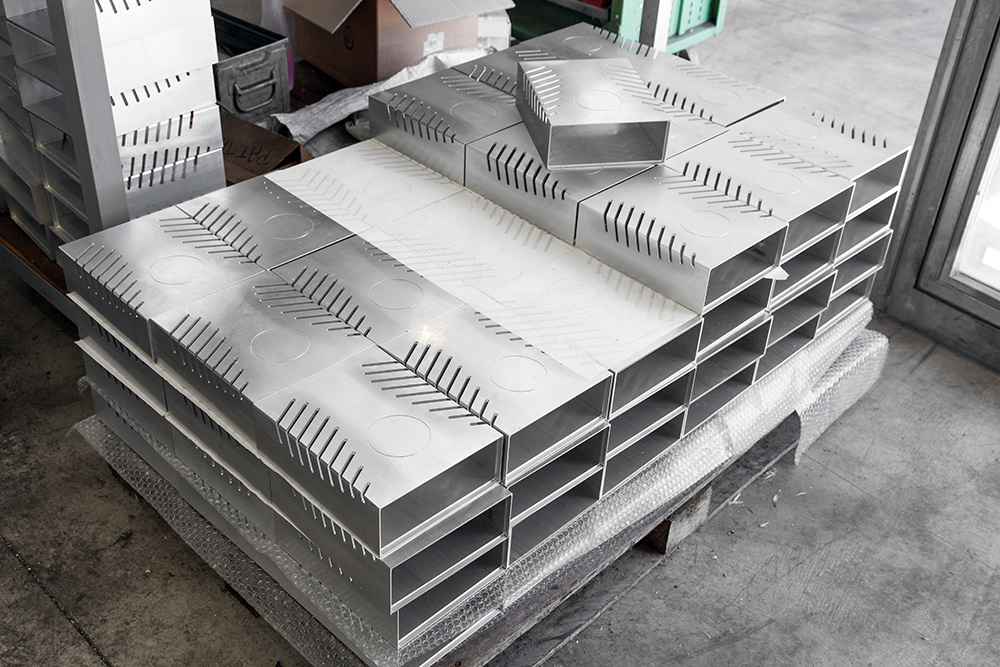 Classy chassis and panels freshly machined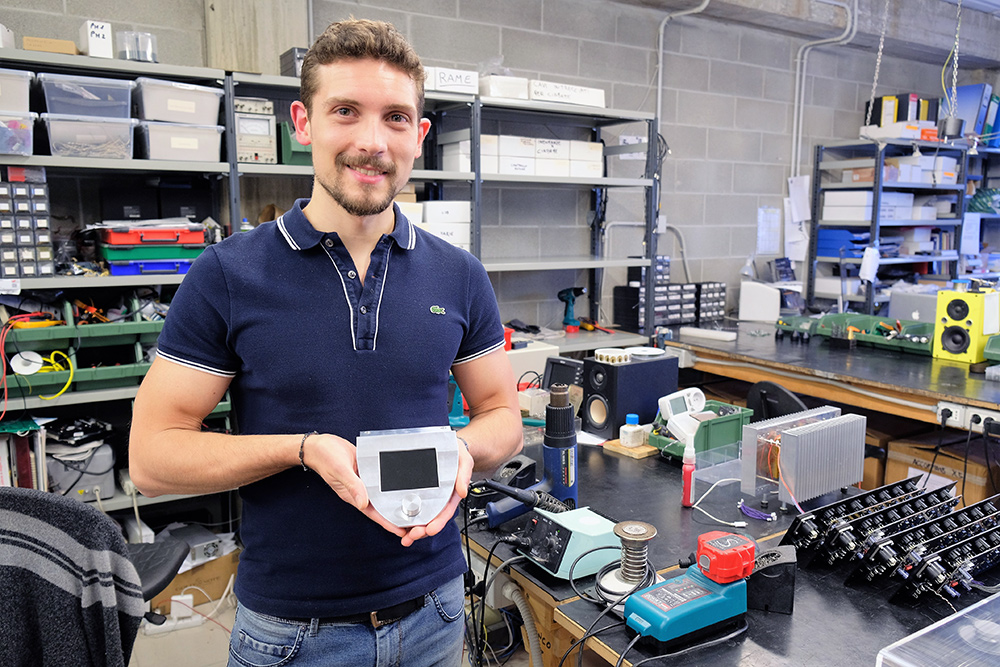 Tommaso Dolfi shows the new XS-87 loudspeaker's control panel and metalwork ready for assembly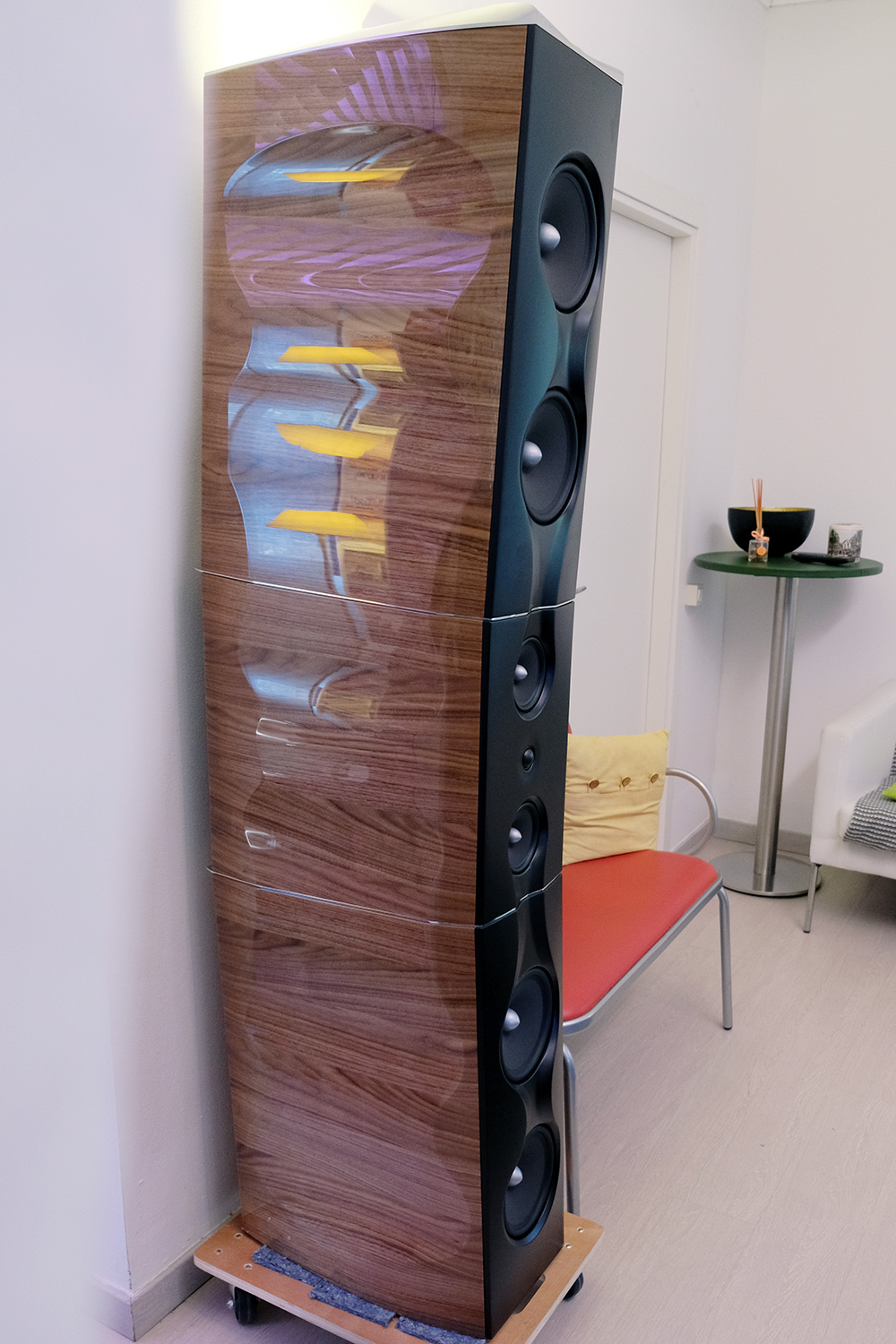 The stunningly beautiful Gold Note XS-87
. . . Edgar Kramer
This email address is being protected from spambots. You need JavaScript enabled to view it.