It's true that time flies when you're having fun… But working hard on something you are passionate about, with music as the final destination, provides one with soul-satisfying vigour and condenses time into a distorted continuum.
We celebrate the first Anniversary of this Australian, yet also very much global publication where technology meets music (or is it the other way around, lol). And as a by-product of examining the intricacies of audio creations, we are introduced to the talented designers behind the gear we treasure for the pleasures it provides or that we aspire to own.
I struggle to express my gratitude to all the supporters and well-wishers succinctly enough. It has been a great pleasure to work alongside the talented teams at both the Network and, of course, SoundStage! Australia's own brilliant and dedicated squad of passionate writers. The Australian contributors include, in alphabetical order, Scott Campbell, Josh Givorshner, Barry Jones, Peter Katsoolis and Tom Waters all of whom have skilfully and fluently provided deep insights into the wide gamut of products they've reviewed.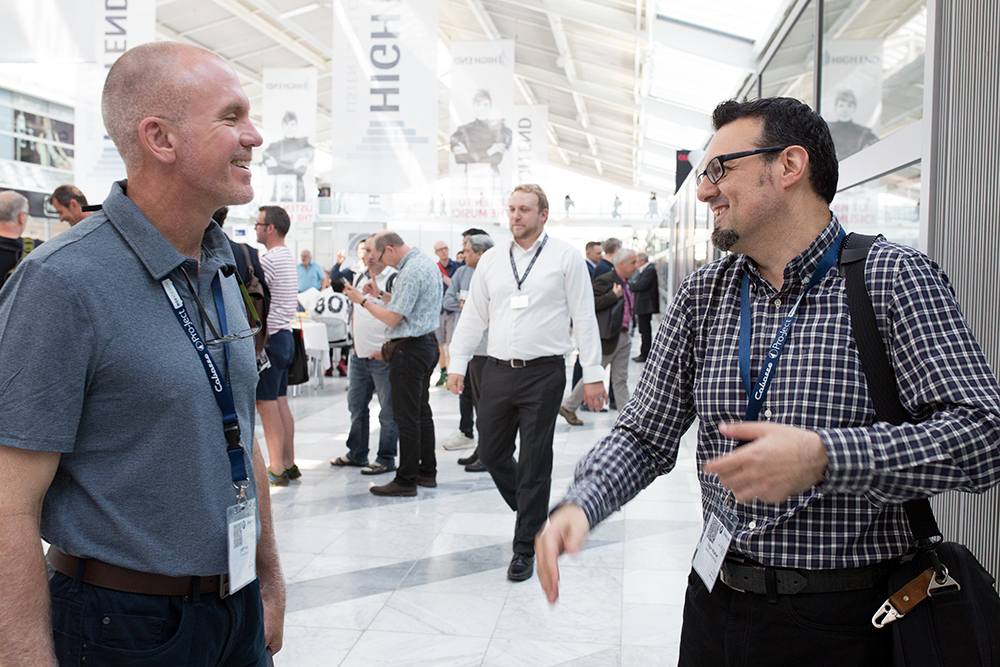 Jeff Fritz (left), the SoundStage! Network editor-in-chief, with Edgar Kramer in Munich at High End 2018
What's more, in the first instance, I'm excited in having provided a widely-read Australian platform to local distributors and retailers. Secondly, I have a deep satisfaction in SoundStage! Australia showcasing to the world, via news items and reviews, the genius behind gifted Australian designers like Axis Loudspeakers' John Reilly, Brigadiers Audio's Brad Serhan, DEQX's Kim Ryrie, Grover Notting's Frank Hinton, the team at Halcro, Hulgich Audio's Nicolas Hulgich, Legend Acoustics' Dr Rod Crawford, Les Davis Audio's Les Davis, M8Audio's Mark Thomsen, Microphase Audio Design's Jean-Marie Liere, REDGUM Audio's Lindy Gerber and Ian Robinson, the team at Richter Audio, SGR Audio's Stuart Ralston, Supratek's Mick Maloney and last but by no means least, my fellow 'Wentworth Fallian', VRC's Stephen Price. And as far as those many, many other extraordinary audio artisans in this country, though I did not have the opportunity to 'visit' you up to this milestone, be sure that your creations will shine their way to us here at SoundStage! Australia "Before Too Long..."
I'm thankful for the generous support from the industry at large and I also extend my sincere gratitude to the ever-growing loyal readership SoundStage! Australia has attracted.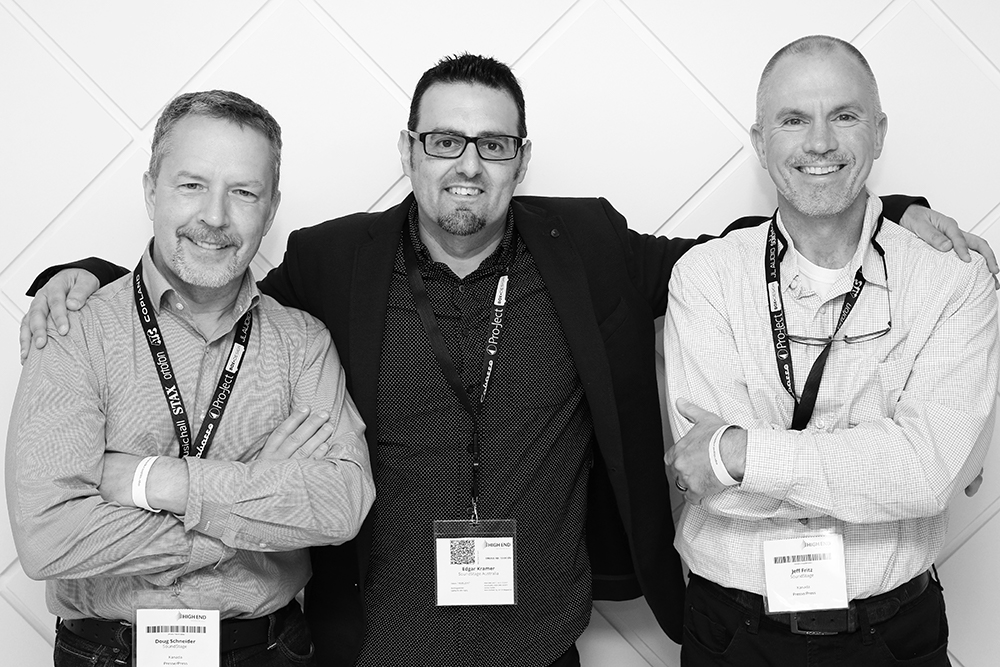 Where all the planning began: SoundStage! Network founder Doug Schneider (left) with Edgar Kramer and Jeff Fritz at High End 2017
Doug Schneider, SoundStage! Network's Founder recounts how it all began in his summary of the ideologies behind SoundStage! Australia:
Long before the site got started, we knew that in order for SoundStage! Australia to work, it had to have something of an international slant, because it belongs to the SoundStage! Network, which itself is global. But at its core, SoundStage! Australia had to be firmly rooted in Australian hi-fi culture and mostly focused there. As a result, it couldn't be led by anyone except for someone right in Australia – and that person had to share our vision and also be able to execute it. Were we worried that it might not work? Of course – if the person could not deliver on that vision, we knew that I would not be writing something like this today.
One year later, our expectations for SoundStage! Australia are surpassed. With Edgar Kramer in charge, not only does the site have a distinctive Australian hi-fi feel through the many articles focused on Australian manufacturers, dealers, distributors, and events there, it also has just the right amount of international content, which is vital in our SoundStage! Network and in a growing online world.
What also surprised us were the sheer quantity and quality of articles that Edgar and his team have produced. In the beginning, we were hoping for about five articles per month, which would've made 60 articles in a year. Looking right now, there are about 170 online, which is why this site feels so full and bristling with life – necessities to maintaining and growing the traffic. Many of these articles also give insight into the Australian hi-fi scene, which has been an education to us and, likely, to people around the world. We've read many Australian hi-fi magazines and visited the Australian websites, but none of those give you the feel of being Down Under the way SoundStage! Australia does.
All told, SoundStage! Australia is an unqualified success, not only exceeding our own expectations, I think readers' expectations too. At last count, the traffic figures amounted, on average, to 50,000 readers per month, a remarkable achievement for such a young site. What's more, it's a model for how well this concept can work when we expand again with another SoundStage! Network site somewhere else in the world.
Doug Schneider
SoundStage! Founder
Thank you Doug. It has been an absolute delight to work alongside you and the talented SoundStage! Network team. What a thrill and privilege to finally place this Great Southern Land on the wider audio industry's map via the world's largest audio publication, the SoundStage! Network.
Edgar Kramer
Editor-in-Chief
www.soundstageaustralia.com