The KEF Blades are gorgeous looking speakers. They have elicited nothing but compliments and occasional awe from every visitor I've had during the past couple of months, including one very keen tradesman who did all but insist on hearing them after finishing some painting on my balcony. The Blade is no longer a new speaker, despite the futuristic looking visual design, however, it's an important loudspeaker design and it's been too many years since I've listened to a KEF flagship model (discounting the limited-edition Muon) so when opportunity knocked, I opened the door.
A technological powerhouse
The statuesque enclosure stands 1590mm high and measures 540mm deep (considerably taller than my eight year old daughter) and weighing in at 57kg they take a little effort to manoeuvre into position. The tricky part is installing the spikes. That really is a job for two people. Each enclosure comprises two pairs of side firing 9-inch woofers and at the front KEF's renowned 5-inch Uni-Q driver array supplying the midrange and high frequencies.
Since its early days nearly 60 years ago, KEF has always applied innovative engineering to its speaker designs. One only has to look at iconic designs like the Reference 107 and the 104.2 as historical examples employing what were, at the time, sophisticated enclosure designs and innovative driver materials. Switch to the present day, let's take a look at some of the latest innovative technologies KEF has applied to the Blade.
What KEF refers to as 'Vented couplers' are used in each of the four 9-inch drivers allowing the air behind the driver to escape more easily reducing back-wave pressure and thus reducing driver distortion. Horizontally opposed back-to-back coupled driver mounting in a 'Force Cancelling' technology eliminates driver vibrations from being transferred to the cabinet and thereby improving overall clarity. Each driver pair is mounted in a separate bass enclosure to reduce internal standing waves and alleviate the need for lots of internal damping.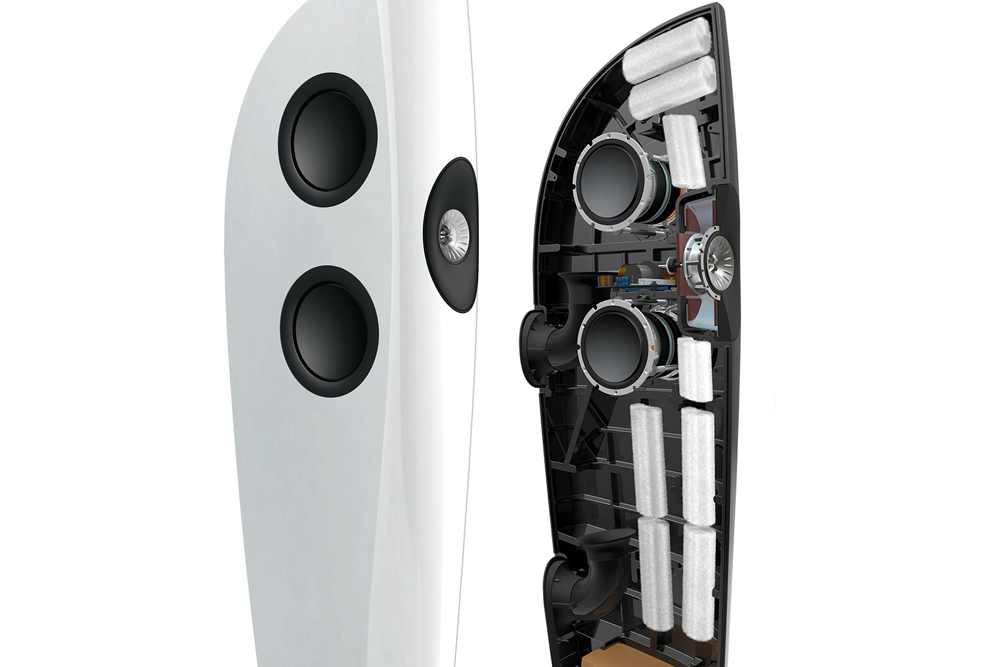 For the cabinet material KEF selected glass reinforced composite material which is very inert and is extremely rigid. This material, with its ability to be precisely shaped, and the hallmark Uni-Q driver allowed KEF to achieve its goal for the Blade being a 'single apparent source' where sound from all drivers appears to come from a single location.
The Uni-Q driver which has been undergoing continual refinements for more than 20 years is KEF's signature technology. It comprises a 1-inch dome tweeter with a custom 'Tangerine' wave guide which aims to control beaming and increase dispersion and whose shape is matched to the high-rigidity large voice coil 5-inch hybrid midrange driver within which it is mounted. This is aimed at removing secondary radiation anomalies. The midrange itself is mounted in a separate enclosure which is again decoupled from the main cabinet. The ridged 5-inch diaphragm is a sandwich construction of lithium/magnesium/aluminium alloy skin with "liquid crystal polymer" skeleton.
Last but not least, KEF has employed simple low order crossovers in the Blade using the best components available. The components are carefully selected by a rigorous auditioning process so that every part of the signal path is fine-tuned for maximum clarity. Further, all the crossover components are hard wired to optimise both sound quality and reliability.
Crossover points in the Blade are at 350Hz and 2.3kHz and KEF recommend pairing with amplifiers having a power output between 50 and 400 watts per channel into 4 ohms (minimum 3.2 ohms impedance) Sensitivity is rated at 91dB (2.83V/1m) which seems reasonable, but my recommendation would be at least 100 watts per channel to fully realise what the Blades are capable of since they do need a suitably sized room and space in which to operate.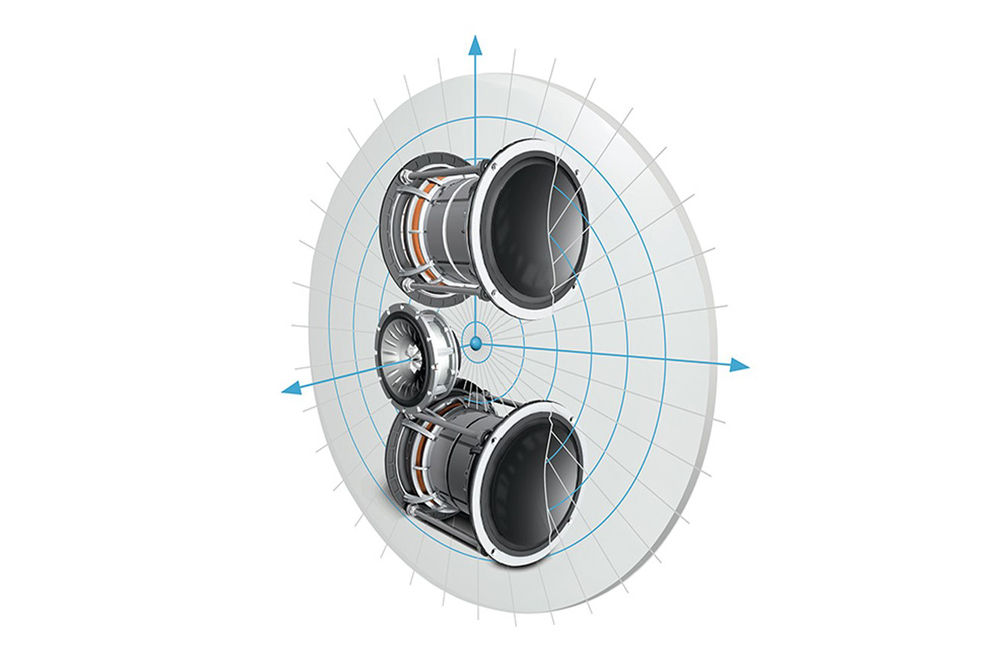 Once in situ the Blades can achieve a frequency response down to 20Hz (-6dB) or a free field response of 40Hz to 35kHz +/- 3dB (-6dB at 28Hz). The Blades are capable of moving a bit of air and can achieve a maximum SPL of 117dB (peak at 1m with pink noise). Distortion (a rarely published specification for loudspeakers) is impressive with 2nd and 3rd harmonics (90dB, 1m) quoted at less than 0.5% between 40Hz and 100kHz and under 0.2% between 200Hz and 10kHz.
Setting Up & Listening
Once upright and on their spikes, positioning the Blades was a relatively easy task. KEF has paid thoughtful attention to the details including levelling bubbles in the base of each speaker – a blessing really as it would have been a nightmare trying to balance a level on the enclosures smooth curves.
Also impressive, is the addition of screw-in linking plugs serving the LF and HF binding posts which alleviates the need to muck around with jumpers if you are not going to bi-amp the speakers. After a couple of days of experimentation, I settled on a placement of 1050mm from the front wall and 800mm from each side wall. This seemed to give the most natural and balanced response in my room.
Unlike the last speakers to grace my listening room the Blades were not run-in so I spent the best part of two weeks putting around 300 hours on them. I used a combination of pink noise during the day and an assortment of electronic music at night while I slept. I'm pretty sure I got the SPL levels correct during this time as neither of my neighbours complained. Along the way I noticed incremental improvements notably in the speed of the bass and the treble which really opened up. Towards the end of the break-in period, there was an obvious increased in front-to-back depth which made the long period well worth the effort.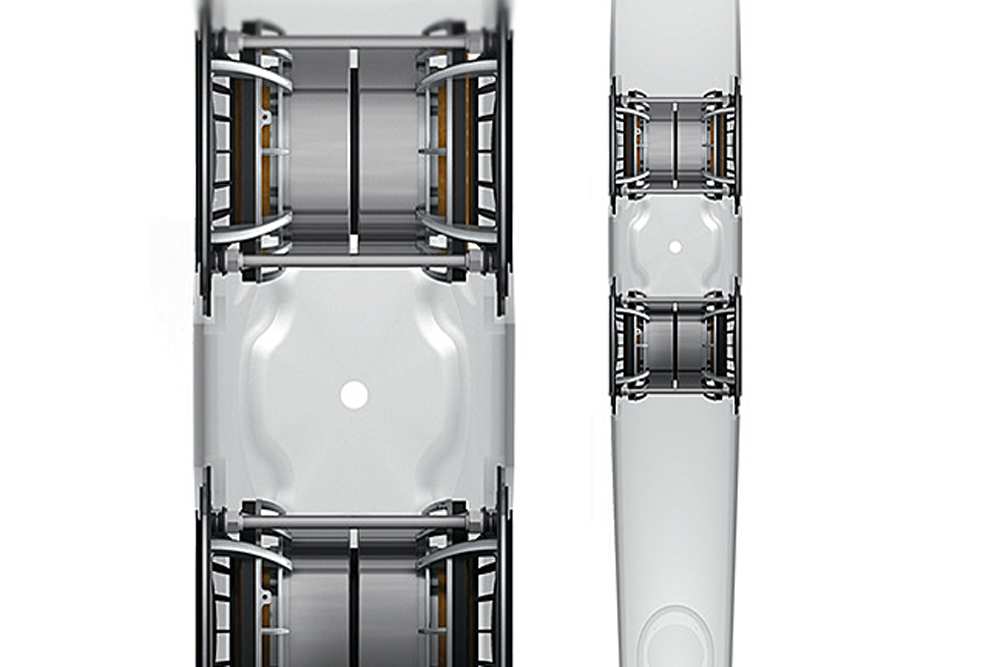 As always, I used a variety of different styles of music to assess the Blades. I find this allows me get a good feel for the areas in which a component excels and an insight into the designer's voicing.
"Give Life Back to Music" from Daft Punk's fabulous Random Access Memories album was a great warm up for my first serious listening session on the Blades. This track, with its growling bass lines, on large speakers, in a suitably sized space, at the right volume triggers a similar response you get when you enter a club. With 117dB of peak SPL up my sleeve I didn't hold back on this one and the Blades most certainly delivered.
The Blades are capable of delivering a lush and spacious listening experience as was evident on "Rise" from Dominique Fils-Aimé Nameless EP. These classy RNB tunes feature drums that are powerful, deep and tight – well suited to the Blades character. Dominique's close miked vocals had tangible in room presence (in particular the humming on the track 'Birds'). I couldn't recreate this particular listening experience from my usual system, so the Blades definitely excelled here.
Next up was Luka Bloom's "No Matter Where You Go, There You Are" from his album Innocence. More than just a hauntingly beautiful piece of song writing, this piece offers a rich musical soundscape which traversed and allows you to hear subtle details such as the resonance from the body of the acoustic guitar, with its strings being almost palpable. The darbuka (a goblet drum hailing from north Africa and the Middle East) was full-bodied and dynamic alongside the percussion which was portrayed with precision-like attack. Elsewhere in the mix, the Blades clearly delivered the sensation of the changing pressure of the bow across the strings of the fiddle.
The single apparent source design assisted by KEF's signature Uni-Q driver allows the listener considerable freedom from the traditional sweet spot on the couch. It also seemed to favour the flamenco-inspired rhythms and speed from the Mexican duo Rodrigo y Gabriella on their 2019 Mettavolution album (which incidentally, features a super-cool 19-minute cover of Pink Floyd's "Echoes"). Focus is maintained even on fast strumming sequences. The Blade delivers a 'wholesome' and full-bodied sound.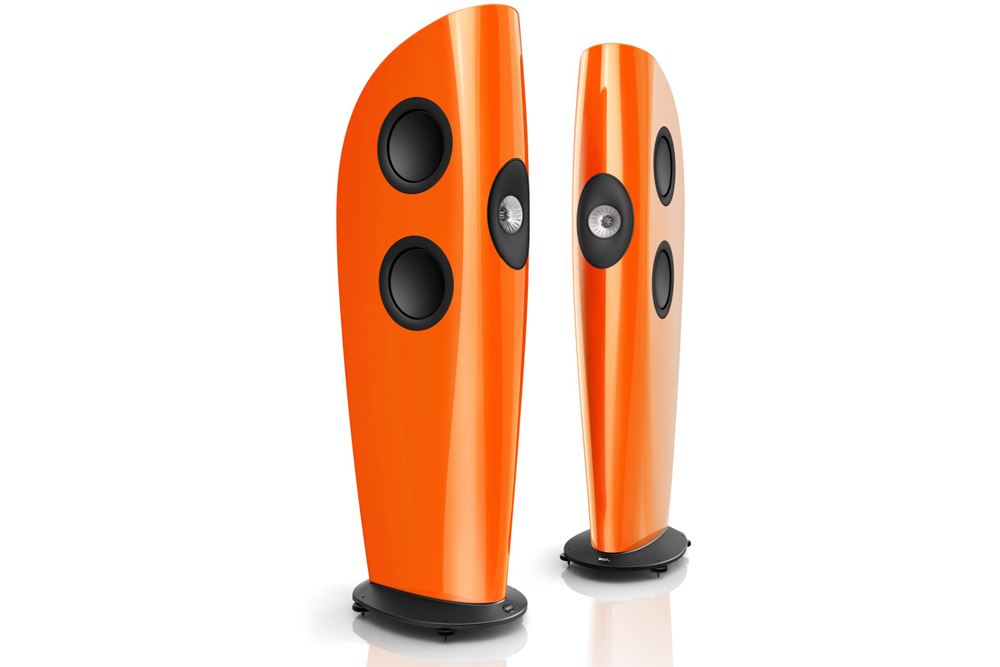 It was at times surprising how much deep bass is produced at low volumes. For example, the deep bass on the track "Zuat" by Eoto, from their 2013 album K-Turns & U-Turns, was pretty much rocking out my kitchen while I made breakfast one morning leading me to discover some kitchen cabinetry resonances that would need attention in the coming weeks.
As I suspected, "Blush Response" from the Blade Runner soundtrack was exquisitely atmospheric on the Blades. I waited until after dark and turned off the lights to enjoy this beauty from my library. Here, Vangelis' synth sounds come together in perfect balance and harmony to create a rich soundscape with floor-shaking bass that you almost feel like you're falling into.
Some Tuesday nights when you're rained-in on the second day of autumn and can't play tennis, it's good to use the time wisely. Like having a decent listen to "So What?" from Marcus Miller's The Ozell Tapes: The Official Bootleg – Live (which are tapes from the band's 2002 tour made straight from the soundboard and without any remixing). And when you have a pair of KEF Blades to listen on, it becomes an even more compelling proposition! Marcus' version is a funked-up version of Miles' legendary tune. The dynamics on this set are superbly preserved by the Blades – Marcus' bass almost leaping out at you in places. If I had any criticism it would be that the horns were just a bit too smooth, but this was as I was coming to realise a hallmark of the KEF voicing. On "Lonnie's Lament" from the same album, the bass guitar was solidly positioned in the space in front of me and the attack from the strings was fabulous. Drums sounded authentic, cymbals shimmered as they should do, the Blades energizing my room with a thunderous bottom end on this piece.
On the Blades, vocals are beautifully presented with a richness and fullness, seemingly unfettered by the enclosure. I really enjoyed Jon Anderson's vocals on his latest album 1000 Hands. Tracks such as "Now", "I Found Myself" and "WDMCF" demonstrate just how good the Uni-Q array is in projecting lifelike vocals. Similarly, Chick Corea's piano on the title track is full-bodied and elegant. This is a musically rich and complex album and the Blades unravel it with aplomb, never sounding congested and allowing you to absorb all the subtleties and textures.
Close miked vocals such as Suzanne Vega's, in her song "Caramel" from the album 9 Objects of Desire, were sublime. Her sultry voice was rock-solid, with realistic height and dimensionality. Similarly, Mark Knopfler's relaxed vocals on "5.15 A.M." from his Shangri-La album and on "What It Is" from Sailing to Philadelphia sounded larger and more authoritative than I had anticipated. MK's Stratocaster sang vibrant and clear, the drums seemingly exploding into my room at the end of the piece.
On "Everlong" from the Foo Fighters' album The Colour And The Shape, the Blades conveyed the energy and driving rhythm perfectly along with the big distorted tones (I subsequently discovered, courtesy of DUAL rectifiers and Fender Tone Masters). At the appropriate volume on the Blades, "Everlong" envelopes the listener with Grohl's vocals delivering the highly emotional message as they alternate between soft in the verse and raging on the chorus.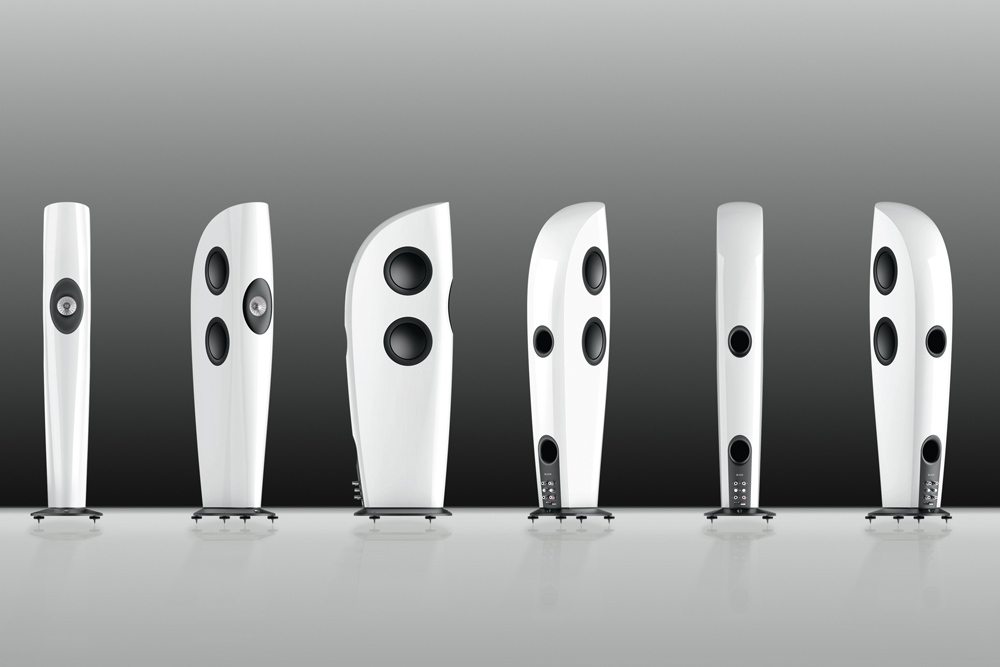 What a rush! Judas Priest's Painkiller was delivered with all the speed and savageness that I've heard any domestic audio system muster. At concert level volume the sound was close to terrifying! Awesome. Guitars screamed and the slightly thickened bass, which I was acclimatising to from the Blades, added extra punch and body blows to the drums.
On a friend's recommendation I downloaded the 2020 HD Tracks Sampler and streamed Chet Baker's "Solar". The Blades created an impressively deep, wide and natural soundstage. Chet's trumpet was dynamic and realistically sized as was the piano. Being a particularly good recording, I began to feel that the sound was perhaps slightly smoother and a shade cooler than what I was used to, yet the overall presentation was so damned enjoyable and never fatiguing.

One of my favourite classical pieces is Aaron Copland's "Fanfare for the Common Man" (Reference Recordings, Eiji Oue). The RR version sounds good on most systems but can sound truly stunning on the best systems. The space within the venue, the depth of soundstage and sense of distance can be surprising. As is true for most RR's the bass is always well recorded. Here on the Blades the bass drums were taut and powerful but with texture and detail that is rarely captured. The percussion and brass also powerful yet naturally composed without ever sounding piercing. I listened to this piece several times, each time experiencing and enjoying it more than the last. Through the Blades it's almost like sticking your head through an open window to see what's outside rather than simply peering through the glass.

Conclusion
I love the look and feel of the Blades. I'd love to have seen some of the custom finishes in my room – that Lamborghini-like orange would probably have been my preferred choice. If I'm brutally honest though, at the start, I wasn't completely 'wowed' by their sound. That's not to say they don't sound great – they absolutely do and everyone who heard them in my room were as awed by the sound as they were the looks but for me, I guess I was just expecting a little more considering the amount of technology employed and the price.
It's worth noting that this opinion softened a little toward the end of my time with the Blades. I struggled to find a position which would allow them to perform at their best and in the end I moved them as far as I possibly could away from room boundaries and landed at 1500mm from the front wall, 800mm from the side walls, 2600mm apart and 3700mm from the listening position.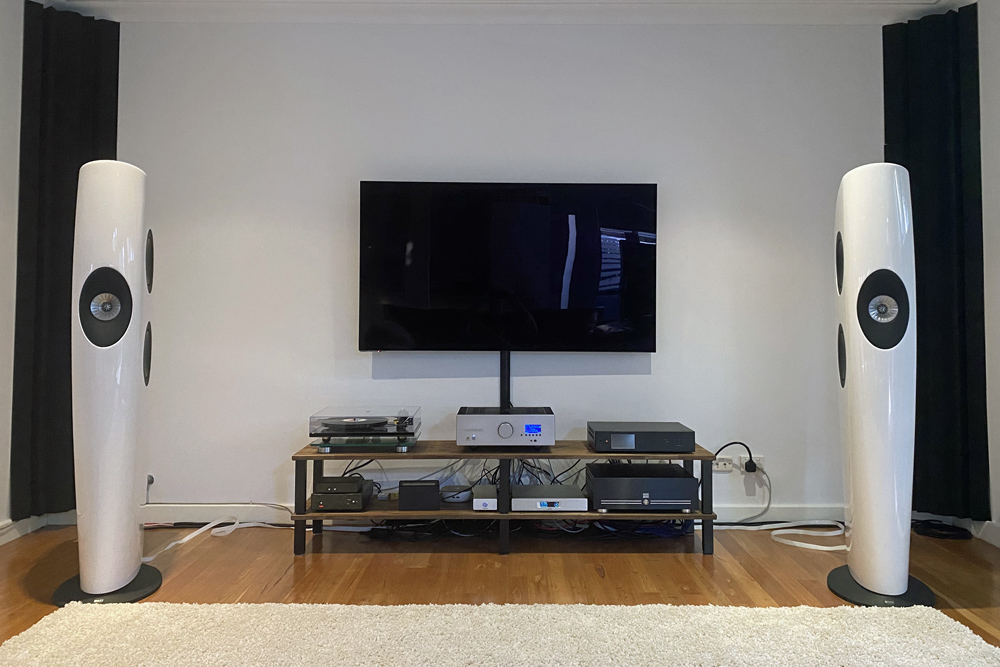 Here's the kicker. When I reinstated my usual reference speakers they no longer seemed to sound quite as gorgeous as I was used to – and it is this that I think is the true strength of the Blades. They may not command your attention in the same way as other speakers in their league do as they have quite a relaxed unpretentious sound. Because of this, they take a little getting used to but, once you do, it's hard to go back.
The Blades are one of the few speakers that I've seen for which the manufacturer has published distortion measurements. It is, I suspect, the absence of the typical distortion which accounts for the 'getting used to' I describe above and the seemingly nonchalant character they portray but, ultimately, this leads to a sense of satisfaction and knowledge that you are hearing music naturally and as close as possible to what the artists and engineers intended.
… Barry Jones
Associated Equipment:
Speakers — Sonus faber Amati Homage
Amplifier — Perreaux e250i 40th Anniversary Edition integrated amplifier
Sources — Digital: Lumin T1, Oppo BDP-105D Analogue: Rega RP6 turntable, Rega Exact-2 cartridge, Rega Aria phono stage & Rega Couple interconnects
Processor — DEQX HDP-5
DAC/Headphone Amplifier — Chord Mojo DAC
Headphones — AudioQuest Nighthawk
Cables — Nordost White Lightning, Kimber Cable Timbre balanced and van den Hul D-300III unbalanced interconnects, Atlas Compass Digital Coaxial Audio Cable, QED Performance Graphite USB
Miscellaneous — Isotek Sirius Power Conditioner, 8 x Auralex SA8600 bass traps in front wall corners, 12 x Sound Acoustics MP700-40 ceiling acoustic panels
KEF Blade Loudspeakers
Price: AU$49,995
Warranty: Five Years
Australian Distributor: Advance Audio Australia
+61 2 9561 0799
www.advanceaudio.com.au
Gold Peak Industries (Holdings) Limited/KEF International
(852) 2427 1133
www.kef.com
www.goldpeak.com