British firm Rega Research is known for one product category above all: turntables. But the Rega Aethos is not one of those. It's an integrated amplifier. Indeed, it doesn't even have a phono input. But even so, the Rega Aethos is definitely an amplifier for the lover of analogue music.
Rega Aethos, Facts & Figures
The Rega Aethos is a solid slab of an amplifier. But, conveniently, it is of standard component width at 433mm. Still, heatsinks run down the sides so some space ought to be allowed laterally. The finish is largely matt black with an inset front panel that's a relatively shiny black. The design is elegant, if slightly menacing. At 17.80 kilograms, the Aethos is clearly well-built. There's something about so much weight in such small packages that inspires confidence.
The front panel features a large volume control, small buttons for record, mute and input, a 6.35mm headphone output and some indicator lights. There's also an almost invisible power switch. I was scratching my head trying to turn the unit on for a while and eventually had to consult the manual. This is a hard-wired switch. There is no standby mode. When it's on, the Rega logo and other text markings are backlit in red.
All the connections are RCA. There are five main inputs, but also an old-fashioned record loop (input and output). There's a separate selection button for the record input, just like in the old days, and an additional output called 'Record Link'. This duplicates the record output. Rega suggests you can use this for things like headphone amplifiers. And there's also a pair of pre-out RCA sockets. One additional input is called 'Direct input'. For all practical purposes, this is a direct input into the power amplifier section and it is uncontrolled by the front panel volume control.
Rega's system remote control is included. It has a lot of buttons, but the only ones used by the Aethos are the input, volume, mute and Direct keys. Direct selects the aforementioned 'Direct input'. It's in fact the only way to invoke that input. You can't select it using the front panel. The volume control on the remote control is excessively sensitive. I found it hard to get the volume just so, since it kept overshooting. When I concentrated I could sometimes get a volume shift of as little as 3dB.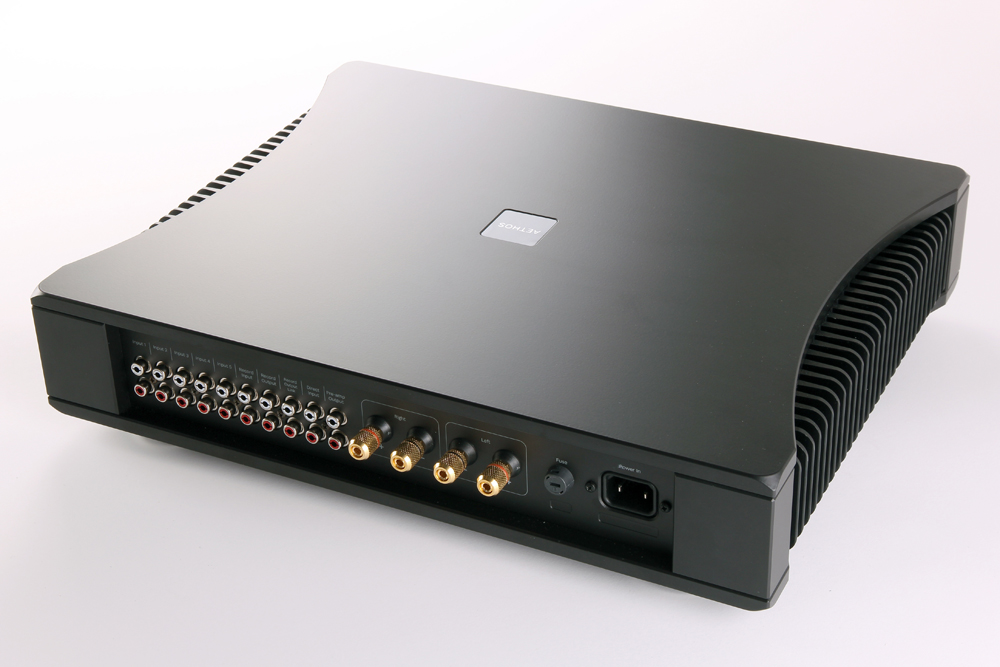 The speaker terminals are gold plated, reasonably well-separated and accommodate banana plugs, bare wire and spade terminals. One minor but oddly satisfying note of trivia: as I loosened the first binding post preparatory to attaching the spade lugs of my cables, a little plastic plug popped out of the end of the binding post and fell to the floor. The European Union has a spectacularly dumb rule in place requiring the loudspeaker sockets for banana plugs to be plastic-plugged. Something about stopping people plugging mains plugs into them, I understand. (And what, precisely, harm would that do anyway?) I have spent many hours, cumulatively, over the past couple of decades, dutifully plucking plastic EU-compliant plugs from speaker binding posts at both speaker and amplifier ends. In this case I had no need to do so, but it was pleasing to know that it could be done so easily for those who prefer banana plug connections.
Rega specifies the power output of the Aethos into 8 ohms at 125 watts, both channels driven. And into 6 ohms at 156 watts. THD and noise is rated at 0.007% at 100 watts into 8 ohms. The frequency response is specified at 10 Hz (at -0.8 dB) to 30 kHz (at -0.5 dB).
There was just one item in the specifications that I found a little disappointing. Unusually, Rega gives specifications for the headphone output: 2.7 volts output into 32 ohms, 4 volts into 54 ohms and 9 volts into 300 ohms. Those figures certainly didn't trouble me. All three of them provide well over 200mW of power, which is enough to drive any set of headphones to 23dB above its sensitivity rating. What I didn't like was a specified 'Source Impedance' for the headphone output of 109 ohms. To make sure I was understanding that correctly, I ran a quick measure on the output impedance of the headphone section, and I measured it at around 106 ohms.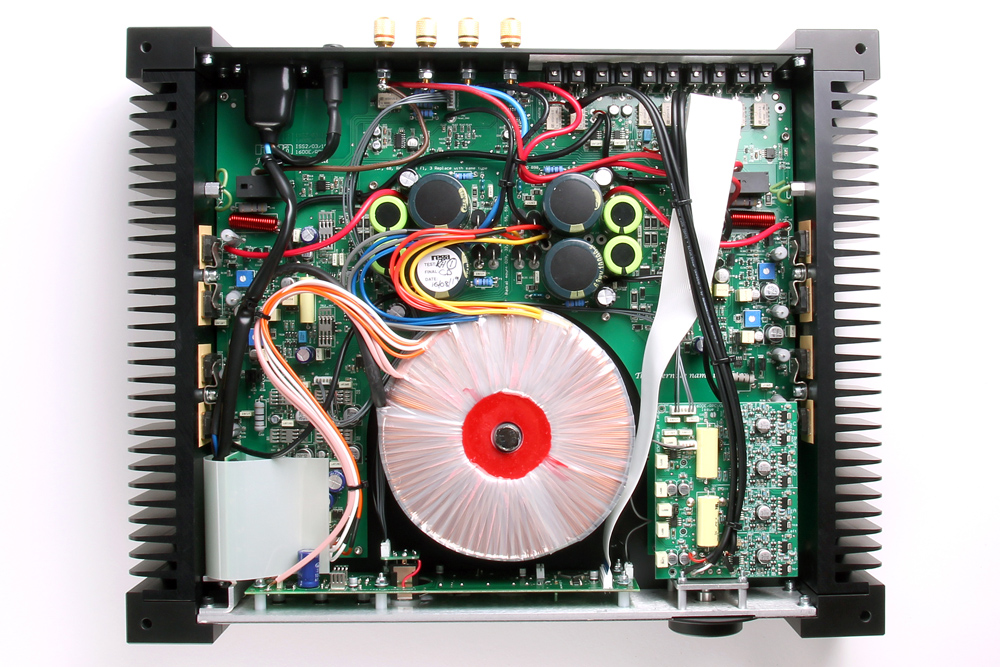 That internal impedance will act as a significant voltage divider on the output. Some headphones have an even impedance across the full frequency range, so that will have little effect upon them. But many headphones and earphones have quite wide impedance swings across their range, so the amount of voltage delivered to them will depend upon the frequency. In other words, for many headphones tonal balance will be quite unpredictable and due entirely to that in-line impedance. That's especially the case for headphones and earphones with a low average impedance. Ideally, modern headphone output stages should have an impedance of less than 2 ohms to keep those considerations to a minimum. For that reason I didn't spend a lot of time using headphones with this amplifier. Unless you're using the same headphones as I am, my impressions would be meaningless.
Listening
Going into this, I was wondering how the Rega Aethos amplifier would cope with my main loudspeakers, the VAF Research Signature I-91 floorstanders. As mentioned, Rega specifies the power output of the Aethos into 8 ohms and 6 ohms loads, but it doesn't mention 4 ohms. But neither does it say that 6 ohms is the minimum. Instead it cautions that "Continued high level use into 6 ohms may cause the case to exceed 40 degrees C above the ambient temperature and activate the thermal shutdown." My speakers are rated at a mere 2.7 ohms. How would the Rega Aethos amplifier cope? Would it overheat?
Well, I spent many hours playing music at medium to high levels using the Rega Aethos and the VAF Research loudspeakers and, while the heatsinks on the side of the amplifier warmed up nicely, there was never the slightest chance of overheating. I'd be entirely confident with sensible use with 4 ohms-rated loudspeakers.
While I normally use a current-model Rega Planar 3 turntable with a Rega Exact cartridge for spinning vinyl, I happened to also have the new Pro-Ject T1 Phono SB turntable at hand. This was fortuitous as a kind of cross-check, to eliminate any special synergies that might arise from using a Rega amplifier with a Rega turntable. The Pro-Ject has a built-in phono pre-amp – switchable so you can use your own pre-amp if you prefer. That turntable is fitted with an Ortofon OM5e cartridge.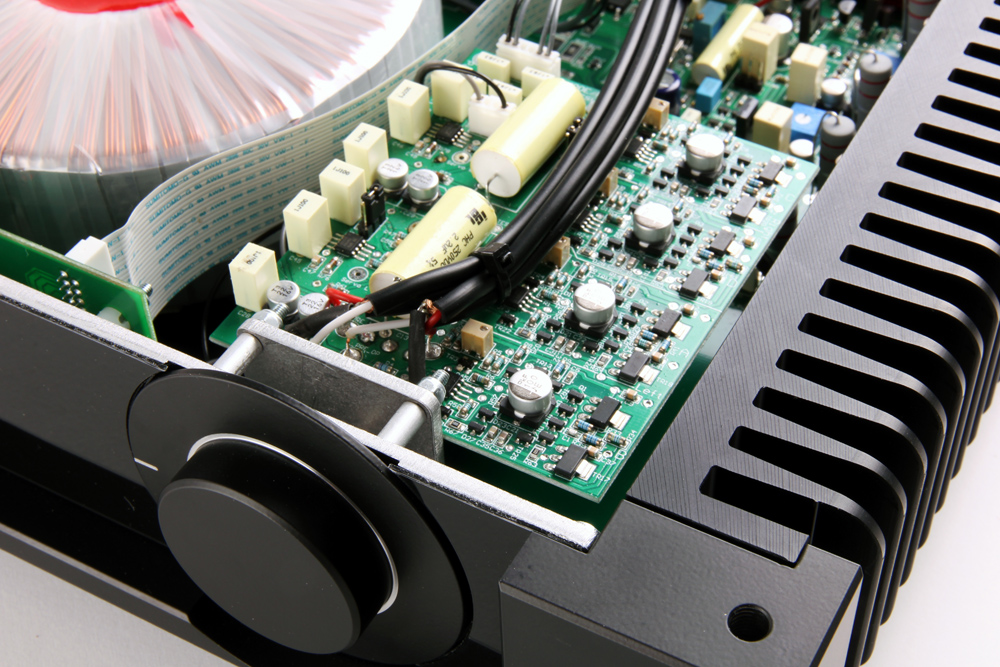 It was fun revisiting, on both the Rega turntable (via the NAD phono pre-amp) and the Pro-Ject a number of my old albums – typically 30+ years old – along with some more recent ones. For example, Mario Millo's Human Games from 1983. That's from his post-Sebastian Hardie career, but before he settled into creating scores for iconic Australian TV dramas (The Lighthorsemen, Brides of Christ, Changi). The title track probably ought to have been one of those anthemic hits. The quality is there. The luck wasn't. It was still a bit 70s-proggy, I suppose. But today, no longer subject to the fashions of the day, the whole album stacks up well.
One of the highlight tracks on this album is a cover of "Rosanna", I suppose. That was a Millo-penned instrumental that hit number 13 on the Australian pop charts in 1975 for Sebastian Hardie. Back in the day, I found Millo's version on this album less satisfying, being somewhat smoother, seemingly with less bite. That didn't seem to be the case with the VAF Research speakers and the Rega Aethos amplifier. Oh, it was smooth, but properly so. Smooth thanks to a lack of distortion. There was bite, though, as directed by the grooves in the vinyl. And enormous detail. The layering of the sound stage showed just how much information resides in 37-year-old vinyl grooves. The stereo image delivered by the turntable/loudspeaker/Rega Aethos combo was fully three dimensional, with plenty of height and depth added to the usual width.
Moving away from ancient stuff, but sticking with vinyl, I spun Laura Marling's 2015 album Short Movie. This is heavy vinyl, with the fifty minutes of music spread over four sides. Marling's distinctively close-miked vocals are startling and entrancing as they begin on "Howl" on the fourth side. And again there was that sound stage, with fore-aft layering of sound. On the title track the deep drum was well controlled and the guitar, somewhat back in the layering, still managed to exhibit an excellent dynamic enthusiasm.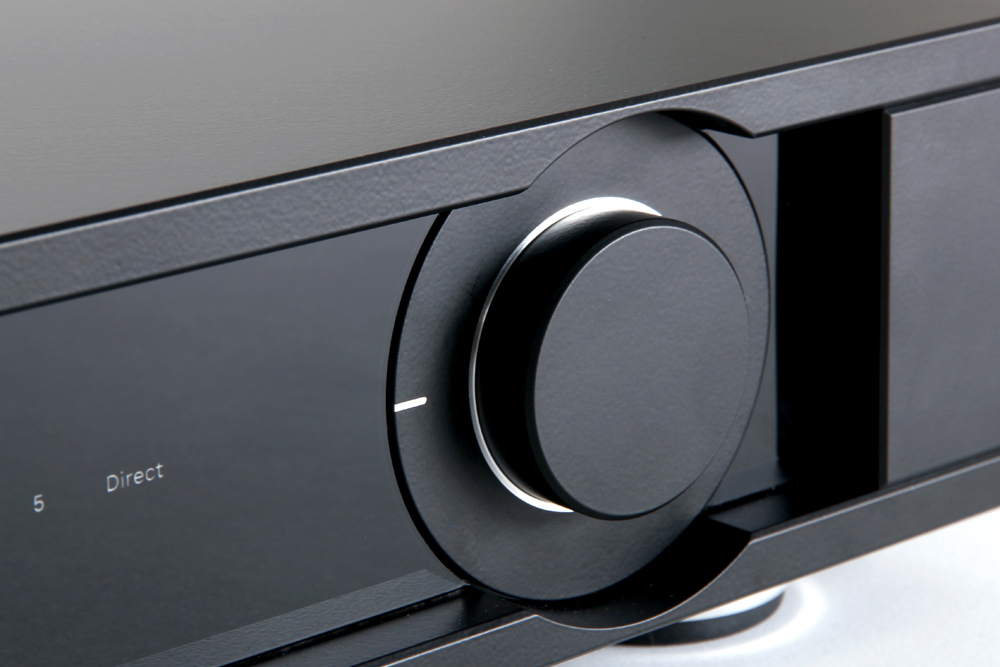 This is Marling's first album to feature her on electric guitar, but it nonetheless retains an acoustic sensibility. So, to something more electric. The National's Trouble Will Find, also on heavy vinyl, was artfully handled by the Rega Aethos amplifier. The recording doesn't provide as much space for an attractive sound stage, being a little more wall-of-soundish. But the driving rhythm on "Demons" was beautifully presented, with a rounded, effective bass line and solid, well-resolved drumming. All those virtues are retained in the next track, "Don't Swallow the Cap", but this one broadens the sound stage, giving it height and depth. From one track to another there can be very different effects. The Rega Aethos amp seemed perfectly capable of resolving those differences.
Enough of the vinyl. Time for digital audio. For the most part I used the line output from the Denon streamer, although I did experiment a little with two channel DSD content delivered by the Pro-Ject DAC from notebook computer. The results? Flawless performance by the Rega Aethos.
As I'm writing right now, for example, "Steal My Kisses" from Ben Harper and the Innocent Criminal's album Burn to Shine is playing with a beautiful spread of precisely positioned instruments across the sound stage. Harper's vocals have a superb immediacy. The bass is extensive and extended. The track is one of those sparsely-recorded songs that seems almost intentionally written as demo-worthy content for showing off high fidelity equipment. The following track, "Show Me a Little Shame", isn't. It's a standard rock performance of a standard rock song. Yet again, delivered through the Rega Aethos, I was to able to listen to a coherent whole, and when I wanted to I could focus on each element in the mix. The clarity and resolution were first class. The drumming, in particular, came through the mix without a hint of smearing or softening of transients.
For a very different genre, I played "The Great Gate at Kiev" from Mussorgsky's Pictures at an Exhibition, the orchestral version on a CD called Hugo Audiophile CD 1. The layering of the orchestra into the depth of the sound stage was magnificent. Again, every element was easily discernible within the harmonious whole.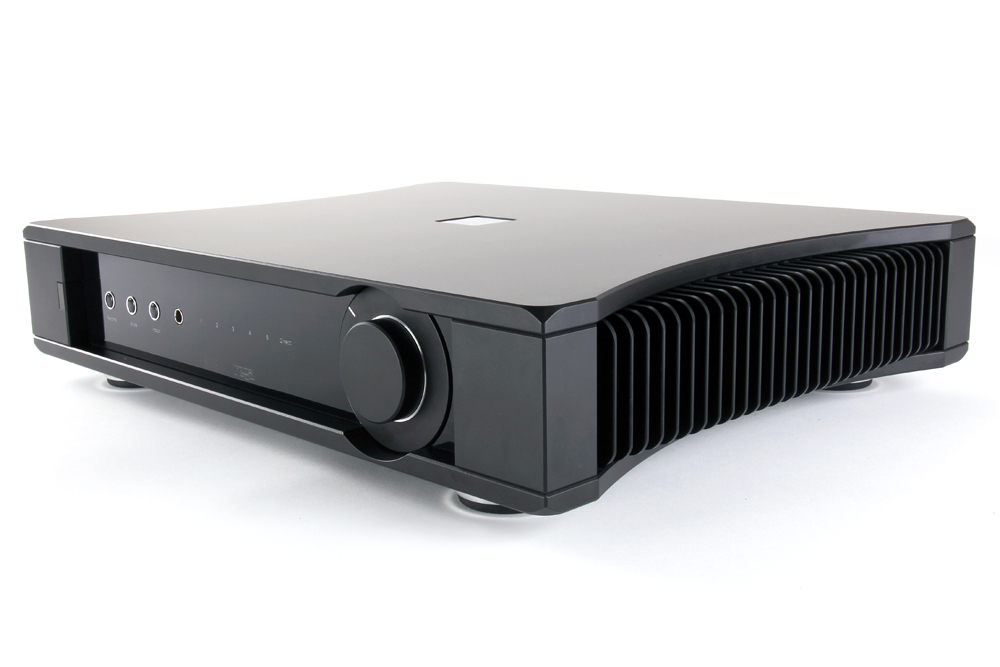 And the bass drum. Telarc recordings are famous for these, but they tend to emphasise the bass weight rather than capture the whole tonal experience. On this recording that is captured intact. The Rega Aethos amplifier drove the speakers to deliver the whole thing equally intact, with a wave front of all the complex frequencies arriving at my ears as one.
So I jumped back to an earlier track from the same CD, the "Overture of 'Dagger Society' Suite", which opens with two orchestral phrases, each terminated by a mighty blow on a massive Chinese bass drum. I replayed this several times, advancing the volume control each time. This drum can easily overload amplifiers and loudspeakers, but there wasn't a hint of that here. Instead, the Rega Aethos drove the VAF Research speakers to produce an almost brutal punch of sound, followed by the after-vibrations at near-infrasonic frequencies.
Conclusion
The Rega Research Aethos integrated amplifier is both a beauty and a beast. It can handle delicacy and sweetness with the best of them but when the music demands it can launch an aural assault of the highest order. The only thing I'd like to see changed is that touchy remote volume control.
If shopping at this price point, put this one on your short list, find a dealer and go have a listen.
… Stephen Dawson
Associated Equipment
Speakers — VAF Research Signature I93, VAF Research Signature I91, KEF LS50, Krix Seismix 1 subwoofer, Paradigm Servo 15 subwoofer
Amplifier — Schitt Audio Vidar, 2 x Marantz MA700 monoblocks
Preamplifier — Schitt Audio Saga S
Sources — Digital: Denon DNP-730AE network streamer, Pro-Ject Audio Pre Box S2 DAC/headphone amp, Microsoft Surface Pro 6, HP Elitebook 840 G3, several Oppo DVD, BD and UHD players with support for DVD Audio and SACD Analogue: Rega Planar 3 turntable, Rega Exact MM cartridge, Rega Neo turntable PSU, NAD PP2 MM/MC phono pre-amp, Rega Fono Mini A2D MM phono preamp/ADC
Cables — Interconnects personally assembled with twin-core shielded microphone cable, terminated by Interdyn-branded screw-clamping gold-plated RCA plugs, Lenehan Audio pure copper ribbon speaker cables with gold-plated spade lugs
Audio Rack — Personally-made cabinets using 16mm MDF, screws and glue. Ugly as sin but very solid
Miscellaneous — Listening room 6.5m by 5.1m by 2.4m. Sound absorbent foam covering full wall behind speakers. Uneven surfaces on side walls
Rega Research Aethos Integrated Amplifier
Price: AU$6399
Warranty: Three Years
Australian Distributor: Synergy Audio
+61 3 9459 7474
www.synergyaudio.com
Rega Research
6 Coopers Way
Southend-On-Sea SS2 5TE
Essex
United Kingdom
+44 1702 333071
www.rega.co.uk