I've never actually owned any McIntosh audio gear, but when I think of the brand the words 'classic' and 'classy' spring to mind, and in the case of their new MTI100 so does 'cool'. As an audiophile, I've had positive experiences on occasions where I've heard McIntosh amplifiers powering speakers like B&W's 800D and Sonus faber's Amati Homage. From the moment I first laid eyes on the MTI100 in my local audio store, I'd been eager to review it – when companies like McIntosh, Linn and Naim turn their efforts to unique products such as this, new benchmarks are often set, the whole industry moves forward and everyone who listens to music benefits.
Birth of the Cool
As I prepped for writing up my experience of the new one-of-a-kind MTI100 integrated turntable, I was reminded that McIntosh amplifiers had powered Woodstock in 1969, and the Grateful Dead's 28,000 watt 'Wall of Sound' in 1974 and that despite maintaining their very distinctive and 'old-school' styling they had, like many high end audio manufacturers, moved with the times and expanded their product range beyond the 2-channel realm to include home theatre and lifestyle systems.
The unique MTI100 Integrated Turntable looks and feels stunning. The logo sits big and bold on the front. Weighing in at 15kg, It's solidly built (a little over 3kg is devoted to the machined aluminium platter) and has a 9mm thick glass plate sitting atop of a 6.35mm steel pate which, with the platter, helps resist and control external vibrations. Operation was simple – push the volume button to power on/off, push the input button to start the platter (if phono input selected) or to pair Bluetooth and you are on your way. A provided comprehensive remote control makes things even easier from the listening seat.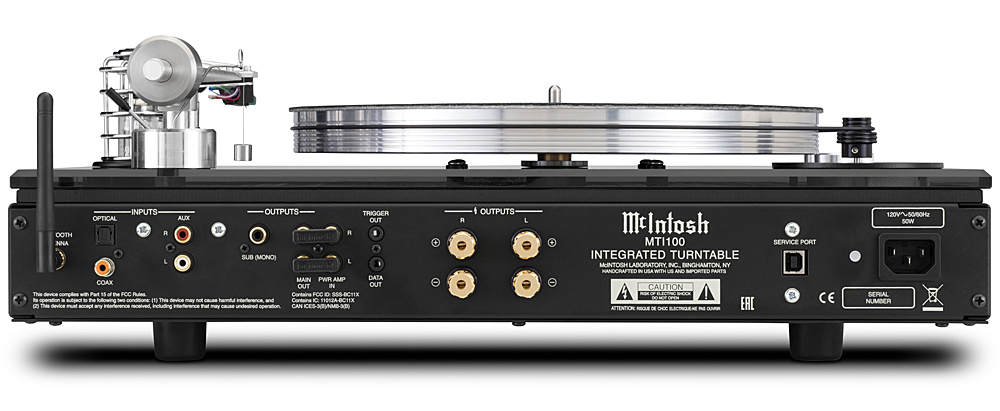 Despite looking like just a turntable, it in fact contains everything you need to connect directly to your speakers. Perfect for when you don't have room for, or simply don't want, a large audio system in your home/office/holiday cottage. In addition to being a turntable, it is a phono stage, a 50 watts amplifier (latest generation Class-D), and a tube preamplifier. It has outputs for speakers, a subwoofer, and headphones; plus inputs for analogue, digital (optical and coax) and streaming via a high quality Bluetooth receiver (utilizing A2DP and aptX) which ensures that you receive the best sound quality possible from your Bluetooth device – up to 24-bit/48kHz if your connected device has this capability. Impressive. And the analogue side is not without a similar level of attention. The phono stage is housed in a custom shielded box that significantly reduces interference and noise from affecting the low-voltage analogue signal and vice-versa.
So that you're up and running as soon as possible after unpacking, the MTI100 is fitted with a Sumiko Olympia moving magnet cartridge and a damped machined aluminium tube arm with lateral type bearing. Nice one, McIntosh. Having got this far it was time to lay down some vinyl.
Layin' it Down
Up first was Ray Lamontagne's LP, God Willin' & The Creek Don't Rise (Red Ink 180g). Using an anti-static brush to remove any dust prior to dropping the needle, the platter continued to spin reassuringly despite the applied pressure thanks to what McIntosh say is an industrial grade permanent magnet AC synchronous motor (two speeds via pulley). The arm lift mechanism was well damped and consequently smooth to drop. Tapping my index finger directly on the plinth during the track lead-in showed that the deck was also well isolated from the environment – my tapping was barely audible.
On the track "This Love is Over" beset by the gentle baritone guitar, Ray's husky vocals floated slightly forward of the Klipsch Forte III speakers with the solid melodic bass central in the stage. Lovely. On the next track "Old Before Your Time" vocals remained solid with sibilance well-controlled. The banjo was sweet and well proportioned. This all-in-one from McIntosh was sounding like a decent separates system. The pairing with the Klipsch Forte was particularly good – I was eager to see how my Toy Towers sounded, but I was having fun so I decided to cue up a few more tunes and then do the swap.
Next up was "Dragon Attack", from Queen's The Game (Hollywood Records Half-Speed Mastered 180g). Freddie Mercury's voice was nicely centred with plenty of 'grit', the electric guitars had fabulous 'bite' (I suspected and confirmed that this observation was due to the Forte III's, but it shows that the MTI100 is capable of providing the right 'working materials'). The melodic bass underpinning the track had presence and power – not quite as much as I'm used to in my reference system – but satisfying none-the-less. It was only the drums that seemed to lack a little impact. With systems like the MTI100 it's difficult to pin down where exactly the 'lack' was coming from. Short of swapping out cartridges (which is always an option) you kinda have to accept what is…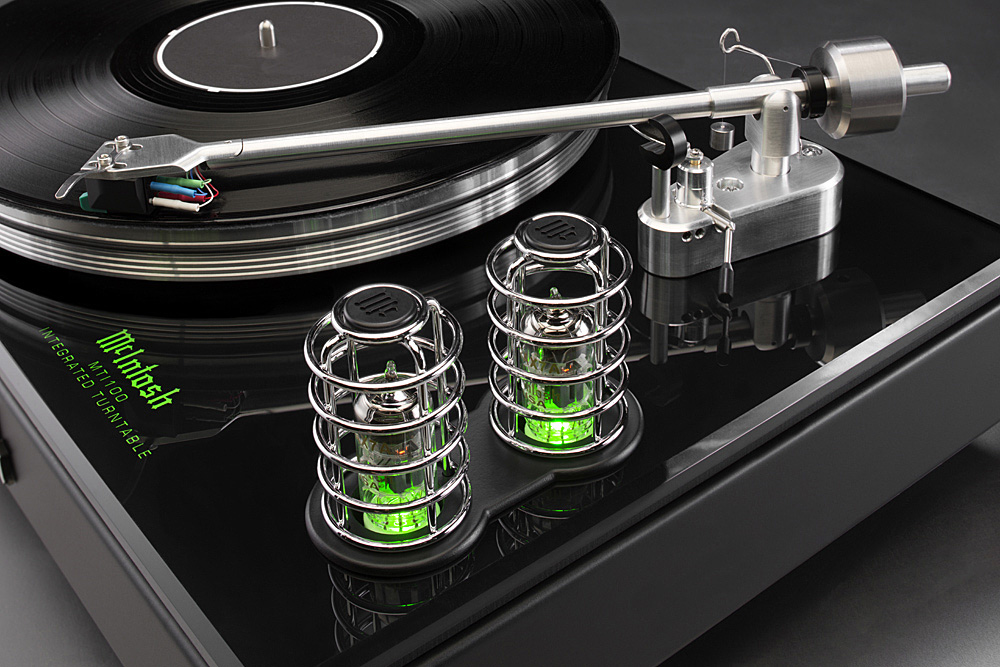 I swapped out the Forte for the Toys and sure enough the guitar lost a bit of its bite and the overall presentation was a little more refined. Interestingly, the drums seemed to benefit from the change, gaining a little more impact when the skins were struck, probably due to the Toys' ring radiator tweeter.
On "Another One Bites the Dust", when Freddie shouts it's felt and in the build up to when the 'bullets rip' there's no sign of compression. Again, the guitars had a nice growl through Forte IIIs which the Toys couldn't quite match.
"Don't Do Me Like That" and "You Tell Me" from Tom Petty and the Heartbreakers' Damn the Torpedoes (MCA 180g) didn't fail to impress with drums that were explosive and tight, vocals had sufficient presence and electric guitars had bite. Cymbals had just enough texture without sounding splashy. The sound was spacious and unfatiguing and showed a decent amount of separation between performers. I noted a little more surface noise than my RP8/Exact/Aria combination, but whether through the Forte IIIs or the Toys this was quite a lively sounding deck.
"If Only For a Night", from Florence + the Machine was big sounding, with keyboards wrapping around her vocals which, although forward in the soundstage, sounded a little over processed. "On Shake it Out", however, the vocals turned harsh and fatiguing – which is kind of the reality of this recording but more so than what I'm used to.
Going Bluetooth
Pairing my iPhone X with the MTI100 was painless. One press of the input button and I could see it in the list of Bluetooth devices on my phone and I was able to connect easily.
I streamed via Qobuz, Robert Plant and Alison Krauss', Raising Sand album (16-bit/44kHz). The opening track, "Rich Woman" almost blew me out of my chair as I had not anticipated the change in volume from LP to digital. Fortunately, the iPhone was in my hand and I was able to quickly adjust the level. I found the volume to be a bit tricky to adjust to a satisfactory level as even one press of the volume button on my iPhone resulted in quite a large swing in volume. The McIntosh remote control fared a little better, but still not quite what I was hoping for. I power cycled the MTI100 and found some improvement, so I switched back to my Sonus Faber Toy Towers (having reinstated the Klipsch to get the full perspective on "Shake it Out") and the gain problem was resolved. The Forte III's with their 100dB efficiency and the Raising Sand album recorded at quite a high level made for some tricky manoeuvring of the volume control.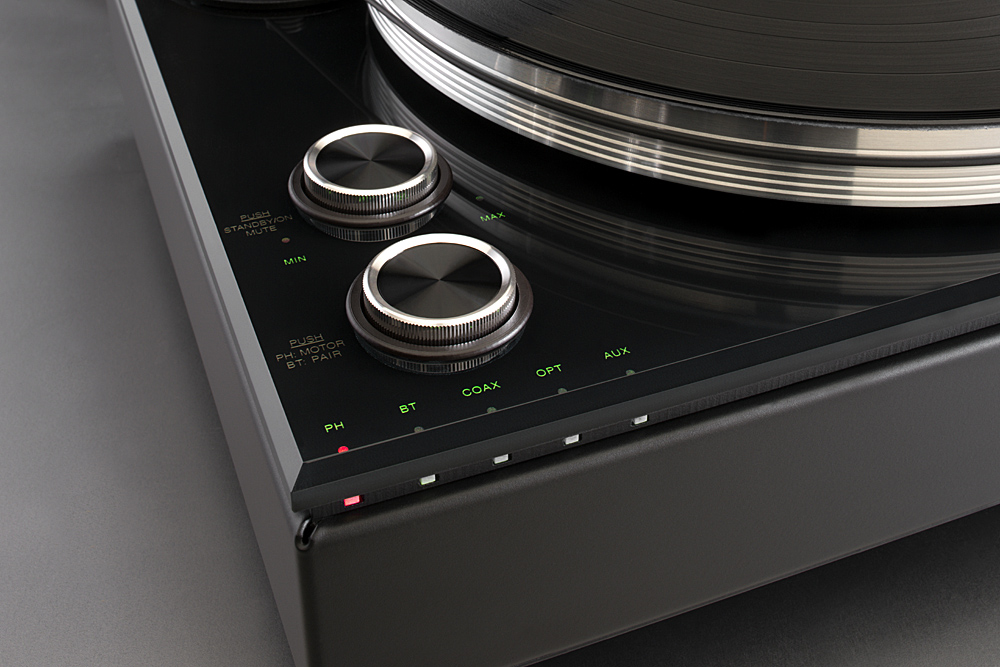 Although the production on Raising Sand is a little bass heavy, I like this album both for the selection of songs and the way two quite different artists' vocals come together with, at times, mesmerising effect. The MTI100 conveyed the dark tones of this work while retaining a firm grip on the underlying sonic details. The experience was one of being almost directly connected to the lyrics.
Having the occasional hesitation around the overall level of 'openness' on the vinyl I played, I was keen to see what the digital domain could offer.
"The Panther", from Jennifer Warnes' The Well album (Qobuz 16bit/44kHz) was up next. Man! They are not kidding when they claim a high quality Bluetooth implementation. On other systems I've felt that streaming via Bluetooth was like going from CD to MP3 but with the MTI100 there's no such feeling. The background was black, the percussion was crisp, guitar and vocals were smooth. On "The Nightingale" same-same, Jenny's voice was smooth and powerful. The soundstage was large with a decent sense of depth. Taut bass and a pleasant level of attack and decay on strings.
Did I mention the MTI100 also has a headphone amplifier? Through my Audioquest Nighthawk headphones and using Onkyo's HF Player app on iPhone X, Keb' Mo's "Soon as I Get Paid" (FLAC) really came to life. Cymbal attack and decay was impressive. I was beguiled by the driving bass rhythm and funky guitars surrounding Keb's vocals. "Slow Down", another favourite of mine, was as exciting to listen to today through the MTI100 as it was the first time I heard it many years ago. Compared to the Nighthawk's driven via my Chord Mojo the sound was a little less focused and more 'mechanical' but it's not immediately obvious unless you do the comparison.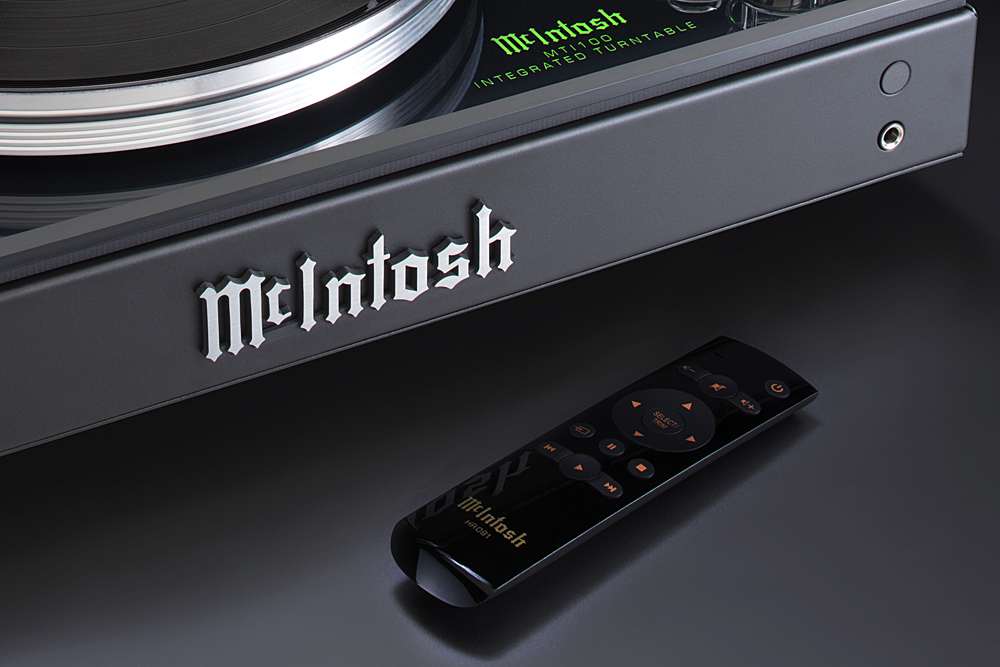 To finish up, a little classical was called for in the shape of Mahler's Titan (Francois-Xavier Roth, Harmonia Mundi). Streamed from Qobuz the first part (II. Blumine. Andante) was captivating. The string section was sweet, the horns though distant retaining their sense of power. On the second part: V. Dall'Inferno, the MTI100/Forte III combination (perhaps an unlikely combination for classical music) was able to create a believable performance from soft to full scale with a sense of ease. It could be gentle and melodic, or it could grab you by the cojones and command your attention without sounding strained.
Conclusion
For an all-in-one device, the MTI100 rocks! With Optical and Coax inputs as well as analogue via RCA it can comfortably function as the heart of a more extensive system. It has pre-out and main-in allowing the use of a dedicated power amplifier while a separate subwoofer output provides flexibility to operate with a variety of speaker systems. There's the option also of configuring for a two-channel video system.
Clearly the MTI100 as a system is quite capable of allowing the listener to appreciate the qualities different speakers have to offer. I enjoyed both the Forte III's and the Toys. While it may not be the last word in ultimate resolution, it can extract more than enough of the finer details in the music to be a credible performer. With its consistent performance across media, different speakers and a variety of music and… with the signature McIntosh green glow emanating from the valves, the MTI100 oozes style. It's sure to appeal to today's millennials who have a vinyl collection and high expectations for sound quality, as well as to audiophiles who may be down/right-sizing or looking for a simple second system with minimal compromise.
…Barry Jones
[For another perspective on the MTI100, read Gordon Brockhouse's review on SoundStage! Simplifi here]
Associated Equipment
Speakers — Sonus Faber Toy Tower, Klipsch Forte III
DAC/Headphone Amplifier — Chord Mojo DAC
Headphones — AudioQuest Nighthawk
Cables — Vertere Pulse speaker cables vx-318
Miscellaneous — Isotek Sirius Power Conditioner, custom made bass traps in front wall corners
McIntosh Laboratory MTI100 Integrated Turntable
Price: AU$11,995
Warranty: Three Year Warranty
Australian Distributor: Synergy Audio
+61 3 9459 7474
www.synergyaudio.com
McIntosh Laboratory Inc.
2 Chambers Street
Binghamton, NY 13903-2699
+1 607 723-3512
www.mcintoshlabs.com