It's often thought that loudspeakers are the easiest component to evaluate. Why? Well, I find that all other variables (electronics, cables and ancillary equipment) kept constant, a swap-out for a different set of speakers almost invariably makes a profound and manifestly apparent change in the performance of the system. As the final step in the reproduction chain and the acoustic transducer (responsible for the conversion of electrical to sound energy), the speakers act as a bottleneck to what the system, however good it otherwise may be, can achieve.
While a brilliant loudspeaker system will allow relatively mundane or mediocre electronics to perform at their respective peak (notwithstanding the deleterious reciprocal effects of those electronics on the speakers performance), poorly designed or manufactured loudspeakers will curtail, mute and restrict the performance of even the finest audio electronics. The dynamic range, distortion, compression, power handling, tonal characteristics, cabinet resonance and crossover design (I could keep going) of the loudspeaker system all interact to influence the final sound quality, and in my experience, usually do so in a not-so-subtle way. So to review that product, all that one need do is then describe those changes in as much detail as possible. Sounds easy enough, right? Well, let's see…
The Magic(o) Legacy
Magico is an audio company that (for most high-end enthusiasts) needs no introduction. For over a decade, they have been successfully building exceptional loudspeakers that consistently surpass in performance, style and build quality those models that preceded them. Under the direction and vision of their chief industrial designer Alon Wolf and CTO Yair Tammam, Magico implement the most state-of-the-art computer-aided design, real-time analysis and vibration simulations in an endeavour to create the most technically advanced loudspeakers available in a "no-holds-barred assault" on what is possible within the realms of loudspeaker design.
Over the past several years, Magico products have received a great deal of press generally extolling praise and reverence for their sophisticated, heavily-engineered and ingenious cabinet, crossover and driver designs in what are widely considered very impressive loudspeakers. Those who audition any Magico speaker (or who are fortunate enough to own a pair) benefit from a treasure trove of trickle-down technology derived from the company's flagship 'Ultimate' horn system, the highly-lauded 'M-Project' or the monolithic Q7 speakers, therefore inherently benefiting from Magico's incessant and obsessive drive to create the very finest of audio transducers. To that end, and without giving too much away, my own recent experience was no exception, whilst I have had the pleasure of spending the last several weeks in the company of one of their newest designs, the S3 Mk.II.
The S3 Mk.II
The second generation of its kind, the Mk.II develops upon the impressive standards set by the first iteration of the S3. Although admittedly pricey the S-series is actually the most affordable of the Magico line up, and the S3 Mk.II (AU$42,500), sits just above its smaller sibling the S1 Mk.II to come in as the company's second-most inexpensive loudspeaker. For the more well heeled audio-obsessed, Magico offers the larger S models – the S5 MK. II and S7, as well as the more complex and albeit more expensive Q and M series. But I digress.
The S3 Mk.II (henceforth referred to as the Mk.II) is a floorstanding loudspeaker of moderate proportions. It stands 122cm tall with a footprint of 30 x 30cm. Each piece weighs in at a hefty 77kg, so installation necessitates the presence of at least two people blessed with healthy intervertebral discs and concomitant strength. Claimed sensitivity is 88dB with a nominal impedance of 4 ohms. Given those specifications, those owning amps with very low power outputs need not apply. Magico recommends amps of at least 50W output to get the job done properly.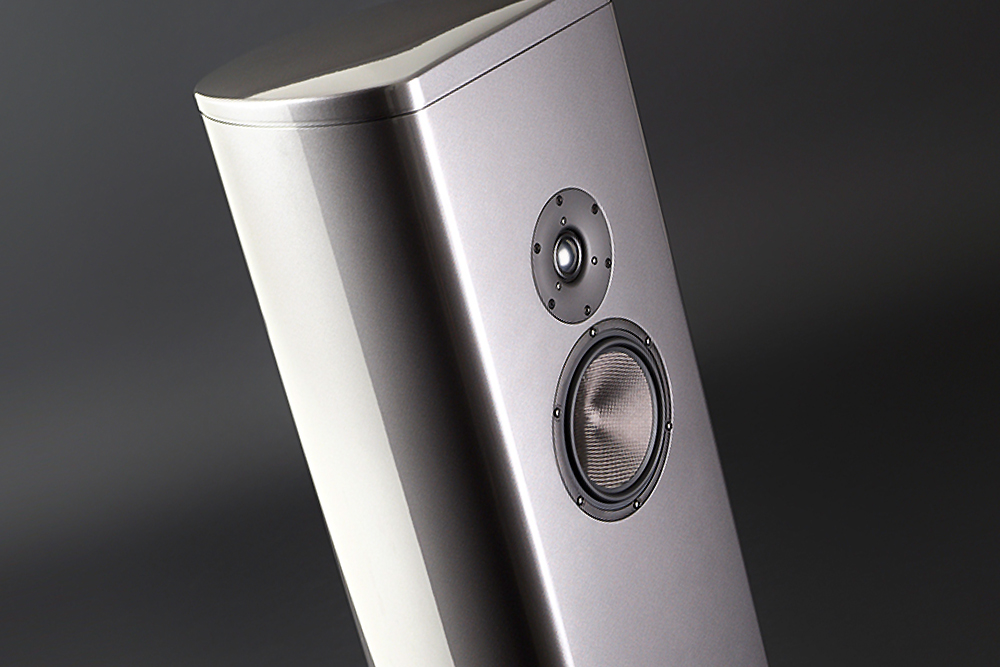 The body of the Mk.II is formed from a one-piece 3/8-inch-thick extruded aluminium tube, giving it a highly inert, rigid monocoque construction. The superior face of the speaker consists of a gently curved convex aluminium cap that assists in minimising enclosure diffraction and in breaking up vertical standing waves. Internally, a complex aluminium cross-bracing system provides additional structural support and enhanced rigidity, while a complexly curved proprietary polymer sub-enclosure designed with the aid of computer simulation serves to isolate the midrange driver from the sound pressure generated by the bass drivers located near the bottom of the speaker. A thick single-piece aluminium baseplate adorned with four outrigger-style feet supports the speaker from below and provides a sturdy grounding whilst lowering the Mk.IIs overall centre of gravity. The newly designed highly rigid baseplate is stated to lower the noise floor and thereby increase dynamic range as compared with the original design. The front face of the speaker is flat with a gentle curve at the lateral edges, meeting a roughly parabolic lateral rear profile that elegantly envelops the posterior of the speaker. The cabinet features no port, assisting in the production of tight, tuneful and detailed bass, while still impressively boasting frequency extension down to 24Hz at -3dB.
A small but smart-looking Magico crest adorns a modest gold nameplate near the speaker base. Around the back, a single set of binding posts are set at a similar level from the ground. The posts accept both spade and banana terminations and provided a reassuringly firm grip on my cable spades without the use of any other tools except my fingers alone. The banana receptacles provided a similarly tight fit when tested.
A gently curved perforated metallic grille comes as standard, which may be fitted to the front if you wish (not used in the context of my listening).
The review samples sported Magico's 'M-Cast' satin/matte metallic finish in black (a tasteful selection of other gorgeous colours including cobalt blue, bronze, silver and lilac may also be had at your discretion). The fit and construction quality of the Mk.IIs is superb. Painted gloss 'M-Coat' finishes are available in a variety of colours at additional cost should you (or your partner/domestic CFO) so choose. I'm going to mention here that the 'M-Cast' finish is absolutely divine! Combined with the minimalistic yet almost austere elegance of the Mk.II's general aesthetic, this finish was the proverbial icing on the cake. Photos of this product just don't do it justice, and while this relatively simple and more traditional design might not be everyone's cup of tea, seeing it in reality was something altogether pleasantly different from what I anticipated. I was admittedly left gushing over them for several days until their beguiling sound finally helped to distract me from their stunning appearance and finish.
Magico are one of only a few loudspeaker manufacturers that design and produce their own driver units, allowing them absolute control on the realisation of quality and functional design parameters. Driver performance both during the development phase and in their final configuration have been exhaustively tested and optimised using Finite Element Analysis simulation equipment. As with all Magico designs, the drivers fitted in the S3 Mk.II are quite exceptional and have been meticulously integrated using Magico's exclusive 'Elliptical Symmetry Crossover' topology, containing only high quality Mundorf components.
The Mk.II boasts a newly in-house designed MBD7 1-inch diamond-coated beryllium dome first featured in the S7. This new tweeter demonstrates matching sensitivity and dispersion characteristics, while increasing its power-handling as compared to the original S-series designs. The all-aluminium magnet structure housing assists in the minimisation of mechanical resonance thereby improving the vibrational isolation of the dome assembly, while the new robust motor system with long-throw voice coil contributes to lower distortion and optimisation of the cutoff frequencies to facilitate better integration with the midrange driver.
In development of the Mk.II, Magico have pushed the boundaries of available driver technologies and created a proprietary 6-inch driver, the M390G, with a multi-wall carbon fibre configuration augmented with an XG nanographene layer. This novel material combination has yielded a 300% improvement in driver stiffness with a 20% reduction in mass over the previous generation of S-series drivers (MB390).
Bass in the Mk.II is handled by two 9-inch units (M905G), featuring the same carbon fibre multi-wall/nanographene technology as found in the midrange driver. These units feature a powerful redesigned magnet configuration with a 5-inch pure titanium voice coil capable of linear excursions of up to half an inch. In the pursuit of maximal musical enjoyment at realistic volume levels, these new drivers are touted to produce smooth, distortion-free bass at SPLs of 112dB (50Hz at 1m).
Setting Up
The Mk.IIs were delivered in two large cardboard boxes (and one smaller box containing accessories) atop a wooden forklift palette. Once in the house they were moved around easily enough one box at a time. Due to the logistics of carrying these rather large and rather heavy bad boys down a very narrow set of stairs into my larger listening space, my auditioning was done exclusively in the smaller of my two listening rooms (3.0m W x 3.6m L) with the speakers firing down the long axis of the room. I should note here that the smallest box should be opened first. It contained a very well-machined set of spikes (four for each speaker), an equal number of locking nuts and spike-shoes (or floor savers as they were referred to in the instructions); and a very svelte-looking Magico-crested USB stick containing the unpacking and usage instructions as well as all the warranty material. All of these goodies were wrapped up neatly in an Hermes orange-coloured microfibre cloth. The instructions were comprehensive and contained a number of photos, making them exceptionally straightforward to follow… this is speaker setup made easy for even the most novice listener!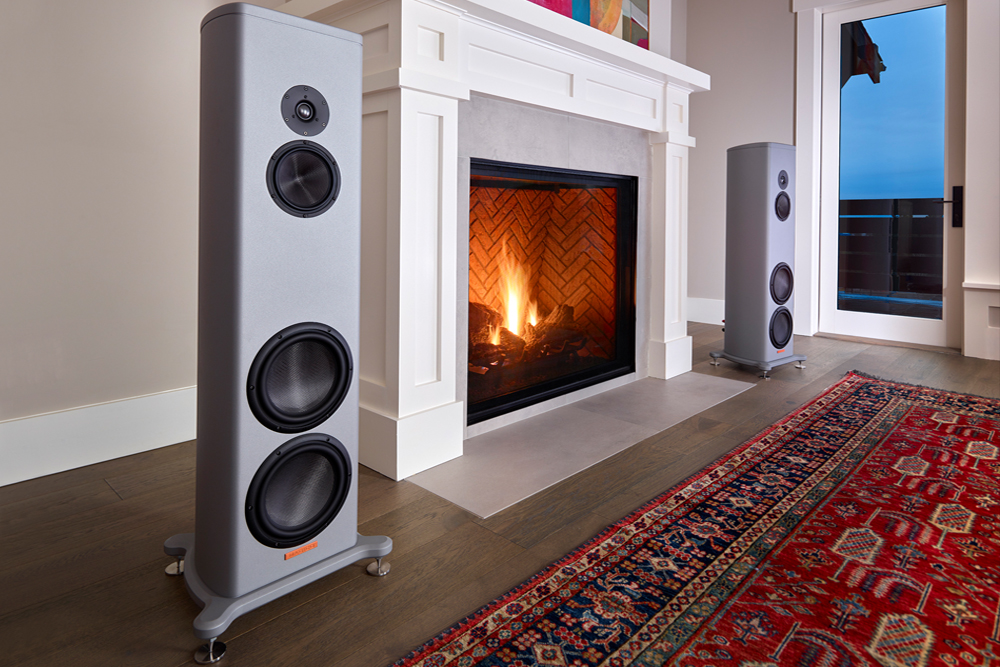 The speakers were removed from their respective boxes with great ease and they were easily positioned into what became more-or-less their final positions – further minor adjustments were carried out over another couple of days – throughout the course of my auditioning. The final placements were following the rule of 3s and 5s, with the midline of the speakers front baffles 1/5 the width of the room out from the side walls (~50cm) and 1/3 the length of the room out from the front wall (120cm). I found that positioning gave me the best imaging and bass performance from the Mk.IIs within that space. Final toe-in was set so that I could just see the edge of the inner rear outrigger feet from my listening position 2m from the speakers. Once the position was finalised, the spikes were easily set into the outriggers and the speakers leveled. The design of the feet, spikes and locking nuts made the whole process as easy as one could have hoped.
Although I should say that straight out of the box, the Mk.IIs performance was very commendable, I left the system running mostly night and day for a few weeks with a variety of different musical genres before forming any lasting impressions. Suffice it to say that every parameter of the Mk.IIs performance improved considerably over that time (and I should think would have continued to do so over at least another few months). Allowing sufficient break-in time with the Mk.IIs, as with any loudspeaker is essential!
Listening (and Enjoying)
I think I already let it slip that I liked these speakers. Well, I really did!
Before getting into the specifics, the Mk.IIs delivered one of the most top-to-bottom coherent soundscapes I had heard from a speaker at any price. They aren't small and I was at first concerned that their bass might overwhelm my relatively small room. It didn't.
In fact, throughout the auditioning, the Mk.IIs bass drivers were held in a sublimely vice-like grip by the Halcro dm68 monos. Over their break-in period, this characteristic lingered while allowing the bass (and in fact all the drivers) to become more harmonically developed. In comparison with my reference speakers for that room, the Dynaudio Confidence C2s, the Mk.IIs bass was far more articulate and refined. On classical and acoustic music, the subtle reverberation and decay of drum skin and the finest tonal shifts in the bass elements of strings (particularly massed strings) was remarkable. Not only was the bass much deeper that what I'm used to in that room, I was very impressed at how seamless it was. There were no hollowed or sucked out frequency bands, and by the same token, there was no pervasive mid bass hump that often accompanies many ported designs.
The bass possessed a sense of smoothness and a liquidity that is rarely captured in speaker designs (particularly at this price-point) so that complex bass tunes were delineated and could be followed with such ease. Macro- and micro-dynamic changes were effortlessly audible and imbued the system with a communicative authority that it didn't have with the Dynaudios. On pop or rock genres, the Magicos loaded the room with powerful, deep bass that would be enough to satisfy any listener who likes it loud and in rooms much larger than this one. There was no audible bass compression, stress or distortion.
Though the Mk.IIs excelled at bass, I think one of their main strengths was in the midrange and treble regions. What the designers at Magico have produced with the carbon fibre/nanographene midrange in combination with the diamond-coated beryllium dome tweeter is really something very special. The phenomenal imaging and transparency of these drivers allowed soundstage dimensions to extend far wider, taller and (to a slightly lesser extent) deeper than with the Dynaudios. The ambient cues of room boundary reflections in the recorded space and the decay of instruments was very impressive, and combined with the tonal authenticity and speed of the mid and bass drivers to create exceptional palpability and density in images. The presence regions of male and female vocals were beautiful and at no time could I detect any handing over of work between the drivers at their crossover frequencies… Driver integration was indeed first class! The superbly built and extremely rigid cabinet no doubt had a lot to do with all of these merits and although admittedly it isn't the most inert cabinet I've yet experienced, it comes very close. Over the course of this review I never felt as though my appreciation of what was coming from the drivers was pervaded by a noisy cabinet.
It is at this point that I have to make a special mention of the tweeter. Those who know me will know that I am a big fan of ribbon tweeters. Due to their low moving mass and relatively large surface area, they are typically capable of creating a very fast, airy treble with exceptional dynamism and impact. Their dispersion characteristics also mean that they suffer less from ceiling interactions, perform a better disappearing act and provide a better off-axis listening experience. In comparison, I find that many dome tweeters tend to make themselves known and because they are a point-source emitting high frequencies (which are generally easier to localise anyway), are just simply less invisible than their ribbon counterparts. Lastly, their larger mass means that they can't stop and start as quickly, and are therefore not as fast, articulate and sound comparatively blunted (and less airy) in the very upper registers. It is therefore with the exception of a certain handful of dome designs that I generally prefer the sound of ribbons. I'm sure many readers wouldn't agree, and that's OK… That's just my subjective opinion.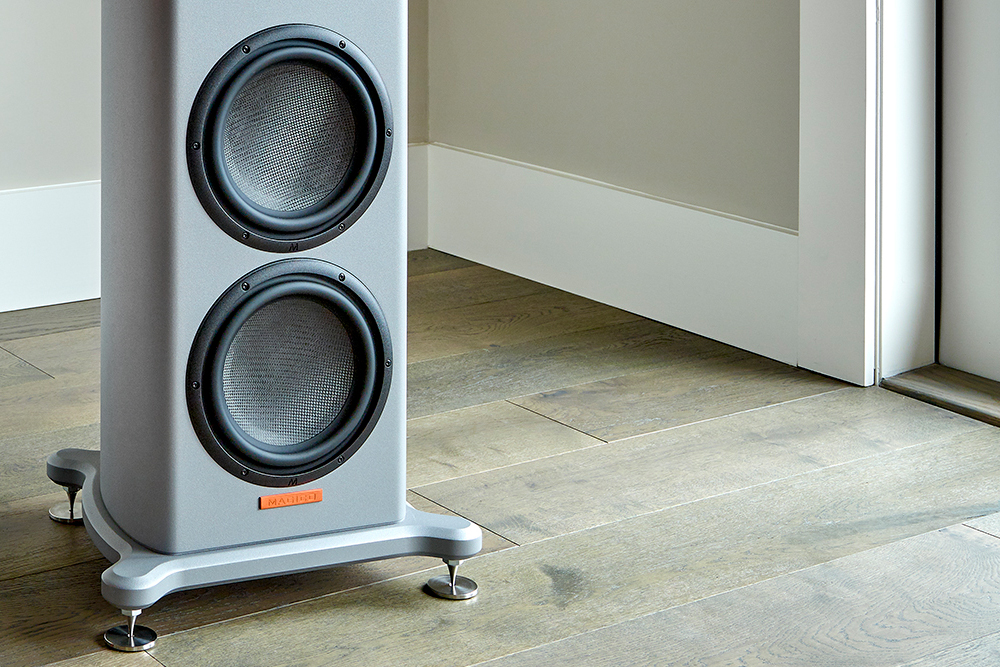 All that being said, this Magico tweeter has gone a very long way to change my mind. This tweeter is simply revelatory and I think it's the best part of this speaker! It is capable of producing some of the most eerily present, dynamic and fast treble I have heard and yet at no time did it make itself obvious. Perhaps I can be clearer about what it does so well by noting all the things that it didn't do? It wasn't spitty and it didn't accentuate sibilance or noise although it also wasn't soft-sounding, dark, or lacking in detail. It didn't draw your ear to the fact that it was making the sound; and finally, it never sounded like it was getting stressed at high volumes. It always maintained its composure and provided just the right amount of 'sparkle' that a tweeter should. Put simply, it was the most sonically invisible and musically satisfying dome tweeter I have yet heard. It is a real achievement, and the fact that Magico make structurally similar yet even more technologically superior tweeters is virtually mind-boggling.
My final note about these speakers is that, as one should expect from a high caliber speaker, they were very transparent to changes in source equipment. Switching CD transports from the Meridian 800 to the Mark Levinson No. 31 demonstrated all the signature differences between the two disc spinners that I expected. The No. 31 possessed a more rhythmically engaging sound, with slightly greater macro- and microdynamic swings. Image density and dimensionality improved, as did imaging specificity within the soundstage. The soundstage itself grew physically larger, likely due to a better ability to localize elements within the sound field. By contrast, the 800 yielded a slightly more laid back presentation, owing to a reduced sense of drive and punch. Dynamics took a little hit, as did the almost tangible pinpoint localisation of instruments within the soundstage (both laterally and in terms of layering) albeit to a slightly lesser extent. Despite sounding more laid back due to the relative reduction in immersion and involvement, the soundstage itself was apparently more forward, yet the overall depth wasn't greater than with the No. 31. Where the Meridian really shone, however, was in the sustain of decay and in its rendering of very low energy sounds, allowing them to emerge from the mix of large scale orchestra unscathed. Of the two transports, playing classical music through the 800 was certainly my preferred choice.
While I routinely make this jump between sources, the S3 Mk.IIs permitted me to far better appreciate these differences than I ever had before in this system. In my opinion, excellent components including speakers are masters of playing an extremely complex game of Chinese whispers. They receive information and are supposed to pass it on to the next link in the chain without alteration, so that the intelligibility and the meaning of the original statement are left intact. Music is all about communication – of the artist's message, emotion and feelings. The ability to transfer the nature and character of any source component through to the audible finish is therefore what any good high-end component should hope to do. Speakers are no exception to this rule and are in fact one of the most important links in the chain. I'm happy to report that the Mk.IIs excelled in this regard.
Comparisons
When comparing two things, I like to compare apples with apples. I've already mentioned several times that I prefer the Mk.IIs to my reference Dynaudio C2s in essentially every respect. While the magnitude of the difference in performance levels was generally large, there were other areas such as imaging, where the performance nexus was actually not so great. That being said, the Mk.IIs come in at roughly double the price of the Dynaudios, so it's basically what you'd expect… Not really a fair comparison, but I'm just writing about what I heard over the last few weeks.
I could write about how the Mk.IIs stack up against my reference speakers from my other system (the Evolution Acoustics MiniTwo), or how the Mk.IIs compare to other AU $30-40k loudspeakers that I've heard in the context of other systems for generally very short periods, but I won't. I haven't listened to the Evolutions in my smaller room with that system and they also (at least in this country) come in at a very different price point to the Mk.IIs. Finally, I don't think it's justifiable to make comparisons to other speakers heard in other systems for what were only comparatively short listening sessions. Like I wrote earlier, I'm all about keeping it apples vs. apples.
What I can say is that although I heard them in a different room, with a different system, quite a number of years ago is that I don't remember the original S3 doing the sorts of things for which I'm praising the Mk.II. While at the time, I remember feeling that they were competent (as in they technically did all the right things for their price point), I didn't find they communicated with me the same way the Mk.IIs have. From my limited impressions of the original S3, I think the S3 Mk.IIs have come a long way.
Conclusions
I thoroughly enjoyed my time with the S3 Mk.IIs. For a few weeks, they have consistently provided me with an engaging, emotionally communicative and musically satisfying experience. They are the finest speakers I've heard in this review system, and they allowed me to much better appreciate aspects of my equipment that just weren't apparent with my reference speakers. They do so many things just right and try as I might, I don't really have anything negative to say about them. From the moment they took residence in my listening space, the Mk.IIs have impressed and challenged some of the preconceptions I had about their appearance (from looking at photos) and their performance (from what I heard of the S3). Kudos to Mr. Wolf and the team from Magico!
The S3 Mk.II is simply an outstanding accomplishment and based on what I've heard out there, I feel I'd be hard-pressed to come up with a better performing speaker at their price point. While they may not suit everyone's taste either musically or aesthetically, if you're hunting for your next speaker and have about AU $30-40k to spend, I would sincerely encourage you to give the Mk.IIs an audition. In fact, I think you'd be silly not to.
. . . Josh Givorshner
Associated Equipment
CD transport — Meridian 800, Mark Levinson No. 31
DAC/preamplifier — Meridian 861 v4 (running v8 firmware)
Amplifier — Halcro dm68 monoblocks (using 'direct' input)
Loudspeakers — Dynaudio Confidence C2
Power conditioning — PS Audio Ultimate Outlet HC (powering front-end only), PS Audio Juice Bar, PS Audio Power Port AC receptacle
Digital interconnect — Harmonic Technology Cyberlink
Analog interconnects — EnKlein Aeros Extreme
Speaker cables — EnKlein Titan
Power cables — Shunyata ZiTron Alpha HC (power amps), Shunyata Anaconda (system lead-in cable), Shunyata Taipan Alpha (front-end lead-in cable), Vitus Andromeda (source equipment)
Equipment rack — Symposium Isis 3
Accessories — Telos Audio QAD (Quantum Acoustic Diffusor), Telos Audio QMT (Quantum Magnetic Tuning), Telos Audio QNR (Quantum Noise Reducer), Telos Quantum Stickers, Symposium Ultra Platform, Stillpoints Ultra SS, Herbie's Audio Lab Gabon ebony domes
Magico S3 Mk.II Louspeakers
Price: $42,500 AUS/pair.
Warranty: Five years parts and labor.
Magico LLC
3170 Corporate Place
Hayward CA 94545
Phone: 1 (510) 649-9700
Australian distribution:
Absolute Hi End
PH: +61 488 777 999