When KEF's all-fibre prototype 'Blade' project was introduced to the audio world a few years ago, the press went gaga over the tall and svelte form of this high-tech, state-of-the-art loudspeaker which heralded the direction the company was to take going forward, as far as its high-end offerings. Blade has since spawned a Blade Two sibling and the lessons learned as KEF developed these advanced speakers eventually began to trickle down to the company's more affordable fare. KEF's new R series bears the fruit of driver and other technologies employed to take this important middle-ground line to a whole 'nuther level to the previous-gen products. Here, we take a look at the R series flagship in the elegantly tall and graceful R11 loudspeakers.
Uni-form
I vividly recall my first encounter with the Uni-Q driver technology back in the early 1990s. At my suggestion, my brother-in-law Mick purchased a pair of KEF Q70 floorstanders which, back then, introduced the second-gen Uni-Q driver to a relatively affordable product. At the time, there was little to compete against the tall, slim Q70s in terms of soundstaging, image focus and their overly generous 'sweet spot' presentation. Nostalgically, I remember many-a-wild-night, at Mick's cosy Eastwood home, blasting Midnight Oil and AC/DC, downing countless pints, and again loudly, slack-assing around while the Q70s did their coherent thing. And although, even back then, I was firmly rooted in the high-end owning a beautiful pair of Duntech Statesman speakers, Mick's early Uni-Q-clad speakers indelibly embedded their joys in my memory banks.
By the way, Mick was responsible for introducing me to the world wide web via his ahead-of-its-time Acorn desktop (sometimes referred to as the British "Apple", among the very first multi-tasking computers and said to be the inventors of RISC). Text-only content from the most basic and boring of websites loaded at speeds of… minutes! "This will never be a thing" I said. Better I stick to audio.
Not the same world, is it… Of course, things have also moved on for KEF, the company, and its products. And while the Q series is still being produced by KEF, it is a completely evolved animal with only superficial DNA remnants from that early much-loved and fondly-remembered Q70. One step above the Q series you'll find the latest "new from the ground-up" generation of KEF's R series.
The range-topping R11 bears a strong physical and driver configuration resemblance to KEF's Reference 5 – appropriately downscaled to reflect the significantly lower price point, of course – and there's no denying the substantial speaker you get for your pesos. Prior to delivery, I had seen plenty of online images of the entire R series but I was surprised by the sheer presence, stature, beauty and overall level of build excellence the KEF engineers and designers have poured on to these speakers. And aside from the cosmetics, the current R line features a number of newly introduced elements which are highlighted by the re-engineered Uni-Q driver which has been modified and tailored specifically for the range.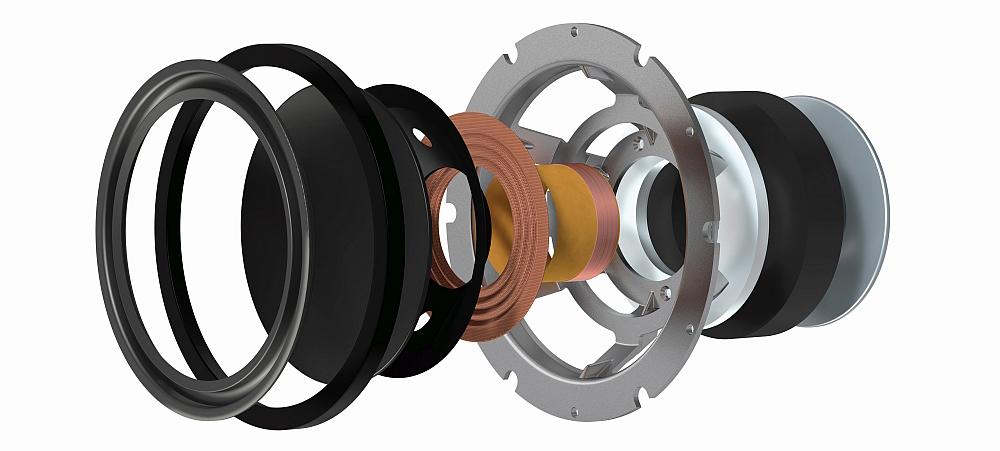 As the top model in the new R series, the R11 is a full 3-way design that, within its rather gorgeously-proportioned tall floorstanding cabinet, houses the aforementioned new Uni-Q driver (now in its 12th generation) supported by twin bass drivers both above and below it. Among other things, the R series' new Uni-Q has been refined by examining the physical and coupled resonant inter-relationships between the varied and numerous elements used in its construction. It's a magnesium/aluminium alloy 125mm mid-bass driver which houses a 25mm aluminium dome tweeter (KEF's patented 'stiffened dome'), both sharing the same acoustic centre. The driver features a series of embossed radial spines for added cone stiffness while its 'Shadow Flare' has been profiled in order to prevent the tweeter's wide dispersion from reflecting off the cabinet edges. This distortion-preventing measure has been achieved by angling the midrange driver's cone with a specific flare profile (effectively, it's a dispersion-friendly acoustic waveguide acting in harmony with the tweeter's own 'Tangerine' waveguide).
Newly engineered bass drivers have been employed to extend the R11's reach close to the capabilities of a full-range speaker. A total of four 165mm bass drivers have been placed symmetrically on the front baffle, two above and two below the Uni-Q driver. The 'hybrid' bass drivers feature a shallow-profile aluminium 'outer skin' which is coupled to a vented (via circular perforations) paper cone at the voice coil to make for an extremely stiff, yet light combination. The large T-shape pole magnet system has been enhanced and upscaled to provide thorough driver control, with KEF claiming true pistonic-like action.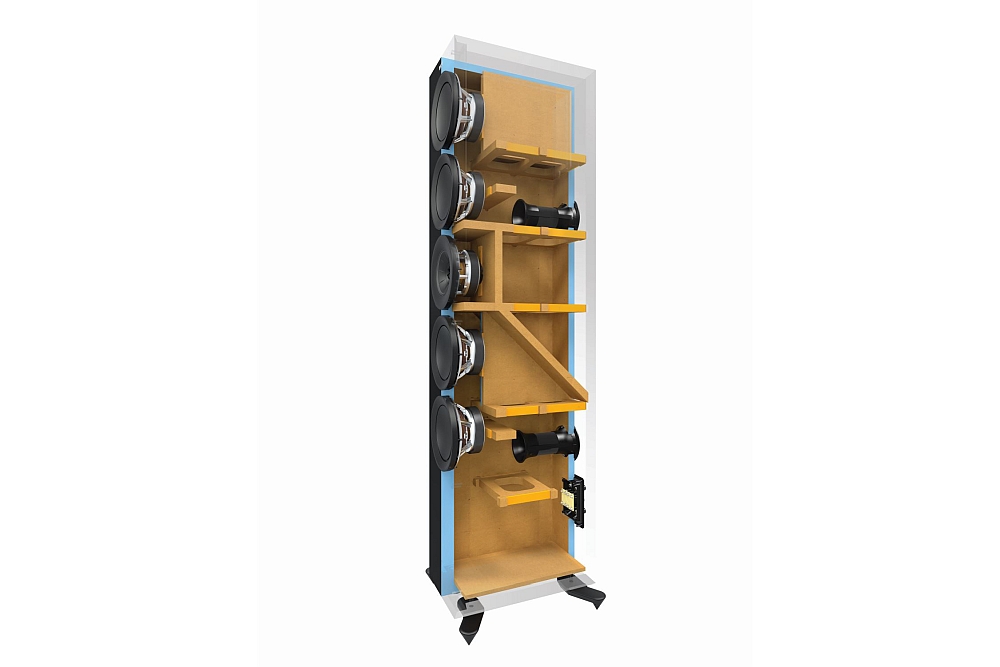 The beautiful cabinet is reinforced with a number of strategically-positioned internal braces which further deal with vibrational distortions by decoupling via constrained layer damped interface points. A section of the bracing scheme has been employed to effectively provide a dedicated enclosure for the Uni-Q driver. The R11 is a reflex ported design using KEF's 'Flexible Port Technology' which has been engineered using 'computational fluid dynamics', as the company states. Again arranged symmetrically on the rear panel and in line with the position of the bass drivers, the two ports are used to extend the bass drivers' low-end reach while the port material itself, being pliant, is said to prevent resonant modes. The ports' wide, rounded flare prevents turbulence, or 'chuffing'. KEF provides foam bungs for both ports which opens up options to experiment with combinations thereof in order to obtain the best low frequency performance in your listening environment.
The R11 is available in a stunning White Gloss with complementing white drivers, Black Gloss with silver drivers (more like a light gun metal colour) and a new stunningly beautiful light Walnut finish with matching copper-coloured drivers. The review sample's White Gloss was impeccable and the overall fit and finish was first rate. Each speaker is boxed with a pack containing matching-colour metal outrigger footers which screw on to the cabinet's bottom plate. These are well made, look cool and provide added stability. Also in the pack are a set of nicely-machined adjustable spikes (adjustment tool provided) and floor-protecting metal discs.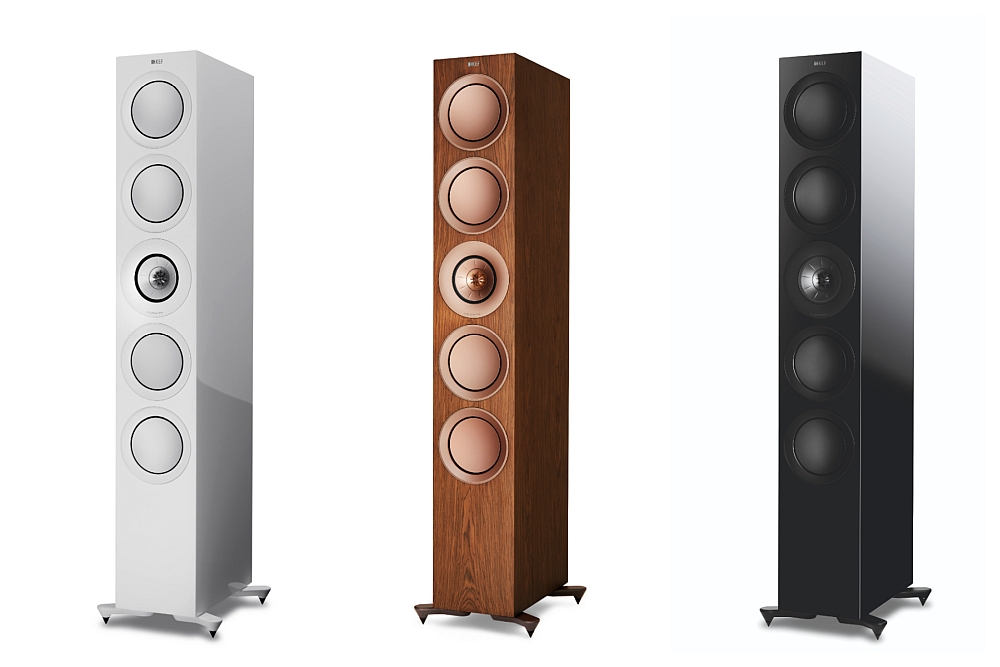 KEF specifies the R11 with a frequency response from 46Hz to 28kHz (+/-3dB) with a typical in-room response down to 26Hz, a sensitivity of 90dB (2.83V/1m) and a nominal impedance of 8 ohms (minimum 3.2 ohms). These last two specifications making for a reasonably easy drive both for good amplifiers of the solid state and valve variety. The R11's crossover frequencies are stipulated at 400Hz and 2.9kHz. KEF provides an elegantly simple method to engage bi-wiring; the high quality binding posts can be linked via the turn of an adjacent knob which does away with loose metal and cable links.
On Q
After some experimentation in terms of position and toe-in, I ended up with the speakers three, or so, inches forward of the usual spot. This provided a great balance between the solid bass – sans foam bungs – and the rest of the band. Toe-in was marginal – the speakers imaged and soundstaged phenomenally-well regardless of the toe-in angle. I ran them sans grille which, by the way, are very attractively styled with perforation patterns. They attach via embedded magnets so when they're not being used, the attractive clean lines of the front baffle are uninterrupted by mounting lugs/sockets.
It must be said, off the bat, that the new Uni-Q driver is something quite special. Here is a unique (pardon the pun) low-distortion design that has been refined to the point where, in this new iteration, it's capable of superb resolution, profound detail retrieval, overall smoothness, verisimilitude and astonishing soundfield rendering.
Let's look at the last aspect first. My usual suspects for best illustrating these soundstaging qualities are a number of live recordings which have been captured and mastered superbly by the engineers at the venue and at the studio. I have several live recordings which fit the bill and, with each one, the R11s disappeared while creating a massive soundfield. Be it Jackson Browne and his multi-volume releases from around the world's stages, or Ryan Adams, Harry Belafonte and The Weavers at Carnegie Hall. With all of these, the R11 reproduced a very large sonic picture which encompassed all dimensions. Very wide soundstage with good height perspective and excellent depth. Top that off with some of the best imaging in the business across a very generous sweet spot. Yes, on our very wide 3.5-seater lounge, I heard superb soundfield projection across its entire breadth.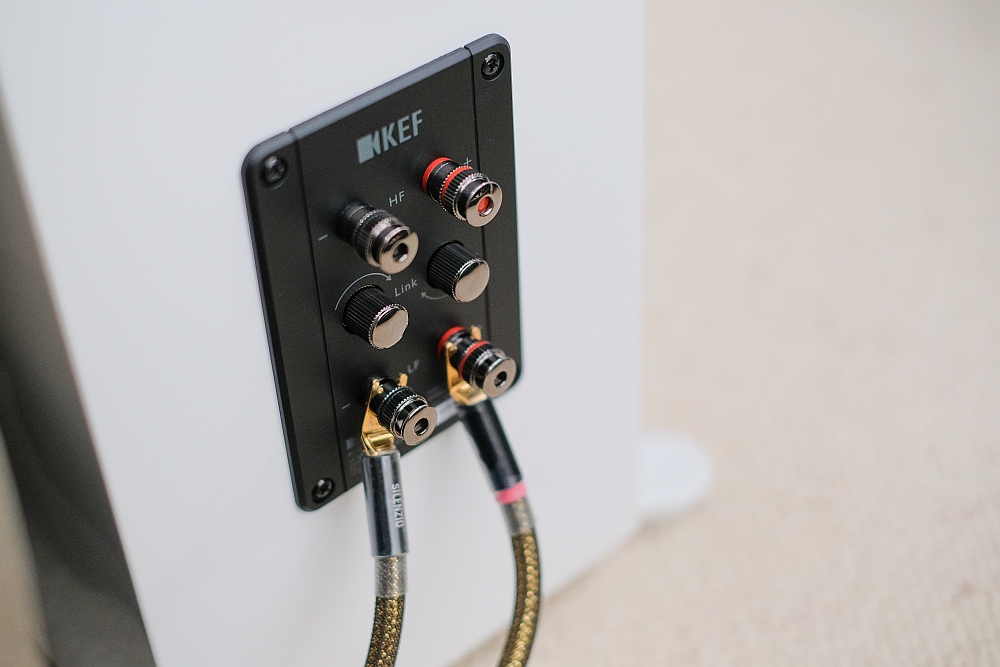 The new Uni-Q driver is a smooth operator while being thoroughly detailed and immensely dynamic. The guitar delicacies offered by Andrés Segovia (again a live recording in The Art of the Guitar) in his subtle plucking and picking came through with realistic nuance while clearly showing the nature of the instrument's tonality. This performance was recorded in a rather reverberant venue and the tweeter and midrange combo in the R11s conveyed the natural ambience of the venue in a most convincing way.
Good instrument separation was illustrated via Wilco's Wilco Schmilco – among many others – where the R11s showed precise delineation of the vocals juxtaposed against a most solid drumming beat in conjunction with satisfyingly deep and present bass. A Perfect Circle's new Eat The Elephant release, while not being the most beautiful of productions, nevertheless gives a good indication of a modern rock recording, even if it's sonically inferior to the band's own Thirteenth Step. Via the R11s, the piano lines in the title track had weight, good attack and clear tonal accuracy while the complexities of busier tracks such as "Disillusioned" and "The Contrarian" were aptly resolved in terms of delineation of dense musical strands.
While the R11s' low-end dug deep enough for 95 percent of listening activities – barring large pipe organ music – the bass from around 100Hz (and just above and below) was extremely punchy and detailed. This is where the kick drum lives; its upper-band attack and its lowest punch. Ride's "Unfamiliar" from their Today Forever EP showed kick drum socking power and incisive snare tightness with the multi bass driver array working in harmony with the extraordinary Uni-Q driver in a way that provided musical enjoyment of a very high order. At some frequencies, I heard a very subtle colouration, or hollowness, like a cabinet signature, that only made itself just noticeable in the lower registers of some male vocalists. This is only in relation to the juxtaposition of my reference Alexia Series 2 which possesses one of the most inert and colourless enclosure constructions in the business (let alone the price differential).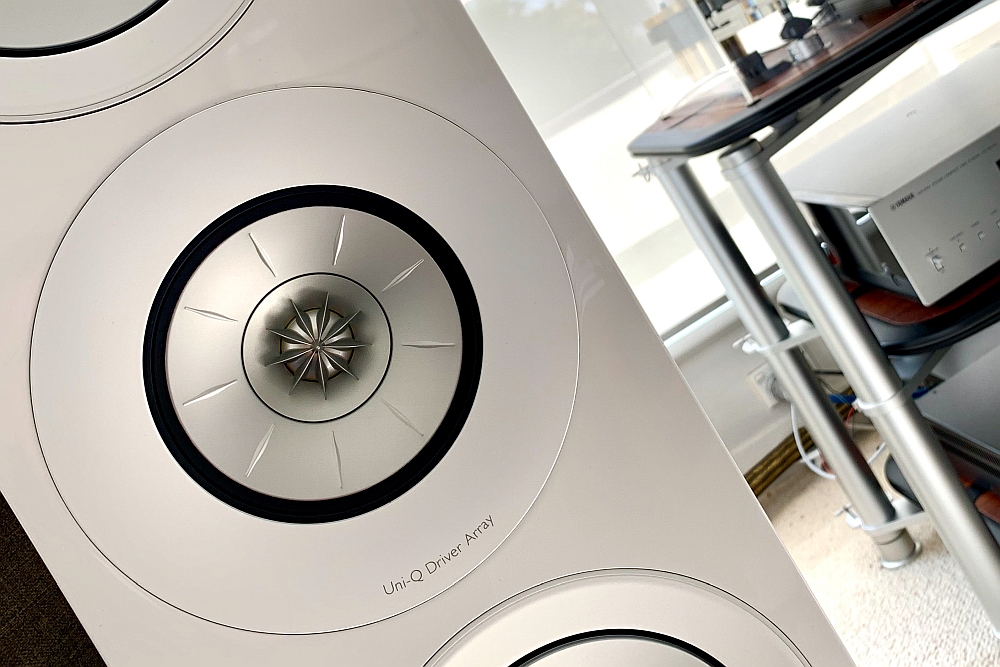 The benefits of the Uni-Q driver's immense soundstaging and imaging capabilities were displayed efficiently in orchestral works from Beethoven to Tchaikovsky via Debussy and many others where the expanse of the orchestra spread across the listening room. And when soloists Belkin, or Oistrakh, or Vengerov – or many of the others I took pleasure in – did their thing, they were rendered clearly, accurately and extremely present within a sonic image that was always stable, focused and full-bodied. What's more, the violin always sounded like a… violin. In other words, there was no shifting of the tonal balance down lower, rendering violins (in this example) almost cello-like, or too tipped-up high, making it shrill and aggressive. No, the R11s were very apt at recreating the correct tonal qualities of all instruments.
Conclusion
There is no denying the powers of the economies of scale from a multi-national-level manufacturer. If similar technologies, construction, overall finish and, most importantly, sonic performance, were all offered from a 'boutique' or 'cottage' company, the R11s would be priced at a significantly higher bracket. Having said that, in terms of technologies, only a powerful company with significant R&D resources would be capable of engineering and developing the high quality drivers that are employed in varying versions across the entire range of KEF's speaker products.
That KEF is able to offer all of the above at an astonishing price of AU$8995 makes it nothing short of a bargain. Truly… because that term is applied liberally by many reviewers. But as far as this reviewer is concerned, the value on offer here is undisputable. The KEF R11 is a genuine audio bargain. Period.
… Edgar Kramer
This email address is being protected from spambots. You need JavaScript enabled to view it.
Associated Equipment
Speakers — Wilson Audio Alexia Series 2, Axis Loudspeakers VoiceBox S (nearfield monitor), Vermouth Audio Little Luccas Mk.II
Amplifier — Gryphon Audio Antileon EVO
Preamplifier — Supratek Cortese, Lightspeed Attenuator LDR passive
Sources — Digital: Yamaha CD-S2100 transport, Chord Electronics M Scaler, Totaldac d1-core DAC, Asus PC as Roon Core. Analogue: Michell Engineering Orbe with Gert Pedersen Level 3 modifications and Origin Live Ultra upgraded motor, Trans-Fi Terminator air bearing linear-tracking arm, Shelter Harmony cartridge, Supratek Cortese & REDGUM Audio RGPH2 phono stages
Processor — DEQX PreMate
Cables — sILENzIO loom, Vermouth Audio Black Pearl Mk.II loom
Audio Rack — SGR Audio Statement Model V
Miscellaneous — Les Davis Audio Viscoelastic CLD discs
KEF R11 Loudspeakers
Price: AU$8995
Warranty: Five Years
Australian Distributor: Advance Audio
+61 2 9561 0799
www.advanceaudio.com.au
Gold Peak Industries (Holdings) Limited/KEF International
(852) 2427 1133
www.kef.com
www.goldpeak.com