Recently, under guarded supervision (actually I'm often under guarded supervision but that's another story…) this reprobate listener had the privilege of experiencing the distinctly esoteric and musically liberating Sennheiser statement headphone system, the HE-1. The music selection was limited but that serene aggregation of valves and marble and electrostatic drivers brought me ecstatic peace in an instant.
When properly partnered, the beauty of a great headphone (even in a much less rarefied context) is its innate ability to directly and immediately connect the listener to the music. To engage the listener in a way that can often elude bigger box speakers with their attendant boxy problems and with the room acoustic compromises when loudspeakers are being accommodated in ever smaller modern living spaces.
Little wonder(s) that headphones are in the vanguard of so many contemporary audio playback systems. And, when Sennheiser, arguably the mother of all headphone (and microphone) companies, announces the "perfect companion to Sennheisers' audiophile headphones", well now… we prick our ears up tout suite.
Expressway to Yr. Skull
With the notable exception and remarkable sonic achievement of the no expense spared HE-1, the Sennheiser HDV 820 is effectively the new flagship headphone amplifier in the Sennheiser audiophile range. It succeeds Sennheiser's first ever solid state DAC (digital-to-analogue convertor)/head amp combo, the HDVD 800, and, notably, took two years for the final product to land after its initial announcement as a prototype in 2015.
Building upon the accomplishments of its predecessor, the Sennheiser HDV 820 is a fully balanced DAC/amp design from input to output, which operates within Class-A. According to Sennheiser, both the digital and analogue sections have new components and leading-edge design which results in "enhanced, higher resolution" and "allows for unadulterated listening enjoyment, thanks to its improved fully balanced signal processing and extremely low harmonic distortion". The HDV 820 "provides an incredibly pure sonic experience for every audio source" and is said to make "great headphones show all their class".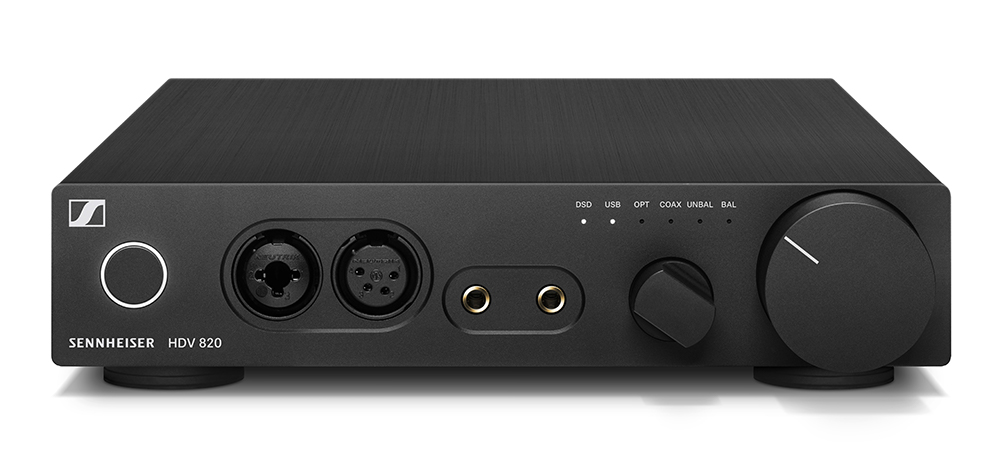 Sennheiser are a little circumspect as to precisely what the new and improved components are. However, in a Q & A on HeadFi, Axell Grell, long-term Manager of Sennheiser's Audiophile Portfolio, affords some useful insights, particularly into the digital heart of the design.
Whereas the earlier HDVD 800 used a 24/192 Burr-Brown DAC chip and symmetrical signal processing, the all-new digital section of the HDV 820 is powered by an ESS SABRE32 DAC, from the ES 9018 family, again in a completely balanced topology. Sennheiser asserts the DAC "offers unequalled dynamic range, ultra-low distortion and unmatched audio quality". It performs at a PCM resolution of 32-bits and a sampling rate of up to 384 kHz and also DSD256 files of up to 12.3 MHz.
While others now have playback capability up to 768 kHz and up to DSD 512 for instance, Axel Grell states that "we have tried many different DAC chips and had the best results when we listened to the ESS ES9018". Moreover, the HDV 820 uses a single DAC configuration which presents a quadruple solution for each channel. Grell rates the circuit design, PCB layout and the type of Op-Amps used as producing enhanced performance over a second ES9018 chip, continuing, "Extended clock wires for connecting a second DAC chip have a much higher negative impact to the audio signal quality than using a single DAC chip instead of a dual DAC solution".
He continues to explain how the digital circuit design is based on the original ESS filters which below 48 kHz sampling frequencies a sharp roll is employed and a sharp one above that frequency. These decisions were made based not purely on data and measurements but in conjunction with exhaustive listening tests and a variety of headphones.
In SPDIF mode sharp roll off filters are used at all sampling rates. The HDV 820 does not, at this stage, support MQA.
The analogue section and the power amplifier of the HDV 820 are also improved from the earlier model. When it comes to a modern headphone based home audio system, connectivity and versatility are the name of the game. Actually, pro audio has been doing it this way for years and, with over 70 years of experience, Sennheiser has the expertise and know-how to do it all in the home, while preserving ultimate sound quality, better than most.

At the back, the HDV 820 has a set of balanced XLR analogue inputs and a set of single ended RCA inputs for analogue sources such as phono and CD players. Digital sources can be connected via TOSLINK optical, S/PDIF coaxial or USB. The HDV 820 can also function capably well as a preamplifier with 3-pin balanced XLR outputs to drive active monitors but unfortunately not simultaneously with headphone operation.
On the front, its multiple audio outputs include an unbalanced output through an XLR/ 6.3mm combined Neutrik socket, one balanced XLR4 and, innovatively, two balanced 4.4mm Pentaconn sockets. According to Sennheiser, with the new, non-proprietary Pentaconn Connector, the Japan Electronics and Information Technology Industries Association (JEITA) has set a standard for balanced headphone connections which will minimise today's complexity of non-standardised connectors. Due to its diameter of 4.4mm, it is suitable for mobile and stationary applications. "The unmodulated, very low contact resistance of the Pentaconn Connection leads to a distortion-free signal transmission". And, according to Grell, in the HDV 820, when the Pentaconn or XLR4 outputs are used in conjunction with the balanced outputs of each channel of the ES9018 DAC, "this balanced signal path terminates only in the headphone's speaker".
So, with headphone impedances becoming ever more demanding, what of the HDV 820's power output? Sennheiser claims that with two Sennheiser HD 800 S headphones connected to the Pentaconn output sockets, "the amp still carries enough reserve power to evaporate the drivers. Share without compromise!"
It's my understanding that Grell has expressed in interviews that, in his opinion, there are no general rules for headphone amplifier output impedance. Variations in impedance schemes result in variations in headphone sonic performance based on other aspects of the design. It's a complex scheme of interactions between headphone and amplifier. Sennheiser has conducted extensive listening tests using many brands of headphones and varying impedance specifications and reached a conclusion that the HDV 820's output impedance resulted in superior performance.
Amen to all that. For the record, the HDV 820's output impedance is officially stated as approximately 40 ohms, and the HDV 820's output power is rated at 2.76 watts/channel at 32 ohms, 2.5 Watts at 50 ohms, and 960 mWatts at 300 ohms. If desired, there is even more gain provided for RCA input by way of a small recessed dial located on the back panel. In use, it has ample power for most real world applications. In fact, the HDV 820 drove my own planar magnetic Abyss AB-1266 headphones with their beastly load (46 ohms nominal impedance and 85 dB sensitivity) surprisingly well with only a slight diminution of dynamic integrity, impact and bass power. It was predictably more effective driving my dual- driver (dynamic/electret) ENIGMAcoustics Dharma D1000 (28 ohms nominal impedance/103 dB sensitivity) with its lighter impedance load and, of course, its natural partner, the mighty Sennheiser HD 800 S dynamic headphone (300 ohms).
Designed and manufactured in Germany, the build quality of the HDV 820 is reassuringly high. The unit sports a black anodized finish with white LEDs. It looks as smooth and slinky as its Alps volume pot feels and is designed to complement the storied Sennheiser HD 800 S in both looks and performance (while we await the arrival of the HD 820, no doubt…).
Expressway to Your Heart
Used as a DAC/amp integrated unit, the HDV 820 seriously impresses with a consistently warm, sweet and surprisingly natural sound. It has the typical Sennheiser sonic virtues of spectacular soundstaging and pin-point imaging, and what can only be described as über insight into any musical performance. It has precision and control across a rather wide audio band but not at the expense of a quite organic and free-flowing musicality. In actual fact, it is this characteristic warm, liquid, and engaging musicality that makes it such a special amplifier no matter what the headphone or the source or indeed the program.
Voiced, of course, to complement Sennheiser's own high-end range of headphones which tend to have a text bookish non-romantic neutrality, I was still not prepared for the HDV 820's performance with the Sennheiser HD 800 S headphone. It was simply and stupendously transformative. The HD 800 S is a technological and sonic tour-de-force but one that I feel appeals more to the head than the heart at times. It has that breathtaking Sennheiser imaging and detail retrieval but can be a little on the cool, dry and overly analytical side. A little too unforgiving, particularly in the treble. I have wanted to love and not merely respect this headphone for the longest time but until now I had yet to find an appropriate head amp. The HDV 820 finally makes experiencing music through the HD 800 S an awe-inspiring emotional trip rather than a mere intellectual engagement. As such, I did most of my listening for the review period with the headphone I now loved and now respected all the more.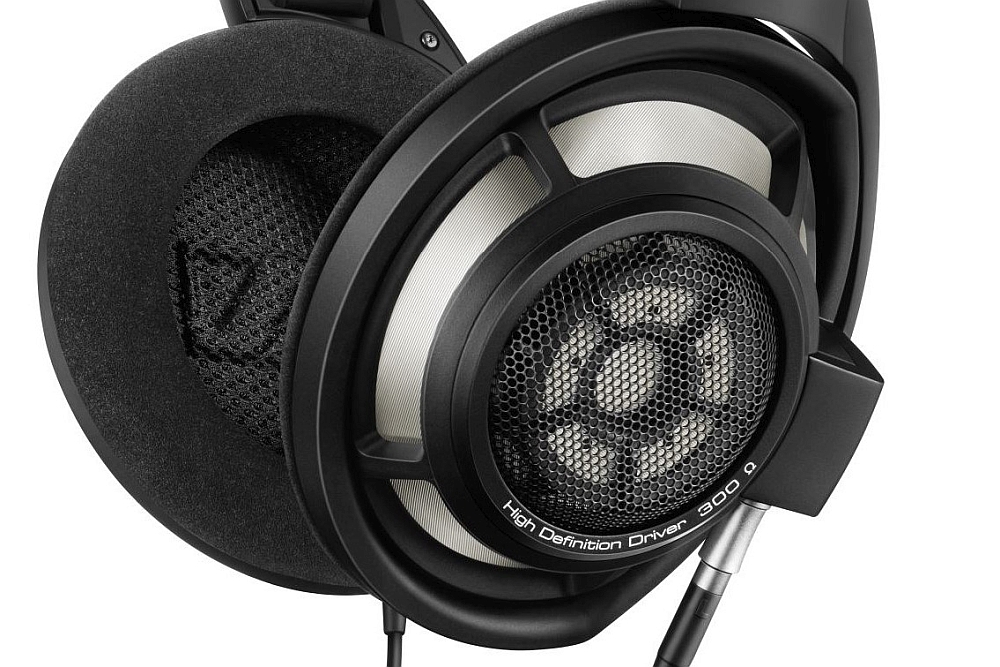 Sennheiser provided both RCA and balanced cables for the HD 800 S and, it must be stated at the outset, that the balanced headphone connection, which exploits maximally the fully balanced internal architecture of the HDV 820, is blatantly, comprehensively superior, and by no small margin. It opens up such vast new sonic vistas, not only in terms of spatial resolution, air and layering perspectives, but also in terms of tonal refinement and timbrel realism, that once experienced, there's no going back to the Neutrik connector. No doubt due to the lower noise floor, the sound gets more saturated and intense. Scale and dynamics grow exponentially bigger and are of greater musical significance and moment. You just get more out of your musical head this way with no sacrifice in timing and forward momentum.
Kosmiche musik or perhaps, originally, less charitably, 'krautrock', is a perfect genre for headphone listening. Onto the player goes Future Days by Can, an expansive head trip of an album of classic European electronica which I never thought would stand up to repeated listening through a potentially peaky and revealing headphone like the HD 800 S. Through the HDV 820, the performance is the immersive and intoxicating aural experience that Can intended it to be. The treble is smooth, extended, and really quite open. Surprisingly non-fatiguing. Never claustrophobic. Transients are sharp, but not too sharp. The soundstage is very precise and well defined. Cymbals splash and shimmer, and decay… and decay. They are reproduced with such easy clarity and intimacy as indeed are all ambient cues on an ambient album made well before the genre had a name.
Instrumental separation is extraordinary, making the most of the HDV 820's exemplary front to back depth and layering perspectives. Individual strands are very clearly delineated. Likewise, tonal and timbrel textures are beautifully yet naturally rendered. On "Moonshake", the late, great Holger Czukay's bass pulses not just with essential rhythmic integrity and avant-funk drive and groove but also with immensely insightful and realistic texture. The drums and guitars also have a crucial sense of purpose, a sense of real flesh and bone on skin and wire. They are notably large in size, and rich and dense in tone and tonal information. They are correctly positioned with appropriate air and with massive instrumental volume. Indeed, the midrange is stunning if ever so slightly laidback in the upper mids: liquid, mellow and almost tube-like. On the title track, singer Damo Suzuki emerges some minutes in surrounded by a lush, organic cushion of swelling synths and subtle, lyrical, reverb drenched guitar, buried deep in the mix and from far beyond the listener's deep horizon. Expanded musical consciousness? You bet Julian Cope's leather trousers it is!
Always accurate and faithful to the source signal, the HDV 820 can be startlingly transparent and revealing. It clearly differentiated between an original vinyl pressing of Neu!'s phenomenal first album on Brain Records and a suspected digitally remastered wider bandwidth re-issue on Astralwerks. On either pressing, however, the musical experience is consistently involving and captivating in the musical sense. Renegades from an early iteration of Kraftwerk, the Neu! duo of Michael Rother and Klaus Dinger self-reflexively eschewed traditional song structure and harmonic development for timbrel development and entrancing 'motorik' beat rhythmic repetition that is no less valid and musically compelling.
Through the HD 820, the experience is totally mesmerising. "Hallogallo", the spiritualised opening track, is palpably holographic and panoramic. The HDV 820 is essentially neutral and uncoloured and is therefore patently critical of the sound quality of a recording. But, critically, there is no sense of 'Sabre glare' from the DAC implementation and image outlines are free of solid state etch and grain. The HD 820 characteristically seduces with intense, percipient detail that is at once highly musical, supple, and nuanced, affording commanding insight into Neu!'s heady aural matrix that again extends far beyond the confines of the cans themselves. Equally importantly, nay crucially, it gets the tonal colours and textures that are so important to heightened emotional engagement with great musical performance ever so right which is really quite remarkable for a solid state DAC/ head amp at the price. The HDV 820 is all about focus and control but it always gets out of the way of and never impedes the flow of the essential musical message.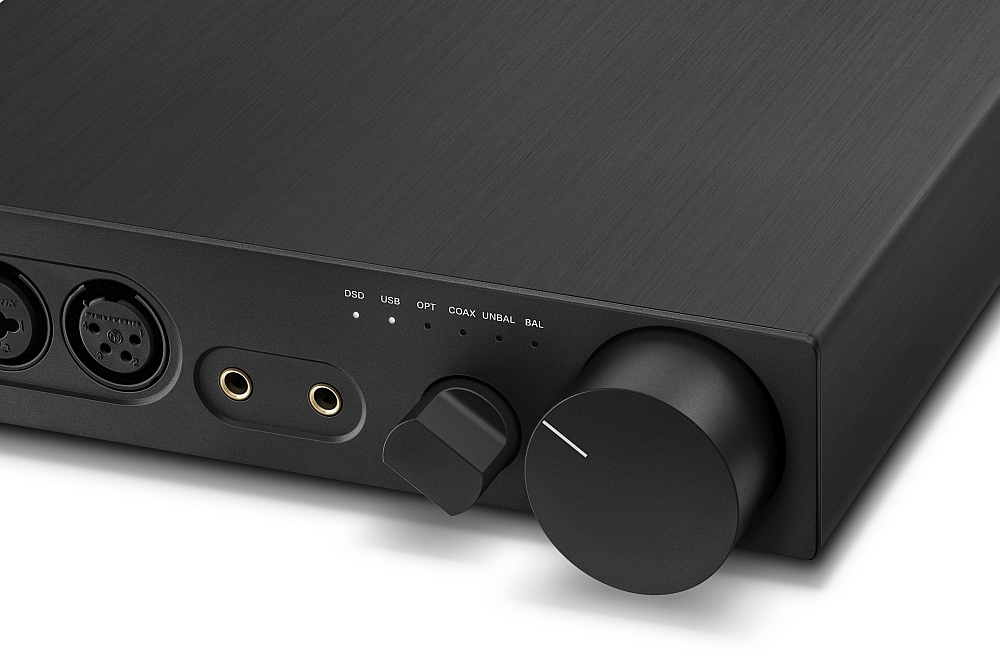 Streaming Eberhard Weber's ground-breaking chamber jazz classic The Colours of Chloe at 24-bit/196 kHz through the HDV 820 shows just how good the new ECM streaming service can be. It also demonstrates just how satisfying and musically convincing the HDV 820 can be even without MQA. Like his contemporaries above, Weber here is all about mixing sonic textures and 'More Colours' but in a space-y jazz idiom. His distinctive tonal combination of bass, piano (and synthesizer), horns and strings where no one sound dominates for too long makes for an electrifying listen through the HDV 820. Weber's aural approach mirrors the HDV 820's rather balanced approach to music-making across the frequency spectrum. Again remarkable for a solid state device, (and again, remarkable for the HD 800 S), the HDV 820 reproduces these diverse tonal textures and colours with such sophistication, with such richness and density, that the various instruments again sound massively material in size, volume, and air but where no one aspect of that frequency spectrum is felt to be unduly emphasised or lacking in so doing.
Nit-picking a little, the HDV 820's bass range, while full and sufficiently impactful, can be a tad overly warm, ripe and rounded, a little congested and lacking some precision and inner detail, when compared to the stellar tube-like midrange. Kind of like the HD 800 S itself in this respect. Other admittedly more expensive DACs evinced just how superb the amplifier section of the HDV 820 really is. But even with its own internal DAC in play, the hi-res version of "Colours" ably demonstrates that the HDV 820 is capable of fine macro- and micro-dynamic discrimination and resolution and, moreover, as on 'No Motion Picture' can really swing in the PRAT stakes with what Can rightly calls "Flow Motion" propulsion.
Conclusion
I am tempted to conclude simply by stating that the Sennheiser HDV 820 DAC/ headphone amplifier makes the Sennheiser HD 800 S supremely listenable on a broader range of program but that would be doing both products a major disservice. No matter what the headphone or source material, the HDV 820 is a supremely neutral and enthralling music-maker in its own right and is very worthy of its flagship status in the exalted Sennheiser audiophile line.
The solid state HDV 820 makes for a consistently big, warm, and emotionally engaging sound that, especially when run fully balanced, is nonetheless highly resolving and capable of great differentiation between recordings. Intense insight into each musical performance is a hallmark but never at the expense of high order musicality. The vivacious but organic midrange, in particular, is genuinely world class. Tonal and timbrel information, space and nuance, are all exquisitely rendered.
Soundstaging is immersive and involving, all-enveloping and panoramic. Imaging is big, massively big. As are dynamics and separation. The HDV 820 represents truly exhilarating high-end head-fi sound at a reasonably affordable price all in your own private Idaho.
The HDV 820 is not only musically authoritative but is also extremely versatile. It is thoughtfully and intelligently deigned to accept basically any type of source available as well as to function as the beating heart of a great personal audio system.
But let's really get to the heart of the matter: the Sennheiser HDV 820 is highly recommended by this listener because it so directly and expressly engages the heart as well as the head. It makes that connection with such immediacy, and with such sweet, natural burning intensity and musical insight, that I will be genuinely sad to see it go. I believe they call that desire.
…Peter Katsoolis
Associated Equipment
Speakers - Shun Mook Bella Voce; Redefy Audio Monitor (for review)
Amplifier - VTL MB 185 Signature Series iii; Wavelength Audio Napoleon 300B monoblocks; Pass Labs XA25; SPEC Corporation RSA-M3EX and RSA-777EX (on loan)
Preamplifier – VTL 6.5 Signature Series ii; CAT SL1 (phono stage only)
Sources – Oracle Delphi, Sumiko The Arm, Lyra Titan I; Aqua Acoustic Quality La Diva CD and Formula xHD DAC; Gryphon Mikado Signature CD Player; Metrum Acoustics Hex DAC; Auralic Aries Streamer
Cables – Nordost Heimdall 2; HiDiamond D3 and D2 loom
Sennheiser HDV 820 Headphone Amplifier & HD 800 S Headphones
Price: HDV 820 AU$3799.95, HD 800S AU$2599.95
Warranty: Two Years
Australian Distributor: Sennheiser Australia
+61 2 9910-6700
www.sennheiser.com.au
Sennheiser electronic GmbH
Am Labor 1
30900 Wedemark
Germany
+49 (0) 5130 600 0
www.sennheiser.com