High End Munich 2023 was, once again, a resounding success. In fact, beyond expectations. As always, the sheer mass of exhibits makes it difficult to showcase all that's happening at this global flagship audio event. Kudos to SoundStage! founder Doug Schneider and Senior Reviewer Jason Thorpe for their outstanding coverage. Herr Schneider tackled new products launched at HEM, providing finger-on-the-pulse updates made 'live' on the SoundStage! Global website within the show's commencing few hours (see it here). Herr Thorpe tackled interest pieces and a variety of exotica while yours truly would compile my usual '10 Favourite Exhibits' and noteworthy selections post-event. On the show's last day, on Sunday afternoon, I travelled to Denmark at Gryphon Audio's invitation while Jason skipped across to Italy to say g'day to Unison Research, Audia Flight and Gold Note. I'm back in 'the Mountains' now to bring you my picks of High End Munich 2023.
When Stars Align
This year High End Munich celebrated its 40th Anniversary. Communications with Press and Public Relations head Claudia Kazner showed an attendance of 22,137 from over 100 countries. There was a total of 550 exhibits from 54 countries around the globe. "The result far exceeds the expectations of the event organiser… Alongside the abundance of positive feedback from those involved in the trade show, these figures underline the fact that this anniversary event was the most successful in the history of the HIGH END", Kazner affirmed.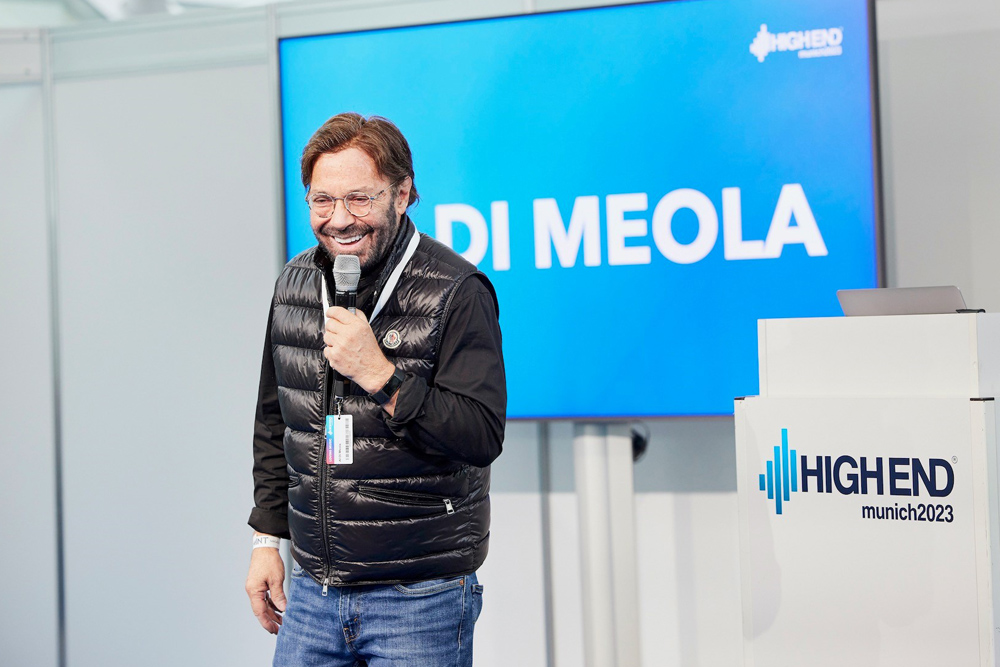 This year's show ambassador was superstar Al Di Meola – yet again, a coup for show organiser the High End Society. Needless to say, the Press Conference was standing room only. The guitar icon no doubt drew even more attendance on the public days. Unofficially, I was at a behind-the-scenes collision of hypergiants between Di Meola and super-record producer Rick Rubin. Boy, could these two trade some stories…
Perfect 10?
On to the '10 Favourite Rooms' snapshots. As per usual, these are exhibits where the sonics were good to great. This meant that at the time of my visit, the music being played did the system justice, in terms of drawing worthy performance while also being subjectively enjoyable. Other aspects of the audition come into play too. Did the exhibitor consider, and deal with, the room's acoustics? Is the lighting and room layout conducive to a pleasant listening experience? Are company personnel welcoming and informative? And so on…
Once again, I state my framework, my template, for these write-ups as I quote here from past show reports:
I don't normally judge sound quality at shows. Not on a comparative level to the potential I know is available outside of show environments. That would be foolhardy. I only gauge my enjoyment, or outstanding performance aspects, based on the moment… there, at the show. On that day. Not as a judgement call on universal potential. And not, in any way, disregarding or discounting the valiant efforts from all the exhibitors at the show.
With that qualification clear and present, I begin my take on the rooms which made the biggest impressions on the day. By the way, this is not a best-first, least-best-last summary. The fairest way to handle this was in happenstance order – wherever I landed first and then onwards and in-between meetings, etc. – if it merited being in this list, it got written up in my on-the-spot notes. Simple.
I should also mention that there were several rooms – the Albedo, Göbel High End, Harbeth, Kharma, Marten, Totaldac, Totem Acoustics, Vienna Acoustics (new active speaker), Vitus, and others – which sounded very good and were beaten by a smidgen of a margin, by the chosen 10, within the small window of my audition. Were it possible, a few more minutes in each may have presented a different outcome… or not.
Oh, and after the 10 picks, there's a special mention section with some cheeky acronym-titled gongs to products/exhibits which also stood out but in different ways.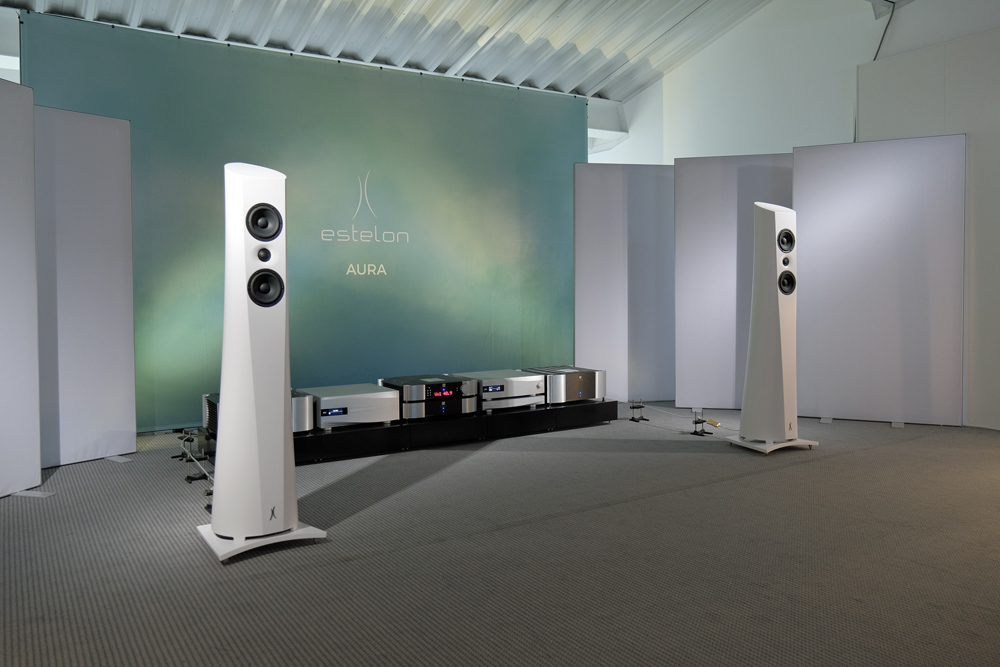 I was off to a great start. I happened upon the Estelon room first-off. The company was showing its newest line-up addition – the elegant Aura. Supporting gear was from dCS (three stack), Moon two-box 850P preamplifier and 861 power amplifiers (monoblock configuration) and Crystal Cable. In a first at a show (and I've been to a whole lot) the Aura speakers, from the single sweet spot chair, performed the best soundstaging and disappearing Houdini act I've heard. Quite the revelation. The svelte and super-elegant new speaker – in my opinion, it's the prettiest in the company's line-up and one of the industry's most attractive aesthetic designs – totally flouted the constraints of the room's boundaries. It presented a super-wide, super-deep soundstage with precision-cut images. The low-end was tight and deceptively deep considering the relatively small enclosure. I found instrument timbre/tonality spot-on. A balanced, generously proportioned sonic presentation which set a rather high bar for the exhibits to come.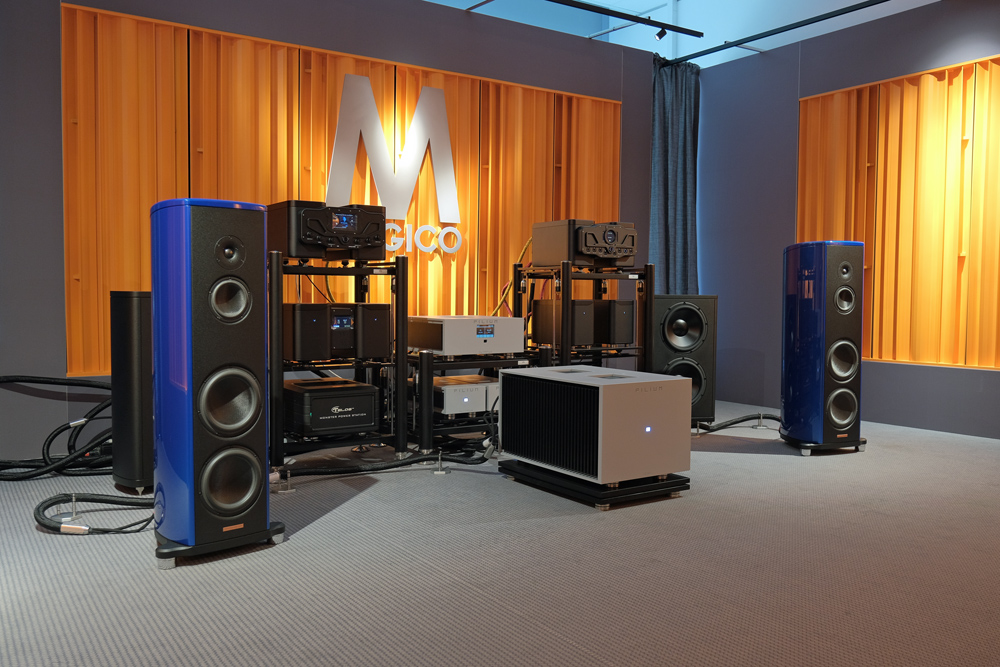 Magico always puts on a great show. Mostly, Alon Wolf runs the tunes from a wisely curated playlist. This year, the tune-spinning was shared by ex-SoundStage! comrade Jeff Fritz who has joined the company as an ambassador. For the first time, going from memory, Magico presented in a room which was intelligently and entirely treated with a variety of acoustic diffusor panels across all the walls. Right there is an important lesson to all exhibitors (granted, there were others who also used treatment products to some extent). Yeah! The company's newest speaker design, the S3 was given support by two S-Sub MkII subwoofers. The system was driven via Wadax Atlantis Reference-level and Antipodes Oladra front-ends, Pilium Audio Divine preamplifier and power amplifier, Telos Monster Power Station, VYDA Labs cable loom and Nordost digital cables. All sat on an Artesania Audio Exoteryc Racking system. The sound was spacious and generously dynamic. Microdynamic nuance, transient attack and overall detail was first class. There was a transparency, a wide open window, to the inner core of the music. Yes, one of the standouts within this '10 Favourites' catalogue.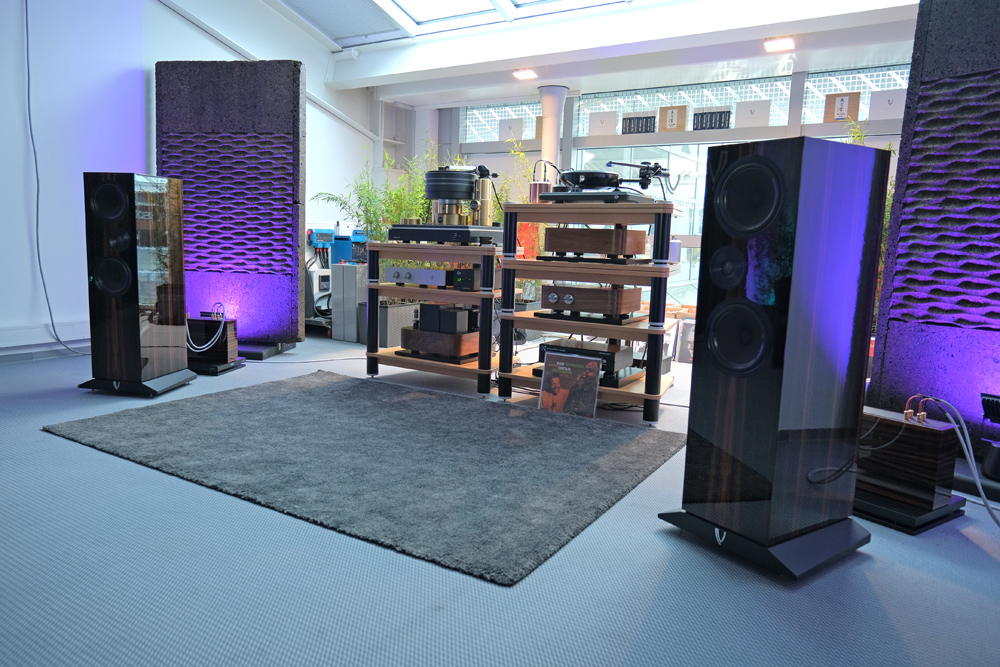 I've never heard a mediocre Living Voice demonstration, no matter the show. Ergo its inclusion in last year's '10 Favourites' list. This time, the company teamed up its glossy ebony-finished R80 floorstanders with analogue front-end gear from Kuzma and Grand Prix Audio. Consolidated Audio Can step-up transformer mated to a SJS phono stage, with SJS also providing its valve-based preamplifier and power amplifiers. Living Voice used its own G2 equipment 'Table'. As always, music here had a flow, a natural and smooth presentation of music which I found very engaging. Vocals had terrific presence and clarity while rhythmic jazz bopped along with an excellent boogie factor. Living Voice has done it again.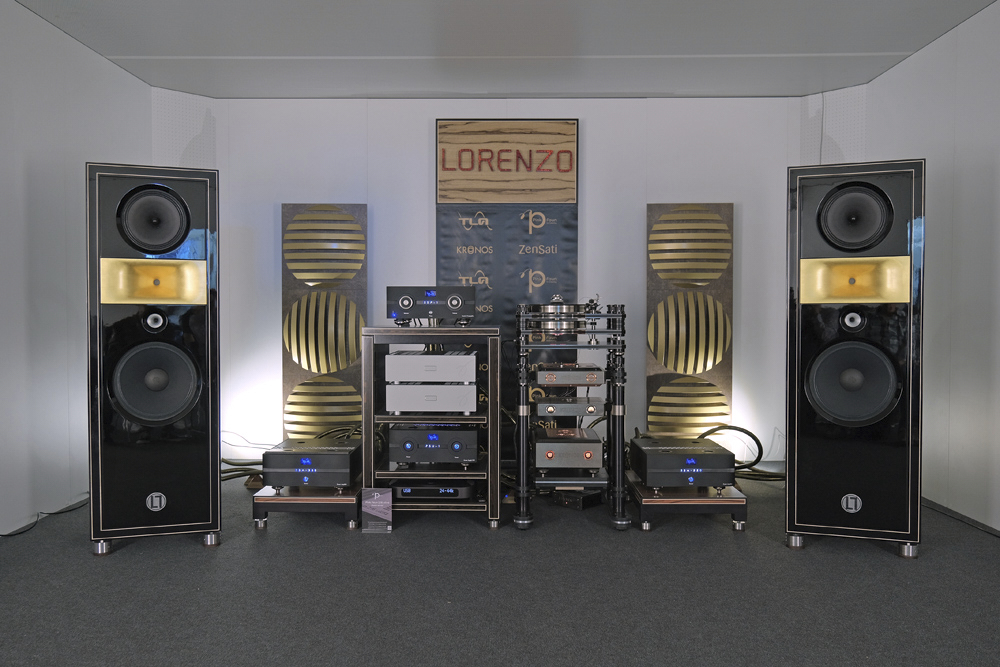 Walking away after a meeting down in the Hall areas, I stumbled upon Lorenzo Audio Labs' exhibit. The Spanish company showed its massive LM1 floorstanders comprising a 16 inch woofer coupled to an 11 inch midrange driver, a 1 inch beryllium compression driver for the high frequencies and a horn-loaded super-tweeter. Crossover parts are said to be of ultra-quality too (Duelund, Mundorf and more). I must admit; for the most part, I'm not a huge fan of compression drivers and horn-loaded tweeters. But I have to say, company head Miguel Lorenzo Castro's implementation and balancing act on the LM1 is brilliant. The big speakers played like a small monitor when needed (no four meter wide violins here) but when full orchestral scale was called for, the LM1s let it rip with huge power and terrific dynamic expression. The low-end was tight and nuanced, the highs were delicate and airy, and separation of complex music was expertly done. The signal chain started with Kronos Pro turntable system and phono stage and Pink Faun 2.16 Ultra music server/streamer connected to MSB Select DAC. Cabling was ZenSati sILENzIO while the rack was Lorenzo Audio Labs' own Art Deco unit. Amplification was handled by TLA SSP-1 preamplifier and SSA-350 monoblock amplifiers. A very good discovery.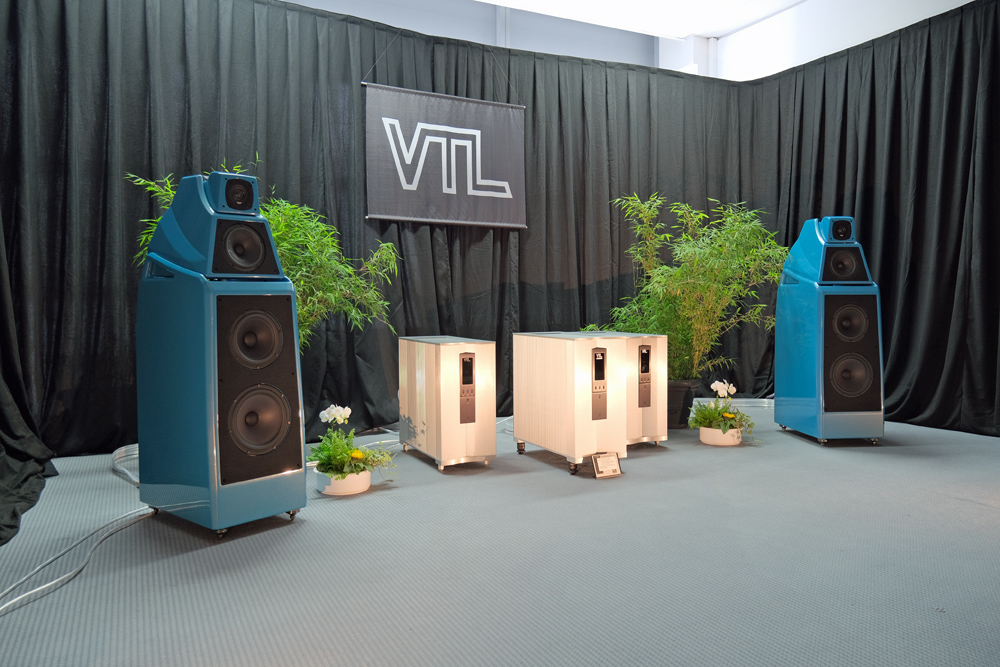 There were a number of exhibits adopting the larger Wilson Audio speakers (the smallest I saw was Sasha DAW). While I didn't get a chance to hear all of them, the one that stood out through my visit was the Alexia V in the VTL room. Yes, you might think I'm biased, and indeed I might be, seeing I use the speakers in my own reference context, but here they played with many of the qualities I appreciate in general, regardless of the speaker model/brand. An all-VTL electronics system including S-400 Series II Reference amplifier, driven by TL-7.5 Series III Reference Linestage plus TP-6.5 Series II Signature phono stage, fronted by Grand Prix's Monaco turntable with Lyra Etna SL cartridge. Digital was via dCS Rossini player and clock, fed by VTL's QNAP NAS through a Nordost Q-Link switch. Cables consisted of Nordost Odin 2 and accessories were by the same company. VTL's very accommodating and always friendly Bea Lam (the same goes for Luke Manley) sat me down on the sweet chair and offered me control of an extensive library of music. That in itself is a high marks courtesy. I spun some tracks held in common between her hard drive and my Qobuz lists, so it was familiar material. I heard much of the tonal balance and textured bass wallop I'm so familiar with. Dynamics were outstanding, and the sonic spread significant. Luke and Bea have done it again.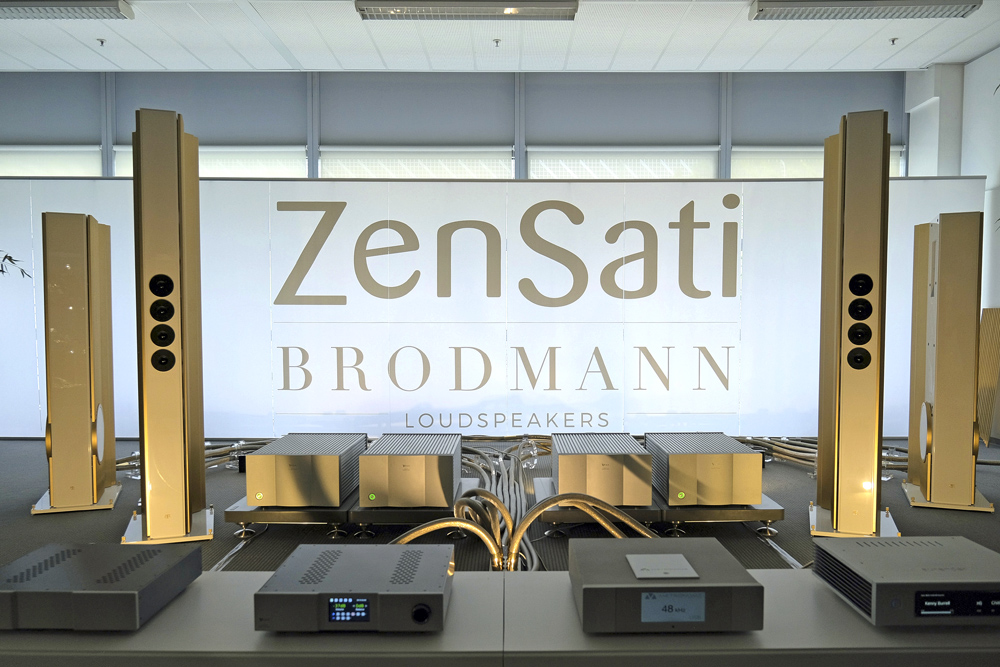 ZenSati's Mark Johansen does not do things by halves. In an even bigger room than in past shows, Johansen showed the company's flagship #X cables within the context of a stunning system. A snaking pit-full of the luxuriously-built #X hooked sources from Aurender and Metronome while preamplification and monoblock amplification was provided by Viola Audio Laboratory's top-level offerings in the Sonata and Bravo II (four units). The loudspeakers were the magnificent Brodmann JB205 with matching subwoofer towers. Both Mark Johansen and Brodmann's Bernd Gruhn are great hosts and, at one stage, Gruhn gave me the keys to the motor car… or should I say the iPad for Roon. I spun a couple of, to me, well known tracks and I was impressed by the low frequency power and depth. Brodmann speakers are renowned for their superb tonal accuracy and the mix of electronics and über cables transmitted that with immaculate precision. There was a great delicacy to the highs and, overall, the sound was superbly natural. A great demonstration by these companies.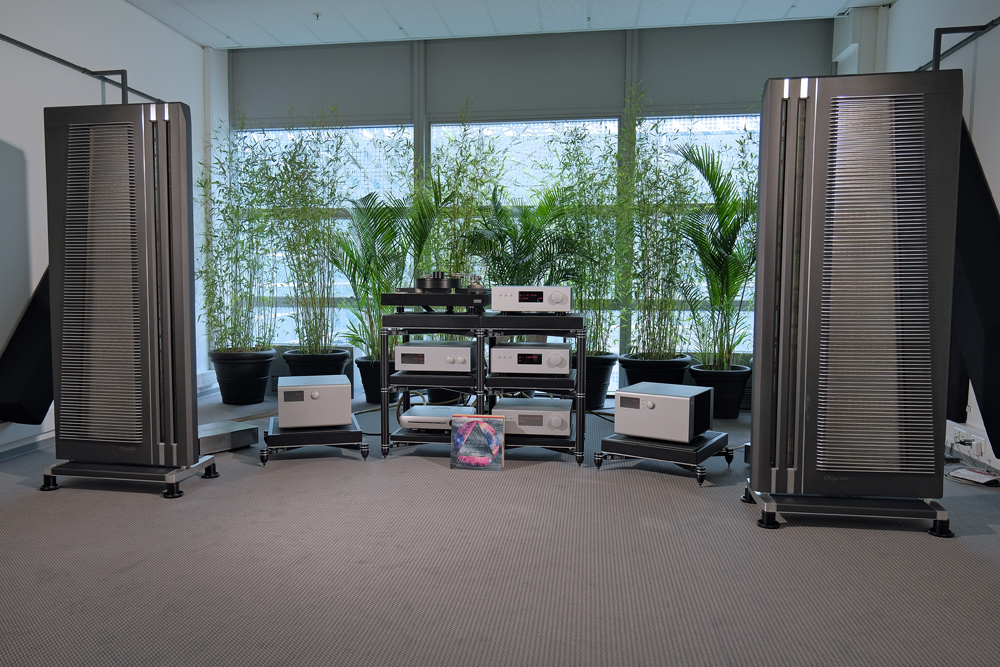 A relatively new company, Clarisys Audio manufactures, in terms of aesthetic design, Apogee-resembling Planar speakers. The company showed its Auditorium model supported by a full suite of Soulution electronics (including the new 757 Deemphasis preamplifier) with analogue via De Baer turntable, with digital handled by Antipodes' flagship Oladra server/streamer. The sound here had amazing presence and was superbly lifelike in the way it handled vocals and acoustic guitar. I would have loved to hear more complex material but what I heard was quite outstanding. Inner detail, or microdynamics, was exceptional. Ditto for overall tonality.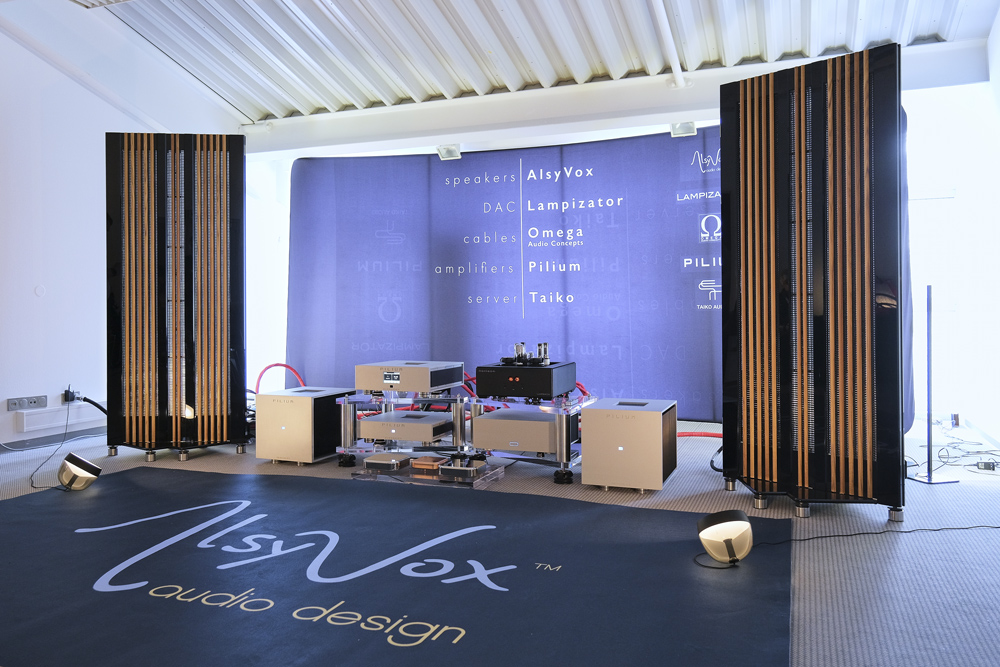 Another panel-styled speaker system which stood out, with similar qualities as the Clarisys above, was in the Alsyvox exhibit. The large Alsyvox Raffaello speakers sounded natural, refined and thoroughly engaging. There was quite the solid and tight bass too, which provided a great foundation for the rest of the bandwidth. Especially the midrange, which was stunningly present and clear. The Alsyvox Raffaello were driven by Pilium Audio preamplifier and monoblock amplifiers fed by a Taiko Server/Streamer into a LampizatOr DAC, all tied with Audio Concepts cables. In fact, the Alsyvox exhibit has now made the '10 Favourites' list two years in a row. Kudos.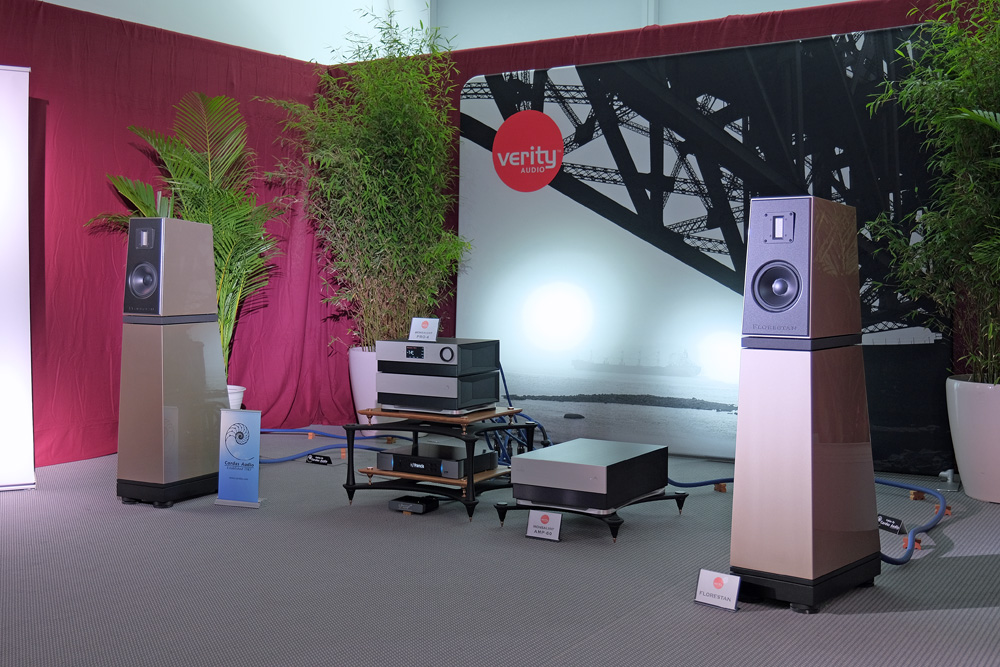 Verity Audio's room saw an all-proprietary system crowned by the debut of the company's new Florestan speakers from the eXR line. Electronics were by Verity's own Monsalvat Pro-4 Processor, Monsalvat AMP-60 power amplifier with the INT-100 Integrated amplifier also on display. Digital tunes were streamed via a Melco unit while cabling was Cardas. The sound here was fluid, full-bodied, detailed and extremely listenable. The engaging and natural presentation could have had me staying for much longer, alas I had to move on. This system, and especially the new Florestan speakers, is seriously promising. Take these away from show conditions and into a fine-tuned system in an acoustically appropriate room and I'd call Florestan a new top contender.
In an über system setup, the imposing Kaiser Kawero! Grande speakers were driven by an all-Ypsilon electronics suite (including the towering SET-100 Ultimate amplifiers) and TechDAS Airforce One Premium turntable, all sitting on Artesania racks. Bespoke diffusors were used on the front wall. The Grande's wood veneer was so gloriously jaw-dropping that one could forgive the not so aesthetically… svelte form of the Grande speakers. That aside, the sound here was stunningly present (those twin ribbons per side) and layered while the low-end punched tight and textured. The level of low-level transient detail and the leading edges of notes were precisely conveyed, while the overall tonal presentation smacked of purity and truth. A great, synergistic system configuration.
Special Mentions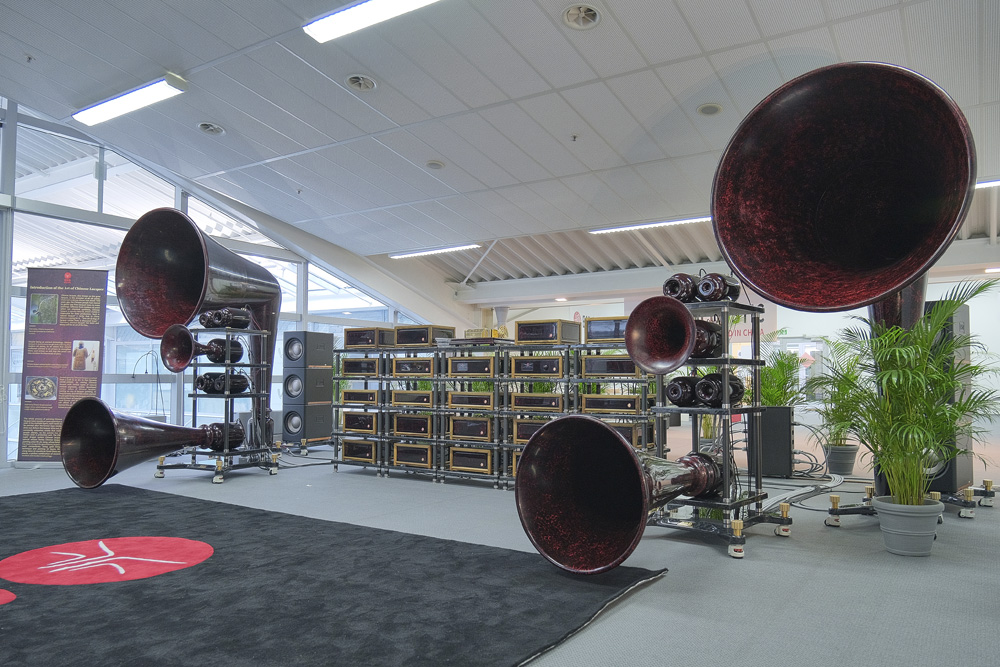 The WOOTT (Wonderfully Ostentatiously Over The Top) honour would have to indisputably go to ESD Acoustic's 'Super Dragon' system. I think I counted 10 amplifiers (20 channels?) driving 10 drivers per side, and a whole heap of other Art Deco… stuff.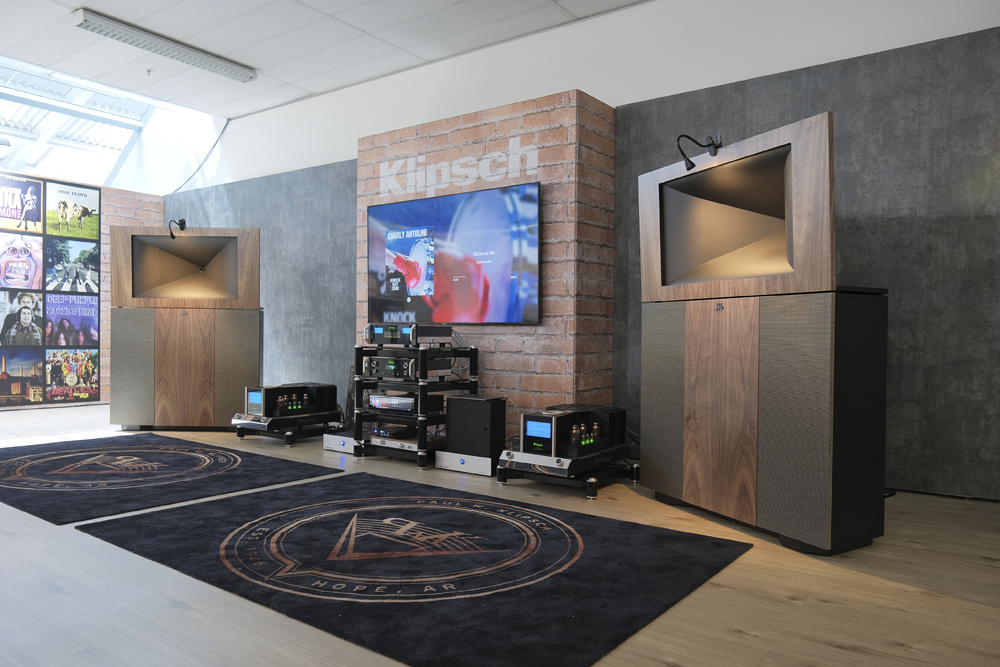 The UP (Unheard Potential) gong goes to Klipsch's Jubilee gigantor speakers which I hung around for a good 10 minutes to hear. No music. No company rep. No go.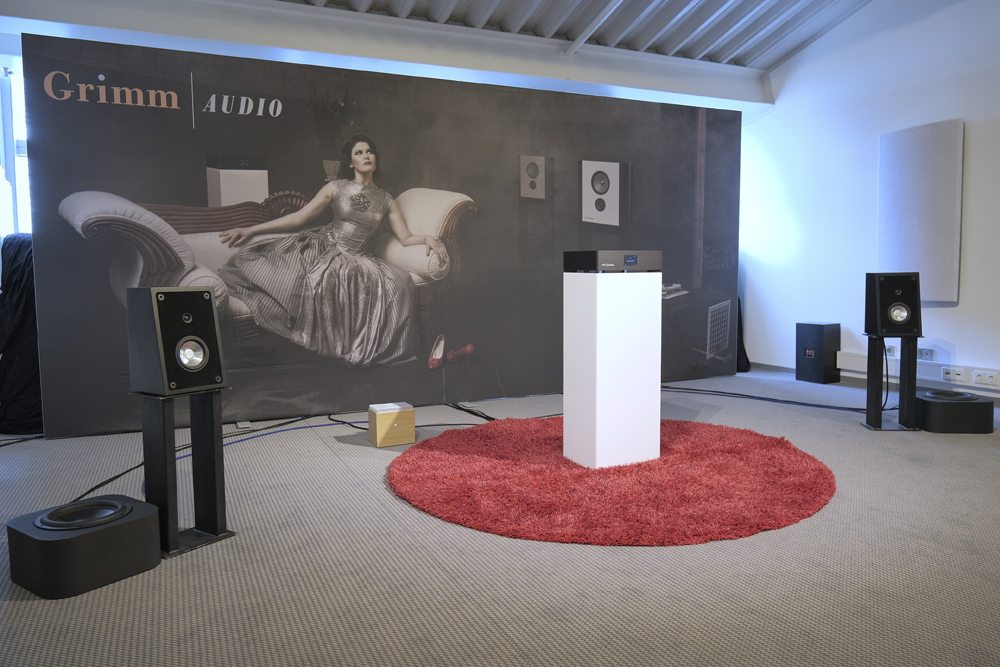 The REARS (Random Elusive Audio Retro Speakers) prize goes to Grimm Audio showed off its new MU2 (MU1 with bespoke DAC) with one of the loveliest speakers ever created. The unobtanium Ensemble Reference PA-1 – supported by two low profile subwoofers – just sounded… Angelic.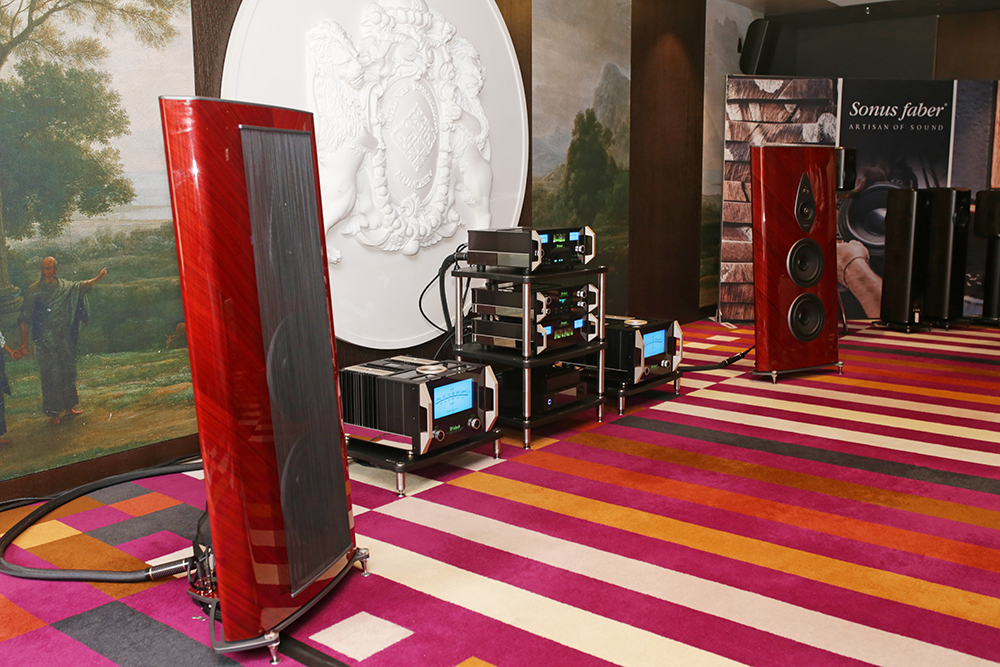 The BAIT (Beautiful Audio – Italian Transducer) prize goes to Sonus faber's new Stradivari G2, a substantial refinement of the original and pure eye candy material. Hook-it up and you're caught.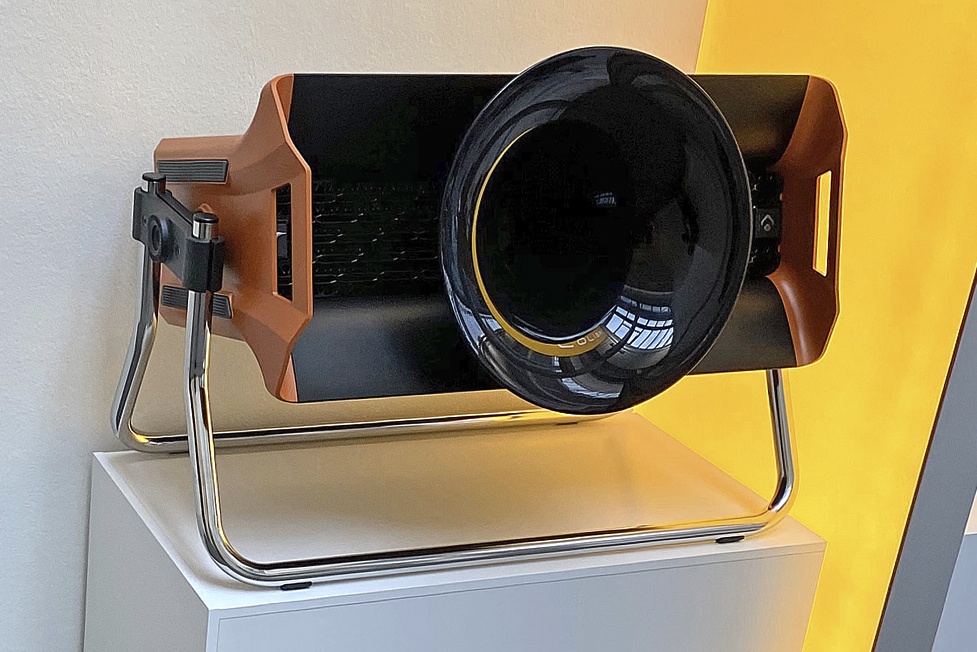 The PARTY! (P.A. Refined To Yay!) gong goes to the yet-to-be fully released C2 speakers from Avant Garde. These portable wonders are weather resistant, outdoor party speakers with the company's refined engineering and design expertise. Mate them to a sub and a cheap amplifier and you have awesome sound by the pool in Ibiza.
Image Credit – Maxmedia Distribution (due to SoundStage! Australia temporary file failure)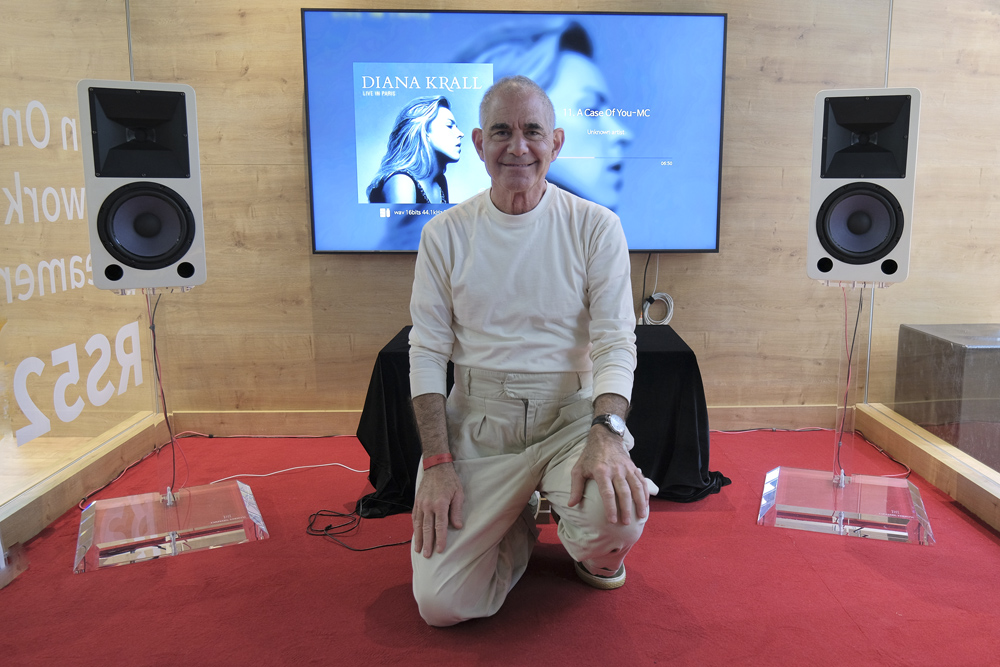 Lastly, the HOW? (Hoodwinkingly Opulent Wonder) gong goes to Daniel Hertz's new A8 which, flanked by glass walls, in a no more than three meter wide room, sounded impressively dynamic, precisely resolving and sharply detailed, even while being driven by a relatively modest Hi-Fi Rose all-in-one network amplifier. Electronics aside, how an acoustic device worked so well in such an adverse environment is a testament to the Daniel Hertz designers. So how? I ask.
… Edgar Kramer
This email address is being protected from spambots. You need JavaScript enabled to view it.