Audio Connection, Crosstalk Records and Bladnoch Distillery held the 'Music, Whisky and Vinyl' public event showcasing the best turntables, rare and exclusive vinyl and tipples of excellent whisky. It was held at the newly renovated Audio Connection shop in Leichhardt.
I spoke briefly with Nigel Ng the main man at Audio Connection. I asked about his inspiration for tonight and he responded as follows (edited a bit for brevity and clarity):
The main motivation for tonight was that I wanted to try to spread good quality Hi-Fi to more people. One of the best and easiest ways to do that is through collaboration. I happened to be in a bar the other day and met Barry Johnston from Fah Mai Holdings and Platinum Cask. We got chatting and thought, why don't we do something together [One of the CEOs of Bladnoch is Australian BTW.]. It just so happened that a couple of days later a new record store opened in Leichhardt. Josh, the owner, was really happy with the idea of collaborating. We thought that since we're all in the local area, why don't we put something together.
We're very pleased that Louis Haseman from UK-based Fah Mai Holdings was able to come across from Thailand for our event.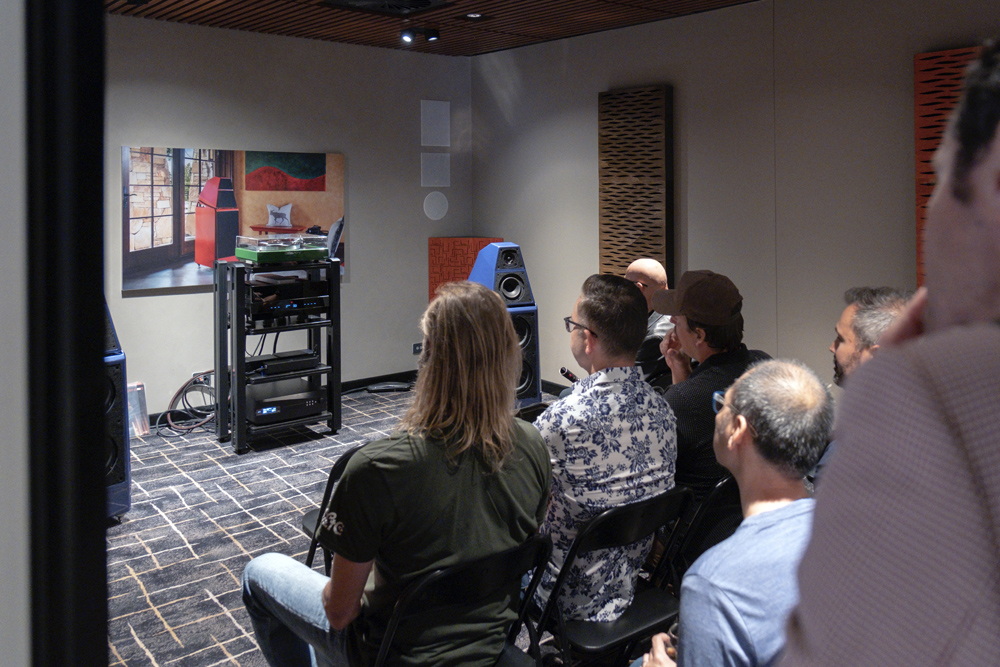 Josh from Crosstalk Records couldn't make it on the night due to a "touch of Covid" – he thought it best he didn't share it. Crosstalk Records has a brand-new shop on Norton Street in Leichhardt. The store's representatives on the night brought along a lot of LPs for display and for sale. I had a look through the bin marked with "Rare" vinyl. Lots of good stuff was there with good prices (good for you, not them!).
One room had the ageless Linn LP12 turntable with Linn's new Arko tonearm and Krystal cartridge. It was setup with the Wilson Audio Sasha DAW speakers, a Linn phono stage, Gryphon Diablo integrated hooked-up with Transparent and Nordost cabling. The smooth vinyl sound of JJ Cale's "Cocaine" performed by Eric Clapton was lovely as it vibrantly permeated the room.
Just down a few steps, the larger room featured the beautiful Estelon Forza speakers. The front-end was the Linn Klimax DSM with Organik DAC, powering Dan D'Agostino Master Audio Systems Momentum preamp and Momentum monoblock power amps.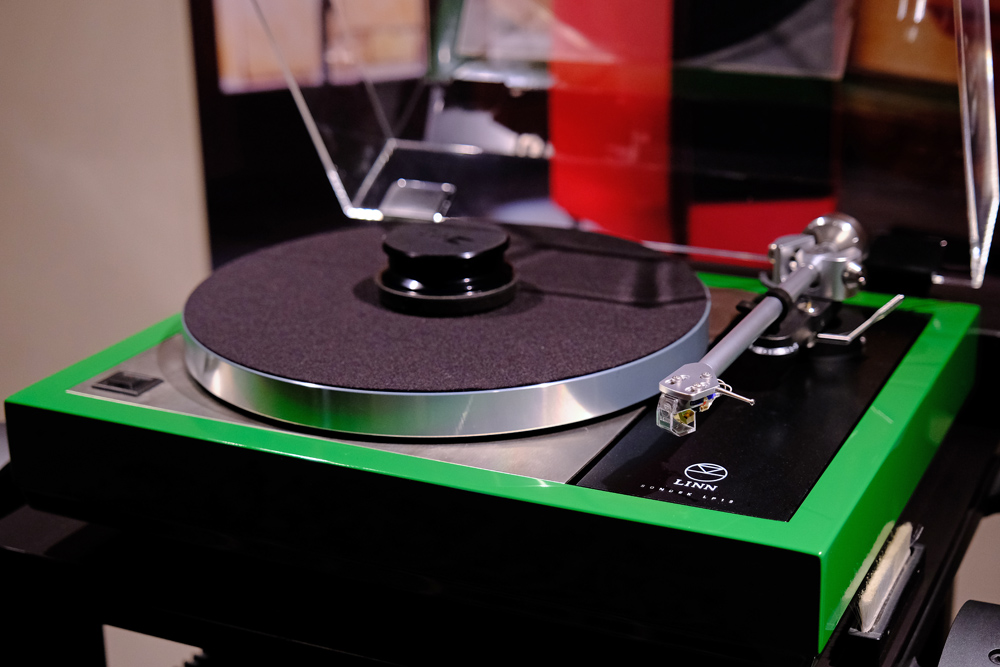 Presented by Fah Mai Holdings' CTO Barry Johnston (image below), Bladnoch Distillery had a variety of whiskeys available for sampling in the upstairs gallery area. All the distilleries are in Scotland roughly a couple of hours from both Edinburgh and Glasgow. I'm no connoisseur of whisky but, even to these taste buds, I found it all quite appealing! Obviously, a lot of other people did too – it was the busiest place in the shop, even busier than the wonderful food bar.
Johnston provided a bit of background and some insights into the Bladnoch enterprise and the audio-combined incentive:
I have a background in audio, designing major studios globally and working with everyone from the Dali Lama to U2, so when Nigel and I met and got talking, it was like meeting a creative kindred spirit. I played music for years, had some singles in the USA at the beginning of the move to web-based mediums, and have a pretty serious Hi-Fi at home. But it soon became apparent that Nigel and I were pretty focused on creating something new, fresh, and creative in an industry traditionally stifled by the old boys club. When I mentioned my share in a whisky investment company, Nigel had a clear vision right away and had already reached out to my introduction at a local record store, embracing the community and constantly assisting other local businesses to succeed. A truly evolved mindset, and a friendship I truly aspire to reciprocate with great respect.
Being a proud Scotsman, whisky is a no brainer when it comes to investment and in fact is one of the easiest stable assets to understand. I met Louis a few years ago in Australia when he was setting up Fah Mai Holdings and Platinum Cask and going through the process for the initial IPO and listing on the securities exchange in the USA. I met with Louis again when I was working on a tech project for the United Nations in Bangkok and we've been involved with this little venture for four years now.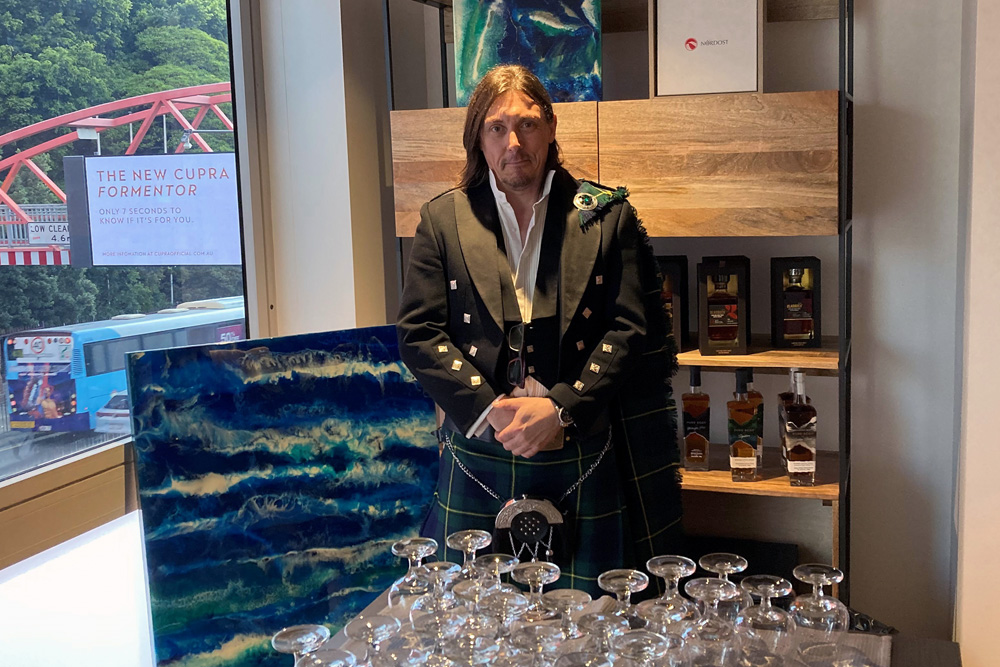 So we got brainstorming. It seems apparent that community-based enterprises, with great ethics and a real sense of sharing and integrity are the key to a bright future. It's an easy way to get to know each other on every level and find collaborative strengths, and more importantly, genuine friendships, in a world that has been almost whitewashed with Corporatocracy. I keep beating the drum of intellect over academics, and I think we have found some real commonality in our intellectual foresight. Music and whisky bring people together, the substance of each offering a great deal of complexity, story telling and togetherness, and that's at the heart of everything we are doing.
Ongoing, we are about to launch what I hope will become the most revered and inclusive, intellectual event in the audio and lifestyle calendar with Blackbird 1929. You'll have to keep your finger on the pulse for this one, it's going to be a doozy. A place where everyone can find something in common, with exclusive evenings of curated goods and experiences not previously brought together, but intimately engaging. So, in essence, we're really trying to bring everyone together, no pretence, no ego, just pure creativity, emotional engagement and intellectual connection. A true, evolutionary tour de force is what we hope to achieve with, of course, some great Scotch! Keep your eye on our soon to be launched Noizy Head channel on YouTube also, for some refreshing insights into a passion we all share.
Conclusion
Kudos to the three enterprises for teaming-up music on vinyl, high-end Hi-Fi and excellent whisky for an audio night with a difference. We understand the companies will be holding further joint events around the country in a variety of venues.
Overall, the evening was the perfect marriage of superb music, magnificent sound and exquisite drink – an enduring combination that never fails to entice and entertain.
… Tom Waters
www.soundstageaustralia.com
NOTE -- Images by Tom Waters and Nigel Ng.
Audio Connection
515 Parramatta Rd
Leichhardt
Sydney NSW 2040
+61 2 9561 0788
www.audioconnection.com.au
Bladnoch Distillery
Australian Distributor:
+61 (0) 450 377 784
au.bladnoch.com
Crosstalk Records
155 Norton Street
Leichhardt
Sydney NSW 2040
www.facebook.com/crosstalkrecords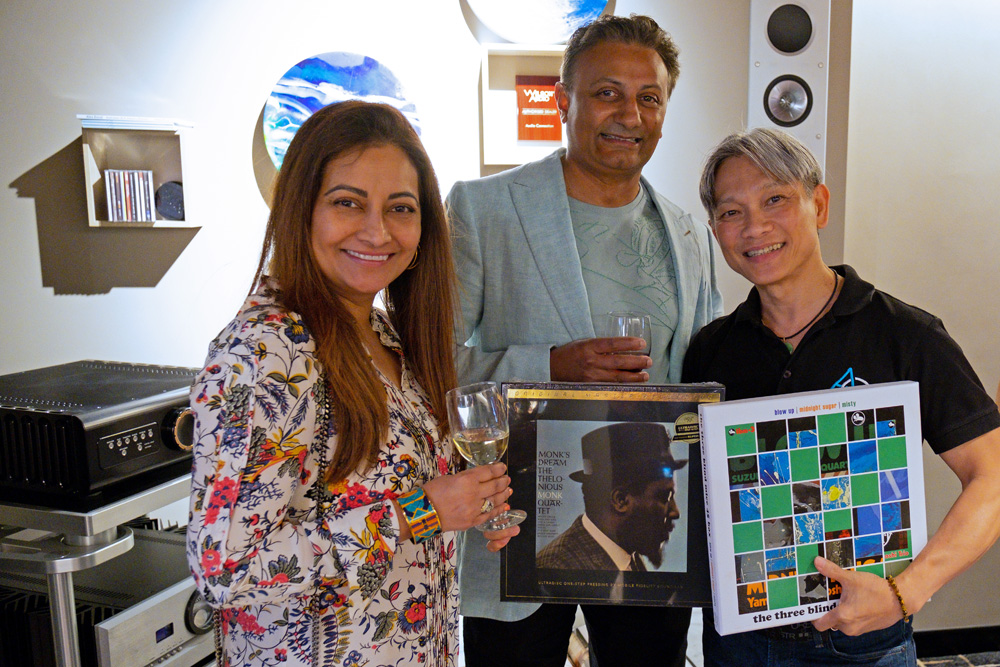 Audio Connection's Janson Lau presents customers with fresh vinyl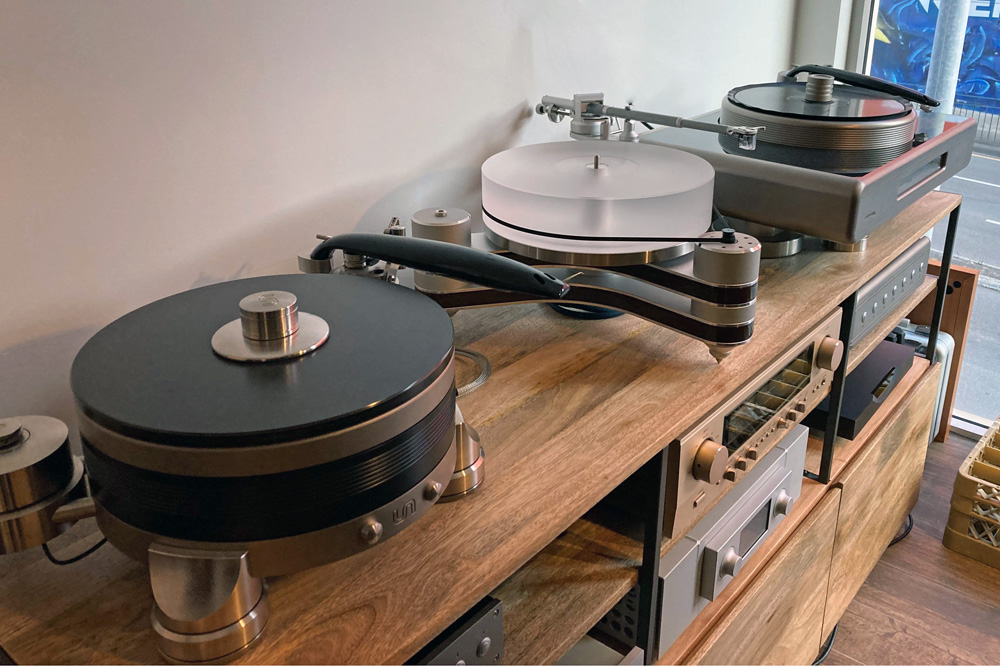 Gorgeous turntables on display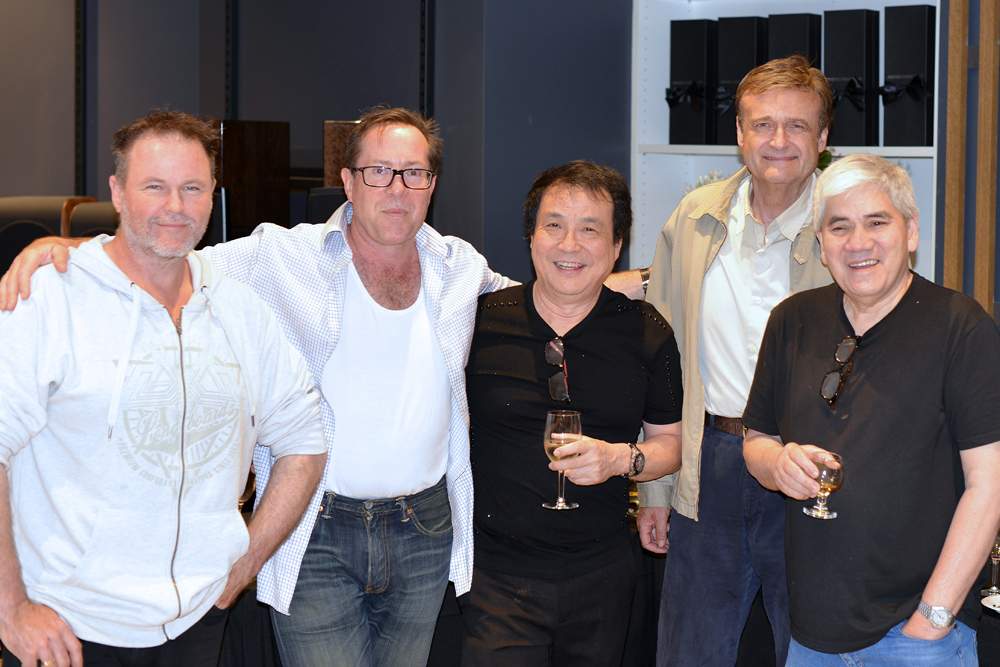 From left: SoundStage! Australia reviewers Steven Polley and Mark Busby with Audio Connection customers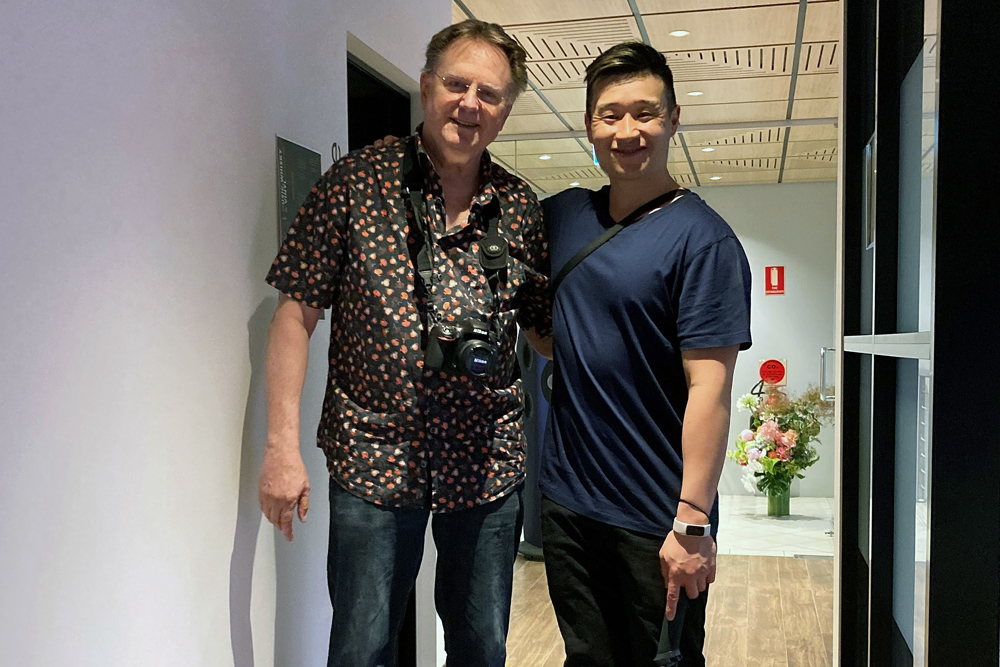 This feature's author, Tom Waters, with Audio Connection's proprietor, Nigel Ng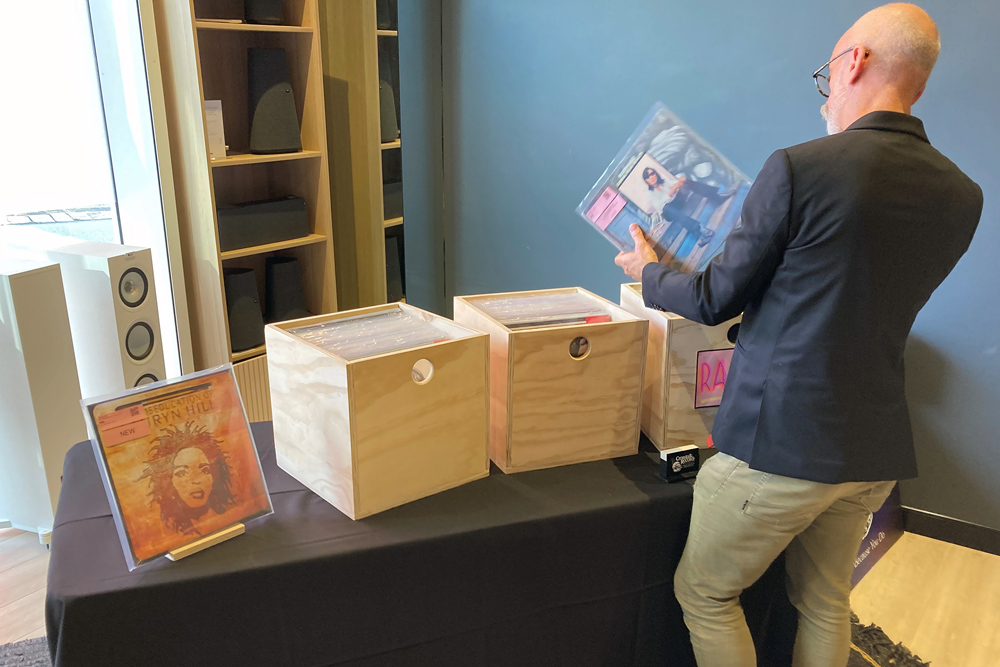 Record shopping