For three years now, the extraordinary audio support systems from Australia's own SGR Audio have been my reference racks-du-jour for component isolation and general vibration control at the highest level. My two three-tier Model V Statement racks not only perform as advertised – the Model V Statement features no less than six combined isolation strategies – but are also superbly built, beautifully finished and rather attractively designed.
Late last year, SGR Audio's proprietor and Chief Designer Stuart Ralston contacted me with exciting news. "Ed, we've decided to phase out the wood veneer inserts on our Model V Statement rack after conducting some experiments on a far superior material…" Hey, hey, do tell I thought, biting my lip with suppressed zeal.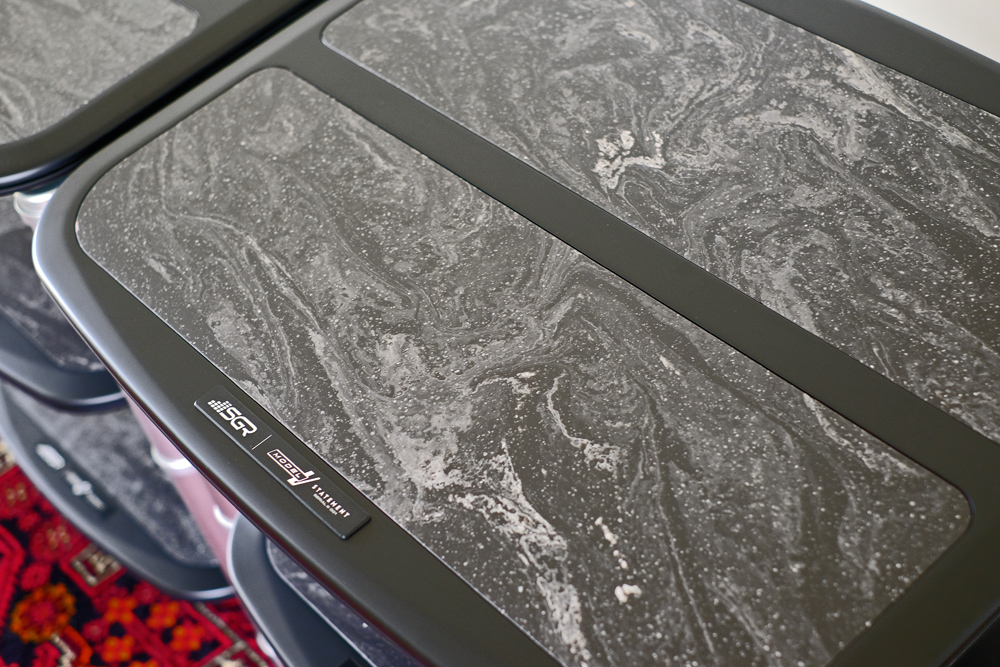 "Testing has shown us that Corian inserts are performing far better, aside from being more scratch resistant, durable and having a more contemporary look. We'd like to upgrade your units." Booyah! Off went the shelves and after some courier dramas – that's a whole 'nudder story right there – and a couple of weeks at factory SGR, all and sundry returned snuggly embedded in the company's usual excellent packaging.
The new inserts, or 'Energy Isolation Pads' as SGR Audio calls them, are finished in intergalactic supernova finishes in standard white or black (other colours available on request). Yes, peer into these precision cut, superbly finished inserts and you'll conjure up George Clooney's stranded free-fall through the cosmos. My units' gorgeous deep black is randomly splashed with swirls of star-gas-trail white. Pictures do illustrate but don't do justice.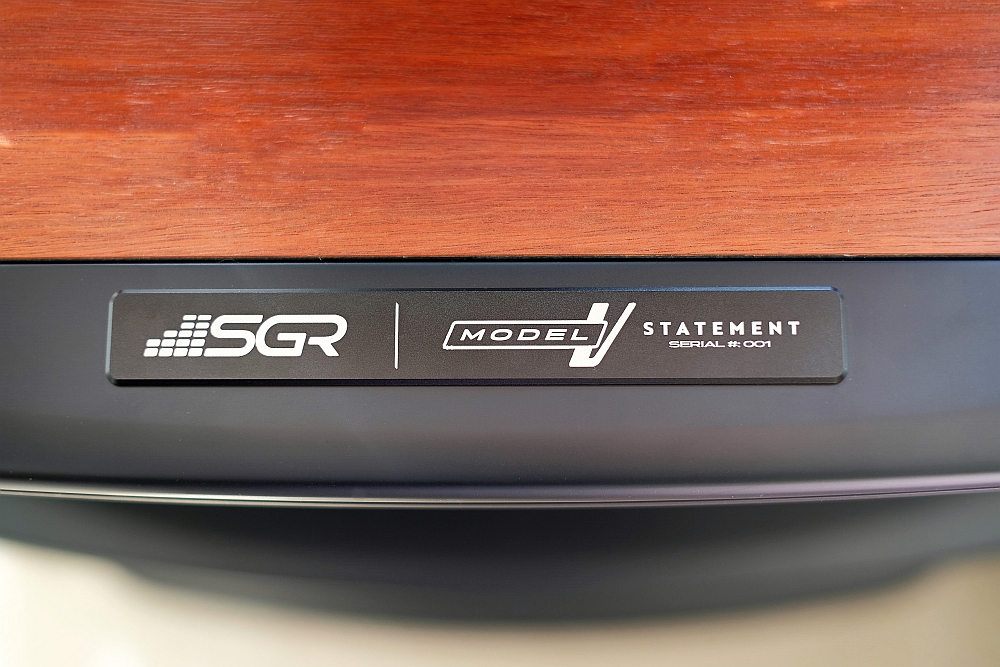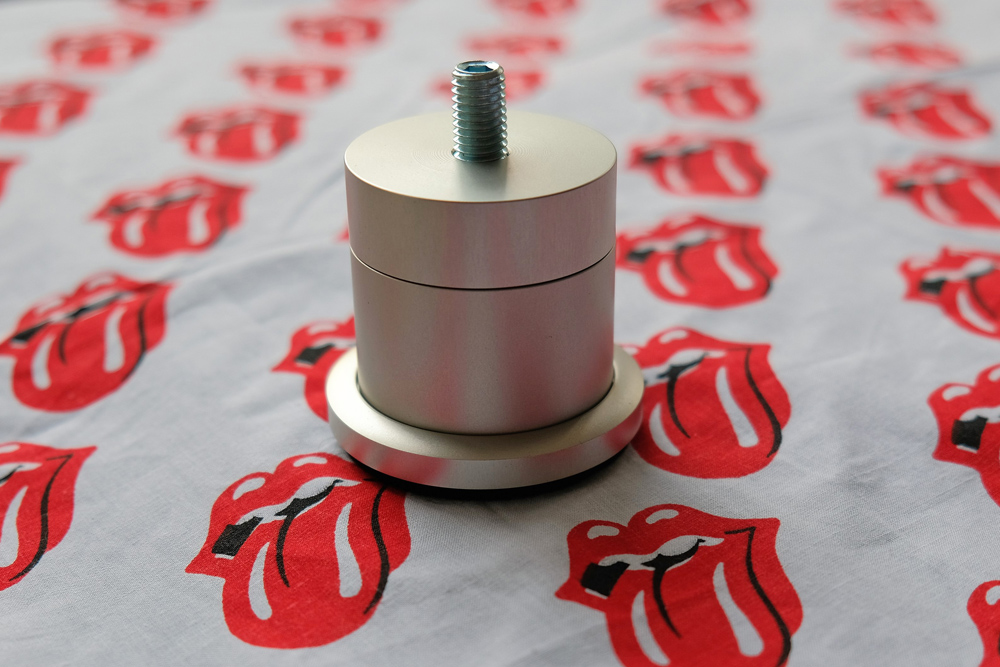 Out with the old…
In fact, the in-house metal machining is of the highest standards, with the bespoke spiking system being substantial and beautifully finished. The 'spike' (and also the alternative footer) is a multi-segment stainless steel and aluminium assembly specifically designed to solidly couple to solid surfaces with the intention of maximising performance (or more accurately, allowing the delivery of your electronics' full performance potential). By the way, the same excellence in finish carries across to the constrained layer-damped sandwich platforms in the framework around – and bonded – to the Corian inserts while the aluminium posts' machined surfaces are as smooth as a polished pearl.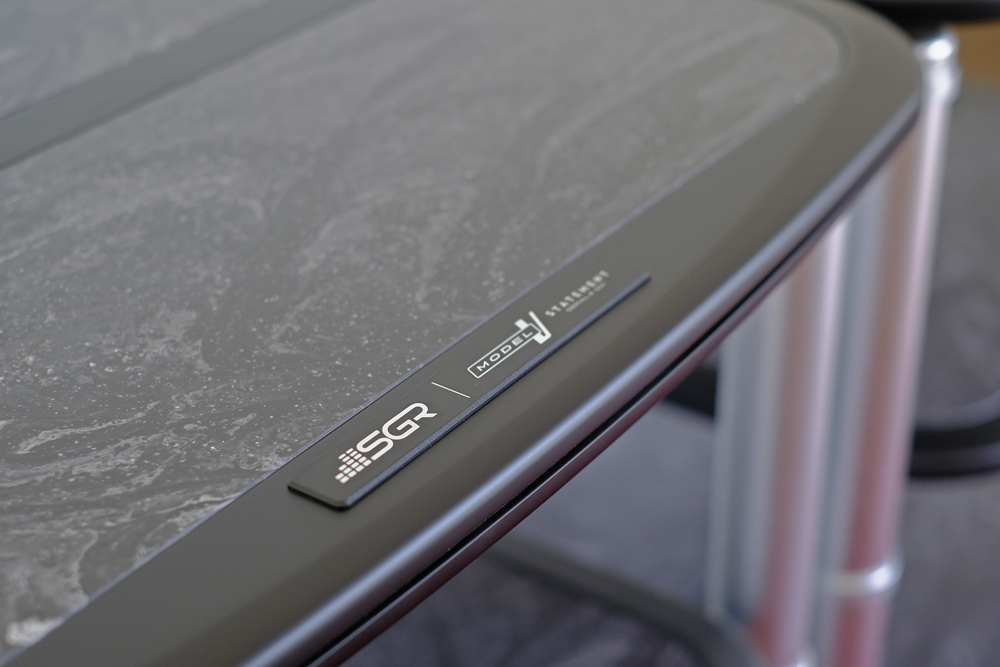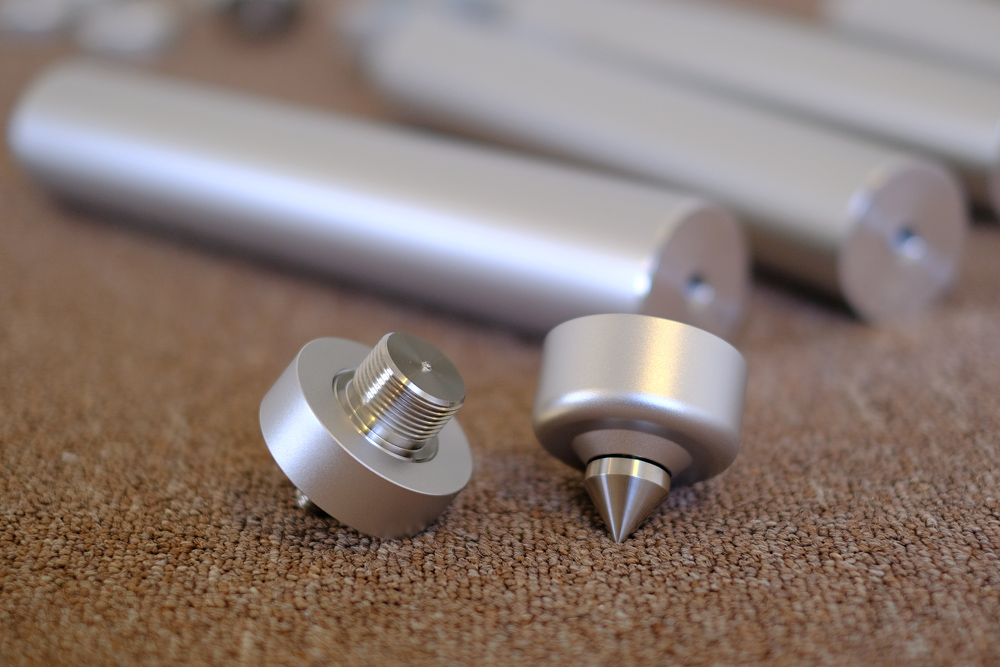 …in with the new.
Although I was unable to A/B the footers against the spikes directly, I did notice improvements in overall focus, transient speed and low frequency tightness at the new abode (even prior to a comprehensive room acoustics installation that was to take place several weeks after the racks' arrival). I'm sure the concrete flooring is playing a contributing factor here, but I'm confident that – based on my previous experience with A/B'ing against another very capable racking system – the SGR Audio racks, effectively coupled to the slab, make a noticeable and worthwhile performance improvement. Further, going from a generic rack, or worse still no rack at all, to SGR Audio's support systems this time makes a not-so-subtle transformation. Yes, strong italics word but intentionally so.
My personal and experiential audio rack meandering contemplations aside, I hope I'm also clearly communicating one very important and quite rare thing in audio manufacturing in this country. SGR Audio is a sophisticated wholly-owned Australian company with a multi-colour palette of talents. A company engaged in on-going research and improvement programs across its product offerings from upmarket racking systems to an expanding range of quality passive and active loudspeaker systems. One who strives to create as much as possible in-house. That means investment. Ergo SGR Audio's investment in capital assets, the most recent being the acquisition of a machining system capable of producing consistent world-class levels of texturally smooth aluminium-finishing.
While all that may seem almost routine, even commonplace for a Swiss, German or American high-end manufacturer, it's not so ho-hum if you're an Aussie one, where a small market and economic realities have seen more and more fabrication being outsourced to, predominantly, China and Taiwan.
There's nothing wrong with that per se, and 'Far Eastern' production quality can be as good as any (the iPhone is a universally-used example). However, for some companies operational viability makes overseas manufacturing compulsory. Unfortunately, it's the obligatory necessity of this practice which has seen the erosion of Australian manufacturing in general. And it has gravely affected local employment and the preservation of skills and craftsmanship. Not to mention the skewing of the Balance of Trade away from our economy.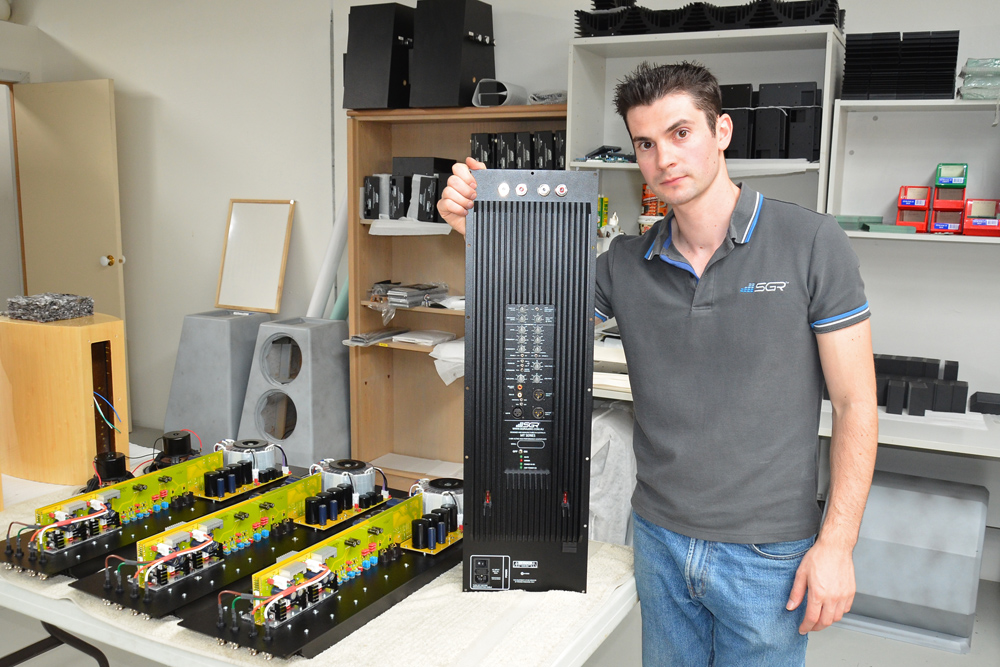 Proprietor Stuart Ralston shows SGR Audio's Australian-made amplifier modules for the company's active loudspeaker systems
The current global status may result in the forcing-of-hand back to home ground, that's in itself a good thing, while once the COVID-19 crisis is vaccinated out of the collective consciousness, we will prevail and robustly reignite our resilient industry.
With home-grown and owned SGR Audio – and a handful of other Australian companies I'll be telling you about soon – perhaps we are powerfully and decisively on the way to resurrecting the once renowned and respected audio manufacturing industry in this country. Go the green and gold 'roo…
… Edgar Kramer
This email address is being protected from spambots. You need JavaScript enabled to view it.
SGR Audio
11 Websters Road
Templestowe VIC 3106
Australia
+61 (3) 9846 8002
www.sgraudio.com